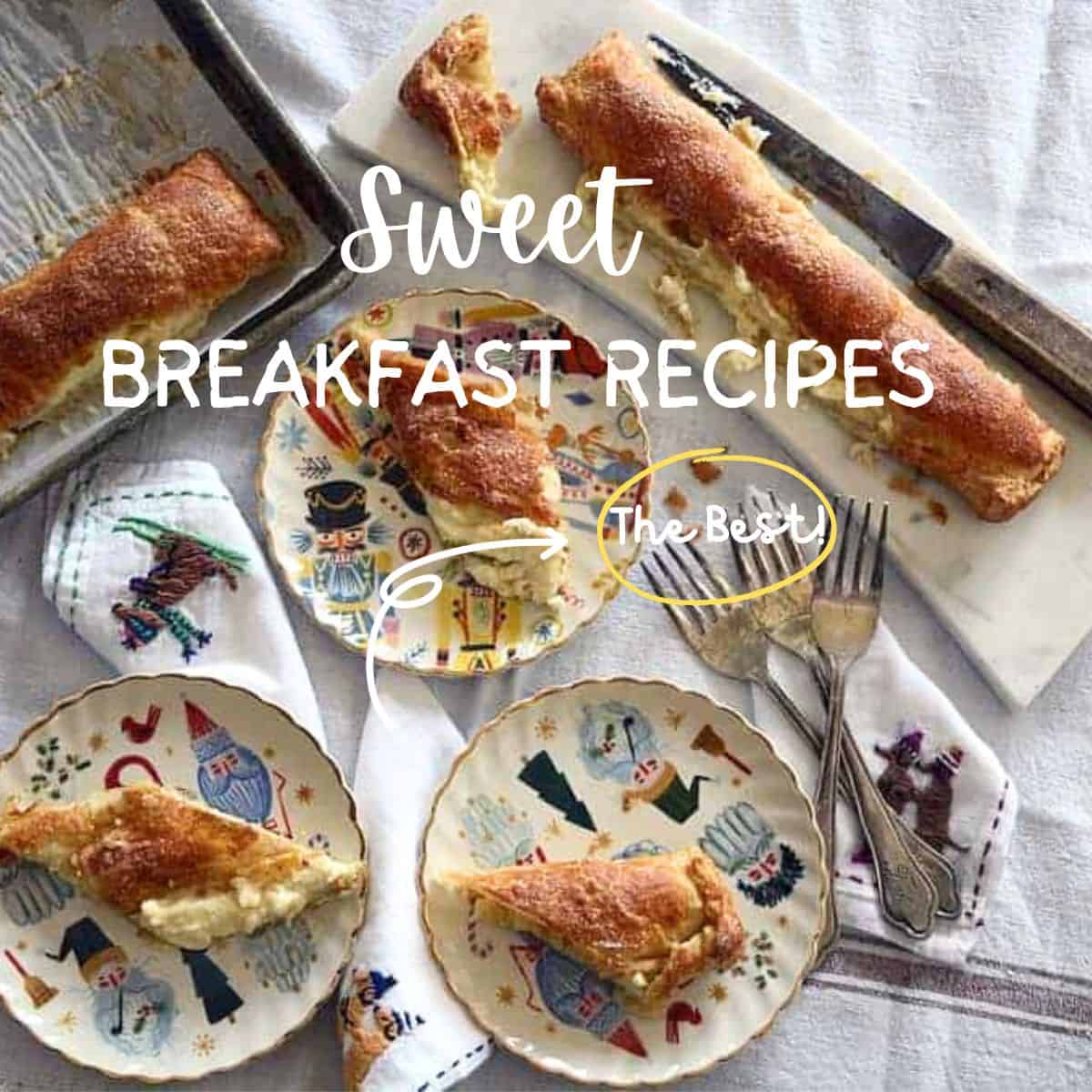 These easy sweet breakfast recipes have something for everyone. From classic pancakes to apple muffins, mini cobblers, and so much more, this recipe collection will fill you up and satisfy your sweet tooth.
If you're a long-time reader of my blog you know I love making healthy meals. If you're a long-time reader of my blog, you also know I have quite a sweet tooth! I'm a big believer in the old adage, "all things in moderation", so I make my share of sweets and treats to go with my healthier options.
That's what this collection of easy sweet breakfast recipes is all about! These recipes take classic sweet breakfast treats like pancakes, waffles, and muffins and give them an extra little kick of sweetness. They make a great start to the day, and the best part is they're as easy as they are sweet and delicious!
Dessert for Breakfast
We all love the idea of dessert for breakfast, and that's just what you get with these recipes. Most of these recipes are sweeter versions of classics that we all know and love.
Fluffy pancakes topped with whipped cream and berries, pearl sugar waffles, mini fruit cobblers – the list goes on. These recipes combine breakfast foods and the sweetness of dessert into dishes that are truly dessert for breakfast. And who doesn't love that?!
Why These Sweet Breakfast Recipes Work
These delicious recipes work so well because they're all classics or variations on classic breakfast recipes. Who can say no to fluffy pancakes? What about waffles that are perfectly cooked so they're crispy on the outside and soft and fluffy on the inside? Of course, we can't forget favorites like muffins and jam, either.
All of these easy sweet breakfast recipes are ones that you'd find on any breakfast table around the country, I've just tweaked them a bit to make them an even more decadent start to the day.
Why You'll Love These Recipes
I know I say this a lot, but the better question is what's not to love about these recipes? I mean, they're just so sweet and hearty! These recipes really hit the spot on their own or as part of a larger breakfast spread. So they have a lot going for them.
These recipes only use a few simple ingredients that you can easily find at your local grocery store.
They're quick and easy, and even beginners can make them with no issues.
They're a sweet way to start the day.
They're fantastic served on their own or as part of a larger breakfast for the family.
What to Serve with These Easy Sweet Breakfast Recipes
Like all recipes of this type, these pair well with a glass of milk or a cup of coffee or tea to make a complete recipe with a kick of sweetness. The great thing about them, though, is that you can also pair them with all of your other favorite savory breakfast options for a truly massive breakFEAST to serve to family and friends. Try these sweet breakfast recipes with:
Sausage
Bacon
Ham
Eggs
Home fries
Potato wedges
Biscuits and gravy
Coffee
Teat
Milk
Orange juice
Apple juice
Easy Sweet Breakfast Recipes
Here we go! It's time to get to the really good part – the recipes! These delicious sweet breakfast recipes range from classic pancakes and waffles to pearl sugar waffles, coconut cream pancakes, biscuit waffles, mini cobblers, and even coconut cake. Oh, yes, it's a breakfast that anyone with a sweet tooth will absolutely love!
Try These Sweet Breakfast Recipe Ideas
Whether you love pancakes and waffles or you prefer to start your morning with muffins, you'll find something you love on this list of easy sweet breakfast recipes. Bookmark this and try them all. I guarantee you're going to love them! And how could you not with all the sweet flavors and wonderful textures this recipe list has?