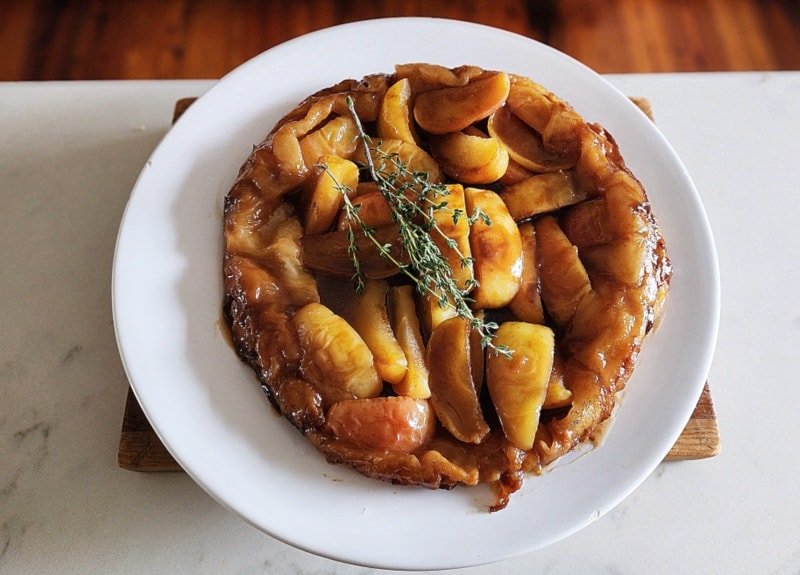 How can something so simple be so delicious! This Apple Tart Tatin focuses on the star. The apples. Oh, yes, you'll say 'seconds please'!
Easy Apple Recipes
It's an apple pie. It's an upside down pie. It's both! Yes, this apple tart tartin can be made ahead then popped in the oven then ready when dinner's over and you want an impressive dessert!
Another thing is that you can use different fruit. Check out my pear tart tatin. To die for!!
Things to Make with Apples
One key to this recipe is to first make the Skillet Spiced Apples and Coconut. You won't be disappointed. And, you can use for other things like topping on ice cream, yogurt, pancakes, waffles, French toast and more!
Cooking Apple Varieties
Do you know apples have various varieties? With a lot of apple varieties, how do you choose when a recipe calls for 'Cooking apples' Here are suggestions that help you to choose the right flavor such as gala, fiji, honeycrisp, Jonagold, pink lady, etc. Give it a try now!
View this post on Instagram
Apple Tart Tatin
According to Wikipedia there's a story behind the tart tatin definition.
"The tarte Tatin was created accidentally at the Hôtel Tatin in Lamotte-Beuvron, Loir-et-Cher, 169 km (105 mi) south of Paris, in the 1880s.[1] The hotel was run by two sisters, Stéphanie and Caroline Tatin.[2] There are conflicting stories concerning the tart's origin, but the most common is that Stéphanie Tatin, who did most of the cooking, was overworked one day. She started to make a traditional apple pie but left the apples cooking in butter and sugar for too long. Smelling the burning, she tried to rescue the dish by putting the pastry base on top of the pan of apples, quickly finishing the cooking by putting the whole pan in the oven. After turning out the upside down tart, she was surprised to find how much the hotel guests appreciated the dessert. In an alternative version of the tart's origin, Stéphanie baked a caramelized apple tart upside-down by mistake, regardless she served her guests the unusual dish.[3] Whatever the veracity of either story, the concept of the upside down tart was not a new one. For instance, patissier Antonin Carême already mentions glazed gâteaux renversés adorned with apples from Rouen or other fruit in his Pâtissier Royal Parisien (1841)."
Pretty cool, huh?
Easy Tart Tatin Recipe
What makes this 'easy'? Well, it's basically apples and puff pastry. Then you'll add some sugar and spice and everything nice!
Apple Tart
The thing about an apple tart tatin is that it's like a tart, but it's upside down.
I've also made these tart tatins, or upside down pies, with savory ingredients. Yes, tomatoes.
And, this upside down pie is so delicious beautiful and amazing that it graced the cover of Food Network Magazine. Now recipes don't grace the cover of a magazine until they undergo rigorous testing. Rest assured, it passed the tests!
Apple Tart Easy Recipe
Like many great dishes, the recipe for tarte tatin is said to have been born out of culinary clumsiness.
As National Geographic describes, "In layman's terms, it's a topsy-turvy apple and caramel tart, baked upside down so the apples stay soft and jammy and the pastry on top crisp — and then flipped over at the last minute.
This little piece of showmanship makes it the perfect dinner party dessert; impressive to look at, yet surprisingly easy to pull off — once you understand the recipe."
Apple Pie Crust
Try some of my other easy rustic fruit pie recipes! Yes, apples are quintessential American favorites, but peaches run a close second!
And, crusts, well, there are options. I love to use the roll out refrigerated pie crusts, too.
Apple Pie with Puff Pastry
Nothing beats puff pastry. And, when you need to save time, how convenient and always perfect is puff pastry.
For me the key is the heat and baking. Yes, you want to follow those instructions on the packaging. However, I'm usually at 400 when I have my pie chocked full of apples like these that are sliced into healthy wedges. If I see the crust getting to a golden brown and still more then 3-5 minutes on the timer, then I'll reduce the heat to 375. I don't want the crust getting too brown.
Best Apple Pie Filling Recipe
The best apple pie filling recipe? It's a no brainer. Apples. Lots of beautiful wedges of apples that are scrubbed, rinsed and cut into wedges.
How do I cut them. Cut the apple in half, then the halves in half. Remove the seeds/core. Then cut these halves into two to three pieces each. You'll end up with healthy size wedges of apples that you can actually taste.
And, the remaining filling is simple, just something to sweeten the apples a tad and a thickening agent for all the juices that will emerge as the tart bakes. There're no spices in this apple tart tatin. I want you to taste what it is an apple tart tatin!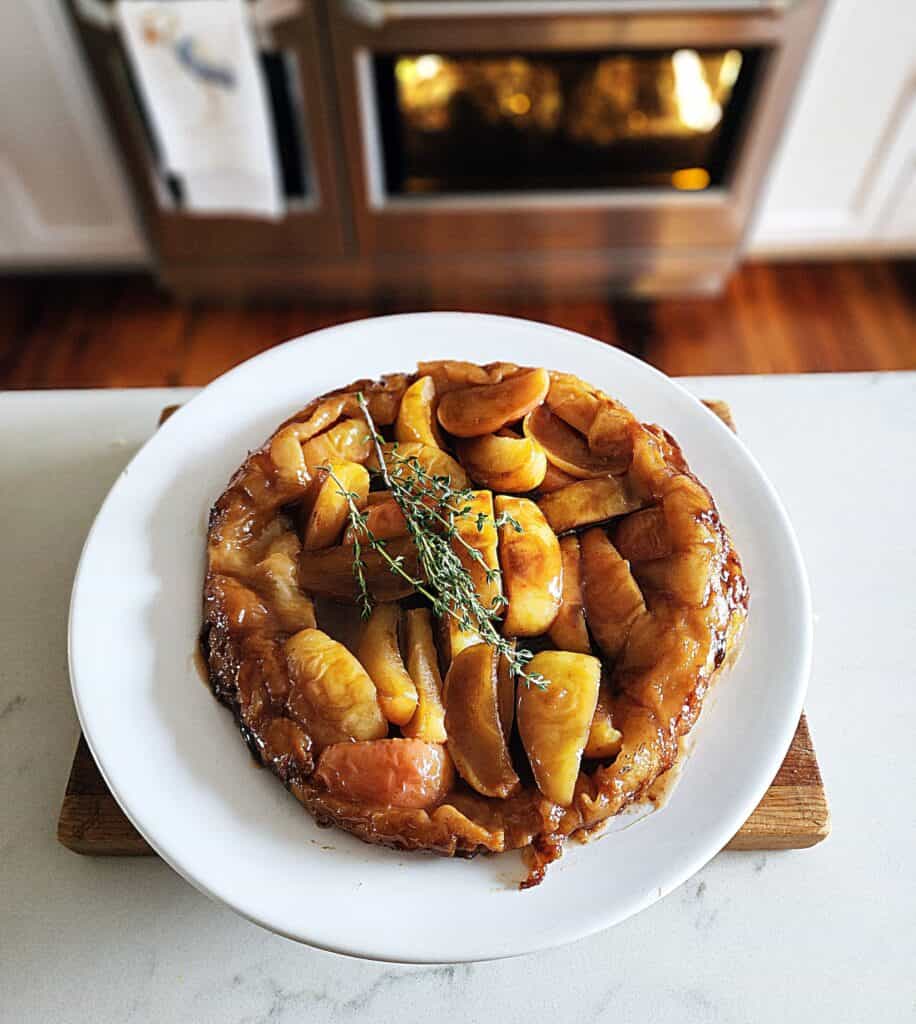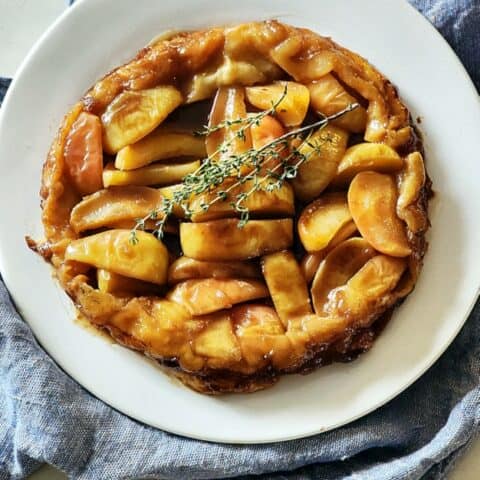 Best Apple Tart Tatin
Yield:
Makes One 10" round tart tatin
Ingredients
Preheat oven to 400
6-7 cups fresh apple wedges, skin on, cut into wedges
1 large lemon, juice only
1/4 cup + 3 Tbl. coconut sugar, divided
1/4 cup tapioca flour
1/8 tsp. sea salt
1 refrigerated puff pastry, about room temperature
1 egg
Instructions
Preheat oven to 400
Put the apple wedges in a large mixing bowl with the lemon juice toss and blend. Combine in a small bowl the tapioca flour, one fourth cup + two tablespoons of the coconut sugar, tapioca flour and salt. Blend well and toss on the apples. Toss and blend the apples.
Grease well (with coconut oil) a 10" cast iron skillet (or similar baking dish). Put the apples in. Make a 'moat' border around the apples of about one inch.
Put the puff pastry on top. Work the dough on the top of the apples and gather the dough all around the perimeter and tuck and fold in and around the apples making a 'tent'.
Using a pastry brush, cover the dough and all around the tucked in perimeter with an egg wash. Sprinkle with remaining coconut sugar.
Put the skillet on a cookie sheet. Bake in a preheated 400 oven about 25 to 30 minutes or until the pastry is golden brown.
Remove to a cooling rack. Take a butter knife and go all around the perimeter to 'dislodge' from the sides of the skillet. Let the tart tain cool about 20 minutes.
Then carefully and with great precision, cover with a plate somewhat larger than the 10" skillet and flip the tart tatin onto the plate. Scrape from the skillet any remaining juices and caramelized sauce from the baking.
Serve whenever your littl' heart desires!
Notes
Want to warm it up? Just put in a toaster oven or the oven on low heat.
The pie can stay in a cool kitchen on the counter over night. Cover with a clean dish cloth or parchment paper (and tuck in/around the plate it's on).