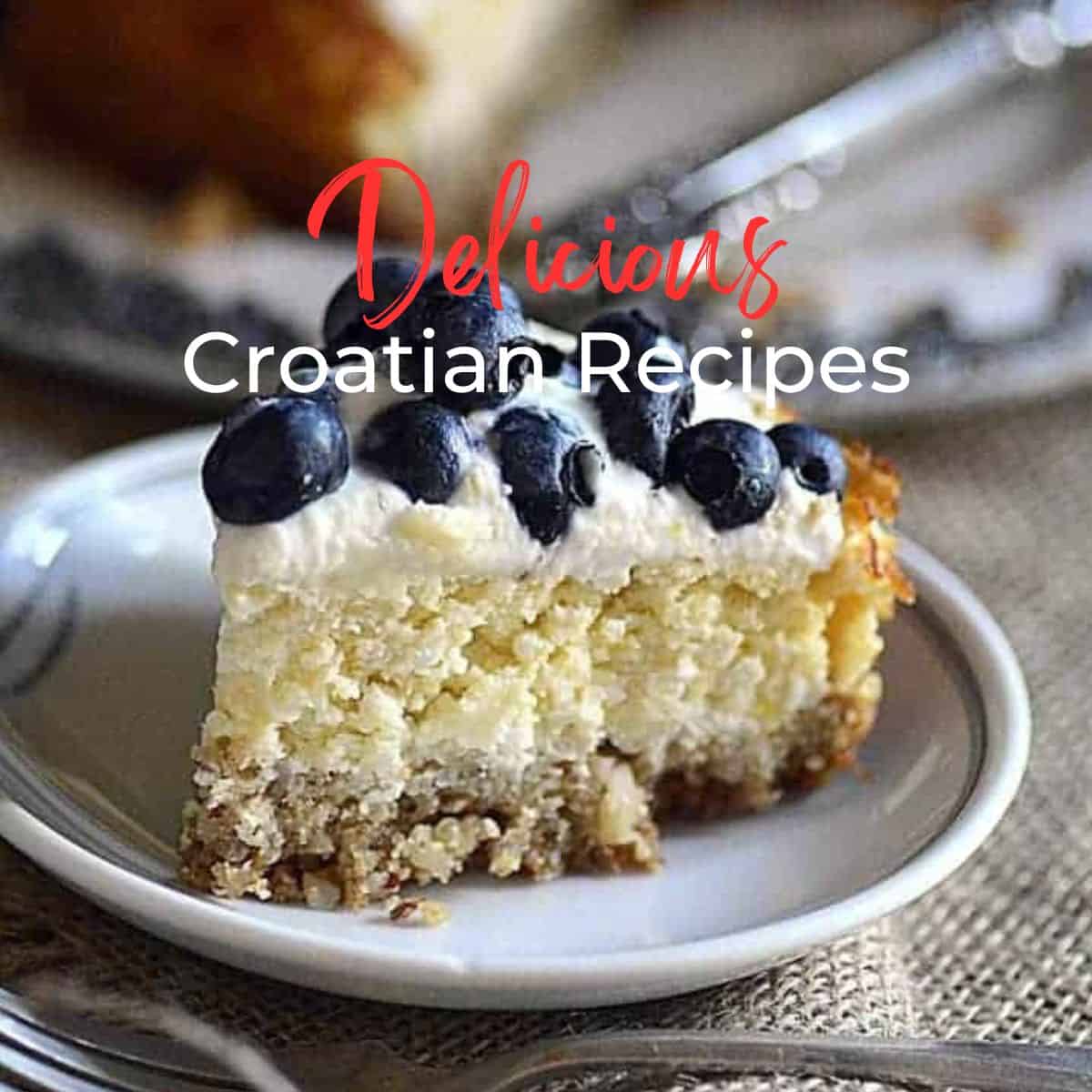 Croatian cuisine is absolutely divine! It's an Eastern European delight. I should know. My family is Croatian. I may have grown up in the south, but my roots are firmly in Eastern Europe, and some of the best recipes you'll find in that area are from Croatia.
Growing up, my grandmother and mother were always in the kitchen. Just like in the South, the way to say "I love you" in Croatia is through your stomach. So I definitely had some yummy eats throughout my life.
I remember delicious dishes like potatoes and greens, stews, and other main courses to sweet treats like cheesecakes, nut rolls, nut cookies, and more. They were all so delicious, and I think what made them even better was all the laughter around our table when we enjoyed them.
My Croatian Roots
I never left my love of Croatian food behind, and when I started cooking for myself, I always dove into our family recipes to whip up something tasty and delicious. I even searched for my Croatian family tree on a trip to the country with Ben! It was an adventure, to say the least. All I had were some old, worn documents of my grandparents' immigration to America, but I wouldn't be deterred!
Now, there are too many Croatian recipes to count or list here, but I've put together my absolute favorites for you today. Make them all and get ready to fall in love!
Croatian Cooking
Croatian cooking is all about simplicity and flavor. You won't find any fancy, involved, futzy recipes in any Croatian cooking. It's all about rustic deliciousness. The cuisine of the country varies somewhat from region to region with Hungarian, Turkish, Roman, and Mediterranean influences featured prominently depending on the area of the country.
No matter what part of the country you're in, one thing is always constant, Croatian food is good! The recipes from Croatia are all about flavor and simple beauty, not flashy presentation. I think that's why I've always loved Southern food as much as Croatian fare. Both of them are all about the down-home flavor of a dish.
Why You'll Love These Croatian Recipes
When it comes to Croatian cuisine, there's a lot to love! The country is known for its rustic dishes that are both sweet and savory. They're easy to make, use just a few ingredients, and they always leave your heart and your belly happy. Some great things about Croatian recipes include:
In general, they use limited ingredients. You won't need a laundry list of items to make these dishes.
They have a rustic, down-home feel to them. They're classic comfort food.
These rustic dishes are easy to make, and even beginners will have no problems making them.
Whether sweet or savory, these recipes are always delicious.
Simple Recipes with Complex Flavors
Perhaps the biggest hallmark of Croatian cuisine is the way cooks use simple ingredients to create dishes with complex flavors. Most Croatian cooking is based in peasant cooking – the idea of using what you have on hand to create what you can.
You might think that using whatever is around would lead to bland or unappetizing dishes, but hundreds of years ago, Croatians were very good at using spices to their advantage. Combined potatoes, greens, and any kind of meat they had available with spices and various cooing techniques gave rise to some amazingly delicious recipes that were definitely more than the sum of their parts.
Today, those recipes are still here, and the idea of delicious simplicity is very much a cornerstone of modern Croatian cooking.
Croatian Recipes You'll Love
These delicious Croatian recipes run the gamut from savory greens and potatoes to sweet Croatian cheesecake. You can make an entire meal just by mixing and matching these delicious recipes.
Whether you're looking for a delicious dessert, a main course, or even a salad, you'll find it here. And let me tell you, these are all dee-licious!
Try These Croatian Recipes Today
From thick, rich stew to cabbage rolls, red potato salad, cheesecake, and more, there are so many delicious flavors on this list of Croatian recipes. If you're looking for a rustic dish that will leave you full and satisfied, then you'll find it here. Give these Croatian recipes a try and get ready to fall in love.