Boho Trendy. Cowboy boots. Headbands. Hippie chic. Travel. Adventure. Family. Friends.
 Dr. Alice D'Antoni Phillips
the world of ally
Her friends and family know her as Alice. And, she has an alter ego, Ally. Her trademark cuisine is most aptly described as 'Bohemian Bold'-simple, yet sophisticated dishes – hippie chic. That means seasonal vegetables, traditional cuts of meats, seafood, fresh herbs, spices and seasonings, fashioned into unlikely combinations resulting in eclectic 'new' dishes with varied cultural and global influences.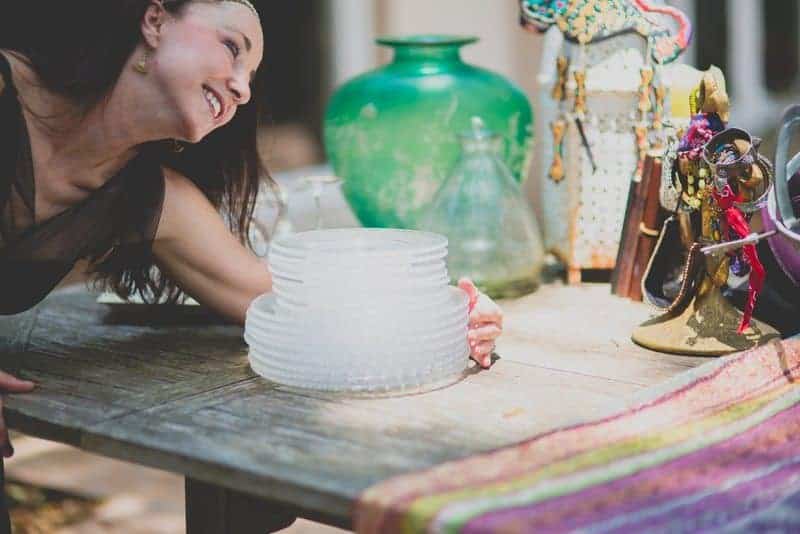 Ally came from humble beginnings, born and raised at  'the mouth of the hollers,' which is the name for a narrow valley in West Virginia amid large mountains. Morning haze don't burn off 'till 10 a.m. even under the summer sun, and dusk begins at about three in the afternoon on the shortest days of the year.
Ally's father passed when she was only ten, leaving her Croatian mom with 4 kids to raise alone. With a limited education, Ally's mom demonstrated the strength and perseverance that sometimes runs on love more than money for fuel – a resourceful, chic and Bohemian woman herself, Ally's mom was her first inspiration as a cook.
Ally's namesake is her paternal grandmother, Alice Emma, a little wiry woman, who was full of piss and vinegar! Growing up, Ally spent hours many days a week in grandma's kitchen watching her cook. Afterwards, they'd head to the porch where she'd listen to stories about all the goings-on in Hollywood and get the highlights of Liz Taylor's many marriages.  Marshall University is where Ally met her first husband Dan D'Antoni, an All-American basketball player and now MU's head coach of the Thundering Herd.
After they married, Ally and Dan stayed at Marshall where he went on to become the assistant basketball coach and, in one of those moments that you know for certain someone is keeping an eye on you, made a decision they would never forget. Making what was a kind gesture, Danny relinquished his ticket on a flight to an away football game. Ally and Danny opted to babysit the team Doctor's 6 kids so the Doc and his wife could feel more comfortable about going to the game with the team & leaving the little ones. The plane left on Friday, but crashed upon landing on its return Saturday, killing 37 players, five coaches, two trainers, the athletic director, 25 boosters and the flight crew of 5. In 2006, the tragedy was memorialized in the Hollywood film 'We are Marshall.'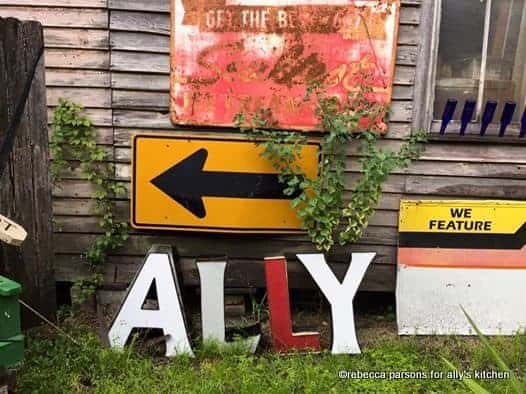 Despite tragedy, life goes on the way it does, becoming busy, then hectic, then the kids started to arrive, 4 sons one after another in less than 5 years – the first when Ally was 28 the last when she was 32. As if that wasn't enough, ever ambitious Ally continued to work full time, as well as earning her doctorate degree at the age of 29.
Then, after nearly two decades together, Danny and Ally decided to go their separate ways opening the door to the second half of her epic love story.
Ben and Ally met randomly at the airport when Ben asked Ally to watch his luggage while he parked his car. Ally was 42 when she met the man of her dreams. Proving susceptible to Ally's charms, the spark was ignited, and they chatted all the way to their flight connection. Ben struggled to remember the name of an Andrew Lloyd Webber play he'd enjoyed in London, and they parted ways in exchanging business cards, with Ben still not able to grasp the name of the play.
Ally didn't hear from him for weeks.  Then out of the blue, she received a post card that changed her life "The answer is: 'Aspects of Love' let's break bread. Ben"  What followed next?
Imagine worldwide travels and adventures -backpacking in Eastern Europe, learning to ski, Harley road trips, wilderness camping, hiking the Grand Canyon rim to rim and more. Ben & Ally were married in 1994 with her three boys taking turns walking her down the aisle.
Ally's career began as an educator, supervising special education and the serving as a school psychologist. A renowned expert in learning disabilities and ADHD, she founded her own company serving children and adults in the Southeast, specializing in innovative programs designed to help them through her unique one-on-one methodology.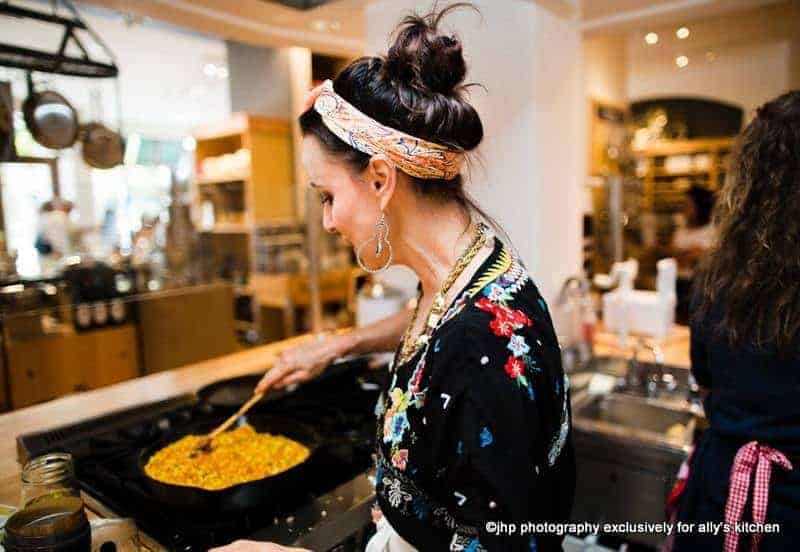 In 2008 Ben and Ally relocated to Boston. Ally decided she wanted to do something different so she embarked on a career she'd dreamed of since she was a teenager–becoming an actor! At the ripe young age of 59, Ally set off on her next adventure. She took acting lessons and started auditioning, with the persistence that IS Ally, and the tenacity that is bred into kids from the hollers.
As luck would have it, Ally saw an audition for MasterChef Season 1, and she made it to the semi-finals before being sent home. Naturally, she re-auditioned for season 2 and after beating out over 38,000 hopefuls, made it to the top 100 to be invited to Los Angeles to face Gordon Ramsay, Joe Bastianich and Graham Elliott with the unflinching style that is Ally!
Since then, Ally's been blazing the culinary home cook scene winning accolades for her innovative recipes in cooking contests like the prestigious Dole California Cook-Off, Gallo Family Vineyards, Fiji Water, World Food Championships, and many more. Hallmark Channel's Home and Family TV recognized her as one of America's 'Best Home Cooks'. Ally's cookbook is available on Amazon, Ally's Kitchen ~ A Passport for Adventurous Palates. 
Ally has appeared on Food Network's 'Clash of the Grandmas'. In 2019, she was recognized by the Taste Awards as a finalist in the 'Best Home Chef in a Series' category. 'The Lyre', the national magazine of Alpha Chi Omega, selected Ally from sorority chapters nationwide as one of their ten 2019 'Real. Strong. Women.' .
After a nationwide search, Ally was selected by GE Appliances as their 'Great American Grandma' She is now a brand ambassador and influencer for Dole Packaged Foods, True Aussie Beef and Lamb, and GE Appliances.
Ally's digital magazine, Ally's Boho Living, is available online.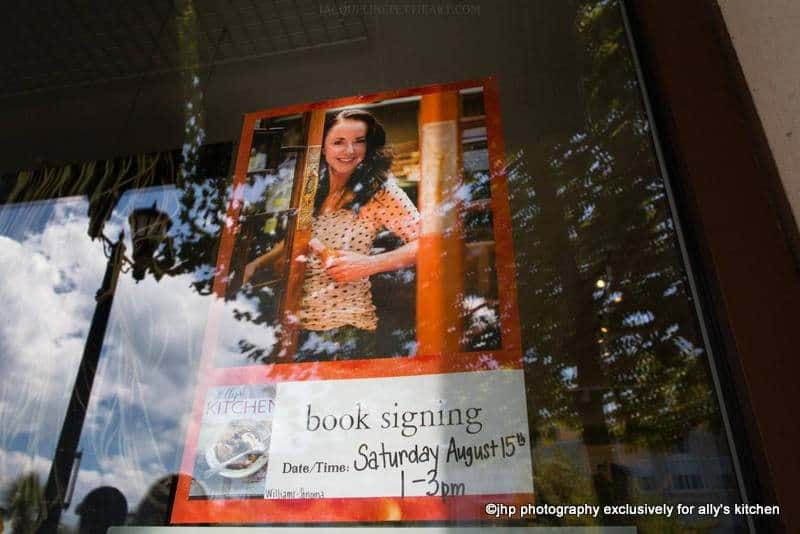 .