Vintage Buttermilk Sugar Waffles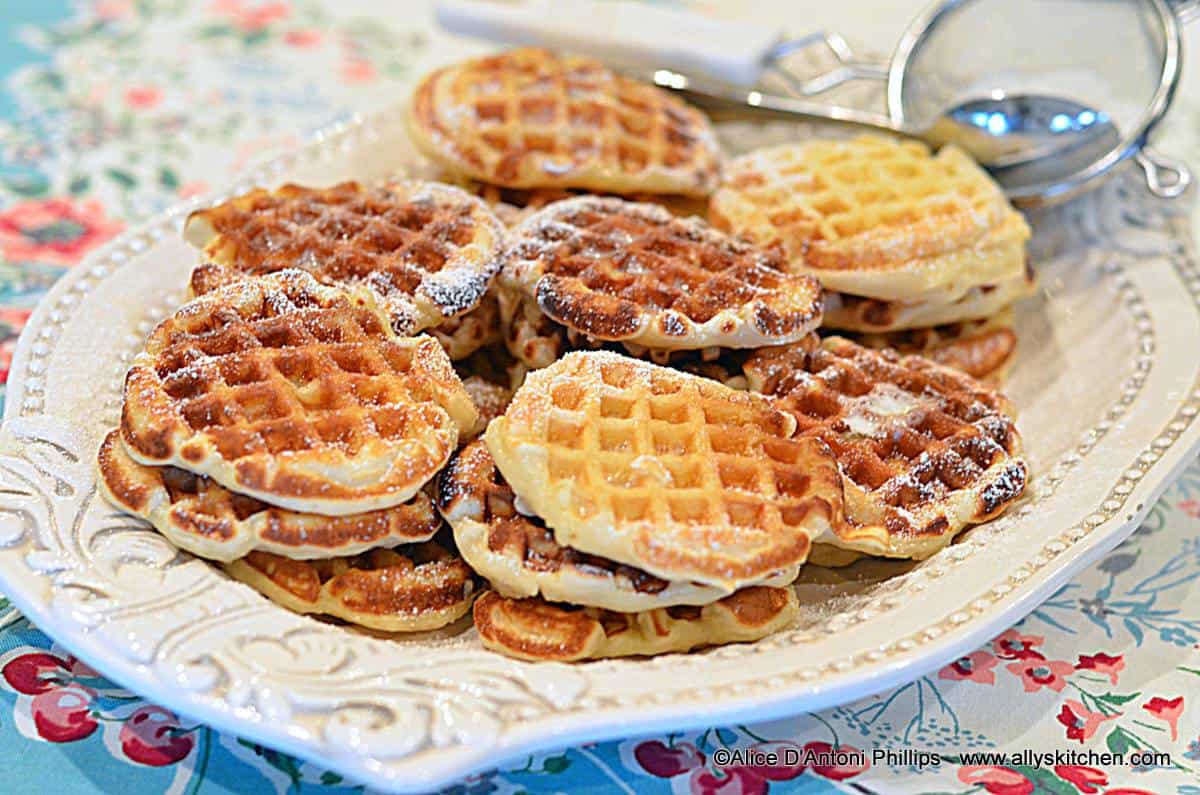 Mom was the best cook ever. Gosh, I learned so much from her as she worked in our postage stamp size kitchen. Like most home cooks living in the hollers of WV in the 1950s and 1960s, our kitchens were basic, not a lot of gadgets and gizmoes. It was old school and old fashioned. You used elbow grease when beating a batter, you used upper body strength when kneading dough, and you used ingenuity when you ran out of a particular ingredient because grocery stores weren't on every corner!
One of the things Mom always made us was a big breakfast. Most important meal of the day. Yes, we had a spread…everything from grapefruits (when Mom could get them) where she neatly cut each and every part to make it easier for us to eat (and, encourage us to eat it!), and, yes, with a cherry in the middle to pancakes and waffles. Mom had an old waffle iron, the kind with the cloth-like electrical cord well worn from years of use. The batter she made was just good standard go to ingredients. When cooked there was a fluffiness and lightness and it was like eating a cookie or a piece of cake!
Enjoy sitting at our small kitchen table some 50 years ago and dig in to these wonderful waffles! Get your creative juices flowing because you can make these into a dessert or some wild and extravagant sammich!
PS: Other pancake recipes (that you can make into waffles!) here on my site!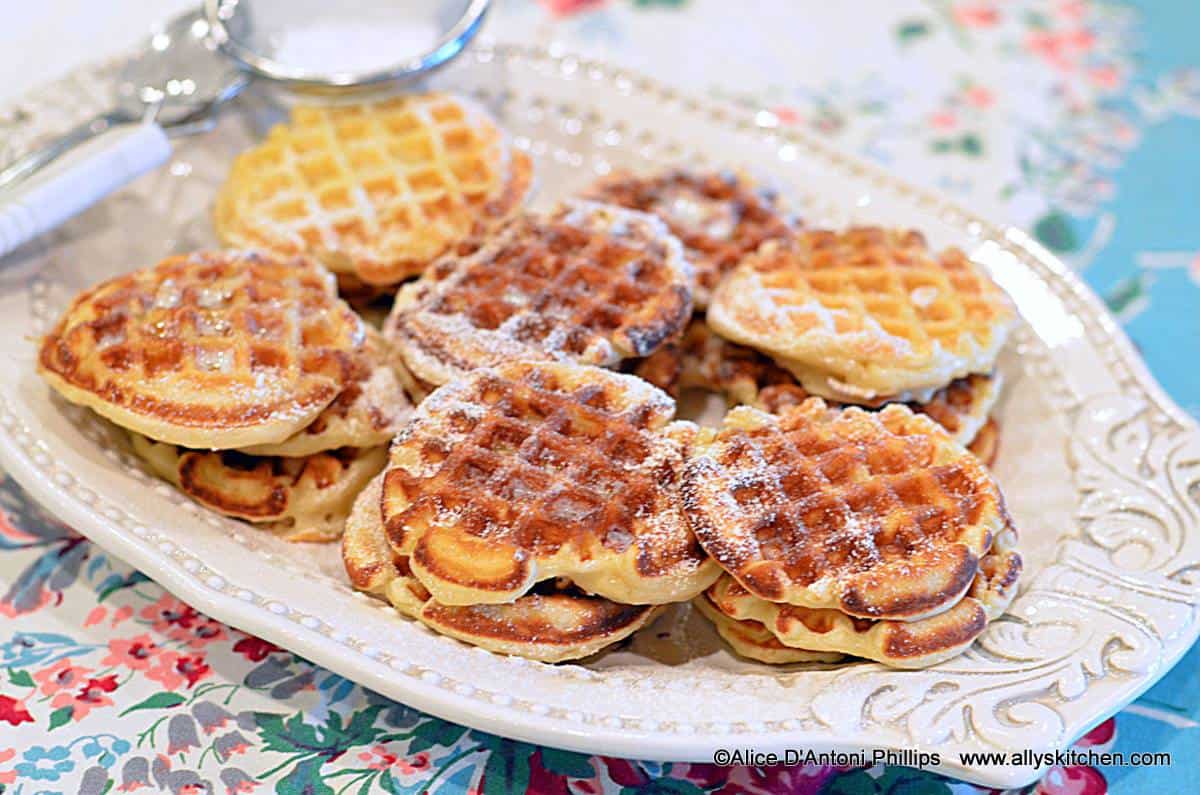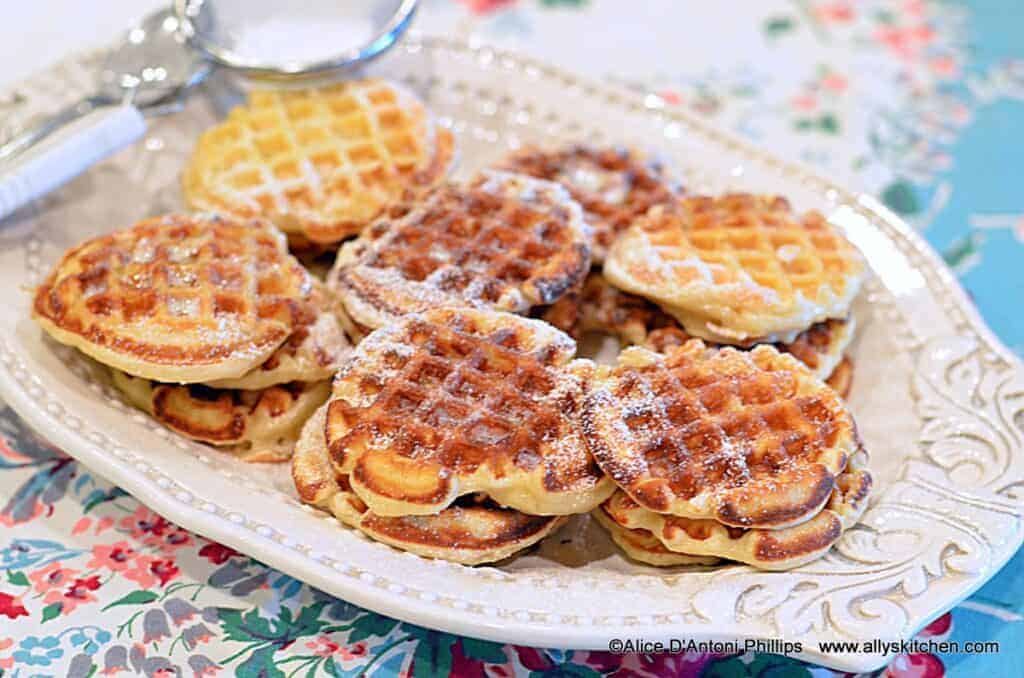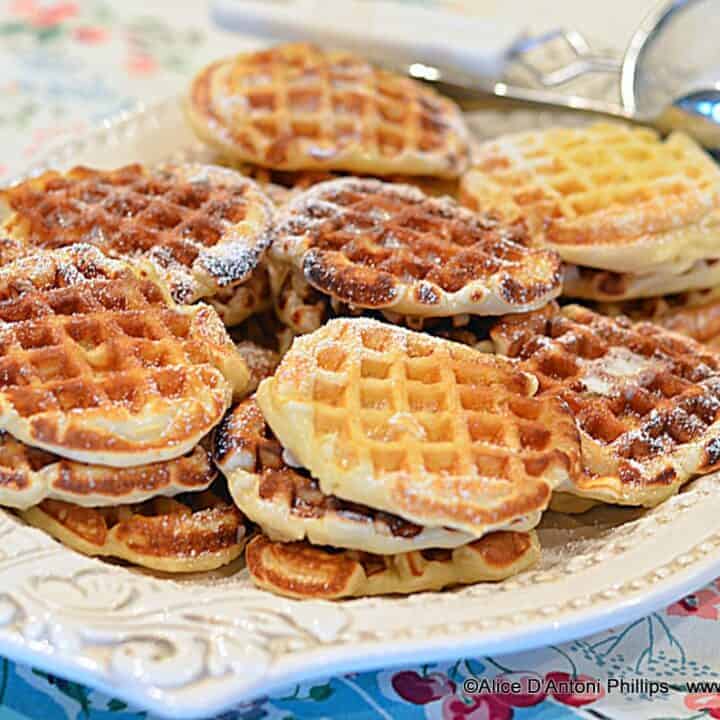 Vintage Buttermilk Sugar Waffles
Yield: About 18-21 3" waffles

Vintage Buttermilk Sugar Waffles recipe has stood the test of time, yielding fluffy, lightly sweetened waffles with delicious buttermilk tang!
Ingredients
1 ½ cups all-purpose flour
1 tsp. baking powder
½ cup sugar
¼ tsp. sea salt
2 beaten eggs
1 tsp. vanilla
1 ¼ cups buttermilk
Cooking spray
4 Tbl. butter, cut into small cubes for each waffle
3 Tbl. powdered sugar, dusting after done
Instructions
Coat each opening of the waffle griddle with cooking spray. Over medium heat, let it get hot.

Combine the flour, baking powder, sugar and salt in a mixing bowl. In another 2-cup capacity measuring cup mix together the eggs, vanilla, and buttermilk. Pour into the dry mixture and blend. Don't worry about small lumps.

Pour about 3-4 tablespoons of the batter into each waffle opening and cook about 2-3 minutes until bubbles begin to form around the edges and on top. Gently and carefully flip to the other side and grill another about 2-3 minutes. Remove to a plate, put a cube of butter on the waffles and dust with powdered sugar.

Continue until all the batter is used. Serve with your favorite fruit, syrup, sauce or just eat them like a big ol' soft cookie!