lemon ricotta coconut cake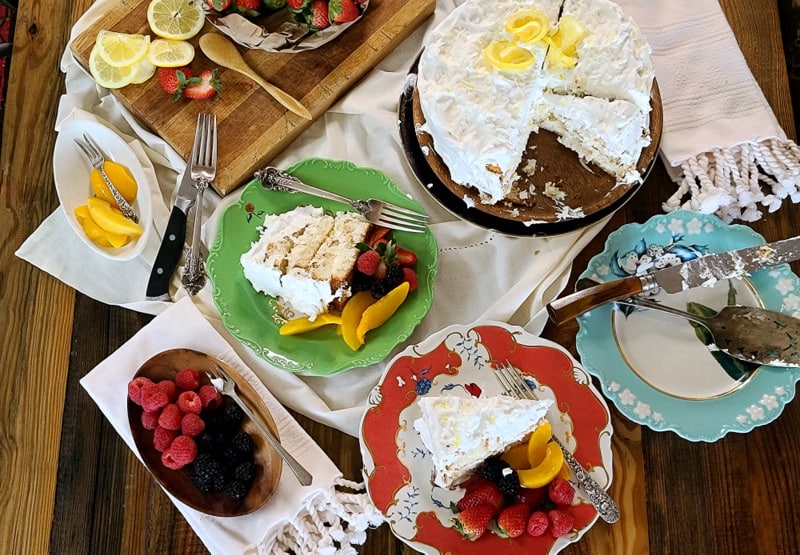 No denying that this lemon ricotta coconut cake is a showstopper and hit! It's creamy, rich, Not too sweet. Serve with nature's fresh fruit!
Super Easy Coconut Cake
I've been making this super easy coconut cake for years. In fact, it's my oldest son's most favorite cake. Actually, my husband's, too!
Layered Coconut Cake
Layered coconut cakes have a lot of creamy delicious filling between the layers. And, this cake does not disappoint. In fact, the creamy filling can be used solo. I mean you could dollop it on store bought angel food cake, slice up a few strawberries and in no time at all, you have a fabulous dessert!
Best Coconut Cake Recipes
The best coconut cake recipes in my option have two things in common. They're easy to make. And, they use fresh coconut. And, in my case it's fresh frozen coconut.
You can find this coconut in the frozen food case of your grocery store. Wherever you usually look for frozen puff pastry, fruit, pie shells, whipped topping and more is where you'll probably find this frozen shredded coconut.
Coconut Cake Easy Recipe
What makes this coconut cake easy? Well, we're gonna start with a basic white cake mix. But, we'll prepare it differently than the box directions. So, big thing to remember, dump that cake mix in your mixing bowl, then check the recipe for what we're going to use to make the batter.
Lemon Ricotta Cake
There's nothing better than lemon and ricotta together. And, combined into a cake, it's divine. My ricotta blueberry lemon casserole cake is a perfect example.
Ricotta Dessert Recipes
Now, I can eat ricotta with just a drizzle of honey or fresh fruit. Sometimes all I want is a dusting of fresh nutmeg on it. Yes, it's that good. But, ricotta is for more than desserts like my lemon blueberry ricotta custard !
Why not explore using ricotta in a salad like my beet mint ricotta salad!
Coconut Cream Cake Filling
As I said, this coconut cream cake filling has more purposes than just this cake. If you do create something unique, I'd love to hear about it. So please share with me!
Coconut Ricotta Cake
Besides using ricotta in a cake, you could also use it in other things. When you buy it, and you'll find it usually where the sour cream and cottage cheese is in the dairy case, think of using it in pancakes, waffles, cheesecake, pizza, pasta, and more.
Coconut Lemon Cake
Nothing's tastier than lemon and coconut. And, since I love both, they're perfect together in this cake. Fresh lemon is a must. Make sure you have beautiful lemons with a tender rind. Wash those lemons well. There's residue and dirt on them. And, you don't want to zest this into your food.
Lemon Coconut Cake Recipe
What makes this cake recipe, even better is the fact that it keeps well for several days in your refrigerator. Just cover it with plastic wrap and you're good. In fact, the slices even get better because the filling oozes into the cake!
Yogurt Coconut Cake
Adding yogurt to the cream filling is a great way to get more nutrition into the mix. And, if you want to add yogurt to your cake batter, reducing some of the buttermilk, then go ahead and try that. Yogurt will give your cake an additional boost of moistness!
Ricotta Lemon
A perfect combination. Ricotta and lemon. And, if you've never tried blackberries and ricotta, well then, you'll love these weekend muffins!
In fact, another way to enjoy ricotta is to use it when you're making cheesecakes. Yep, just blend with your creamed cheese. Or you can simply take ricotta, blend in some powdered sugar (sweeten to your liking), add some fresh lemon juice and zest then top with fresh berries! Ricotta cheese is one of those versatile ingredients that you'll enjoy like cream cheese or sour cream!
Coconut Ricotta Cake
Coconut ricotta cake with that spritz of fresh lemon is one of our favorites for Spring and Summer. It's refreshingly delicious and each bite will bring a smile to your face!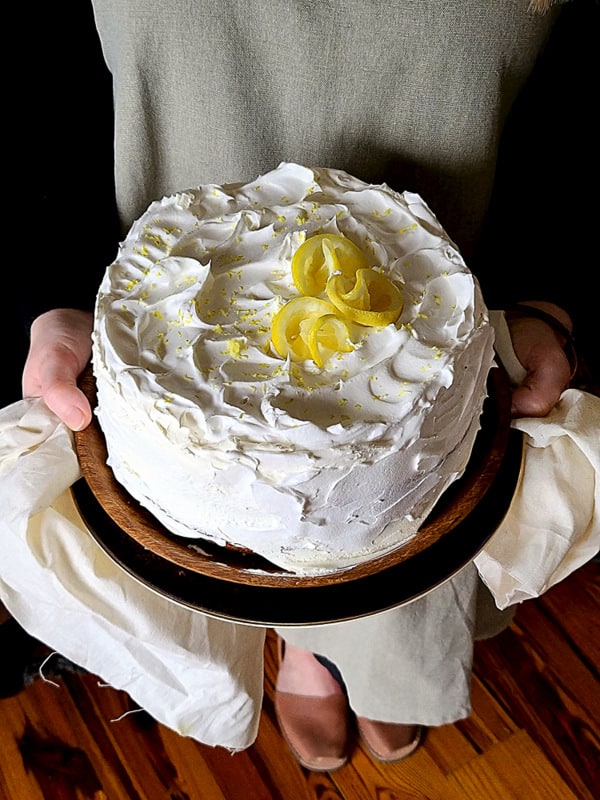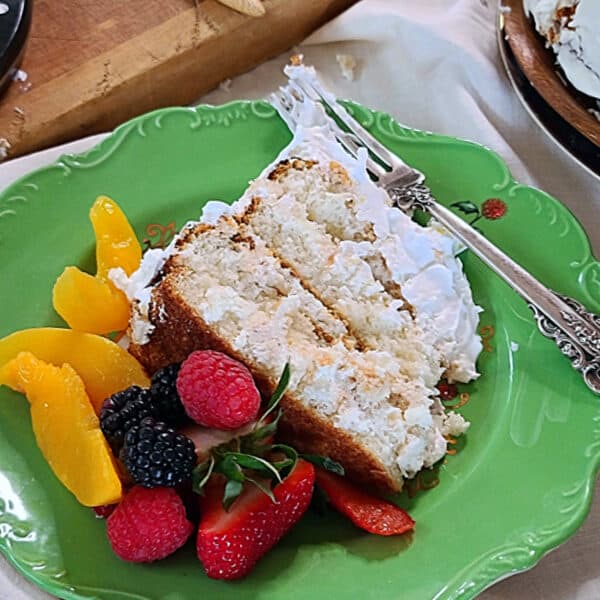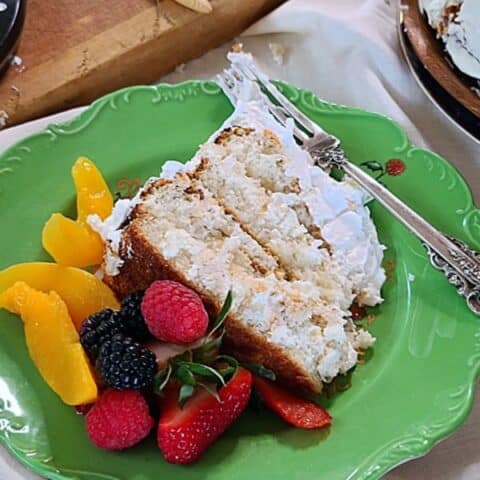 lemon ricotta coconut cake
Yield: One four-layer cake
Ingredients
Preheat oven to 350
1 cake mix (about 15.25 oz.), white
1/2 cup oil
1 cup buttermilk
3 egg whites
2 packages (6 oz. each) fresh frozen coconut, thawed
2 cups shredded coconut, sweetened + more for garnish
1 cup ricotta
2 (5.3 oz.) containers Lemon Greek Yogurt
12 oz. heavy cream, whipped + more for icing sides/top, optional
2 lemons, juice and zest of one, zest of the second, divided
Instructions
Preheat oven to 350

In a large mixing bowl combine the cake mix, oil, buttermilk and egg whites. Use a mixer and blend into a creamy mixture.

Pour equal amounts into well-greased 9" round cake pans. Bake in a preheated 350 for about 23 to 28 minutes. Remove and let the cool then release from pans.

While the cake is baking, in a large mixing bowl, blend together the frozen coconut, shredded coconut, ricotta, lemon yogurt and whipped cream. Add the juice of the lemon and zest of one lemon. Blend well. Put in the refrigerator and let it chill while the cake is baking and cooling completely.

With the two cooled cakes use a serrated knife and crosswise through the middle making two layers. Place each on a piece of parchment paper.

Starting with the first layer. Put some of the coconut cream filling on it and spread leaving about ¼" from the edges. Add the next thin layer, more coconut cream filling. Repeat until you have completed all the layers. Ice the top of the cake and sprinkle on additional shredded coconut and zest the second lemon on top the cake.

Use additional whipped cream topping to ice the sides and top of the cake (optional). Add lemon zest to the topping.

Refrigerate a few hours before serving or overnight.