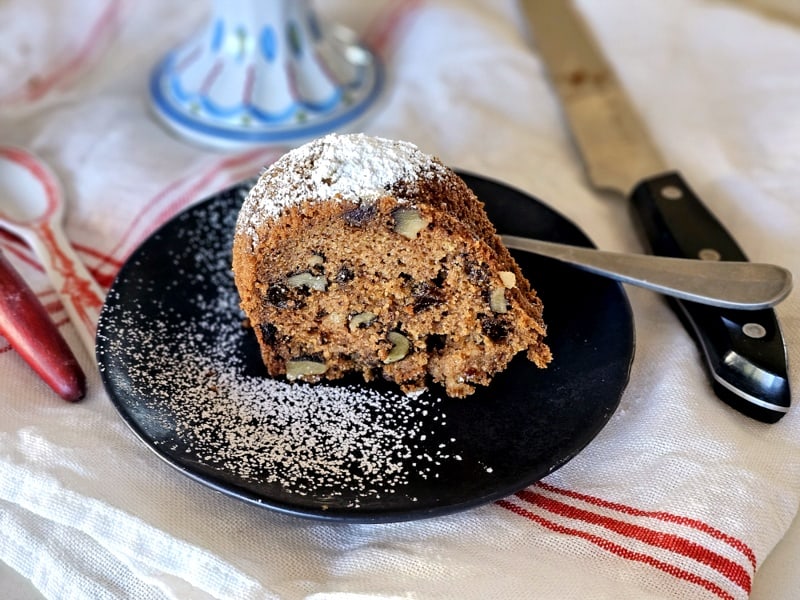 I've been making this applesauce bundt cake for 50 years. It never disappoints! I've substituted some healthier ingredients!
Applesauce Cake Recipes
An applesauce raisin cake is a delightful and moist dessert that combines the natural sweetness of applesauce and raisins with the warm, comforting flavors of cinnamon and spices.
This applesauce cake recipe is vintage, My first cookbook was "The Good Housekeeping Cookbook" 1973. It's tattered, worn, stained and well-used over the past 50 years. Page 531 is where this iconic applesauce cake recipe is. It's tried and true. Absolutely, divine!
Applesauce Bundt Cake
Let's look at this applesauce cake:
The cake typically has a warm, golden-brown color.
It may have a slightly textured appearance due to the raisins and bits of applesauce that are often visible in the batter.
Some versions of the cake might feature a light dusting of powdered sugar or a simple glaze on top for a touch of sweetness and decoration.
Recipe for Old Fashioned Applesauce Cake
The texture of this cake is stupendous.
It's texture is moist and tender, thanks to the applesauce used in the recipe.
Raisins, when plumped during baking, add small pockets of chewiness and bursts of natural sweetness.
The cake can be soft and crumbly, making it easy to cut and serve.
Cake Made with Applesauce
Now what about the taste of this cake!
The predominant flavor is sweet, with a pronounced apple essence from the applesauce.
Raisins contribute a natural, fruity sweetness and a pleasing chewiness.
Warm spices like cinnamon, nutmeg, and sometimes cloves or allspice provide a comforting and aromatic background flavor, giving the cake a hint of spice without being overpowering.
Overall, the taste is reminiscent of a cozy autumn day, with the sweetness of apples and raisins complemented by the comforting embrace of spices.
Old Fashioned Applesauce Raisin Cake
Just baking this cake is a treat!
When an applesauce raisin cake is baking, it fills the kitchen with a warm and inviting aroma.
The scent of apples and spices wafts through the air, making it hard to resist taking a slice even before it's done.
Homemade Applesauce Cake
An applesauce raisin cake is a classic, homestyle dessert that's perfect for any occasion, from family gatherings to cozy evenings by the fireplace.
Its combination of fruity sweetness, moist texture, and warming spices makes it a beloved treat for all seasons.
Now if you're hankering for other cakes that are equally as magnificent, then take a look at these:
Outrageously Delicious Pumpkin Cake
Moist Applesauce Cake
What's the best way to serve this cake?
Applesauce raisin cake is often enjoyed on its own as a dessert or a sweet treat with a cup of tea or coffee.
It can also be served with a scoop of vanilla ice cream or a dollop of whipped cream for an extra indulgent treat.
Some people prefer it served warm, which enhances the comforting, homey qualities of the cake.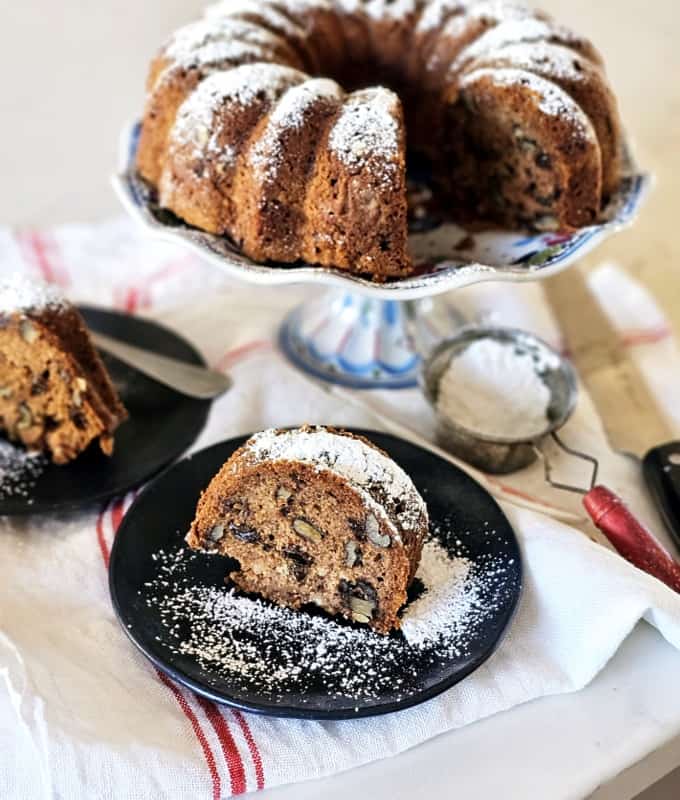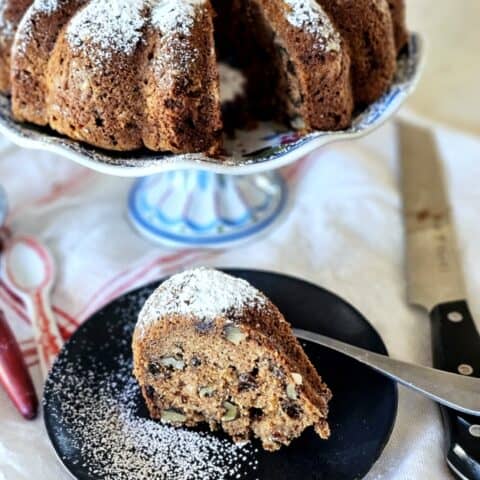 Applesauce Bundt Cake
Ingredients
2 1/4 cups all-purpose flour
1 Tbl. baking powder, original recipe did not call for this
2 tsp. baking soda
2 cups applesauce, unsweetened
3/4 cups coconut sugar
2/3 cup coconut oil, liquid form
2 eggs
1/3 cup milk
2 tsp. cinnamon
1 tsp. nutmeg
1/2 tsp. cloves
1/2 tsp. salt
3/4 cup dark raisins
1/3 cup dates, diced small pieces
1 cup walnuts, roughly chopped
Instructions
Preheat oven to 350
Grease and flour the bundt pan well. Shake out excess flour. Just a dusting in the pan.
Into a large mixing bowl, measure all the ingredients except the raisins and nuts. Blend and mix well. You could use a small hand mixer!
Pour into a well-greased bundt pan.
Bake in a preheated 350 oven for about 40 to 45 minutes. Test doneness with an 8" skewer. You'll see small cracks and fissures in the top of cake. That's another indication that the cake is probably done.
Remove from the oven a cooling rack. Take very small rubber spatula and go around the perimeter of the pan to gently loosen.
Cover with a clean dish towel and let it cool then dislodge and remove from the pan.
Dust with powdered sugar, optional.