Easy Dessert Waffle Recipe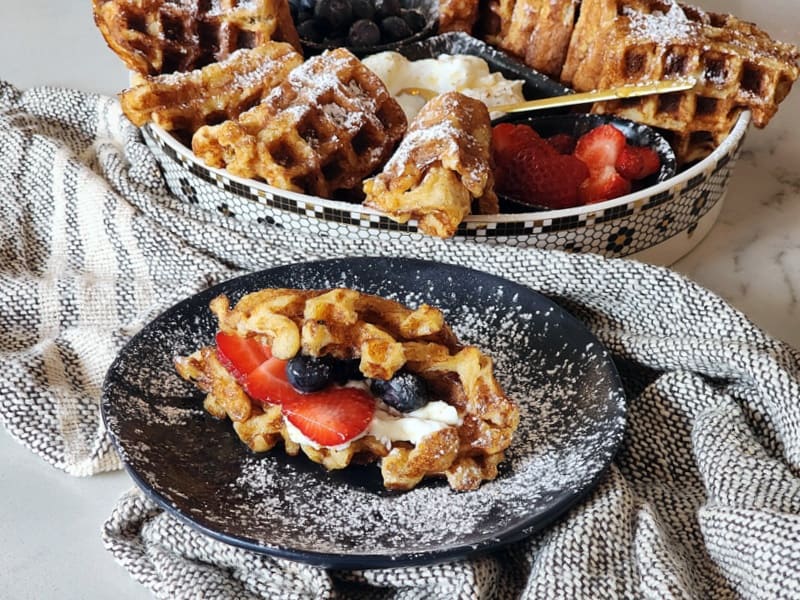 The easiest most fluffy fabulous foldable dessert waffles you'll ever have! Thin and like a cloud, these waffles bend and fold. Fill with fruit!
Waffle Dessert Ideas
In Belgium, France and parts of French-speaking Quebec Canada, dessert waffles are popular!
And, they're topped with things like fresh fruit, whipped cream, ice cream, yogurt, honey, maple syrup and anything that just makes it more dessertEEEEE.
Recipe for Waffles
This recipe for waffles has a unique ingredient!
Yes, chicken bone broth! I know, I know, you're probably thinking, what in Sam Hill! Bone broth is for savory. But, I guarantee you that you'll not say that after you make these waffles.
All this bone broth does is make your waffles more nutrient dense! Hummmm, that's a bonus ingredient, I think!
Homemade Waffles
The bone broth in this recipe help add the liquid needed to create the perfect consistency of the batter. And, not just any bone broth will do. You want bone broth that's grass-fed, has the best ingredients and that is simmered for hours and hours in order to extract the good stuff, collagen and nutrients.
My bone broth of choice is Kettle and Fire. Take some time to research it and read more. Then if you decide you want to use, click this link and get 20% off your purchase, and purchases in the future, with my code ALLYSKITCHEN.
Waffle Recipe No Milk
For those who want dairy-free, well, you're in business with this recipe. But if you want to make it completely dairy-free, then I suggest you swap coconut oil for the butter and a dairy-free yogurt, for the regular Greek plain yogurt.
Quick and Easy Waffles
These waffles require only a few steps. What makes them unique is that once they're done, they are foldable.
How does this happen? It's in the thin coating of batter. And, it also is in the timing of the cooking. You want to make sure that your waffle iron is on a medium setting. Get the waffles a light golden brown.
Once they are done, usually a trigger notes when the waffle(s) is done, then immediately fold when the waffle is still warm and flexible. Since these are thin waffles, even when they cool, they are more pliable than thick waffles with a crispy well-done outer crust.
How to Make Easy Waffles
I like to use a small waffle iron and make one round waffles, about 8″ in diameter at a time. There are four quadrants to the waffle. This allows you to fold in half, then fold the half into fourths, which will give you a small hand held waffle.
The flexibility of the waffle comes from a thinner batter. Typically the waffle is made with a thick batter because that allows for a crispy exterior and a fluffy center of the waffle. This recipe for the waffle batter is not intended to give us crispy crunchy waffles.
Waffle Mix
There's always a chance you might want to save some time and use a really good waffle mix. Be sure to read those ingredients! And, if you do, you can try using the wet ingredients, including the bone broth, from this recipe.
Another option is to pre-mix your dry ingredients from this recipe, then add the wet when you're ready to use. Making your own waffle mix from the dry ingredients is really so simple!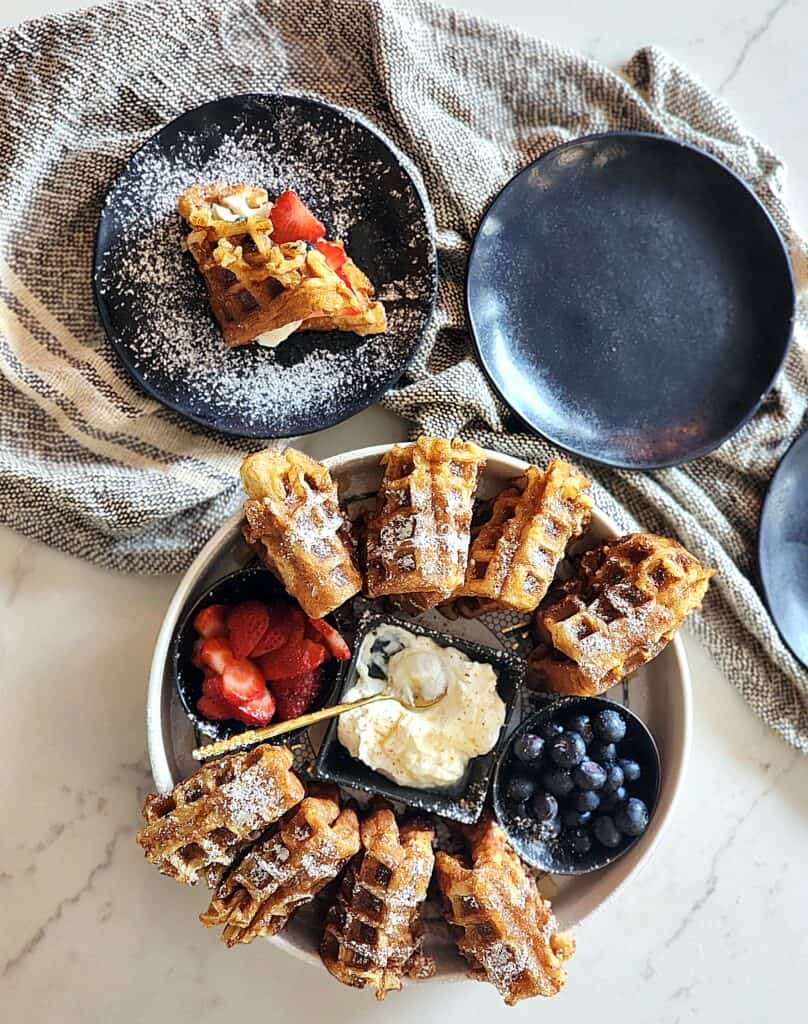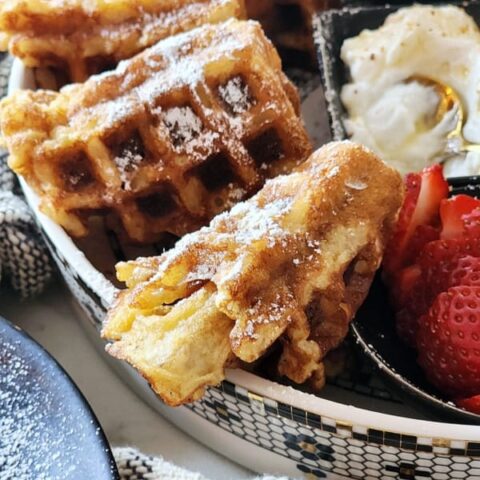 Easy Dessert Waffle Recipe
Yield:
About 9-10 waffles
Ingredients
3/4 cup Kettle and Fire Chicken bone broth
2 pasture raised eggs
6 Tbl. butter, salted, melted
1/4 cup date sugar
1/3 cup Greek plain yogurt, full fat
2 tsp. vanilla
Pinch salt
1 cup flour, all purpose, sifted
2 tsp. baking powder
Cooking spray, olive oil or coconut oil
Instructions
Preheat your waffle maker. Mine was about a 9" round waffle maker and I put it on 3 (out of the top number, 5, setting).
In a large mixing bowl, add the chicken bone broth and eggs. Whip together about 30 seconds.
Add the butter, sugar, yogurt, vanilla and salt and whisk together well.
Sift in the flour and baking powder and blend well. The mixture will be fluid and like a thick melting milkshake.
Put about one-fourth heaping cup of batter in the hot waffle iron. Spread around to make a thin waffle. Close the lid. Cook and when done remove. Repeat with all the batter.
Serve immediately with your favorite fruits, toppings, yogurt, bananas, nutella, watever!
Notes
To buy the best bone broth, check out Kettle and Fire! If you decide to try, please use this link and my code, ALLYSKITCHEN, for 20% off your order. Great deal! The soups are awesome, too!
You could make these GF by using in the same amount a 1:1 GF flour mix like Bob's Red Mill.