dark cherry buttermilk pancakes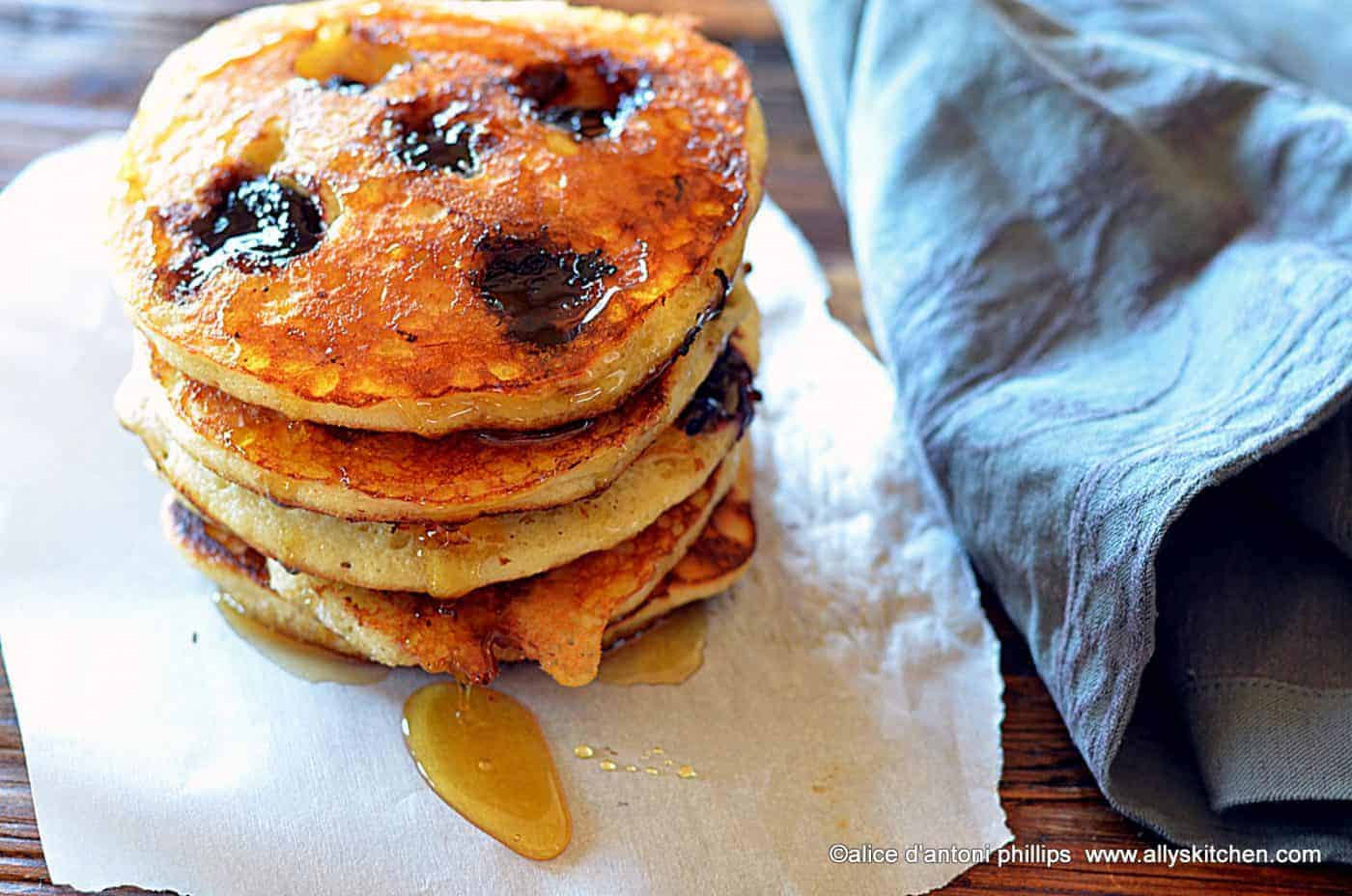 Cherry Pancake Recipe
It's summertime all year round with these cherry buttermilk pancakes. The cherries give you bursts of sweet juiciness in almost every bite!
Yes, you can search Google and find a cherry pancake recipe. But, usually the cherry pancake recipe you'll find is either a cherry syrup or a cherry topping for the regular pancakes. This sweeet dark cherry buttermilk pancakes recipe is quite different!
If you want to feel like it's summertime year-round, especially with fruit, then look not further than the frozen fruits and Dole's fabulous selection. Always perfect, sweet and versatile, they open up new frontiers for cooking particularly in those long dark winter months.
Easy Pancakes
Yes, these are super easy pancakes. Once you add the batter to the griddle, then just put the number of cherries you want on the batter and, presto, they ooze and cook like a dessert cake! You can never make too many because they're just a yummy eating cold. Grab one and run. With each bite you can have a burst of summer!
Pancakes with Buttermilk
Why would you make pancakes with buttermilk. Well, buttermilk does a few things for your pancakes.
A little science lesson. Buttermilk, yes, is tangy. This is very very subtle in the pancake. It's good because it balances out the sweet, especially if you're topping with syrup. Buttermilk also helps activate the baking powder in the batter. This activation makes the pancake lighter and fluffier. Finally, buttermilk is an agent that helps with guten and in breaking it down. You're going to get a more moist, tender and soft pancake. So are you sold on using buttermilk?
Dessert Pancakes Recipe
These pancakes have dollops of whole cherries in them. In essence, you can consider this your dessert pancakes recipe. Yes, serve one of these warm pancakes on a plate. Put a dollop of whipped cream or vanilla ice cream and you'll feel like you're eating a luscious dessert. One more thing, top it with a sprig of fresh mint!
Another idea? You've heard of chicken n' waffles, well why not pancakes n' wings. Serve these cherry buttermilk pancakes with my mandarin spicy sriracha chicken wings! Go ahead, break the rules!
cream or ice cream on it, and it's luscious!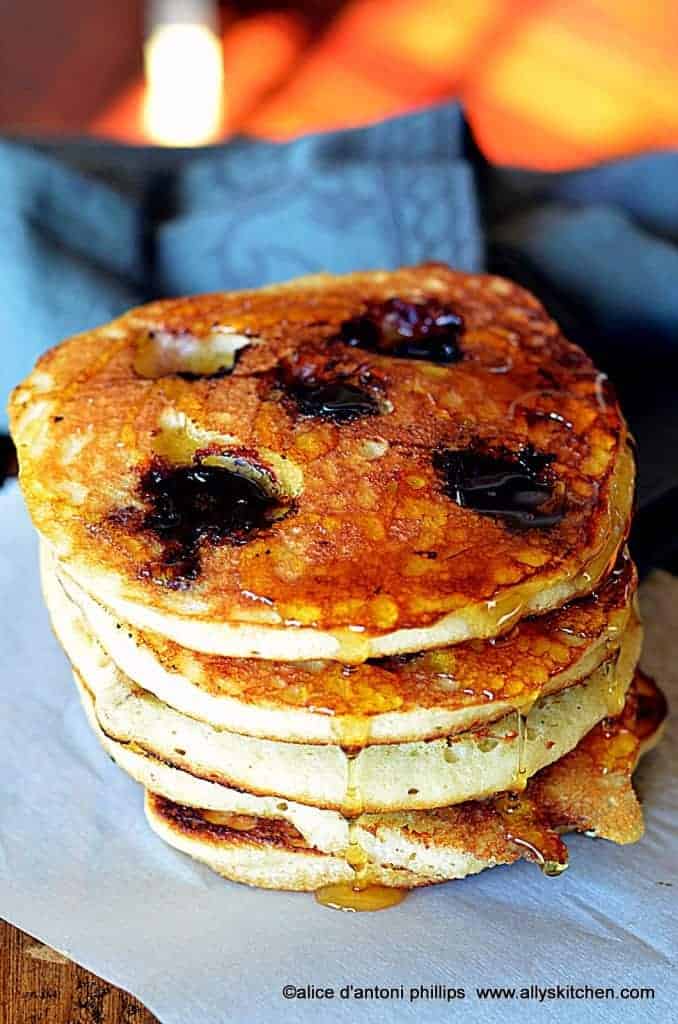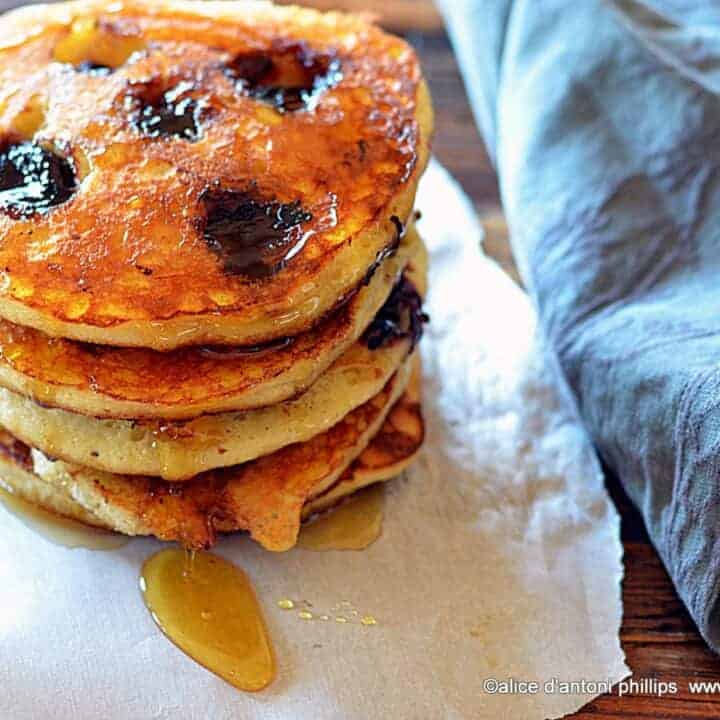 dark cherry buttermilk pancakes
Yield: 8-10 About 5" diameter pancakes

It's summertime all year round with these cherry buttermilk pancakes. The cherries give you bursts of sweet juiciness in almost every bite!
Ingredients
¾ cup self-rising flour
1 tsp. baking powder
1/3 cup sugar
2 eggs, beaten
1/3 cup buttermilk
1 tsp. vanilla
3 Tbl. canola oil
1 cup Dole Sunshine frozen dark cherries
Cooking Spray
Instructions
In a mixing bowl, combine the flour, baking powder, sugar and mix together. In another small bowl, combine the eggs, buttermilk, vanilla and canola oil and blend.

Pour the wet mixture in with the dry and blend well. Heat a non-stick (or very well seasoned cast iron skillet)skillet (about 10" diameter) over medium heat. Coat with cooking spray.

(Note: Make one pancake at a time unless working on a larger griddle.) Scoop about ¼ to 1/3 cup of batter into the middle of the hot skillet. Place 4-5 cherries in the center most part of the batter.

Cook about 2 minutes or until little bubbles begin to form. Give this side of the pancake a quick coat of cooking spray. Gently slide a metal spatula and flip cooking another about 1 ½ to 2 minutes.

Remove the pancake to a plate and repeat. Serve with a drizzle of honey. These pancakes are great cold!
Notes
Make on the weekends, cool and freeze then pop out whenever you want a pancake! Just warm and go!

Make the night before, refrigerate then warm for breakfast the next morning!