hallmark croatian cheesecake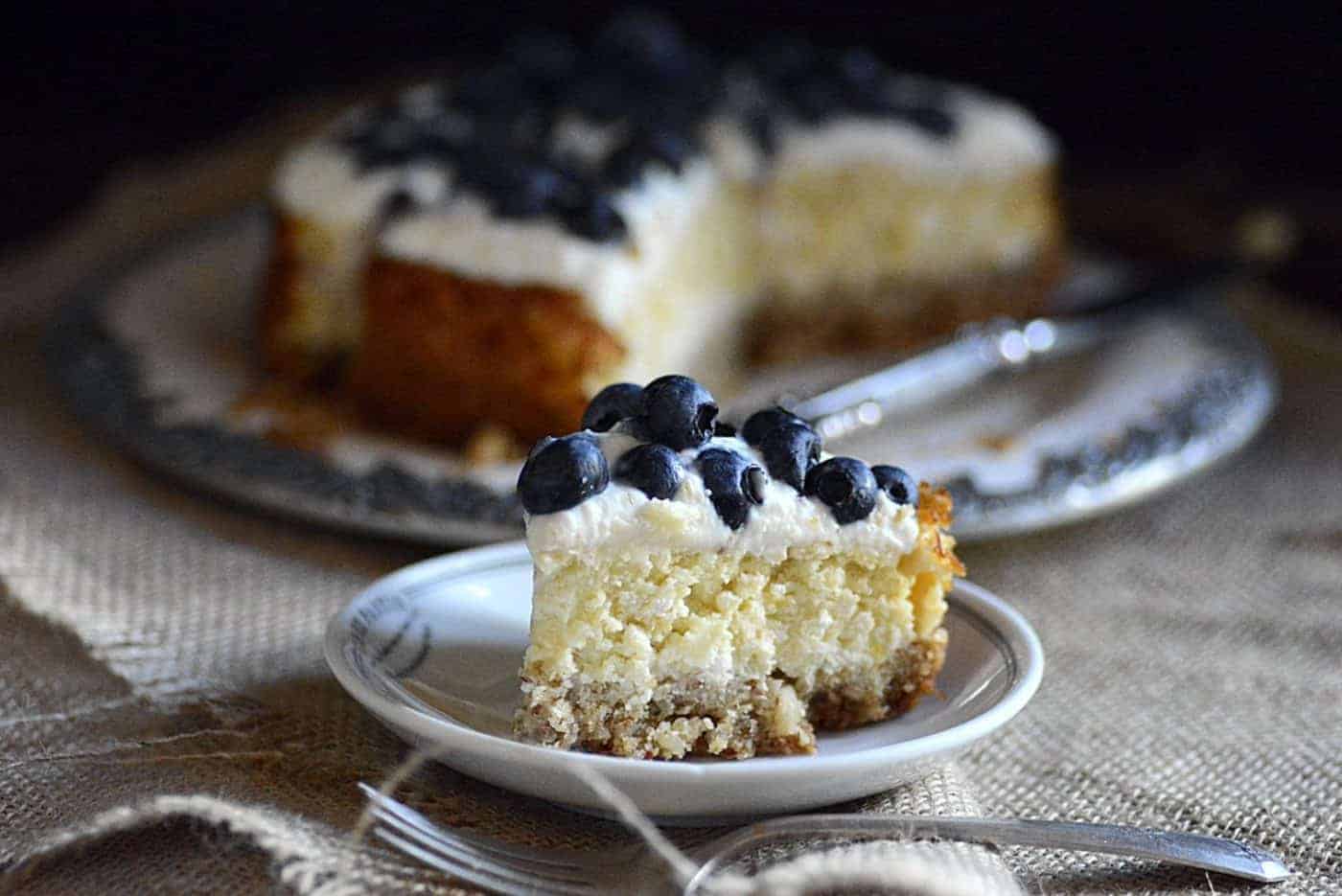 Croatian cheesecake is dense, slightly sweet, lemonee and full of some great ingredients to elevate healthiness. A family 100+ year treasure!
Home and Family Hallmark
Croatian cheesecake is dense, slightly sweet and full of some great ingredients to elevate healthiness. Try my 100 year+ family recipe for cheesecake. And, you might like reading more about my amazing search for my roots in Croatia. Honestly, it's like a Hallmark movie that really happened. And, it was just Ben and me and some worn dusty documents that Mom had saved of her parents' coming to America.
There's so much history behind this 'hallmark Croatian cheesecake'. And, Home and Family TV with the Hallmark Channel has a lot to do with it.
Cheesecake with Cottage Cheese
From the journey my Grandmother made at the turn of the twentieth century to America from the old country, which was then the Austro Hungarian Empire, to now today and sharing this recipe with the world on Hallmark Channel's Home & Family TV, this recipe has brought me and so many others, immeasurable love and happiness.
Recipes with Cottage Cheese
When I first decided to enter the Dream Jobbing contest for the 'Best Home Cook', I knew I wanted to share this recipe. But, I wanted to simplify it even more so others wouldn't be intimidated by the word 'cheesecake'.
Sometimes the idea of making a cheesecake makes home cooks think, hummmmmm, that's something that I just can't do because of its complexity. But, that's not the case with this cheesecake.
How to Make a Cheesecake
You cannot mess up. It will be tasty and delicious regardless.
While it might not have the 'glamour' and perfection of a French cheesecake, it will be heartwarming because you know that it's supposed to be rustic and earthy.
All those imperfections make for immense beauty!
Home and Family Recipes
Home and Family TV on the Hallmark Channel is super popular because of the variety of offerings on the show. From DIY and health information, Home and Family also has a big presence on daytime TV with home and family recipes.
These recipes are all over the board, and they're usually very family friendly. Nothing complicated and fancy because they know that the audience want's simple easy home and family recipes.
Easy Cheesecake Recipes
So when I saw that Home and Family Hallmark was searching for the Best Home Cooks, I knew I had to enter! After sending in my audition tape, which was just about 90 seconds demonstrating this Croatian cheesecake, I actually forgot about it. Then I saw myself on TV named as a finalist!
Just click this pix and watch my cooking on the Hallmark Channel!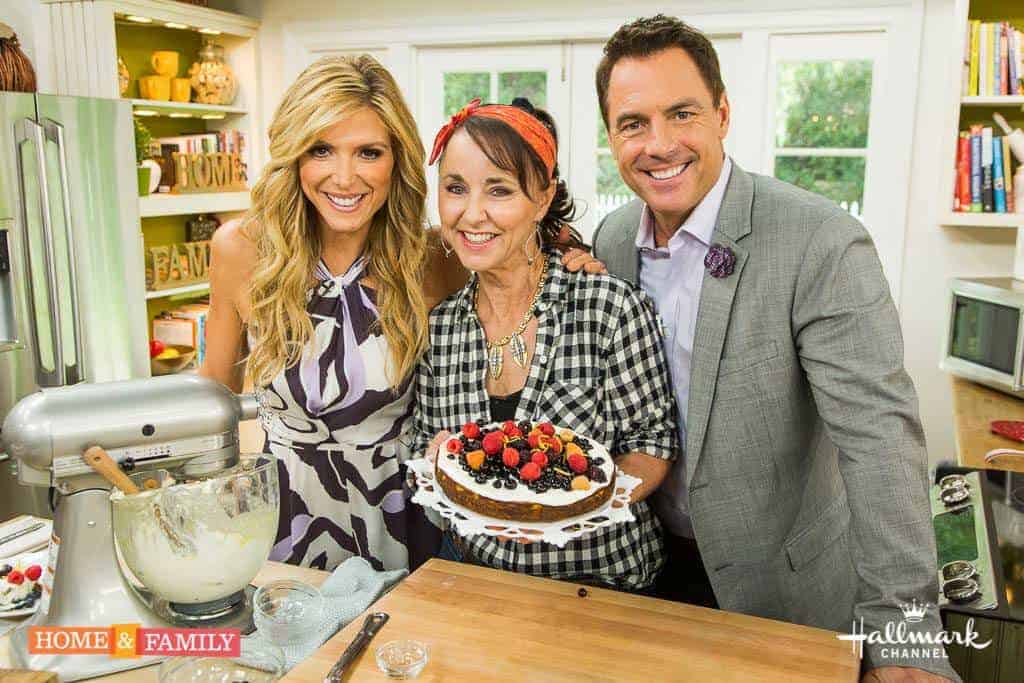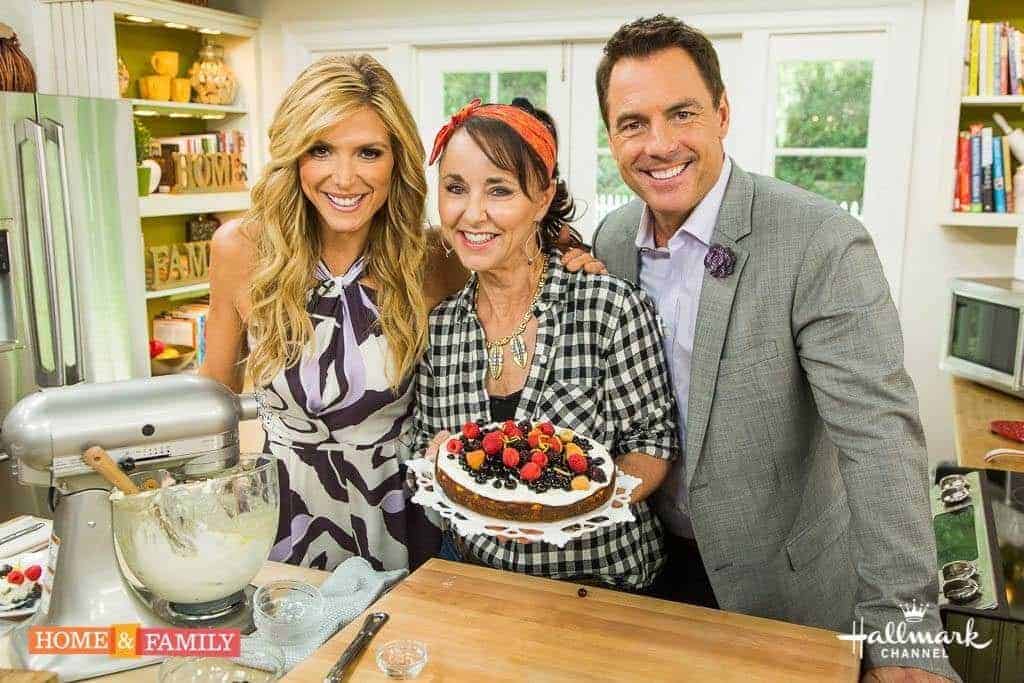 Croatian Cheesecake Recipe
When I learned that I was one of the six finalists for the title of 'Best Home Cook', I had no idea that the day that my show would air would be the 95th birthday of my Mom who'd learned this recipe from my her mother, my Grandmother.
Mom used to make this cheesecake mostly on special occasions, like Christmas and Easter, when we were growing up in the hollers of West Virginia. That's because the ingredients were relatively speaking kind of 'expensive'. This cheesecake was somewhat of a decadence for us kids. And, it was kind of healthy, so Mom used to let us eat it in the mornings for breakfast!
The Best Cheesecake Recipe
Times were tough. Money was tight. And, we would just feel like we were having the most heavenly treat when this cheesecake was made. Unlike typical cheesecakes, this cheesecake uses more cottage cheese than cream cheese. Cottage cheese is frequently used in Eastern European dishes and sweets.
I always say that dreams have no expiration date and here's why. When you stop dreaming, you've stopped living in my humble opinion.
Croatian Desserts
Croatian desserts, well, you just have to experience them. When Ben and I traveled to Croatia to find my long-lost relatives, and you have too read those posts because they're like a Hallmark movie, we ate our share of Croatian desserts.
Croatian desserts can be addictive and dangerous because you can't stop eating them. Whether it's a buttery crumbly pie, dainty velvety cookies or creamy and decadent rich cakes, they're full of immense happiness. And, because of Croatia's rich history over hundreds and hundreds of years, you'll see the influence of other cuisines and cultures, French, Middle Eastern, Italian and more. Croatian cooking and cuisine and Croatian desserts have benefited from this patchwork of influence over the years.
You might want to try some of my adapted Croatian desserts that my family most loves. They're slight adaptations of the recipes from Mom. I've made these much easier knowing that so many of us don't have the time to devote to complicated pastry cooking.
živjeli kata croatian cheesecake
Recipes for Cheesecake
Now some may be a little intimidated by the idea of making a cheesecake. Yes, there are thousands of recipes for cheesecake on the internet. But, this cheesecake recipe is one of the easiest you'll ever make. Now it's not fancy and perfect looking like a French or New York cheesecake. It's more rustic and earthy. Maybe this recipe for cheesecake is the one if you're visiting a village in Croatia or you want one that's heavy on an ingredient you wouldn't expect in recipes for cheesecake. Cottage cheese!
One of my new favorite cheesecakes, Lemon Coconut Cheesecake.
Cheesecake at Home
Making cheesecake at home is so simple! Here're some of my favorite recipes for you to try!
Chocolate Banana Cheesecake Bites
Blueberry Lemon Cheesecake Bars
Homemade Cheesecake No Bake
King Pineapple No Bake Cheesecake
Homemade Cheesecake Recipe Easy
Cherry Ricotta Cheesecake Jars
Cottage Cheese
Cottage cheese is a good source of some vitamins and minerals, but it only contains small amounts of others.
Healthline touts the value of cottage cheese, "Cottage cheese is a curd cheese with a mild flavor and smooth texture. It's high in many nutrients, including protein, B vitamins, and minerals like calcium, selenium, and phosphorus. If you're looking to lose weight or build muscle, cottage cheese is among the most beneficial foods you can eat."
Eastern Europeans and Russians love their cottage cheese and use it in many recipes, like pancakes. One of my grandson's favorite recipes to make when he comes to visit is 'Syrniki' which are pancakes with cottage cheese.
I sure hope you'll find that you love this Hallmark Croatian Cheesecake recipe as much as I do. I've made the crust a tad bit 'healthier' with the addition of wheatgerm and sliced almonds. Be playful in experimenting with toppings. If you want to do dollops of whipped cream and other kinds of fruit, do it. The base of this cheesecake the lemoneeee filling with the 'littl' cottage cheese lumps' is the star and will never be outshone by the topping! Here's to keeping the history of our families alive through their recipes. It's a priceless heritage and legacy to pass on to our children.
~peace & namaste~ xoxox ally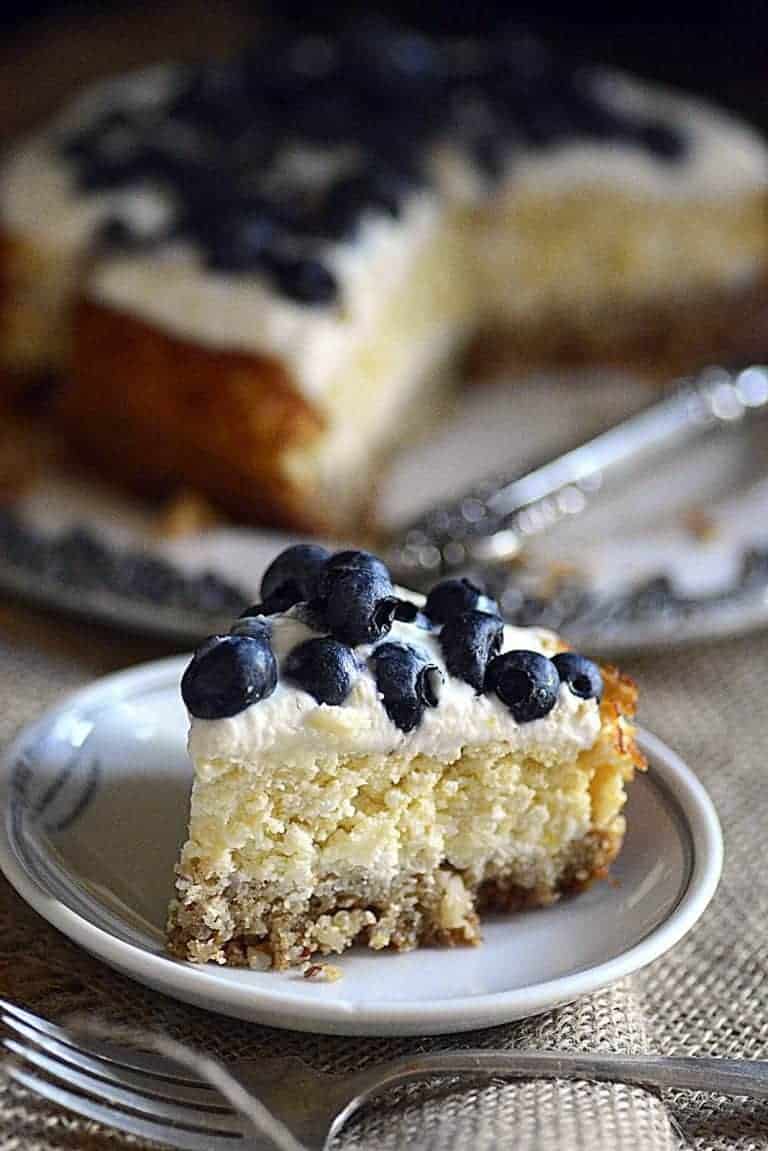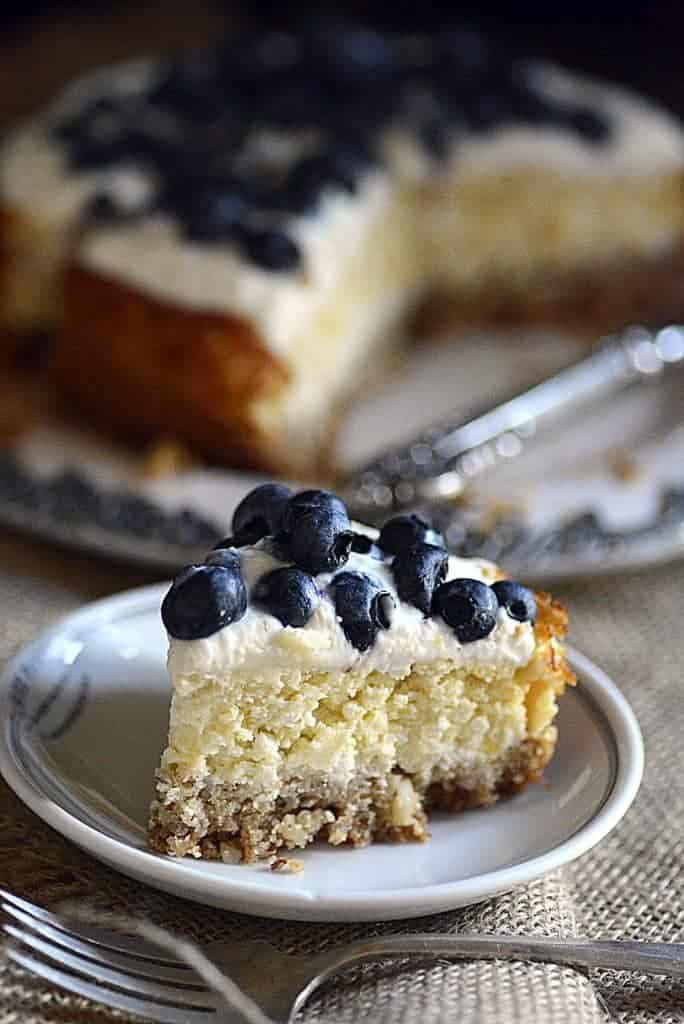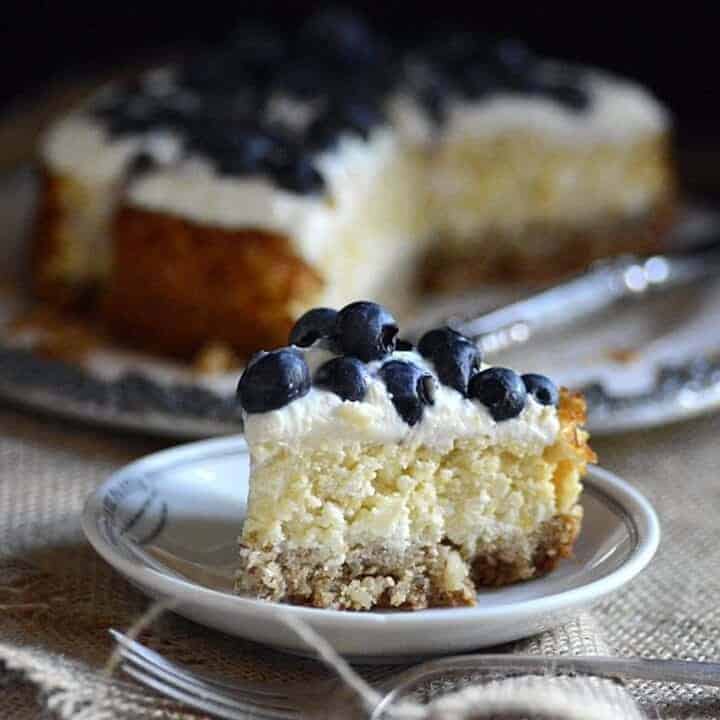 hallmark croatian cheesecake
Yield: One about 6-7" round springform pan

Croatian cheesecake is dense, slightly sweet and full of some great ingredients to elevate healthiness. Try my 100 year+ family recipe for cheesecake!
Ingredients
Preheat oven to 325
CRUST:
2 cups graham crackers, pulse in food processor
3/4 cup almonds, sliced, pulse in food processor
3/4 cup walnuts, pulse in food processor
1/2 cup pumpkin seeds, pulse in food processor
1/3 cup wheat germ, can substitute ground flax
1/4 cup paleo flour, optional
8 Tbl, butter, salted, melted
FILLING:
2 1/2 cups cottage cheese, whole milk, 4%, small curd, drained
1 cup whipped cream cheese or mascarpone, about room temperature
3/4 cup maple sugar
4 eggs, pasture raised, beaten
4 Tbl. Paleo flour, can substitute regular flour
1/8 tsp. salt
3 large lemons, zest and juice
TOPPING:
2 (6 oz.) container Greek lemon yogurt, best brand is Noosa lemon yogurt or creme fraiche
3/4 cup fresh blueberries
Instructions
Coat the pan (bottom and sides) with cooking spray (i.e., coconut oil). Cut a piece of parchment paper the size of the round bottom and place in the pan.
Pulse in a food processor the graham crackers, almonds, walnuts, pumpkin seeds wheat germ. Remove to a bowl. Add the melted butter and blend well. Add the paleo flour for extra support to hold the nut mixture together more securely. Totally optional.
Put into the spring form pan and pat down well firming the crust. Prebake/set in the preheated 325 oven for 6-8 minutes. Remove and let cool thoroughly.
In a large mixing bowl, put the cottage cheese, whipped cream cheese, sugar, eggs and flour. Whisk together well. Add the lemon juice and zest. Blend together well. Pour into the pan.
Place the pan on a cookie sheet. Bake in a preheated 325 oven about 60-65 minutes or until a toothpick basically comes clean from the center. (Note: Doneness also is evident when the top begins showing 'cracks' and crevices on top.)
Remove to a cooling rack. Take a butter knife and gently move around the perimeter of the cheesecake loosening the sides.
Disengage the pan when the cheesecake is completely cooled.
If not serving immediately, cover well with plastic wrap and refrigerate. It helps refrigerate a few hours before serving. This helps to set the flavors and the texture of the cheesecake.
When ready to serve, put the lemon yogurt on the top spreading around. Sprinkle on the blueberries. Refrigerate or slice immediately.
Notes
Cook time may vary depending upon variables like altitude, different ovens. The thing to do is the skewer test to check for doneness (middle of cheesecake). Also, you'll start to see small cracks and fissures on the top of the cheesecake as it's nearing doneness.

You can use a deep baking dish to make this cheesecake.You'll adjust the baking time accordingly to the thickness of the cheesecake.

Sometimes I love to make the crust thicker. If you like that, simply add about another 1/2 to 3/4 cups of graham crackers, 1/4 cup of wheat germ and/or ground nuts and another two tablespoons of melted butter into the mixture.

You can also use other types of packaged cookies in lieu of the graham crackers, vanilla wafers, butter cookies, or anything that's a plain cookie that can be crushed.

This cheesecake keeps well for several days in the refrigerator. Cover tightly with plastic wrap.

Don't think of this cheesecake as just for dessert. As a kid, I would eat it for breakfast!

If you want more of a 'thin' cheesecake, use a 9x13 pan, then you can cut cheesecake squares.