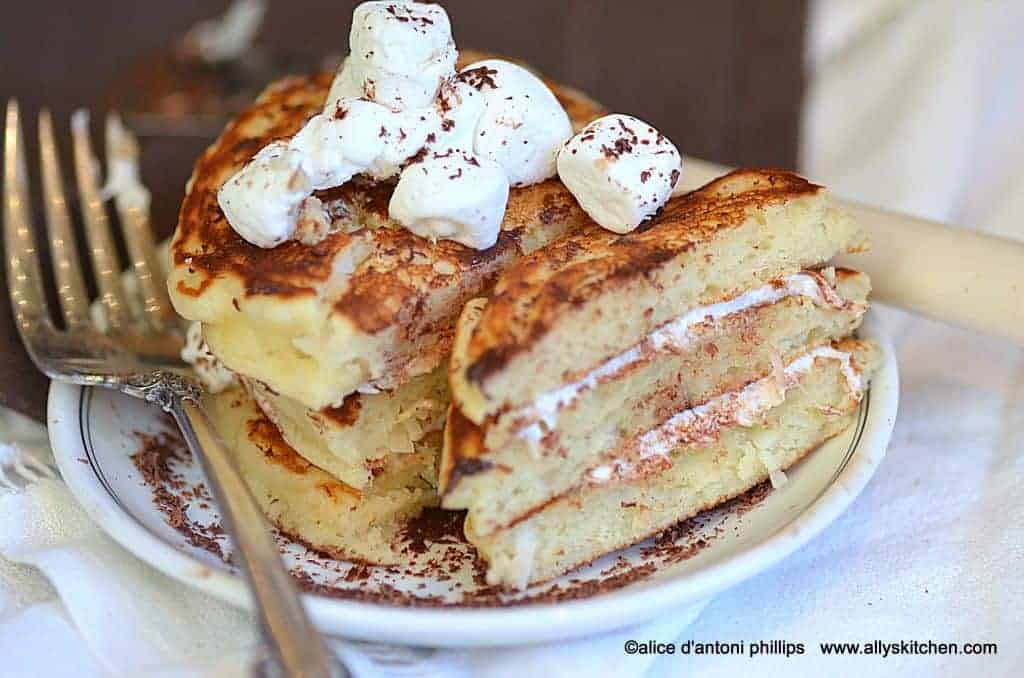 Camping isn't the only time you can have s'mores! How about for breakfast with these s'mores coconut pancakes! So simple and deeelish!
Pancake recipes
Coconut flour molten lava brownie s'mores contain a lot of fiber and is high in good saturated fat since it is made from dried coconut meat, which can help minimize bad cholesterol. It's gluten-free, grain-free, and vegan, as I said, so it's a great choice for those with food intolerance or allergies.
Homemade pancakes
Coconut flour contains much more liquid than almond flour or all-purpose flour. Although banana coconut waffle s'mores can not be replaced in recipes as a 1: 1 ratio for all-purpose flours, it can be a replacement! Working with it can be finicky, so I suggest following a recipe that has already tested and proven that the sub works, but the general rule of thumb is to replace 1/4 cup-1/3 cup of coconut flour with every 1 cup of all-purpose flour if you want to experiment. And to achieve the right quality, you'll definitely need to raise the number of eggs and liquid.
How to make a pancake
Simply mix the dark cherry buttermilk pancakes ingredients (flour and baking powder) together to create those coconut flour pancakes. Mix the wet ingredients in a separate tub (eggs, almond milk, maple syrup, and vanilla). To the dry ingredients, add the liquid mix and stir until lumps are not present. Let it sit for 2-3 minutes so that some of the liquid can be absorbed by the coconut flour. Pour on a greased plate or skillet and cook it just like you would cook pancakes daily. It's that!
How to make crepes
A basic recipe for pancakes with coconut flour that are golden in color and perfectly fluffy. To make them your own, add your favorite mix-ins and toppings. When you are gluten-free, paleo, or keto, these pancakes work well.
Now if you're looking for something extra special when it comes to pancakes, then you have to check out my Russian Pancakes. OMG! Fluffy deliciousness!
Keto pancakes
Apply the dry ingredients to the liquid ingredients and stir until the lumps are gone for the best dutch baby pancake. Let it sit for 2-3 minutes so that some of the liquid is absorbed by the coconut flour. You should add a little more milk if the batter appears to be too thick.
Pancakes with coconut
Spray a large skillet or griddle lightly with non-stick cooking spray or wipe it lightly with oil. Over medium-high heat, heat the skillet or the griddle (350 degrees in an electric skillet). Pour around 1⁄4 cup of batter onto the hot skillet or griddle per banana dipper pancakes.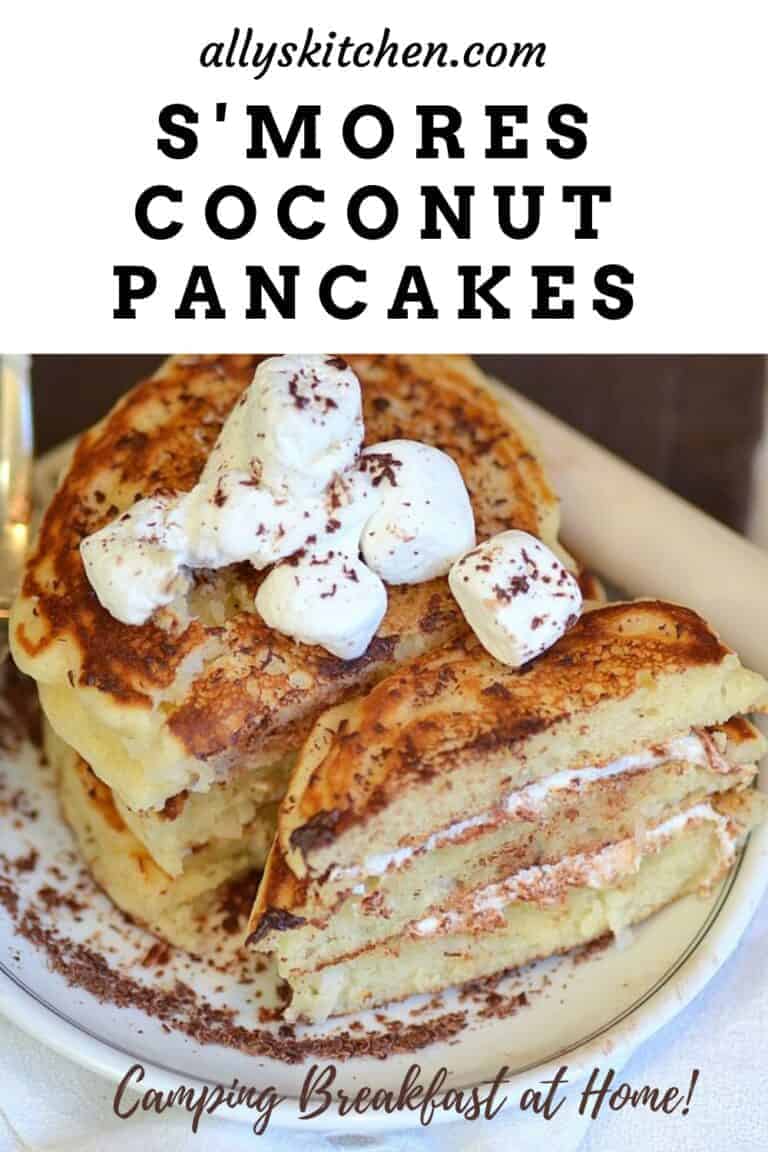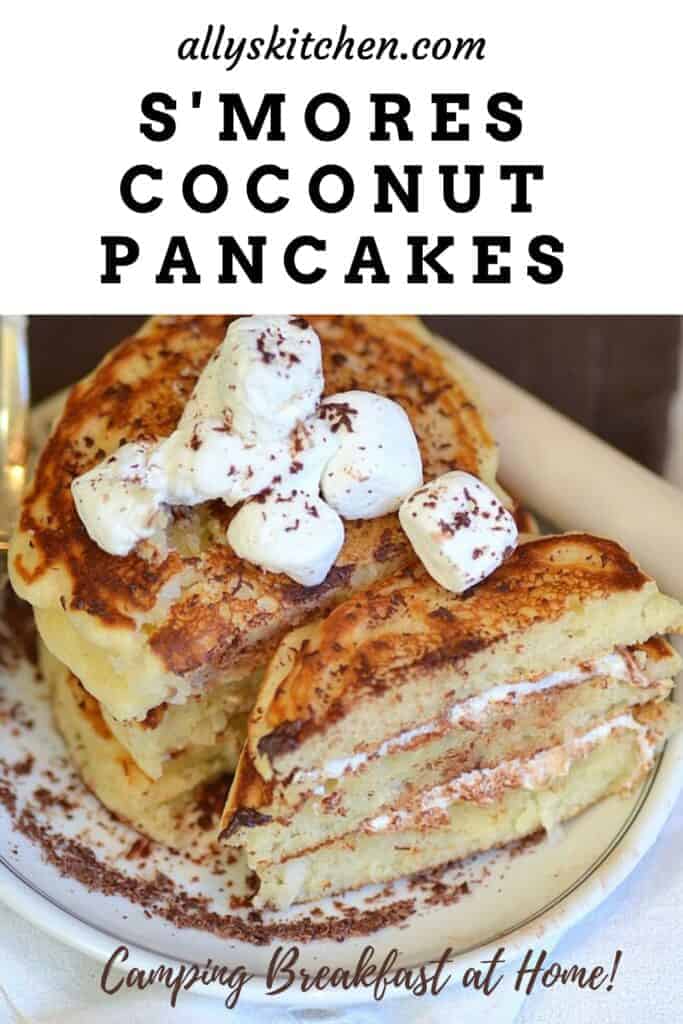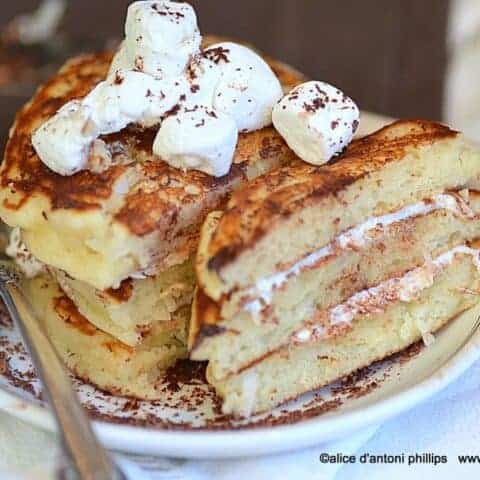 S'mores Coconut Pancakes
Yield: Makes: 8-12 4-6" round pancakes

Camping isn't the only time you can have s'mores! How about for breakfast with these s'mores coconut pancakes! So simple and deeelish!
Ingredients
2 eggs
½ cup coconut milk
¼ cup sweetened condensed milk
3 Tbl. coconut oil
1/3 cup sour cream
1 tsp. vanilla
2/3 cup all-purpose flour
2 tsp. baking powder
¼ tsp. sea salt
½ cup shredded sweetened coconut
Cooking spray (I used coconut oil cooking spray.)
1 cup mini marshmallows
3 oz. chocolate, for garnish and grating
Instructions
In a large mixing bowl, put the eggs and whisk together until frothy and fluffy (about 60 seconds). Add the coconut milk and oil and whisk another 30-45 seconds. Add the sweetened condensed milk vanilla and sour cream and whisk about 60 seconds.

Sift in the flour and baking powder into the wet mixture and blend well. Fold in the shredded coconut.

In a large (about 10" diameter) non-stick skillet over medium heat, let the skillet get hot then coat it lightly with cooking spray. Pour about ¼ to 1/3 cup batter per pancake grilling two pancakes at a time. Don't crowd the skillet.

Let the pancakes cook over medium to medium low heat about 2 to 2 ½ minutes on the first side. (The edges of the pancake will begin to bubble and the batter starts to lose its shine.) Gently flip and cook another about 2 ½ minutes on the other side. Remove to a plate and repeat, re-spraying the skillet as needed, until all the batter is done.

Take 6-8 miniature marshmallows and place between each layer of a stack of 2 or 3 pancakes. Put in the microwave on high for about 10-15 seconds. Remove and garnish with grated chocolate.