Besides my Ben, you know who I LOVE cooking for most in my world? My grandkids!  Yep, all six of them and soon to be seven! The grown up grands have developed some pretty darn sophisticated palates because they've been 'adventurous' in their tasting and eating since they were knee high to a grasshopper (yay, parents!). Now these s'mores coconut pancakes were made especially for my littl' 4 y/o grandson…when he stays with us, he loves to get up in the mornings, come to the kitchen in his super hero jammies, give me a big hug and kiss, say good morning, then sit on the retro red stool in the kitchen and order up what he wants for breakfast~~and, because he's such a love and melts my heart with his big black eyes, I'll fix him most anything he wants. Isn't that what we grandparents are supposed to do!
Pancakes are a favorite of his, and he LOVES LOVES the Russian pancakes (syrniki with blueberries) that I make~~now, these are in my new cookbook, but believe me, I've been making them for him since he was about two, and he's always asking for 'wussian panckaes'! These s'mores coconut pancakes are right up there with the 'wussian' ones, so enjoy a new twist with some added healthiness! xoxo ~ally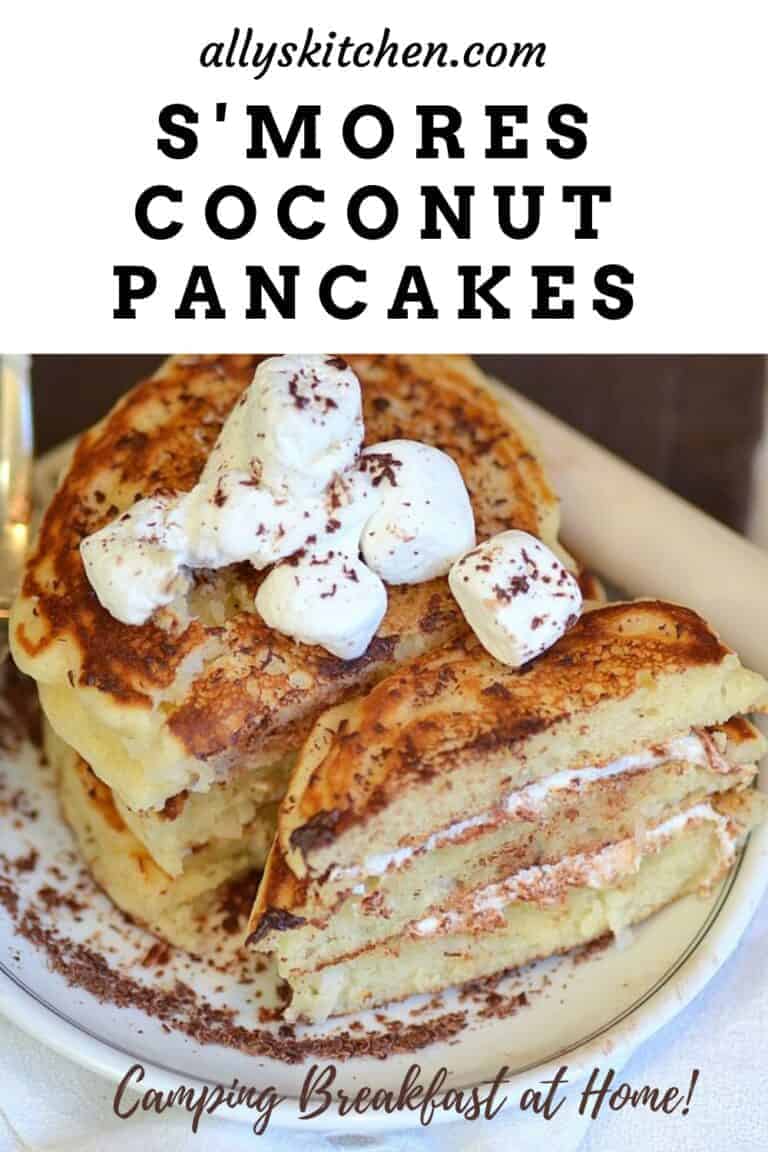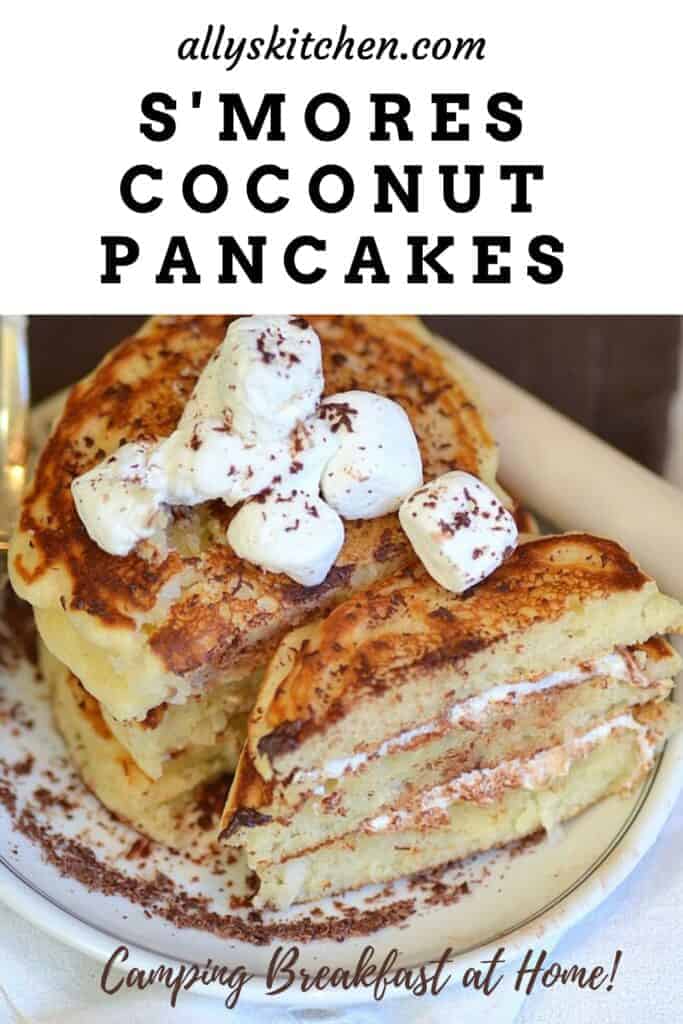 Ingredients
2 eggs
½ cup coconut milk
¼ cup sweetened condensed milk
3 Tbl. coconut oil
1/3 cup sour cream
1 tsp. vanilla
2/3 cup all-purpose flour
2 tsp. baking powder
¼ tsp. sea salt
½ cup shredded sweetened coconut
Cooking spray (I used coconut oil cooking spray.)
1 cup mini marshmallows
3 oz. chocolate, for garnish and grating
Instructions
In a large mixing bowl, put the eggs and whisk together until frothy and fluffy (about 60 seconds). Add the coconut milk and oil and whisk another 30-45 seconds. Add the sweetened condensed milk vanilla and sour cream and whisk about 60 seconds.
Sift in the flour and baking powder into the wet mixture and blend well. Fold in the shredded coconut.
In a large (about 10" diameter) non-stick skillet over medium heat, let the skillet get hot then coat it lightly with cooking spray. Pour about ¼ to 1/3 cup batter per pancake grilling two pancakes at a time. Don't crowd the skillet.
Let the pancakes cook over medium to medium low heat about 2 to 2 ½ minutes on the first side. (The edges of the pancake will begin to bubble and the batter starts to lose its shine.) Gently flip and cook another about 2 ½ minutes on the other side. Remove to a plate and repeat, re-spraying the skillet as needed, until all the batter is done.
Take 6-8 miniature marshmallows and place between each layer of a stack of 2 or 3 pancakes. Put in the microwave on high for about 10-15 seconds. Remove and garnish with grated chocolate.
https://allyskitchen.com/smores-coconut-pancakes/
©ally's kitchen intellectual property