Easy Ritzy Coconut Waffles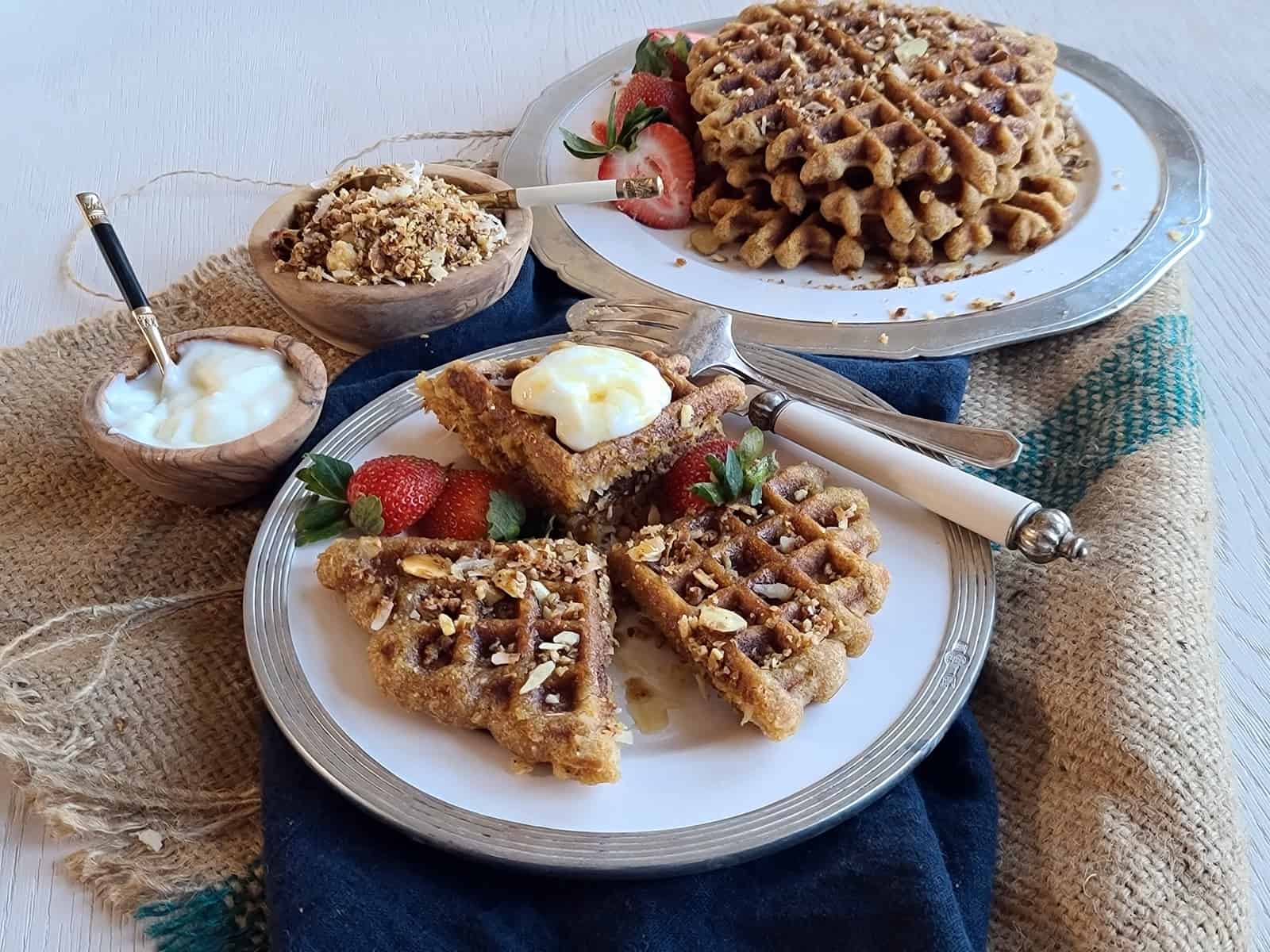 Easy Ritzy Coconut Waffles are the kind of waffles that ultra impress! Full of buttery nutty flavors and all that coconut, you will say YUM!
The Best Waffle Recipe
Yes, this is one of my best waffle recipes. Oh, I have more that might interest you! My easy biscuit waffles are just that. So dang easy because you're going to use refrigerated and/or previously frozen biscuits. You, of course, can make your biscuits from scratch, but this recipe was really created for my young grandsons, so they could have the sense of making their very own waffles.
Waffle Ideas
Other waffle ideas for you. My fabulously delicious and Paris inspired pearl sugar waffles! OMG, to die for. And, they can be used as a dessert waffle, too!
If you want something a little more decadent, then try the carrot cake waffles!
Best Homemade Waffles
For me, the best homemade waffles begin with the base dry and wet ingredients, then you add from there to create a masterpiece.
And, this recipe, inspired by a cooking competition sponsored by Chefs Roll and Ritz Crackers, was really fun to create.
While I didn't win, these waffles did make it to the Top 10 finalists and I was competing with the likes of Justin Dallas Gaspar, S1 E8 winner on Hulu's Baker's Dozen, Pastry Chef Avery Gates of AveryBakedBuns, Joshua Gaulin Executive Pastry Chef Four Seasons Napa Valley, Lauren Katz, Executive Chef and winner of ABC'S 'The Great American Baking Show' and more!
Yes, I was in very spectacular company and was just thrilled to be in the top 10!
Coconut Waffles
Now I love coconut. And, if you just put in the search box in my website 'coconut', you're going to find some unique recipes. Both sweet and savory, coconut and different kinds of coconut, milk, sugar, shredded, flakes, yogurt, etc., are delicious to create.
Coconut Waffles Recipe
I'm using as much coconut as I can in this recipe. Coconut sugar. Coconut oil. Coconut milk. Shredded coconut.
While I opted for regular flour, you could use coconut flour, too.
Easy Coconut Waffles
These are really easy coconut waffles to make. And, you can freeze them.
The Ritz crackers in the batter and as a crumbly topping add a buttery and crunchy texture that makes the flavors delicious!
Vietnamese Coconut Waffles Recipe
Yes, this recipe can be adapted very simply to be a Vietnamese waffle.
What you'll need to add is pandan. What is pandan? Well, it's like the Asian version of vanilla, only it's green in color. Therefore, the waffles will have a green hue.
Made from pandan leaves, you can use this flavoring in both sweet and savory dishes and in drinks. It's got a sweet grassy fragrant aroma. In English, pandan can mean fragrant screwpine or vanilla grass.
Pandan, which is a type of screwpine, is essential in Asian cooking.
Coconut Milk Waffles
These easy ritzy coconut waffles are coconutEEEE in every way. And, if you want to carry the coconut them to the syrup, then here you go! Pantry items including coconut syrup that you can order from Amazon!
Shredded Coconut Waffles
There's nothing better with these sweet ritzy coconut waffles than chicken tenders! Yes, chicken 'n waffles, a truly Southern delicacy, is something that you can be serving your family. Take a look at my buttermilk spicy chicken tenders and serve with these waffles!
Coconut Oil Waffles
Coconut oil. Why use it in these waffles. Well, it carries out the coconut theme of the waffles.
And, some studies indicate that coconut oil is healthier than using butter or vegetable oil. I actually saw no difference in the quality of the finished waffle using the coconut oil! And, I had a tad bit less guilt in eating them!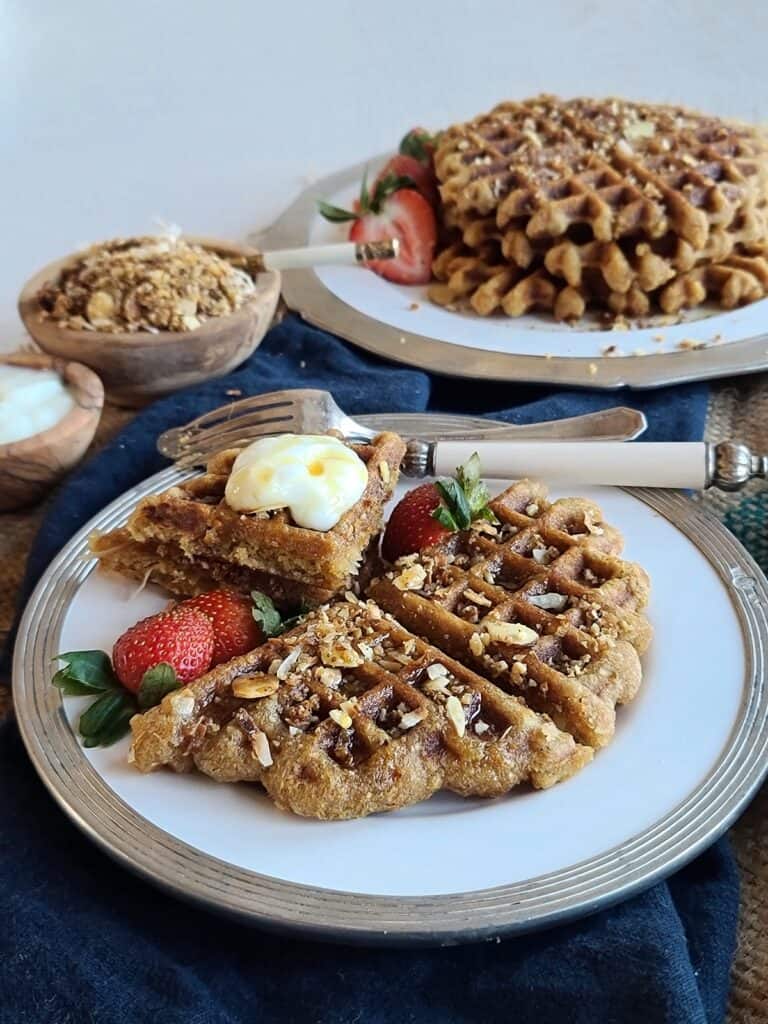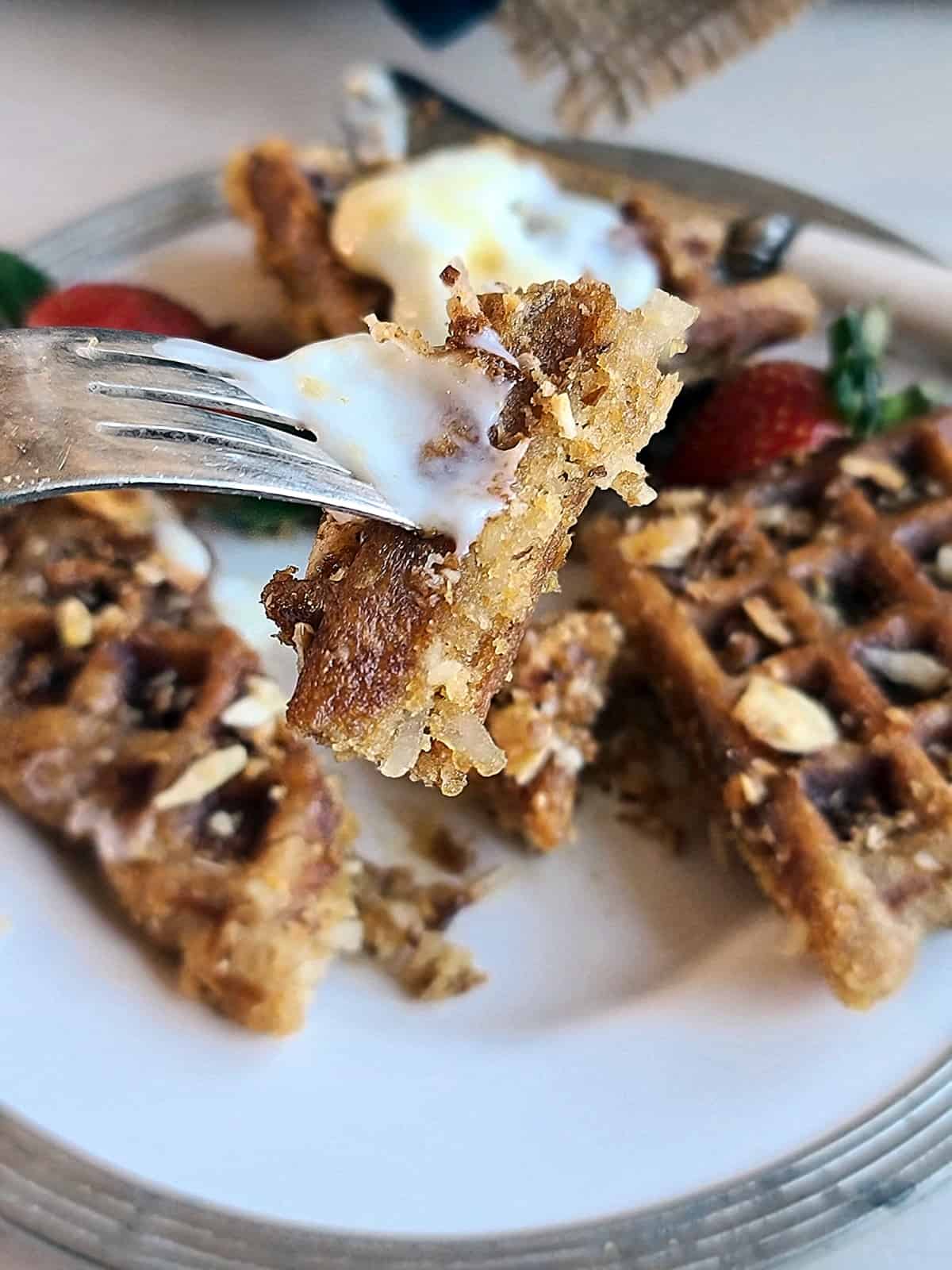 Easy Ritzy Coconut Waffles
Yield:
Makes: About 4 (8") diameter waffle iron waffles
Ingredients
RITZ CRACKER MIXTURE:
1 sleeve Ritz Crackers, ground in food processor, divided
1 cup sliced almonds, ground in food processor, divided + more sliced for garnish
¼ cup ground flax
½ cup coconut sugar
½ tsp. sea salt
CRUMBLE MIXTURE:
1 cup Ritz Cracker Mixture
3 Tbl. coconut oil
WAFFLES:
½ cup flour, all purpose
1 Tbl. baking powder
1 ½ cups of the above Ritz Cracker mixture
¾ cup shredded coconut, sweetened, divided
2 pasture-raised eggs
¼ cup coconut oil
½ cup coconut milk, unsweetened
Instructions
Turn the waffle iron on and begin heating. Use a light coating of cooking spray before putting in batter.
RITZ CRACKER MIXTURE: Combine the Ritz Crackers and one cup of almonds in the food processor. Give a few pulses and grind into a 'sandy' mixture. Put in a medium size bowl. Add the ground flax, coconut sugar and salt. Blend together. Set aside.
CRUMBLE MIXTURE: Turn oven to broil.
On a cookie sheet lined with parchment paper, put one cup of the Ritz Cracker Mixture, coconut oil and one-fourth cup of coconut. Blend well. Spread out somewhat. Place about 10" from the broiler and brown this mixture for a few minutes to a golden brown. Remove and set aside for serving atop the waffles.
WAFFLE: In a large mixing bowl add the flour, baking powder, one and one-half cups Ritz Cracker mixture, one-half cup of shredded coconut. Blend well. In a large mixing cup, whisk together the eggs, one-fourth cup coconut oil, and coconut milk.
Pour the wet mixture into the dry. Blend well. The batter will be thick like a cake batter.
Spritz the hot waffle iron with cooking spray. Dollop about one-half + cup of batter in the center of the hot waffle iron.
Close the lid. Wait until the indicator light turns green. Carefully remove to a plate. Repeat until all the batter is used.
When serving, add more of the crumble mixture to the waffles for more crunch and texture.
SERVING ACCESSORIES:
Greek Yogurt
Fresh berries
Crumble Mixture
Maple Syrup
Melted Butter