Sweet Potato Cardamom Dessert Waffles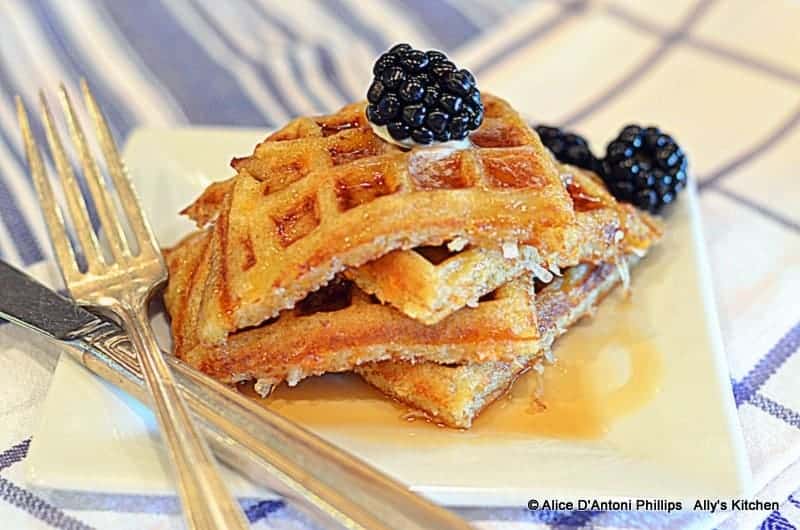 I call these 'dessert' waffles because I've decided that waffles, a beautifully elegant-looking food, have been pigeon-holed into the breakfast brunch category for way too long! They deserve to be not only desserts but entrees, too.  While I made these in my small round waffle maker, and heads up, watch the heat level so as not to burn, you might want to try the 'individual' waffle-maker skillet.
I just LOVE LOVE my skillet waffle maker…3″ waffles that cook in no time…if you're wondering where to get one, well, look no further, I've got one on my bestest list of Ally's Boho Picks under 'Kitchen Stuff'!  There are so many ways that these waffles could be topped or filled!  You can slice them through the middle, add some frozen yogurt, and you've got a great sammich!  Remember, fooding is all about being adventurous…that's one of the reasons I used cardamom as the main spice in these Sweet Potato Cardamom Dessert Waffles!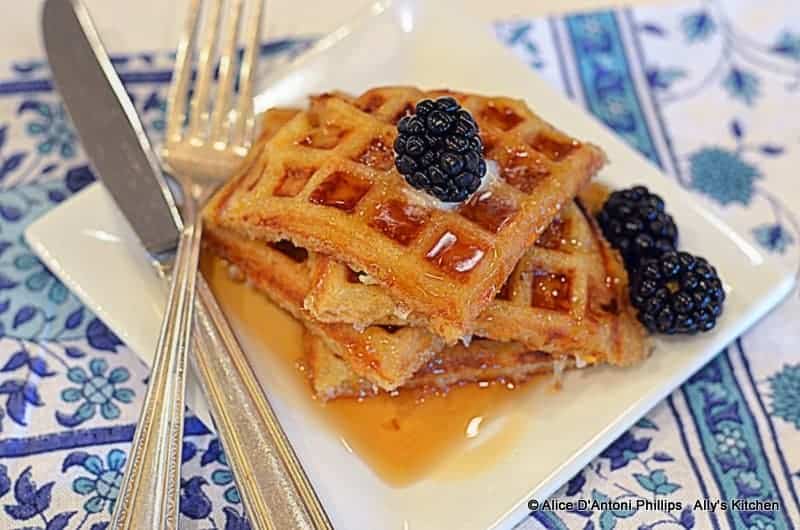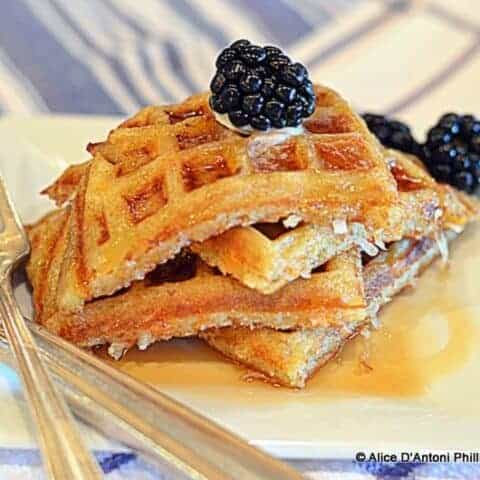 Sweet Potato Cardamom Dessert Waffles
Yield: About 3 8" round waffles
Ingredients
1 ½ cups finely ground (in food processor) packaged pouncake (about ½ of a large cake likeed Sara Lee.)
1/3 cup grated sweet potatoes
1/3 cup shredded sweetened coconut
3 Tbl. oil
¾ cup coconut milk
1 tsp vanilla
1 tsp. ground cardamom
1/3 cup self rising flour
Instructions
Preheat about an 8" round waffle iron. Combine the ground poundcake (that has been put in a food processor and ground into a crumbly meal), grated sweet potatoes, shredded coconut, oil, coconut milk, vanilla and cardamom in a medium mixing bowl and using a rubber spatula blend well. Add the flour and blend in making a thick-like cake batter.
Using a large spoon, scoop about ½+ cup in the center of the hot waffle iron. Gently close the lid. Cook for about 4-5 minutes until done; the top releases easily when done. The waffle will be golden brown. Repeat with the remaining batter.
Using a serrated knife, cut the waffle into the four quarters, stack the quarters on top of each other, and top with your favorite topping—maple syrup, fruit, ice cream, whipped cream, chocolate ganache—whatever you prefer!