buttermilk spicy chicken tenders waffles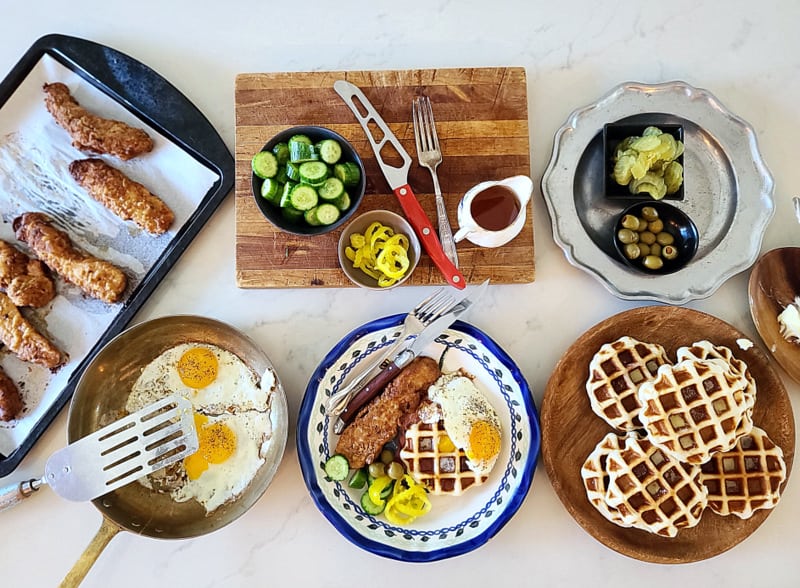 Origin of Chicken and Waffles
Man, oh, Man! This is the best spicy fried chicken tenders you'll ever bite into! Fried for crispy and baked for moistness!
Some food scholars say that they were first invented in the 1930s at a Harlem restaurant called the Wells Supper Club. In New York, this dish was served in some African-American restaurants in Harlem like Tillie's Chicken Shake and Dickie Wells' Jazz Nightclub.
Whatever the origin of chicken and waffles, it was genius. And, waffles aren't just for breakfast! Have you tried my dessert waffles! Oh, yes, divine!
Chicken Tenders Fried
Now I love me some great crispy crunching chicken tenders fried. No I don't eat them often, but when I do, I'm in heaven! Dipping them into a great sauce, BBQ, ranch or blue cheese, putting them on a hot biscuit and making a sandwich. You can't beat fried chicken tenders!
Fried chicken is nothing more than tender juicy hot chicken all wrapped in a seasoned crispy coating. Then if you add with that a subtly sweet waffle, yeah, the cousin of 'bread', then you have a plate of pure heaven. Simply put, these two foods taste awesome together!
Buttermilk Fried Chicken Tenders
Is there any other way to fry chicken than with buttermilk? I don't think so. For me buttermilk fried chicken tenders are the only way to go. Like frying regular chicken, I use basically the same ingredients and the same process of buttermilk soaking and dredging in the spiced flour mixture. The last step, well, is to flash fry them in hot oil. Sometimes after flash frying, I'll take out, put on a cookie sheet and finish cooking them in a hot oven.
Chicken with Waffles
Chicken with waffles is one of those weekend breakfast or brunch meals that doesn't happen often, but when it does, it's a disappearing act!
While this 'fried chicken tenders' recipe may 'look' complicated with the list of ingredients, please keep in mind that the majority of the ingredients (seven of the thirteen) are simply spices that you're going to put into your flour dredge to season your chicken tenders. And, several of the ingredients are addressing how to serve with the waffles!
Now, you can make your own waffles, and I've got a couple of great recipes. Remember you can use a pancake batter and then just cook in your waffle maker. Or, you can skip making those waffles and buy them pre-made (usually frozen). Just spring for some really good brand because you don't want to short change flavor with these amazing tenders!!
If you can find Belgium waffles, again, splurge and get them. And, if you're not sure which frozen waffle is best then here's a taste test with results! Or if you wanna see what Rachel Ray thinks about the best waffles then here you go!
Chicken & Waffles
Ever thought about what you could serve next to your chicken & waffles. Here are some of my ideas! You want to add crunch, chill and more textures!
Bokchoy Cabbage Ginger Slaw
Appalachian Buttermilk Cucumber Salad
Crunchy Pineapple Blueberry Slaw
Pancetta Breakfast Salad
Beet Watermelon Salad
Carrot Pineapple Coconut Cake Tartlets
Waffle & Chicken
One important rule about Southern 'fried' chicken. In order to have the most glorious palate experience, you must eat it while it's hot or warm. Same with this waffle and chicken.
Oh, yes, you can eat leftovers, but there is nothing more amazing to experience that freshly made fried chicken. Biting into it is like having an epiphany! And, this chicken is kind of fried 'half and half'; that is, you flash fry for the crispy exterior then you bake in the oven for completing the cooking.
Why don't you take that crispy spicy fried tender and just fold the waffle around it, drizzle on some honey or maple syrup and you have a sandwich! So many ways you can eat this, but I truly think the ultimate experience is with an egg and the chilled crispy cucumbers as you see here.
It's like you want to break out in 'The Hills Come Alive With Music' with each bite! Get a little bit of everything to make this happen. So on your fork, some chicken, waffle, syrup, egg and cuke! There you've got it. Complete instructions for going slap happy crazy with buttermilk spicy fried chicken tenders waffles & cukes!
Waffle Recipes
I have lots of pancake batter recipes. And, you can take these recipes and simply make them using your waffle iron instead of making pancakes. It's that simple. But, if you don't want to do that then simply buy some freezer Belgian waffles. Take one bit step out of making chicken and waffles, and you'll be more inclined to maybe make!
Here are a few of my waffle and pancake recipes! You won't be disappointed!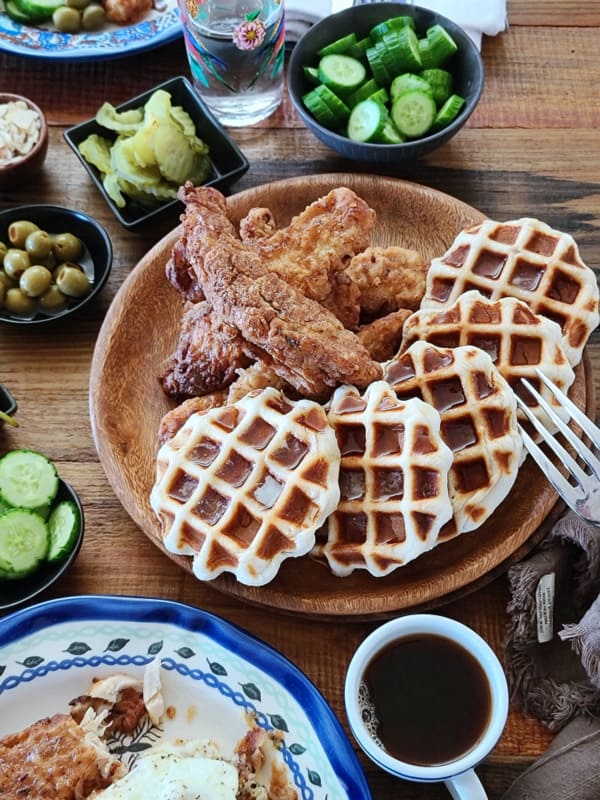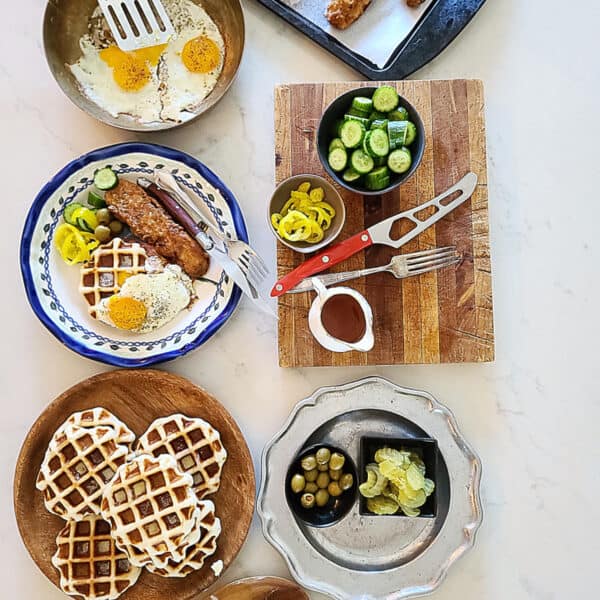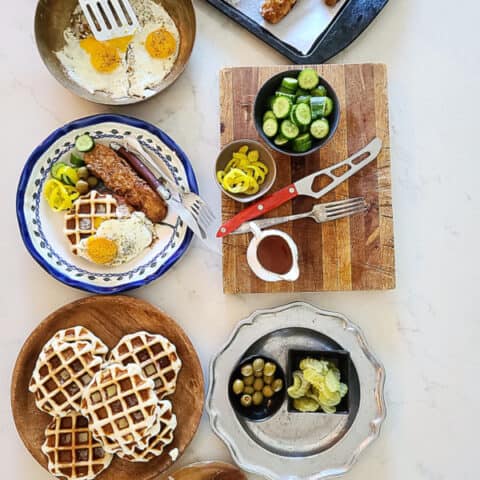 buttermilk spicy fried chicken strips waffles & cukes
Man, oh, Man! This is the best spicy fried chicken tenders you'll ever bite into! Fried for crispy and baked for moistness!
Ingredients
Preheat oven to 375
12 pieces of chicken, large tenders, skinless, boneless
2 cups buttermilk
2 teaspoons Worcestershire
3 cups flour, all-purpose
3 tablespoons cornstarch
2 tsp. sea salt
2 tsp. Chinese 5-spice
2 tsp. smoked paprika
2 tsp. white pepper
2 tsp. garlic granules
2 tsp. onion powder
2 tsp. red chili flakes
2 cups cooking oil, canola
SERVE WITH:
Belgium waffles, previously frozen
Butter, room temperature
Maple syrup, warmed
2 cups English cucumbers, thinly sliced, chilled, cut in halves and tossed in salt and pepper
6 eggs, cooked sunnyside
2 Tbl. ground flax seeds
Instructions
Pat dry the chicken tenders.

Put the buttermilk and Worcestershire in a pie plate. Whisk together and blend.

In another pie plate, whisk together the flour, cornstarch, salt, Chinese 5-spice, paprika, pepper, garlic, onion powder and red chili flakes.

Begin a dredging station. Put 3-4 tenders in the buttermilk, shake off excess, then place in flour dredge and coat well, repeat process. Place doubled dipped tenders on a parchment paper covered cookie sheet. Repeat until all the chicken is dipped and battered.

Put the oil in a large cast iron skillet on medium high heat. Let it get hot, about 350 degrees.

Check with a flick of flour and if it sizzles, it's ready. Or check with an appropriate thermometer.

Place four to five pieces of battered chicken in the hot oil and flash fry on each side about 1 1/2 to 2 minutes or until golden brown. Use tongs and remove to a second parchment paper covered cookie sheet. Repeat until all chicken is fried.

Cover loosely with doubled foil. Put in a preheated 375 oven for about 12 to 15 minutes. Remove to a cooling rack (keep covered). Internal temperature of the chicken should be at least 165.

Warm the previously frozen waffles in the microwave or oven.

SERVING: To individually serve, slather some butter on a waffle(s). Top with two chicken tenders, drizzle with some maples syrup. Add the steamed sunnyside egg to the side along with some seasoned cucumber slices. Sprinkle with ground flax seeds.