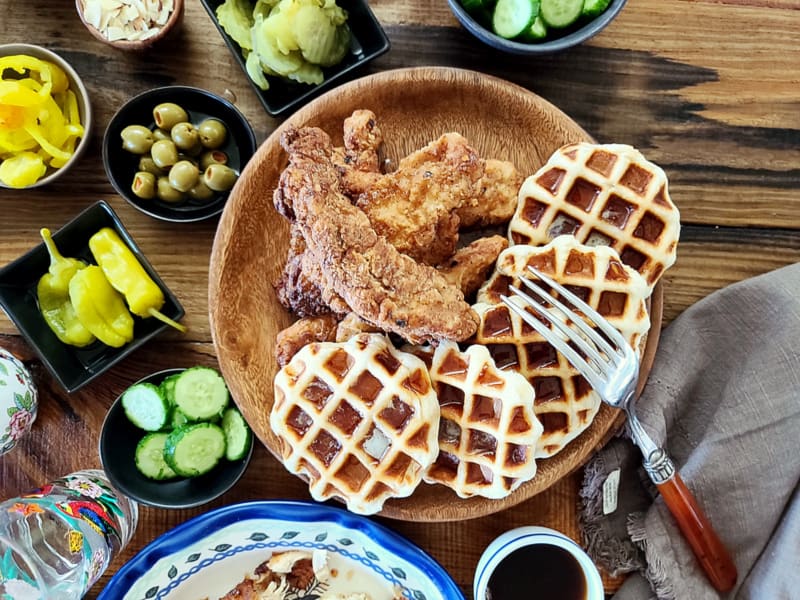 This recipe for biscuit waffles may be the EASIEST in the universe! ONE ingredient! And from there the world is your oyster! Options galore!
Biscuit Waffles
There's nothing easier and quicker than making biscuit waffles! I mean one ingredient. And, what is that?
Waffle Biscuits
It's simply a can of refrigerated pull-apart jumbo biscuits! I like to use the buttermilk. And, if you want to bake the biscuits like biscuits, then try this grilled pineapple ham biscuits recipe.
Cinnamon Waffle Recipes
These biscuit waffles have so many chances to become something else with the toppings. How about just melted butter and cinnamon sugar. Nothing easier than that.
But if you want a nuttier buttery type of waffle then you must try my Ritzy Waffles. Yes, these were in the Top 10 entries for Chef's Roll competition for creating unique recipes using Ritz Crackers!
Buttermilk Biscuit Waffles
Yes, I love the buttermilk biscuit waffles, but you could also try the flaky or the butter biscuits. Don't just think these quick waffles are just for breakfast. Oh, no! How about adding chicken and making it a dinner!
Biscuit Waffle Recipe
This waffle is good for savory treats. Why not shredded cheese on top the waffle. Pop it in the oven to quickly melt. Then top with crumbled fried bacon bits. Oh, the combinations and styling are endless.
Have you tried the spice cardamom with waffles and preserved lemons fresh mint thyme? If not, then you're missing something delicious!
Waffle Iron Biscuits
When you're crunched for time and you still want to impress, waffle iron biscuits are the way to go. They are the basis for lots of crazy yummy desserts, too. Here are some ideas:
Slice strawberries and add whipped cream or a scoop of vanilla ice cream.
Top with your favorite chocolate ice cream!
Make into a quasi s'more! Top with shaved chocolate and mini marshmallows. Melt quickly under the broiler. Add crushed graham crackers.
How about a sausage waffle biscuit. Add a fried sausage pattie and egg.
OK, your turn? What would you do?
Pillsbury Biscuits in Waffle Maker
Pillsbury biscuits are great to use, but I've found that with these waffles you can simply buy a generic brand and the waffles are perfect. So save yourself some bucks and use store brand. And, if you want to make your batter and try a carrot cake pineapple date nut waffle, well, then it's quite heavenly!
Chicken & Waffles
Yes, the chicken and waffles is probably one of my favorite recipes here on Ally's Kitchen. Give it a try. You're got so many different flavors and textures that will make this meal perfect for breakfast, lunch, or dinner! Also, give a try to these healthy fruit french toast and 4 ingredients banana bread. It's Awesome!!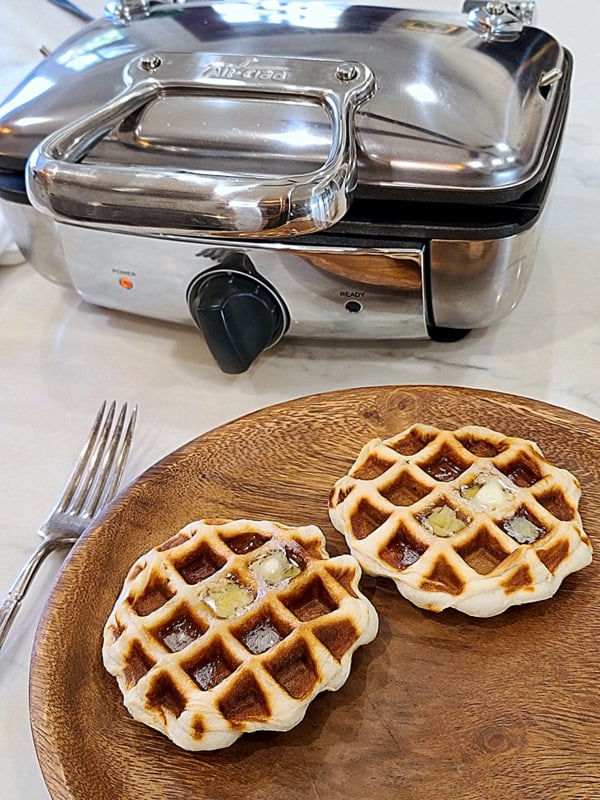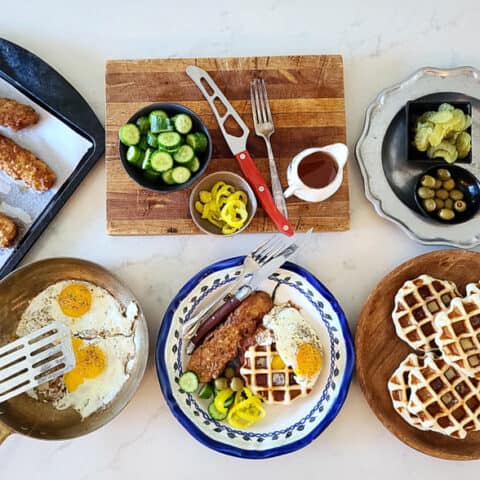 easy biscuit waffles
Ingredients
Preheat waffle iron
1 can jumbo buttermilk biscuits, makes 8 biscuits
TOPPINGS:
Butter
Hot Syrup
Fresh Fruit
Shredded Coconut
Shredded cheese
Fried bacon crumbled
Fried Sausage pattie
Your choice
Instructions
Preheat the waffle iron on a lower setting (2 or 3). Give a spritz of cooking spray.


Place a biscuit waffle or waffles in the iron to make individual waffles.


Cook in the waffle iron until the green light comes on.


Remove immediately. Add some butter to the hot waffle. Repeat until all the biscuits are waffles!

Notes
Don't overcook the waffles. It will keep them more tender and tasty.

Stack the cooked waffles as they come out of the waffle iron. They will continue to 'cook' from the heat of the stack. Add butter to each waffle if desired.

Hey, you can use savory waffle toppings, too! It's not just about sweet!