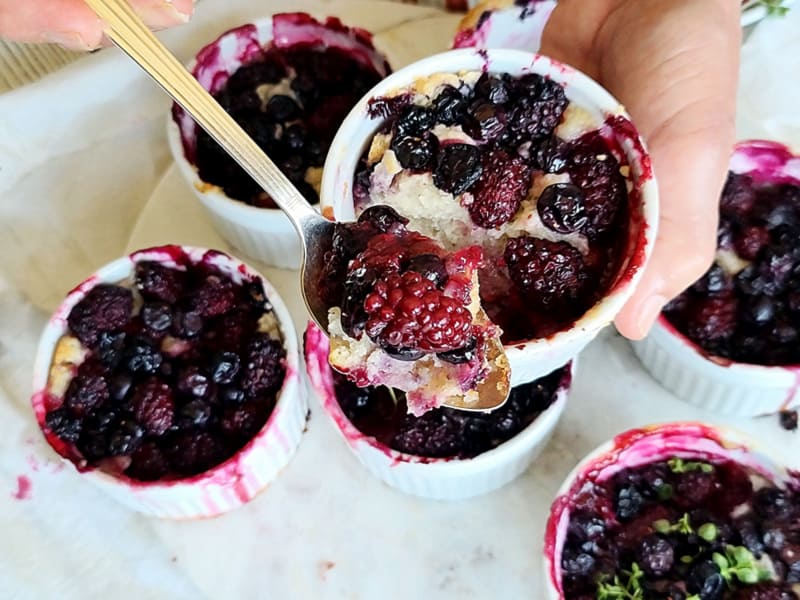 Mini fruit cobblers are the easies and best to make! Everyone gets their own little ramekin full of doughy love and fresh bubbly juice fruit!
Fruit Cobbler
There's nothing more delicious for dessert or even breakfast or brunch than a fruit cobbler!
Old Fashioned Fruit Cobbler
Old fashioned fruit cobbler is a staple in the South. The cobblers follow the fruit season. Whatever's in season becomes the cobbler.
Easy Cobbler Recipe
Cobbler recipes are easy and they're quite forgiving. That's what I love about this baking technique, recipes that are not super complicated. Recipes that allow for mess ups. And, finished products that have the look of real in them.
Southern Style Fruit Cobbler
The British American colonies are where the cobbler was born. Since the English settlers didn't have suitable ingredients or the cooking equipment to make suet puddings, they improvised. And, what was created was the cobbler. Fruit that had a filling layer of dough. This could be biscuit, scone or dumpling dough. Sometimes the dough was on top. Sometimes the dough beneath the fruit.
Individual Berry Cobblers
Individual fruit cobblers are super convenient. Yes, there's a little more clean up with the ramekins. But, they're fun to serve from. Perfect to cook in. And, who doesn't love having their own little cobbler!
How to Make Fruit Cobblers
A big part of cobblers is the dough. Now it's called a cobbler because the crust, if you've putting the dough on top, is kind of 'cobbled' together. It's a coarse mixture. Not like a smooth and more 'refined pie crust. This recipe lends itself to either the top or bottom placement of the cobbler dough. It's your choice.
Types of Fruit Cobblers
Since I wanted my fruit to ooze into the dough batter, I put the batter in the ramekins then topped it with the fruit. And, you have your choices of fruit. Typically using what's in season is best.
When blueberries are abundant, you could try my Blueberry Spooncakes! And, when those peaches are in season, you must try my Sour Cream Peach Cobbler. Or you might want to check out The Bridesmaid's Peach Cake and brown sugar almond spiced clusters!
Pearl Sugar Uses
Pearl sugar is a new way to add some additional flair to this berry cobbler! If you've never used pearl sugar, by all means, check out the link below and order some for your pantry. Here are two other recipes I've used pearl sugar in.
Pearl Sugar Tea Cake
Pearl Sugar Waffles
old south peaches & crème brulee cheesecake
grannysmith apple ginger cake
ricotta dumpling with raspberry sauce

Mini Fruit Cobblers in Muffin Pan
You can use a muffin pan to make these mini fruit cobblers. I'd definitely use a pan that had extra large openings. Usually these pans have only six openings. And, be sure to grease it really well. You don't want your cobblers sticking! My Cupcake Berry Pies were made in a muffin pan!
Berry Cobbler Recipe
Now this berry cobbler recipe has a dough that's dense and moist. Since it's on the bottom of the baking dish, the ramekin, the juices of the fruit ooze into it. You just dig down with your spoon to scoop some doughy cobbler and make sure you've got some berries in each bite. That's why you want to make sure there are lots of berries!
Mini Cobblers in Ramekins
Personally, for this recipe, I prefer the white ramekins. That's because I just love to see the oozing of the berry juices down the side. It reminds me of being in an elegant farmhouse kitchen! The colored ramekins are my choice for other recipes, like individual egg casseroles!
Mini Blackberry Cobbler
Mini Blueberry Cobbler
Now this recipe was one of my favorites that I made with my two year-old granddaughter. She loved 'bathing' the berries with her Ariel doll, the mermaid. And, talk about having fun when we incporated the chilled butter nuggets into the flour. Gosh, we were both kind of covered in dust!
Hope you'll try these blackberry and blueberry mini cobblers. Be sure to serve them eeeeemediately! That's when they're the best. And, it's your choice to use whipped cream or vanilla ice cream. We loved the hint of lemon from the fresh lemon thyme!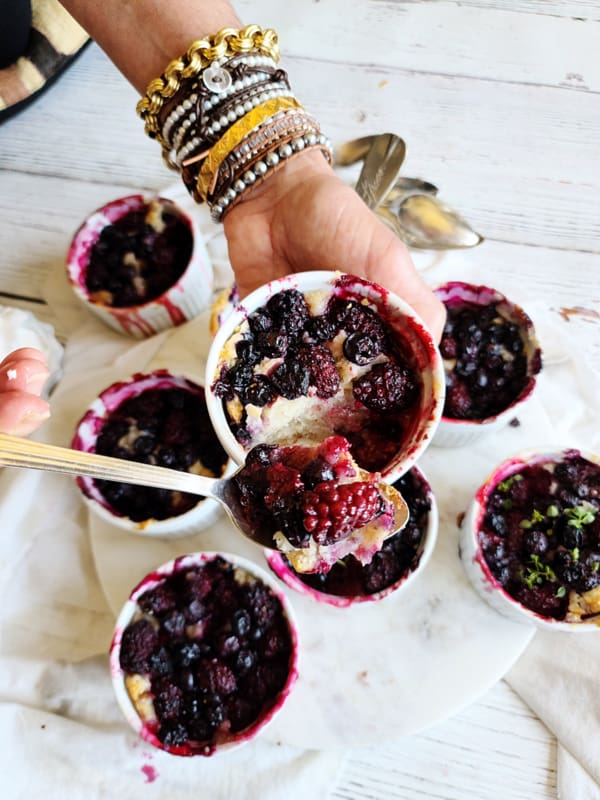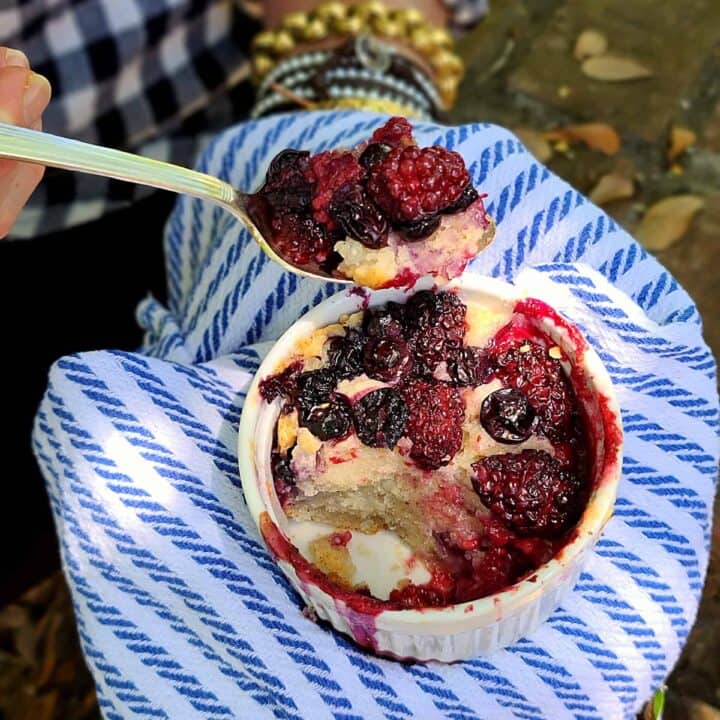 mini fruit cobblers
Yield: Makes 8 ramekins, 4" diameter
Ingredients
Preheat oven to 375
FRUIT PREP
2 ½ cups fresh blackberries
2 ½ cups fresh blueberries
2 Tbl. cornstarch
¼ cup sugar
1 lemon, zest and juice
Pinch salt
COBBLER DOUGH PREP
2 cups flour, all purpose
1 Tbl. baking powder
8 Tbl, butter, unsalted, cold, cut into small pieces
½ tsp. salt
½ cup pearl sugar, can substitute regular sugar
1 1/3 cups coconut milk
Instructions
Preheat oven to 375. Grease well eight ramekins.

Wash and clean the berries. Drain well. Put I large mixing bowl. Toss in cornstarch, sugar, lemon zest/juice and salt. Set aside.

In a large mixing bowl, add the flour, baking powder and butter. With your hands/fingers, quickly work the butter into the flour making a crumbly mixture. Add the salt and sugar. Blend well.
Add the coconut milk and make a thick gooey mixture.

Put equal amounts of the dough batter into the ramekins. Top with equal amounts of the berries.

Place the ramekins on a large cookie sheet. Bake in a preheated 375 oven for 30 to 35 minutes. Remove and cool slightly. Serve immediately.