harissa chicken tomatoes onions & feta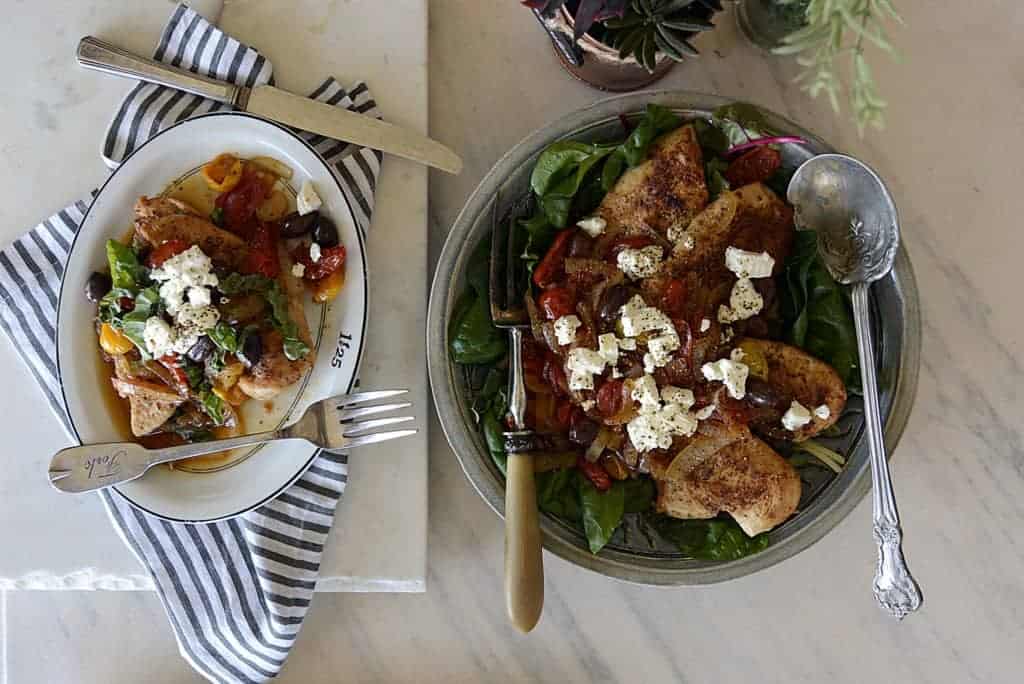 Harissa chicken is a brilliant recipe in my skinny girl series of quick, simple, easy & delicious food! Believe me, it will be a go to!
What is Harissa
To appreciate this harissa chicken more, here's a quick history on Harissa from Wikipedia
As with the European cuisine, chili peppers were imported into Maghrebian cuisine via the Columbian Exchange,[1] presumably during the Spanish occupation of Tunisia between 1535 and 1574.[2] Recipes for harissa vary according to the household and region. Variations can include the addition of cumin, red peppers, garlic, coriander, and lemon juice. Ingredients can be fermented onions, garlic, peppers or tomato paste. In Saharan regions, harissa can have a smoky flavor.[citation needed] Prepared harissa is also sold in jars, cans, bottles, tubes, plastic bags, and other containers.
Harissa is sometimes described as "Tunisia's main condiment",[3] even "the national condiment of Tunisia",[4] or at least as "the hallmark of Tunisia's fish and meat dishes".[5] In Tunisia, harissa is used as an ingredient in a meat (poultry, beef, goat or lamb) or fish stew with vegetables, and as a flavoring for couscous. It is also used for lablabi, a chickpea soup usually eaten for breakfast. In Algeria, harissa is commonly added to soups, stews, and couscous.[6] Harissa paste can also be used as a rub for meat[7] or eggplants.[8] In Israel, harissa is a common topping for sabich[9] and shawarma, although other hot sauces like the Yemeni sahawiq or the Iraqi amba are also used.[10] Moroccan cuisine has also adopted harissa, using it as a side condiment for tagines, or sometimes mixed into dishes.
Where to Buy Harissa
Why buy harissa when it's just so simple to make it! Where to buy harissa is about as easy as asking where to buy Italian seasoning. Yes, it's about that mainstream now. So, just check your grocer's spice section or Amazon, and you're sure to find it!
Harissa Spice Blend
Here's my recipe! Homemade Harissa.
Recipes with Harissa
I have lots of delicious recipes with Harissa. So get ready to explode with unique flavors, like one in this list that won me 25 grand and really changed the trajectory of my cooking adventure!
Harissa Fried Potatoes & Olives
Harissa Buttermilk Baby Back Ribs
Harissa Eggplant and Roasted Red Peppers
Chicken with Harissa
Chicken with harissa is one of my most favorite ways to season chicken! And, now I'm going to show you how to make your own harissa. It is just so ridiculously simple. And, the homemade version is infinitely better than anything you could buy from a grocer, gourmet shop or anywhere! Just click here for my YouTube video on making homemade harissa!
Moroccan Harissa Recipe
Here's the perfect escape to Morocco for dinner! Moroccan Beef Ragu Sauce!
Best Harissa Paste
Making the best harissa paste is super simple. Just take two tablespoons of my harissa dry mixture and add to it one-fourth cup of extra virgin olive oil and two tablespoons of tomato paste. Blend well. And, you now have a delicious paste!
Harissa Meatballs
My harissa meatballs are simply the best. Fruit and spicy all rolled up in one meatball! You can't beat it! Click here!
Moroccan Chicken Wings
Turn up the heat and flavor on your wings, make Moroccan chicken wings with one simple substitute to any of these recipes. Swap the spice(s)/mixture for harissa, same amounts!
Best Ever Creole Chicken Wings
Here's another brilliantly simple and delicious recipe that's been tried soooooooooooo many times by others and gotten rave reviews! You don't want to miss it! Click Here!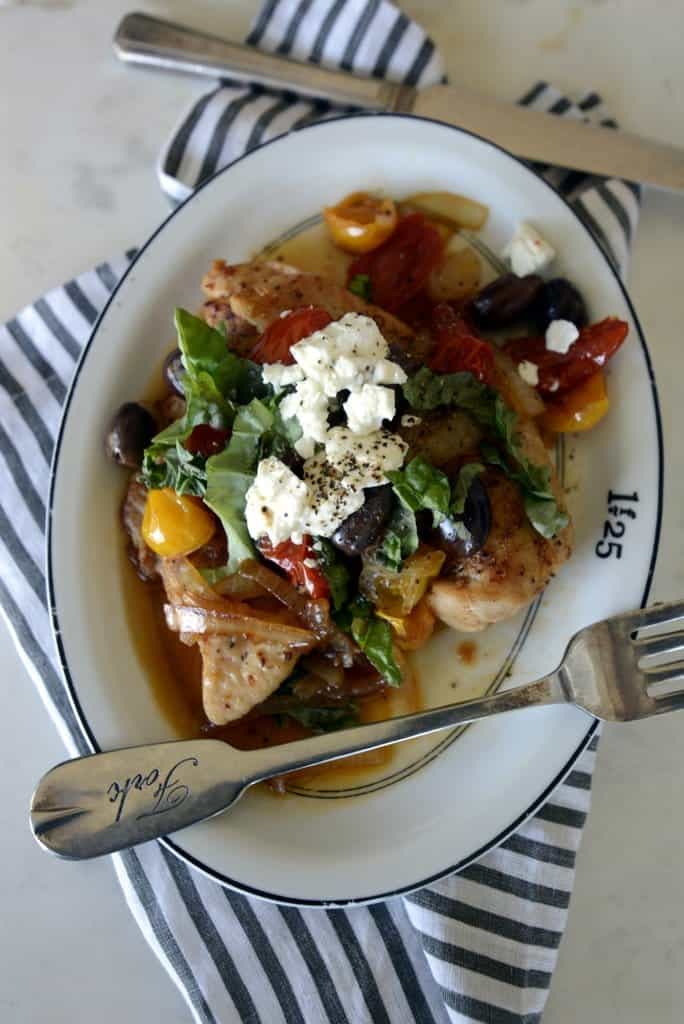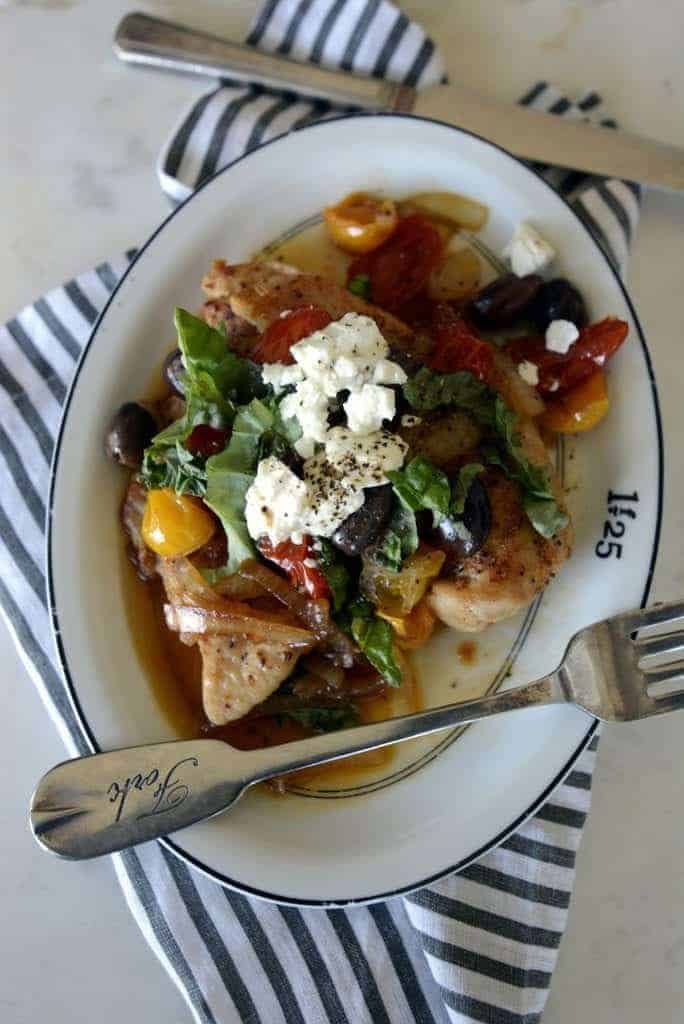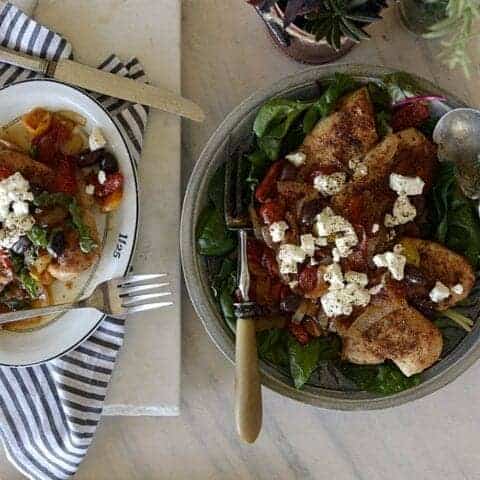 harissa chicken tomatoes onions & feta
Yield: 3-4 yummy healthy servings

Harissa chicken is a brilliant recipe in my skinny girl series of quick, simple, easy & delicious food! Believe me, it will be a go to!
Ingredients
6 THIN chicken breasts, boneless and skinless
2 Tbl. harissa seasoning mixture, dry
½ tsp. sea salt
2 Tbl. Olive oil
2 Tbl. butter, unsalted
1 tsp. coarse ground pepper
2 cups sweet onions, thin French slice
2 cups fresh cherry tomatoes, sliced in halves
½ cup black olives, pitted
½ cup feta, crumbled
½ cup fresh basil, sweet and sliced thinly
5-6 cups fresh lettuce leaves
Instructions
Coat the chicken breasts on one side only with the harissa mixture. On the reverse side sprinkle salt. Set aside.

Heat a large (10-12") cast iron skillet on medium high heat. When hot, add the oil and butter. Let it heat but don't burn the butter.

Add the chicken breasts, harissa side down, cover and pan sear for about three minutes. Reduce heat to medium. Flip chicken, cover, and pan sear on other side about four to five minutes. Remove to a bowl. Cover with a lid and set aside.

In the hot skillet, add the onions and cook about three to four minutes. Add the tomatoes and olives and blend in. Cook only about two to three minutes. Turn heat to simmer.

Add the chicken and broth (from bowl) back to the skillet. Cover the chicken with the tomatoes and onions. Cover with lid and let the chicken sit for about five minutes.

Serve two slices of chicken each, some of the onions/tomato mixture on top a bed of greens. Top with crumbled feta, fresh basil and a sprinkle of pepper.