aussie grassfed beef harissa meatball fruit kabobs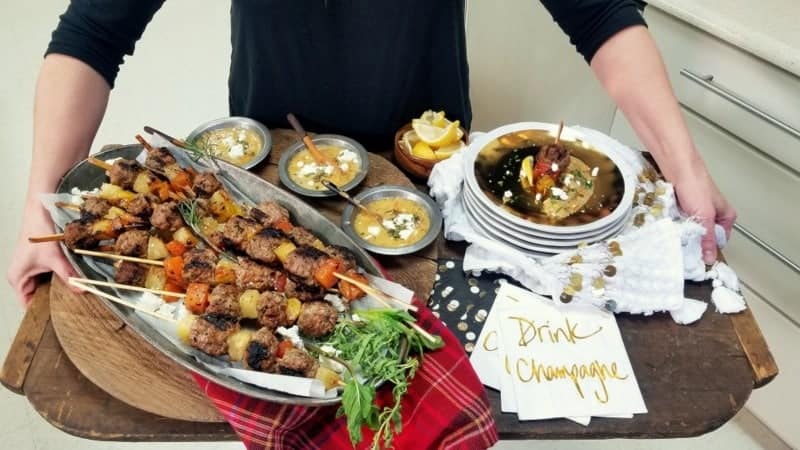 These aussie grassfed beef harissa meatball fruit kabobs are packed with flavor, and, they're easy to make! Serving them is quite impressive!
Meatball Kabobs
Disclosure: I am a brand ambassador for True Aussie Beef & Lamb. (Yes, I'm very lucky to be working with a great company!) And, I'm compensated for creating recipes, including this one, aussie grassfed beef harissa meatball fruit kabobs, and for them using their product(s).
Believe me, I don't partner with any brand unless I truly believe in and support their product(s). And, most importantly, would feed these products to my family and friends! All these opinions and the creation of this recipe are credited to me.
Grilled Meatball Kabobs
There's just so much FUN to this recipe! And, it's so stinkin' fun that I made a trip to Connecticut to the headquarters of Fine Cooking Magazine to do a Facebook Live where I demonstrated how to make this recipe for the holidays.
Grilled Meatball Skewers
Plus, I shared some of my simple and easy entertaining tips. I mean it's all about special clever little things to make a party, regardless of size, go for just a party to a wowzeeeeee factor party!
Meatballs on a Stick
I'm telling you the folks at Fine Cooking are mighty fine, down-to-earth, real people. My kinda people! Nothing pretentious. Very warm and welcoming. I'm thinking that the love of food just brings out some really great souls who want nothing more than to share the good karma!
Meatball Kabobs Recipe
You can certainly catch this Facebook Live on my Fine Cooking's page!
I teamed up with True Aussie Beef & Lamb to help you throw the best party ever. And, throwing sassy parties doesn't take a party planner! Hey, you can do it with some simple ideas and always drop dead great food.
Mediterranean Meatball Kabobs
And, these aussie grassfed beef harissa meatball fruit kabobs have the 'it' factor. Once you watch the FB Live, you'll also see my foodie luv, Renee, from Blonde on the Run Catering show you how to do party lamb chops that truly will knock your socks off!
Beef Meatball Kabobs
And, don't get 'skeeerrred' and think 'OMG, lamb chops, way to complicated!' Her recipe and styling, like this recipe, is super easy. No clinical or professional cooking training/skills needed. Only the best grassfed beef and lamb on the planet, and that would be True Aussie Grassfed Beef and Lamb!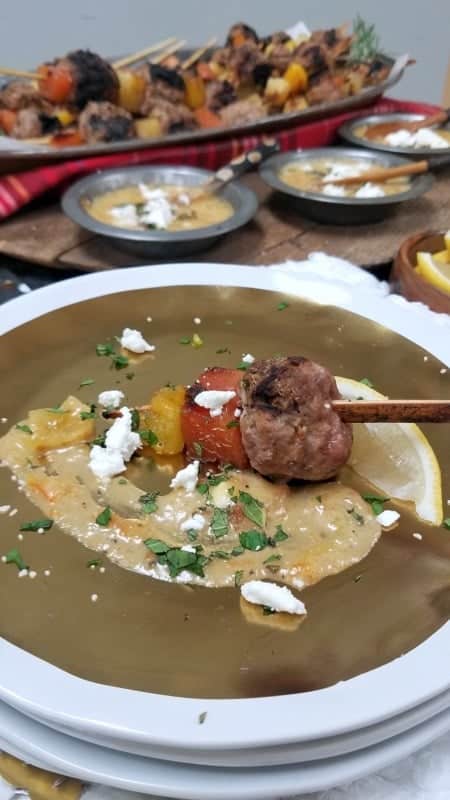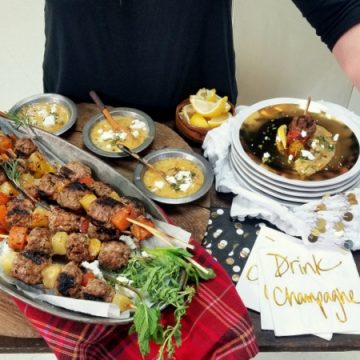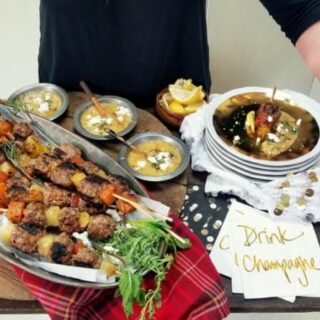 aussie grassfed beef harissa meatball fruit kabobs
Yield: About 5-6 entree size skewers
Ingredients
1 can Dole Sunshine Tropical Fruit drained—liquid set aside for usage
1/2 lb. ground pork
1 Tbl. + 1 tsp. harissa seasoning
3/4 cup plain Greek yogurt, divided
1/2 cup Italian herb breadcrumbs
2 tsp. salt, divided
2 tsp. pepper, divided
1/3 cup orange marmalade
4 Tbl. fresh chopped mint, divided
3 Tbl. fresh herb mixture, basil, tarragon, rosemary, finely minced
1/2 cup crumbled goat cheese, divided
1 lemon, juice & zest
Cooking spray
Instructions
GRILL PREP: Coat grill with cooking spray. Turn on and heat to 500-600 degrees. You will need 5 (10") wooden skewers that have been soaked in water. Drain the tropical fruit liquid. Put liquid in a saucepan. Put 15-18 pieces of well-shaped fruit on a plate to use for the skewers. Finely crush & chop the remaining fruit that will be used in the sauce.
SAUCE PREP: Put the saucepan with the liquid over a medium high blaze. Add the marmalade, one teaspoon of pepper, one teaspoon of salt, and crushed/chopped fruit. Bring to simmering boil and let thicken about 12-15 minutes stirring occasionally. Add half of the yogurt and goat cheese. Blend into a creamy mixture. Remove from heat. Let it cool. Squeeze in the juice of half of the lemon and blend. Add two tablespoons of chopped mint and blend.
MEATBALL PREP: In a large mixing bowl, combine the beef,pork, harissa, one teaspoon salt, one teaspoon pepper, yogurt, herb mixture, one tablespoon of chopped mint and breadcrumbs and blend. Roll into about 12 to 15 same size meatballs (about two to two and one-half tablespoons per meatball—you can use a spring release scoop to get the approximate amount). Place on parchment paper lined cookie sheet.
PREPARING SKEWERS: Start with a piece of fruit and alternate fruit/meatball on each skewer (3 pieces of fruit/3 meatballs). Put skewers on the cookie sheet. Coat well on all sides with cooking spray.
GRILLING SKEWERS: Place skewers on hot (500-600 degrees) grill. You will cook about 12-15 minutes rotating the skewers about every 3 minutes to achieve grilling on all sides of the meatballs. Close the lid between rotations. When done, remove skewers to a cookie sheet with clean parchment paper, cover loosely with foil & let them rest 5 minutes.
SERVING: Serve with a drizzle of sauce on the skewers and equal amounts of remaining crumbled goat cheese, a thin lemon wedge (from remaining lemon) and chopped mint garnish. Put remaining sauce in bowl for serving.
Notes
1. If you don't want to use pork, then add more grassfed beef, preferably 85/15 or 80/20.

2. If using this recipe for appetizer size skewers, adjust cooking time.

3. These skewers can be grilled on a stovetop grill, but the outdoor grill flavoring adds more flavor.

4. This meatball recipe can be used with a simple pasta sauce. Pan sear the meatballs in a hot skillet then add a large jar (good brand) of marinara sauce. Reduce heat and just simmer to cook.

5. Have a long pair of tongs for carefully turning skewers on the grill when cooking.

6. You can substitute just pineapple chunks on the skewers if you prefer. They grill very well holding their shape and not falling off.