harissa veal meatball fruit kabobs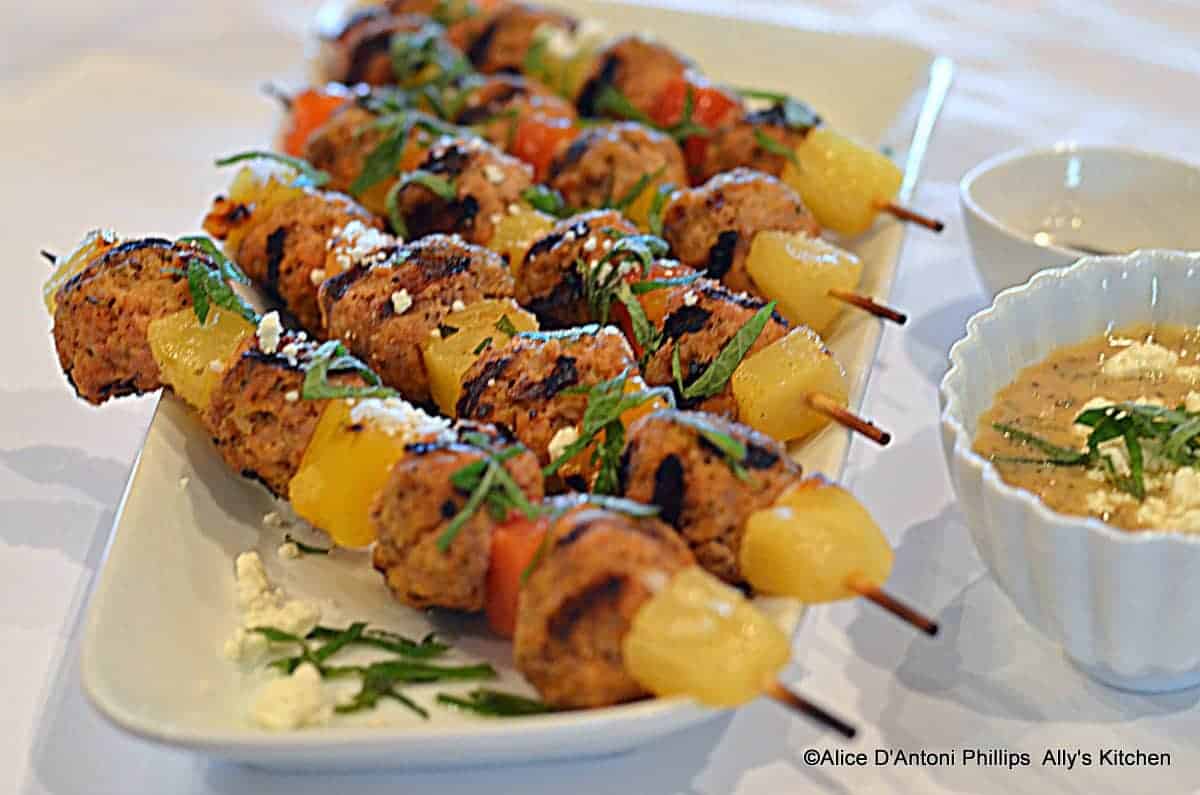 This recipe was the Midas Touch! It won me 25k! My feet still haven't touched the ground! The reality of it hasn't sunk in! The thrill of all of this amazing contest competition is exhilarating, and you run on steam that you never thought you had!  I created this recipe for the 2013 California Dole Cook-Off~~since I totally love global foods~~particularly, spices~~I decided to do something with Dole's fabulous product, which was a requirement, of course, of the recipe, and combine it with the North African spice called Harissa!
Well, it all came together as a result of things that I had that day in my pantry and refrigerator~~keep in mind I'd dreamed about this recipe, swirling thoughts in my head, flavors coming together, and ingredients popping up in my mind, for weeks~~that's how my brain works with the creation of new dishes! So, here it is just in time for the July 4th celebration~~Harissa Veal Meatball Fruit Kabobs with Greek Yogurt Mint Sauce & Crumbled Goat Cheese.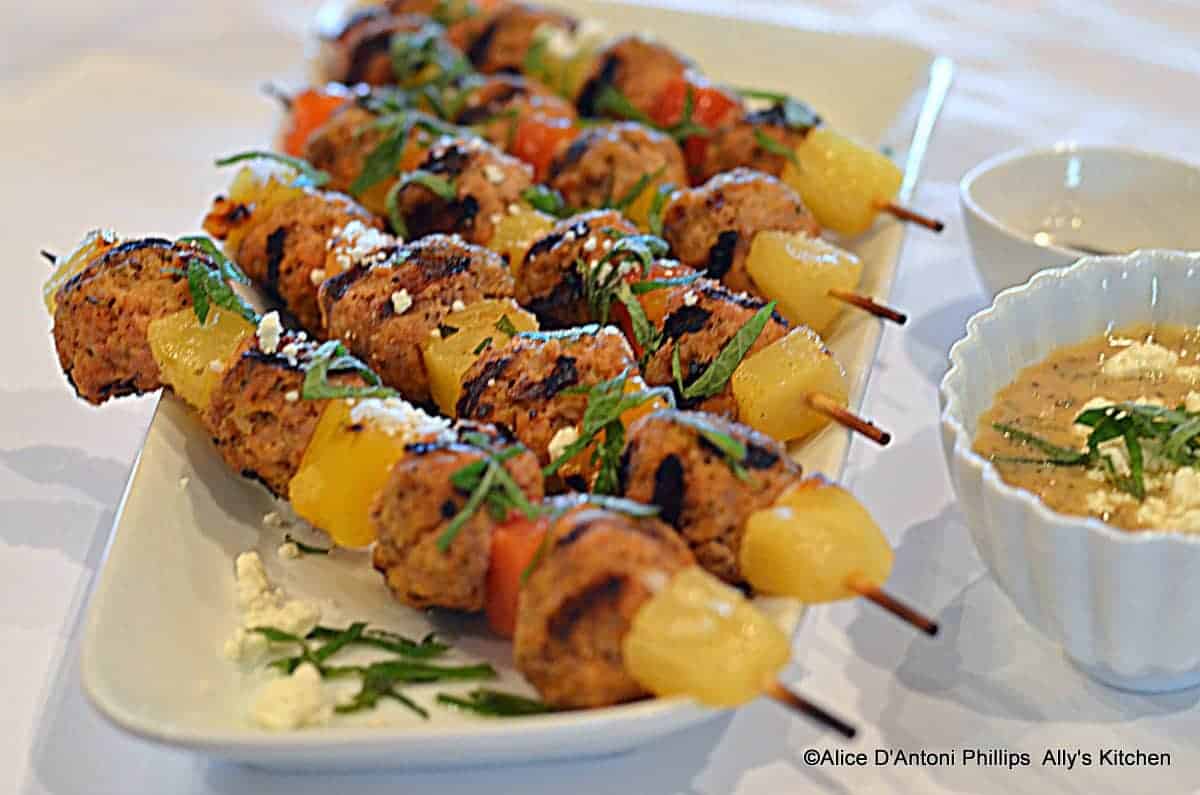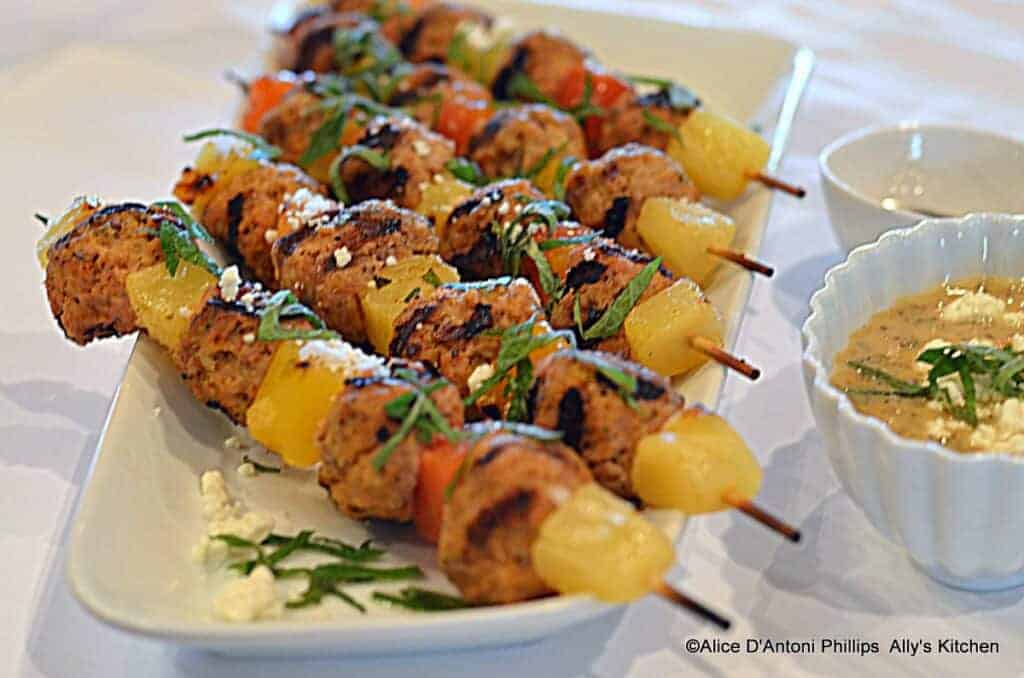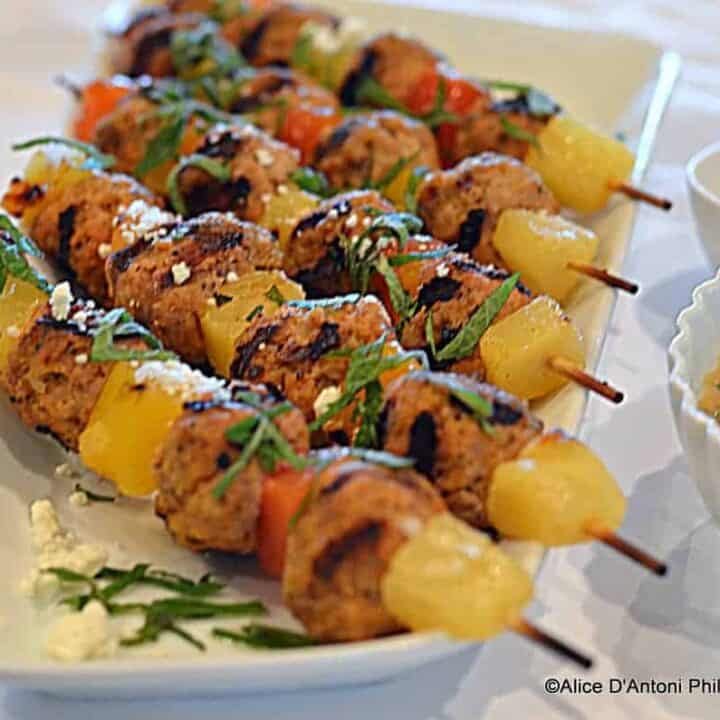 Harissa Veal Meatball~Fruit Kabobs with Greek Yogurt Mint Sauce & Goat Cheese
Ingredients
1 can Dole Tropical Fruit (drained—liquid set aside for usage) (divided)
1 lb. ground veal
2 tsp harissa seasoning
¼ cup plain Greek yogurt
¼ cup Italian herb breadcrumbs
1 ¼ tsp salt (divided)
2 tsp pepper (divided)
1/3 cup orange marmalade
4 Tbl. fresh chopped mint
4 oz crumbled goat cheese
Cooking spray
Instructions
Preparation: Coat grill with cooking spray. Turn on and heat to 500-600 degrees. You will need 5 (10") wooden skewers. Drain the tropical fruit liquid. Put liquid in a saucepan. Put 25 pieces of well-shaped fruit on a plate to use for the skewers. Finely crush & chop the remaining fruit that will be used in the sauce.
Preparing Sauce: Put the saucepan with the liquid over a medium high blaze. Add the marmalade, 1 tsp pepper, ¼ tsp of salt, and crushed/chopped fruit. Bring to simmering boil and let thicken about 20 minutes stirring occasionally. Remove from heat and let cool somewhat. Add yogurt and 2 tbl mint and blend.
Meatballs: In a large mixing bowl, combine the ground veal, harissa, 1 tsp salt, 1 tsp pepper, yogurt and breadcrumbs and blend. Roll into 15 same size meatballs (about 2 to 2 ½ tbl per meatball—you can use a spring release scoop to get the approximate amount). Place on parchment paper lined cookie sheet.
Preparing Kabobs: Skewer one piece of fruit about 2" from the base of the stick. Add a meatball. Add two pieces of fruit. Add a meatball. Add two pieces of fruit. Add a meatball. Repeat this process with the remaining skewers (3 meatballs & 5 pieces of fruit/per kabob). Put kabobs on the cookie sheet.
Grilling Kabobs: Place kabobs on hot (500-600 degrees) grill. You will cook about 12-15 minutes rotating the kabobs about every 3 minutes to achieve grilling on all sides of the meatballs. Close the lid between rotations. When done, remove skewers to a cookie sheet with clean parchment paper & let rest 5 minutes.
Serving Kabobs: Serve with a drizzle (about a tablespoon) of sauce on the kabob and equal amounts of crumbled goat cheese and chopped mint garnish. Put remaining sauce in bowl for serving.
Notes
Yes, you can substitute beef or lamb for the veal. You might try ground turkey or chicken, but I'm not sure about the moistness since these meats have less fat content.