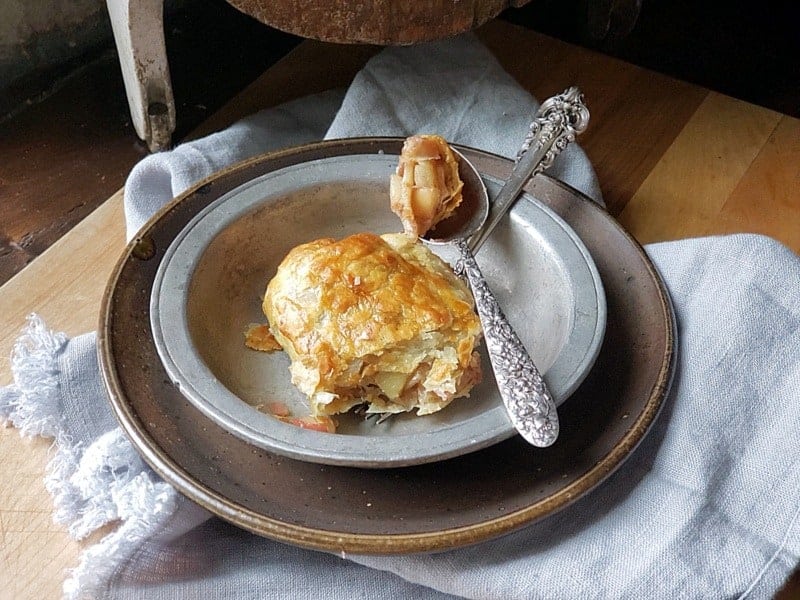 Most of you who know me are quite comfortable with the fact that I consider myself not to be a baker! Yes, I'm what I call a 'rogue' baker, which basically means I create things that are decidedly simple, yet undoubtedly delicious! There's nothing fancy about my desserts whether it's a pie, cake, a cheesecake, cookies or this roll up pie! Since most folks love apple pie but maybe don't want to go to all the work and effort to make their own crust, my easy apple pie recipe can be a tasty idea that will let you make homemade American Apple Pie!
I think what makes this easy apple roll up pie pretty fabulous are the fresh apples. And, my favorite to use are honey crisp apples. They're sweet and crispy and even when cooked old their shape and texture. Here's a fun little tidbit about these apples from Stemilk (World Famous Fruit): Honeycrisp apples are the real deal. Bite into one and you'll experience extreme juice, oh-so refreshing sweetness, and a shattering in your mouth. That's because the cells of Honeycrisp apples fracture cleanly when bitten, a unique trait for apples.
Honestly, what sets this apple apart from its other family members is the CRISP! Yes, and while you might pay a little bit more for them, it's worth it when you're making this easy apple cinnomon roll up pie. There are so many wonderful attributes of honey crisp apples. If you want to learn more, click here! Very important to know your apples! xox ~ally
Here's another of my 'rogue' desserts that you might like because it's no bake! Now, that's what I'm talkin' about! Homemade made easy!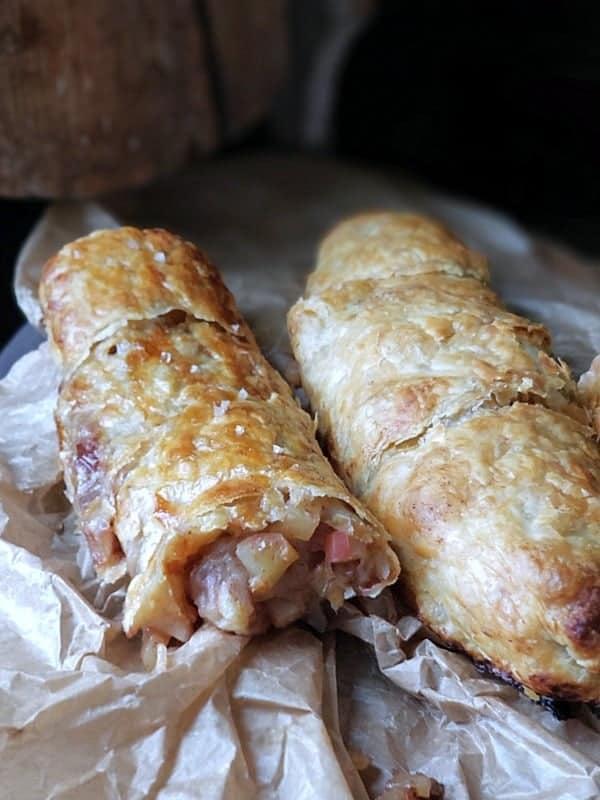 easy apple cinnamon roll up pie
Ingredients
Preheat Oven to 375
1 box Puff Pastry, almost room temperature
4 Tbl. butter, unsalted, room temperature, divided
4 cups apples, small dice, honey crisp
1 lemon, juice only
1 tsp. ground cinnamon
1/2 tsp. allspice
2 Tbl. flour, all purpose
1/2 cup sugar
1 egg white
Finishing Sea Salt, optional
Instructions
Line two cookie sheets with parchment paper.
Unroll the puff pastry. There will be two sheets each with three (3" x 9") squares. Place one on each cookie sheet. Gently stretch somewhat to about 10-11" square. Coat each with two tablespoons of the soft butter. Set aside.
Put the diced apples in a mixing bowl. Add the lemon juice and toss and blend. In a small bowl, combine the cinnamon, allspice, flour and sugar. Blend. Put this mixture on the apples and blend and coat well.
Fill each pastry with equal amounts of diced and spiced apples. Leave about three-fourths to one inch around the perimeter with no apples.
Start rolling the apple roll away from your body. Gently tuck in the sides as you are rolling. Put the seam side down on the cookie sheet. (Yes, some of the juices will ooze out. But, that's ok!)
Using a pastry brush, coat each roll with egg white. Optional: Sprinkle with a few flakes of sea salt.
Bake in a preheated 375 oven for about 30-35 minutes or until the dough is crackly crispy and puffy.
Remove to a cooling rack. Slice when cool.
https://allyskitchen.com/easy-apple-pie-recipe/
©ally's kitchen intellectual property