buffalo chorizo flatbread pizza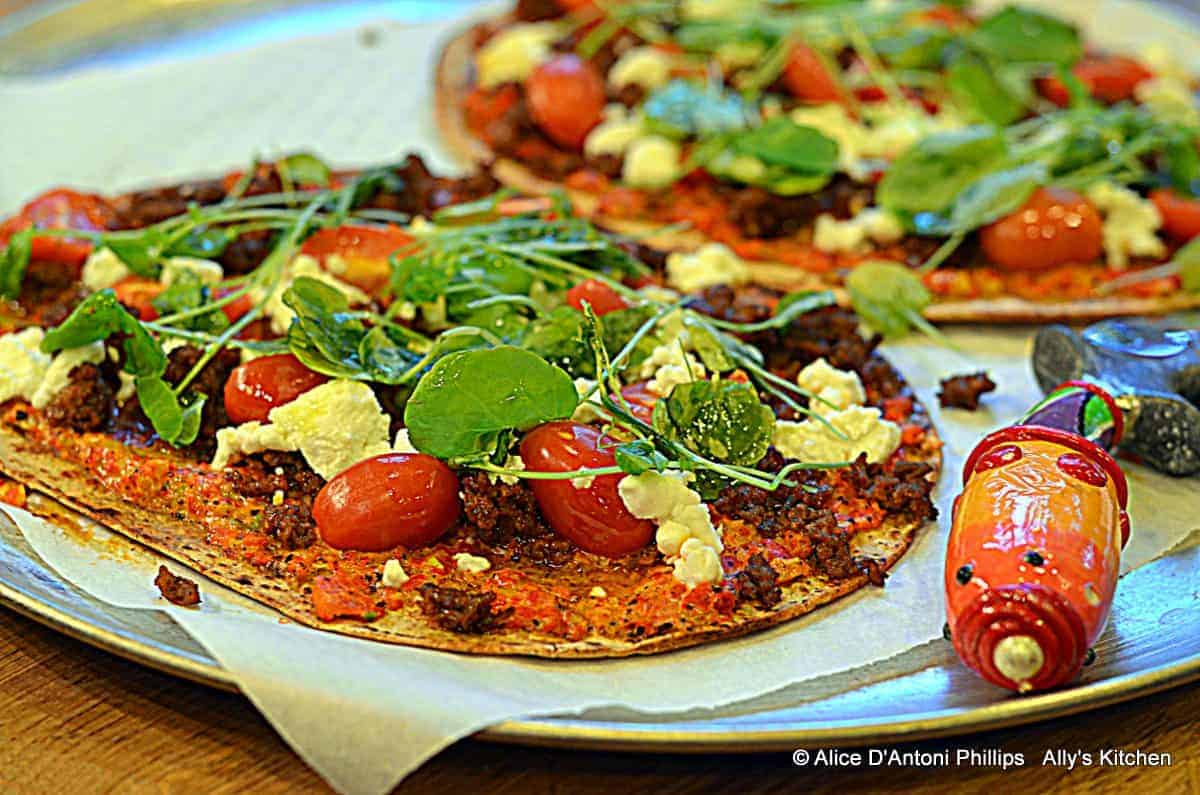 Buffarizo! Buffalo or/bison and chorizo—think Gringo and Amigo—food elements that are a treasured part of my life.  For the past almost 20 years, my nomadic life has included living not only in South Carolina but in the Rocky Mountains of Colorado.  Life there is vastly different from my life along the Southern coast, from the terrain and weather to the food.  When I'm in Colorado several months of the year, cooking with buffalo/bison, animals that once roamed the wide open expanses, and chorizo, a food of the colorful and rich Mexican influence, definitely sway my creative culinary mind!
Sharing this part of me, not only the food, but the western part—cowgirl boots, hats, rodeos, and the finest Mexican dishes one can find, with my Southern friends is always fun—kind of like saying 'ya'll' in New York City!  Someone will say, 'You're fixing buffalo burgers!! or 'What the heck is chorizo!'  This recipe brings my Southern and Western roots together through the ubiquitous 'pizza'—understood and loved by most all Americans—which we all are!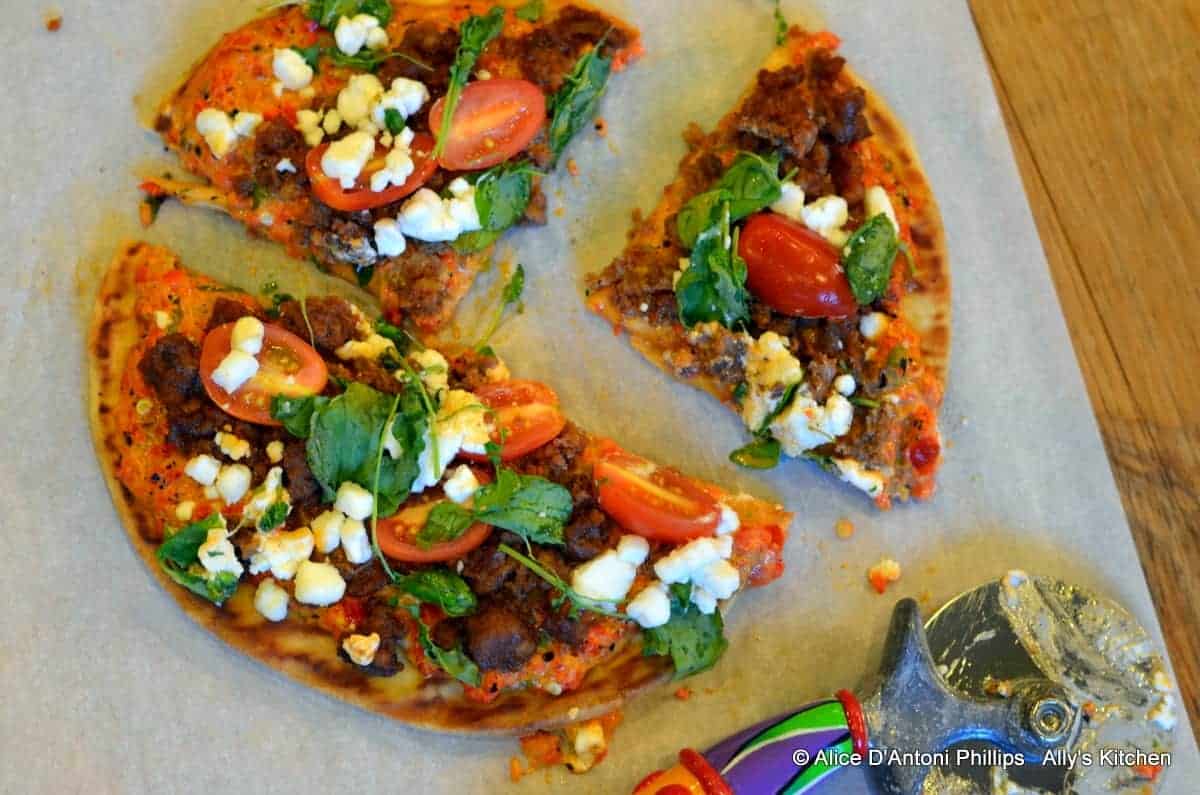 Serves:  6
What you need:
Sauce:
4 red bell peppers cut in halves
6 spring onions with green tops (divided)
3 cloves of peeled garlic
1/3 cup olive oil
1/3 cup sour cream
1 tsp sea salt
1 tsp coarse ground pepper
1 tsp smoked hot paprika
Meat topping:
4 tbl olive oil
½ lb ground bison
½ lb ground chorizo
Grilled Flatbread:
6 pieces of packaged flatbread (store bought)
6 tbl olive oil
Cheese, Cherry Tomato & Watercress Topping:
2 cups cherry tomatoes sliced in half lengthwise (salt to taste)
2 1/2  cups crumbled goat cheese
4 cups fresh watercress


What you do:
Place peppers (cleaned out) that are cut in halves, 4 whole green onions (bottoms trimmed off), on a hot grill (350-400 degrees) and cook/char for about 5-6 minutes.  You will need to watch the green onions and remove sooner than the red bells; green tops of onions should be charred. Red bell peppers should be tender with a charred skin.  Remove and cover with foil or place in a plastic bag to steam.  Begin cooking the meat topping.
In a heavy skillet over medium heat, put olive oil.  Crumble in bison and chorizo and brown.  Chop and crumble into small pieces as the meat cooks for about 15 minutes.  When done, cover with a lid, turn off heat and set aside.
Place grilled bell peppers, charred green onions, remaining green onions, garlic cloves, sour cream, salt, pepper and paprika in a food processor and blend for about 3-5 minutes or until smooth creamy sauce consistency.
Take flatbread and brush each side with olive oil.  Place on hot grill about 45 seconds to a minute per side to get nice grill markings.  Then remove and spread on equal amounts of the bell pepper/green onion sauce on one side of each piece.  Using a slotted spoon to drain oil, spoon on equal amounts of the cooked bison/chorizo on each piece, add some cherry tomatoes and crumbled goat cheese on each flatbread pizza.
Place on medium hot grill (about 300-350 degrees); cover and cook for about 2-4 minutes.  Check after about a minute.  Using your spatula gently turn up flatbread to ensure it is not getting too golden brown and crispy on the bottom.  Turn off grill. Scatter on equal amounts of watercress.  Close lid for about a minute.  Serve immediately.
You can substitute another green for the watercress–something light and tender, such as, arugula or frissee.