fresh herb mountain trout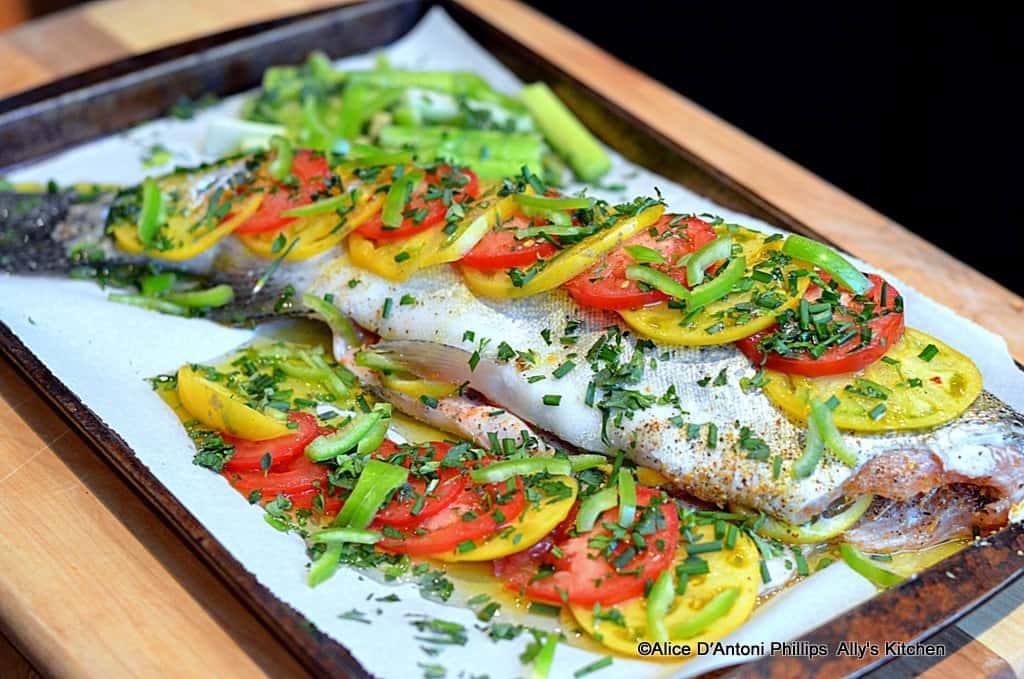 Quick Dinner Ideas for Family
Fresh herb mountain trout is like tasting Mother Nature's best! Oven roasted, fresh herbs and a whole brown speckled trout is gourmet cuisine!
Quick dinner ideas for the family is tops on our lists of things we want in life. And, this fresh herb mountain trout will work if you're at home or if you're camping somewhere in the wilderness!
Mountain Trout Fish
Living part of the time in the mountains of Colorado has so many advantages, especially during the summer. And, when you have a neighbor who loves to fish. A neighbor who has a sweet honey hole for finding brown trout. And, a neighbor who shares his catch with you, then you're like a pig in slop. HAPPY! Our neighbor walked over, knocked on the door, and there he was standing there, grinning ear to ear, a plastic bag in hand. I just had a sneakin' suspicion, there was something in there for me!
Walking in slowly, my friend, who has Parkinson and both motor skills and speech are significantly affected, started telling me all about his fishing day. We exchanged cooking tips for the fish, and then I sent Scott home with a big hunk of a three-layer German Chocolate Cake I'd just made. He promptly told me that he was not sharing his 'catch' of cake! What a joy to have neighbors like Scott who brighten your day and show you all the beauty of life even when you could legitimately be simply bitter and miserable. But not my friend. He's an inspiration beyond words!
Trout Recipes
A lot of recipes out there show how easy trout is to cook. One of my favorite ways to do it where you really get the full flavor of this delectable fish to to bake it. A freshwater fish, trout, like salmon, is a great source of good fats in your body, Omega 3s.
Trout Baked
Baked trout takes not time at all. This recipe will have you serving this flavorful fish in about 25 minutes start to finish. Typically, you eat this fish whole, but you could filet or chop it up making some kind of hash. If you're not using fresh caught trout, then make sure that your fish smells pleasant and mild, has a firm flesh, clear eyes and is shiny. If that trout's been frozen, you don't want visible ice crystals on it. May have some serious freezer burn.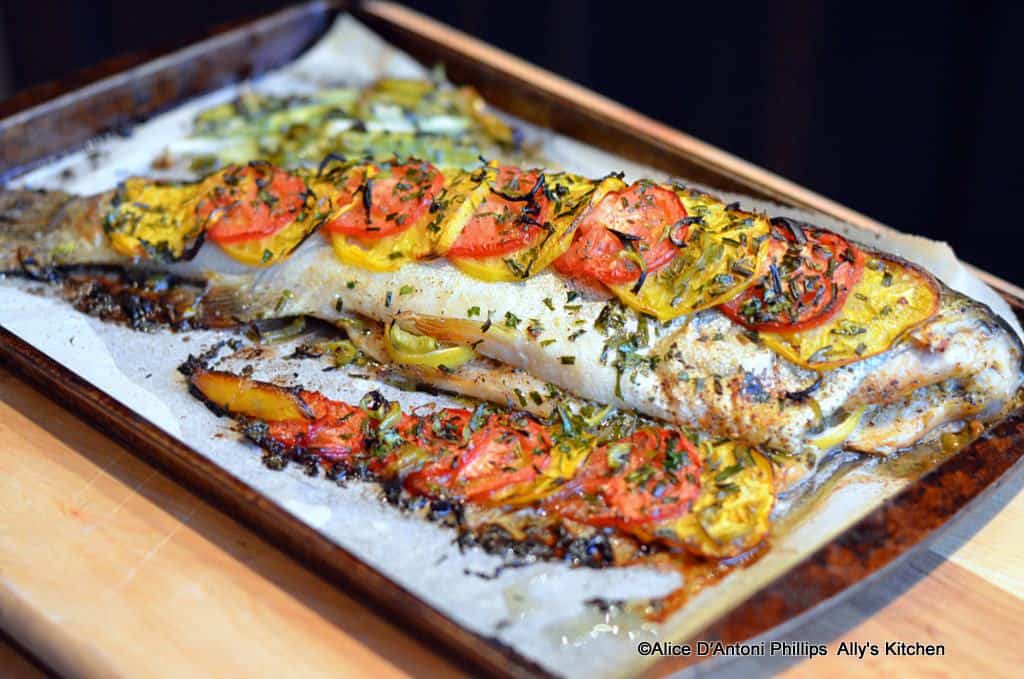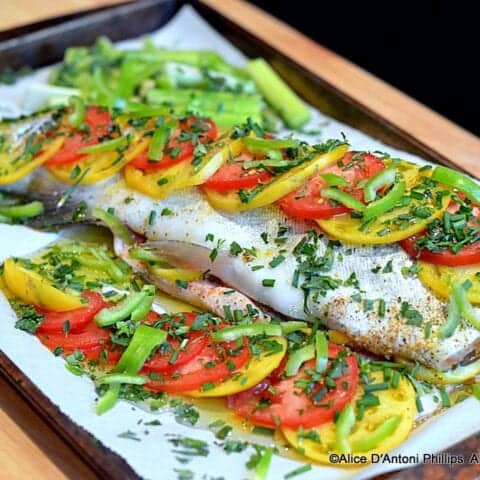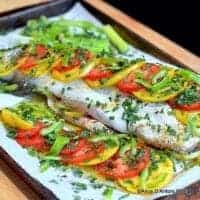 fresh herb mountain trout
Fresh herb mountain trout is like tasting Mother Nature's best! Oven roasted, fresh herbs and a whole brown speckled trout is gourmet cuisine!
Ingredients
1.5 to 2 lb whole fish, trout(s), cut lengthwise through center
4 Tbl. butter, salted
4 slices lemon
4 Tbl. avocado oil 
1 ½  tsp. sea salt, divided
1 tsp. pepper, divided
2 Tbl. seasoning mixture, your choice,  Simply Asia's 'Sweet & Spicy Saigon',  Italian, Greek, Cajun, etc.
1 large Roma tomato, sliced thin
1 large yellow tomato. sliced thin
¼ cup fresh chopped herb combo, 2 Tbl. chives, 2 tsp. thyme, and 4 Tbl. Italian Parsley, all finely chopped and blended together
¼ cup olive oil
Instructions
Open the fish and put in the butter, lemons, half of the salt/pepper, and one tablespoon of the seasoning mixture.

Gently score the skin top of the fish (about ¼" deep). Sprinkle on the remaining salt, pepper and seasoning mixture. Drizzle two tablespoons of the avocado oil. Lay the tomatoes atop the fish, sprinkle on the fresh chopped herbs. Drizzle with the remaining avocado oil.

Roast in a 425 preheated oven about 25-30 minutes. Remove and loosely cover with a foil tent and let the fish rest about 10-15 minutes.