happy cowboy salsa ranchero chili poblano meatloaf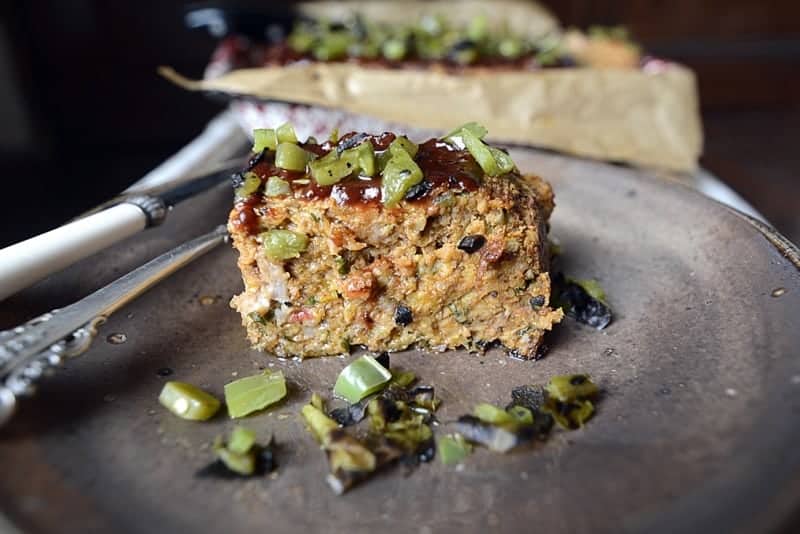 There's nothing better for dinner, nothing more the epitome of comfort food, and nothing better for making sandwiches than this poblano meatloaf! And, this happy cowboy salsa ranchero chili poblano meatloaf is a fabulously flavorful take on an updated blue plate special for your local diner's meatloaf lunch or dinner!
Now, my hubby isn't much of a meatloaf fan. He says he grew up on it and has had his fill of meatloaf. So, I knew if he was going to eat meatloaf, I'd have to create something drastically different from the typical meatloaf. And, this recipe hits the nail on the head!
Really moist and tender, the ground chicken has more 'fat' built into it with the additional of the sausage in the recipe. Then there chili seasoning and actual salsa that goes into the meat mixture. I've intentionally let you decide your heat level with the salsa a chili seasoning mix, but we're medium to hot so ours was quite spicy. What did I serve with it. Oh, yeah, homemade succotash that was a medley of mixed vegetables and plenty of corn and lima beans. Only thing I can say about this recipe is that it was a hit and hubby wanted seconds! You'll love the spiced up ketchup topping with the diced roasted charred poblanoes. Makes for a totally different meatloaf!
PS…I love cooking in enamelware! Check out some of my favorite pieces. You cook and serve! And, it's so so pretty! xo ~ally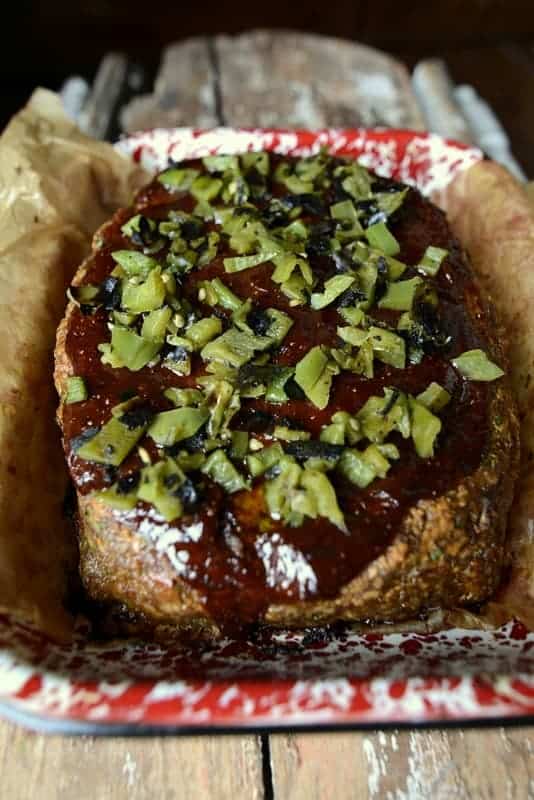 happy cowboy salsa ranchero chili poblano meatloaf
Ingredients
Preheat oven to 375
2 large poblanos, roasted charred and diced
1 cup saltines
1 cup whole oats
1 carrot, cut into 5-6 chunks
1 small sweet onion, quartered
3 Tbl. Extra virgin olive oil
1 (1 oz.) packet chili seasoning mix, heat level to your liking
1 cup salsa, heat level to your liking
1 lb. ground sausage
1 lb. ground chicken
2 eggs, beaten
1 ½ tsp. coarse ground pepper
1 tsp. sea salt
1 tsp. Hungarian sweet paprika
1/3 cup fresh Italian parsley, finely chopped
¼ cup fresh cilantro, finely chopped
¾ cup ketchup
1 Tbl, Worcestershire
Instructions
Wash and dry the poblanos. Roast either on the stovetop on low gas flame or place on a cookie sheet under the broiler (about 10" from broiler). Turn poblanos as they blister on all sides. When done, remove and wrap in foil to sweat. Set aside. After sweating about 15 minutes, remove, trim top and remove seeds and dice.
In a food processor, combine the saltines and oats. Pulse into a grainy mixture. Put in small bowl. Set aside.
In the food processor, add the carrot, onion, olive oil, chili mix, and salsa. Pulse into a thick liquid mixture.
In a large mixing bowl, break up the ground sausage and chicken and blend together. Add the liquid seasoning mixture, one teaspoon salt and pepper, paprika and eggs. Blend together well. Add the crushed saltines/oats, parsley and cilantro. Blend well. Let it sit about 10 minutes allowing dry mixture to absorb moisture in meat mixture.
Put a piece of parchment paper in a 9 x 12" casserole dish. Dump the meat mixture in and form into a 'meatloaf'. Make a small raised ridge around the perimeter using your hands and/or a rubber spatula.
In a small bowl, mix together the ketchup, Worcestershire and one-half teaspoon of pepper. Set aside.
Cover the meatloaf loosely with foil. Bake in a preheated 375 oven for an hour. Remove and slather the ketchup mixture on top. Return to the oven for 15 minutes uncovered.
Remove and sprinkle on top the diced roasted poblanos. Slice and serve.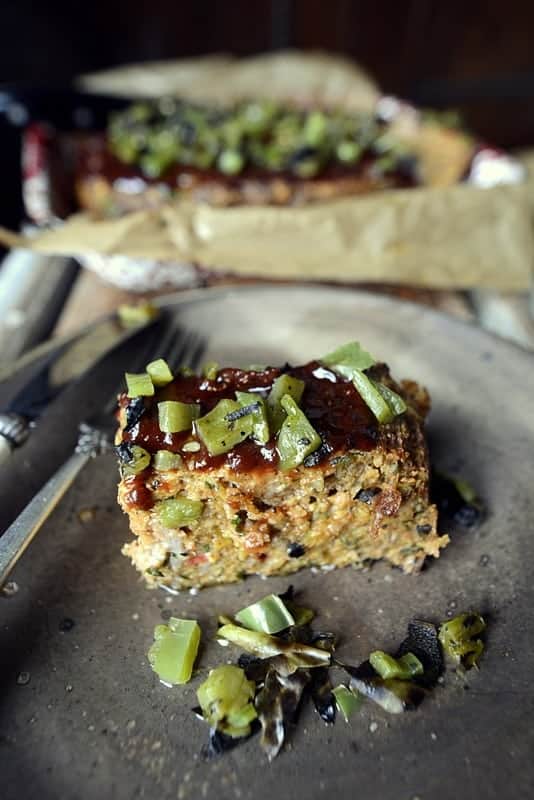 How 'bout dessert tonight!