harissa eggplant & roasted red peppers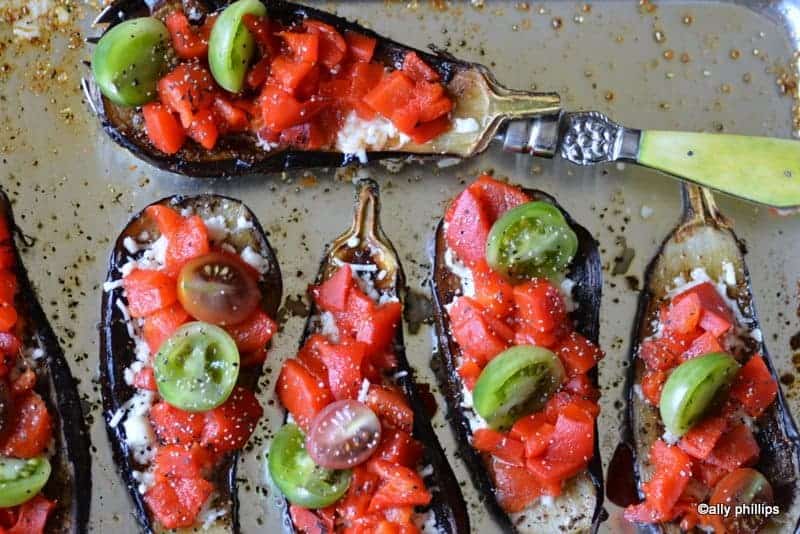 Harissa eggplant roasted red peppers is the recipe that will make you look like a master chef! Beautiful. Healthy. Easy. Totally delicious!
Aubergine
Aubergine is a beautiful word. And, you might thing it's a vegetable, but au contraire.
It's a fruit. Yep, it's got a long history, too, dating back to the ancient Chinese times.
Eggplant Recipes Easy
You'll find this fruit that we in America call eggplant popular in the Middle East.
They have so much versatility in cooking, and I think you'll love this version of mine, harissa eggplant & roasted red peppers, that's not only easy and quick, but packed with goodliness!
Eggplant Healthy Recipes
You can find varieties of eggplant from white to striated to the deep beautiful purple.
And, you'll find different sizes. I prefer the smaller sizes because they can be served individually, and, it's just so cute. Plus, for me, they just seem to have a better flavor. Plus, the cook really quickly.
Pasta with Eggplant
This recipe is perfect with pasta.
Or you might want to serve over a nice jasmine rice.
, I could even put one of the babies between two slices of bread or a bun and make a sandwich. Now that's a groovy boho idea! Enjoy, luvs!
Harissa Recipes
Make your own Harissa, Super EZ. Find it in my cookbook: Ally's Kitchen~A Passport for Adventurous Palates. You'll want me right there in your kitchen, so put it on your wish list. It's on Amazon!
Cooking with Eggplant
And, one more thing! In 1824, Mary Randolph wrote about aubergine or eggplant in the publication The Virginia Housewife. Of course, she just referred to them as the 'purple ones'. To read more about this, click here~ Psychology Today.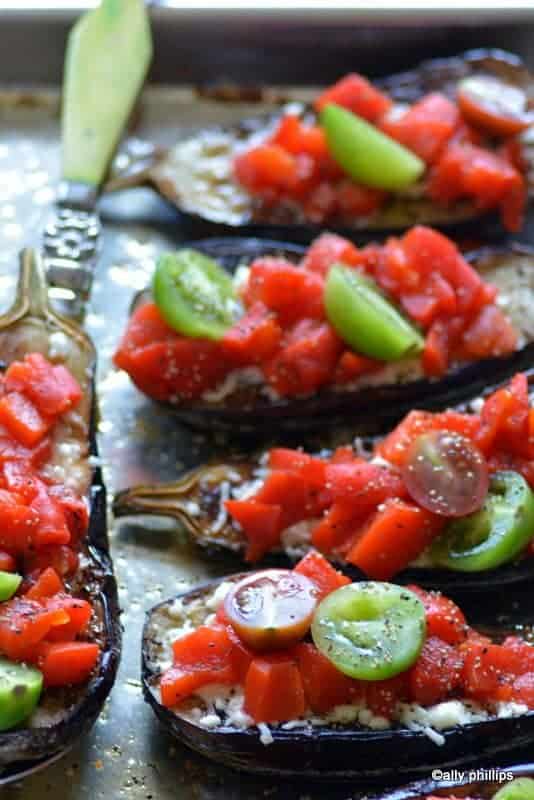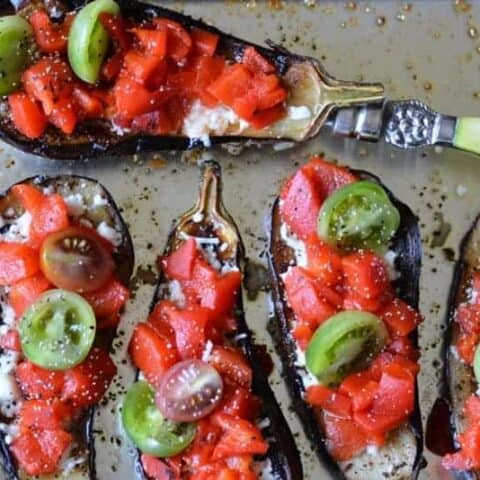 harissa eggplant & roasted red peppers
Ingredients
Preheat oven to 350
!
3 small eggplants, sliced in halves with stems still on (make a 'flattening' sliver on the backside so the eggplant isn't wobbly)
Cooking spray
5 Tbl + 6 tsp. extra virgin olive oil (divided)
1 tsp. sea salt
2 tsp. harissa
½ cup asiago, shredded or grated
¾ cup roasted red peppers, diced
6-8 cherry tomatoes, heirloom variety preferably, sliced in halves lengthwise
!
Instructions
Put the eggplant halves on a cookie sheet. Coat liberally with cooking spray. Season with the salt and harissa.
!
In a large cast iron skillet over medium high heat, put 5 tablespoons of olive oil. Let it get hot, but not smoking! Place the eggplant halves, flat side down and sear for about 2-3 minutes. Remove back to the cookie sheet.
!
Place in a preheated 350 oven for about 10-12 minutes. Remove then put equal amounts of asiago and roasted red peppers on the eggplants. Return to the oven for 2-3 minutes—just enough time to melt the cheese.
!
Remove and garnish each with a couple of tomato slices and one teaspoon each of the olive oil. Serve immediately. Or if you like, serve at room temperature!
Notes
You can substitute a cheese~parmesan, goat, feta, mozzarella, pepperjack~whatever you like.

The harissa is a wonderful spice mixture that adds exceptional flair and flavor to the otherwise sometimes 'bland' eggplant. I have a recipe for it in my cookbook, Ally's Kitchen~A Passport for Adventurous Palates...you'll want me right there in your kitchen, so put it on your wish list~it's on Amazon!

Buy the jarred roasted red peppers~save yourself some time.

My eggplants were small. If you use larger ones, then you'll need to adjust the baking time. Just prick with a fork to make sure it's tender. And I love eating the skin, so make sure you wash those babies really well before starting.