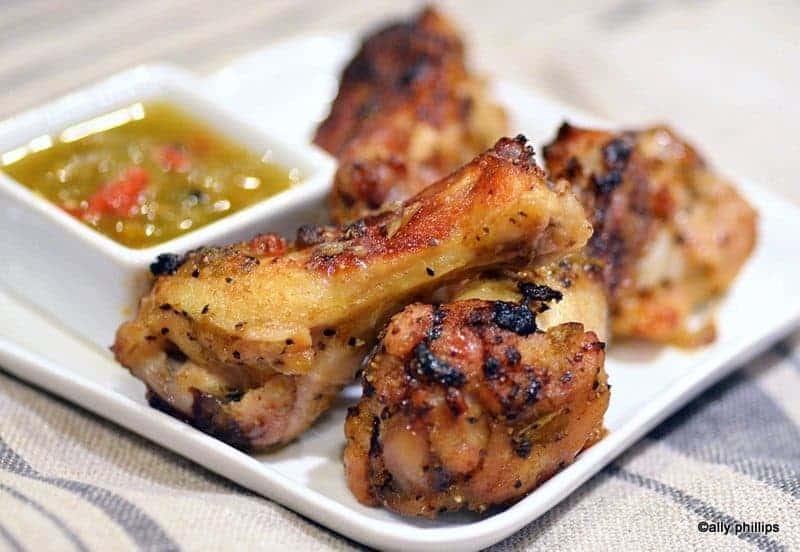 Oh, lawsy, what do you do when you have the munchies at 10 pm at night and you want something spicy and hot. And, did I say pretty dang quick! Order a pizza? No way.
These hatch chile wings were spot on. I mean in about 25 minutes, start to finish, the munchies were satisfied! I should have taken time to cut up some celery and poured a dipping bowl of bleu cheese dressing (some of the refrigerated brands are just perfect in a pinch), but I didn't.
Like a cave woman, I put away most all of these wings without one iota of guilt at the late night hour. I mean sometimes you have to let go and get wild, huh! And, this kind of wild side occasionally is harmless!
I know what you're probably thinking now~'And, you Ally had the presence of mind in that depraved hunger state to photograph these wings???' Yeppers, I could not not share them with you~otherwise I would have had to re-make the recipe~which I will do!
xox ~peace & namaste~ ally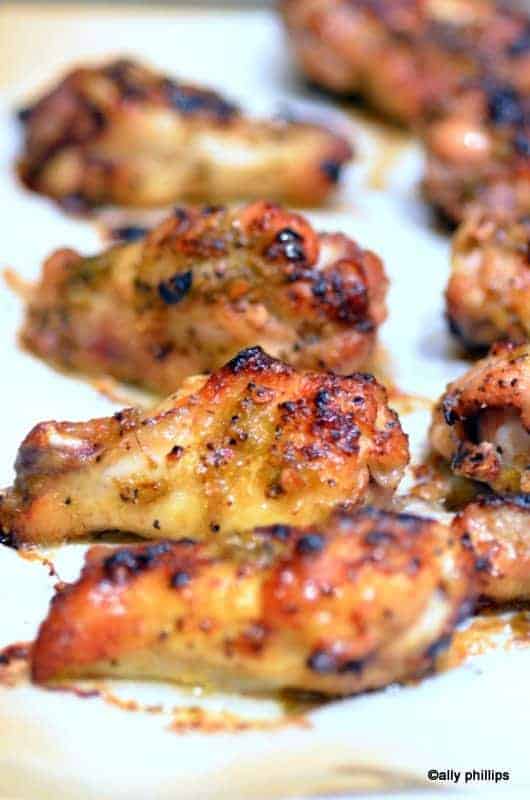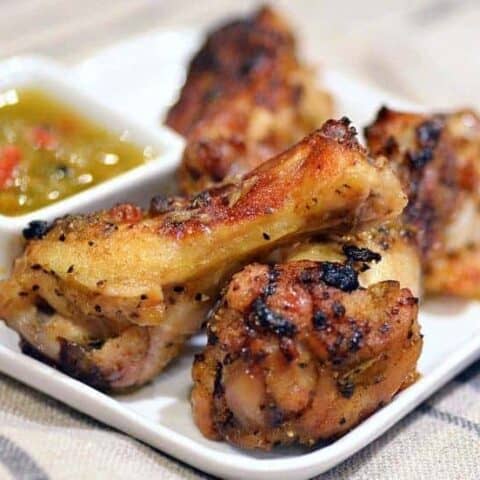 hatch chili wings
Yield: Serves 2 or One really hungry person!
Ingredients
8-10 chicken wings (or drummettes)
1 Tbl. Extra virgin olive oil
½ tsp. sea salt
½ tsp. coarse ground pepper
½ tsp. cumin
¼ tsp. red chili flakes
½ cup hatch chile salsa (divided) (I like Trader Joe's
!
Instructions
Preheat oven to 400.
!
Rinse and pat dry the wings. Put in a medium sized mixing bowl. Drizzle on the olive oil and with your hands work into the wings.
!
!
Combine in a small bowl the salt, pepper, cumin and chili flakes. Blend then sprinkle on the wings. Work the spices into the wings with your hands. Massaging the littl' legs about 60 seconds.
!
!
Cover with ¼ cup of the hatch chili salsa. Toss and coat the wings then place on a parchment paper lined cookie sheet.
!
!
Cook in a preheated 400 oven about 18-20 minutes. If the wings are not brown enough, turn on the broiler (keep them about 10" from it) and let them 'sizzle' about 3-4 minutes.
Serve the wings hot with the remainder of the hatch chili. Spoon it on each bite of cheeekin!
Serves: 2