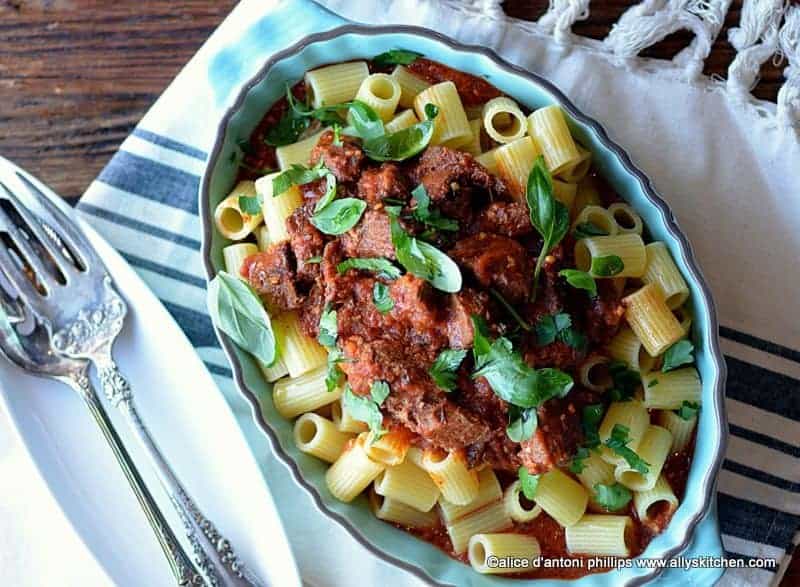 Oh, you're gonna love love this beef ragu with a Moroccan twist! I mean get ready to dazzle your food seekers as they savor each bite!
Beef Ragu Sauce
Here's the salad I served this Moroccan beef ragu sauce and pasta with. Mediterranean Celery and Olives. It was the perfect match, at least in my palate option, with the warm spicy ragu.
And, if you want an insanely delicious yogurt cucumber sauce/dip to dollop on your servings, well, look no further, just click here. I promise amazingness!
Beef Ragu Sauce Recipe
This salad offered a crunchy crisp juicy salty and sweet contrast. My small dinner party guests agreed, so that's why I'm sharing this with you!
Slow Cooked Beef Ragu
This Moroccan Beef Ragu Sauce simmers to a kind of thick sauce with tender chunks of meat. Don't compromise on the cut of beef.
Ragu Recipe
You want it to be tender, and either a New York strip or ribeye offer this feature for this recipe. Now, I love warm and spicy, so that's why I used 3 teaspoons of harissa.
Easy Beef Ragu Sauce Recipe
However, if you're unsure, just scale back a teaspoon or two, and you can always add back in! Be prepared to serve up adventure to your guests with this global meal!
xoxo ~peace & adventurous palates~ ally
PS: I'm thinking this would work in a slow cooker. Go ahead, be adventurous, and please let me know if you do it that way & how it worked for you! I love to hear from you!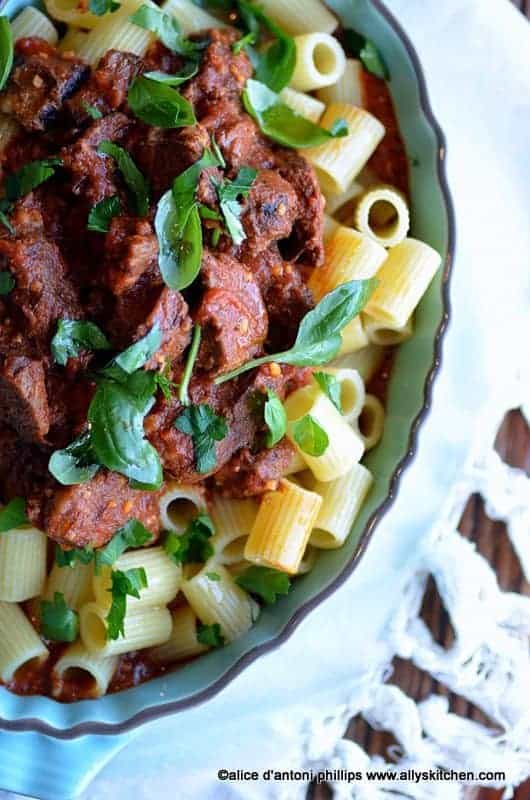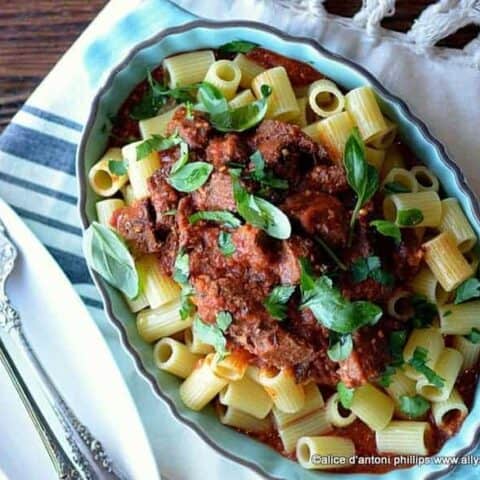 moroccan beef ragu sauce
Ingredients
1 ½ to 2 lbs.NYstrip (or ribeye) steak, cut into 1-2" inch cubes
3 Tbl. avocado oil
1 tsp. sea salt
3 tsp. harissa
1 tsp. cumin
1 tsp. Italian seasoning
1 Tbl. minced dried garlic
1 tsp. paprika
1 tsp. smoked hot paprika
1 (28 oz.) can Italian tomatoes
1 (28 oz. jar) marinara (store bought)
2-4 bay leaves
1 cup grated Parmesan reggiano
1/2 cup flat parsley, roughly chopped
1/4 cup fresh mint, roughly chopped
1/4 cup fresh basil, roughly chopped
Garnish: parsley, basil and mint mixture (optional)
Instructions
In a large heavy pot over medium high heat, put the oil, meat and pan sear about 3 minutes turning and browning, Mix together in a small bowl the harissa, cumin, Italian seasoning, garlic, and two paprikas. Sprinkle on the meat and toss and turn.
Add the tomatoes. Fill the can about half way with water, rinse and pour into the pot. Bring to a boil. Then cover with a lid askew (to let steam escape), reduce heat to medium and cook about 30 minutes. Reduce heat to medium low, add the marinara and bay leaves and cook another 45-60 minutes. Stir occasionally.
Reduce heat to low. Remove bay leaves. Add Parmesan, parsley, mint, basil and blend. Let the ragu simmer until you're ready to serve (loosely covered). Serve on your favorite pasta!