ground chicken chorizo italian meatballs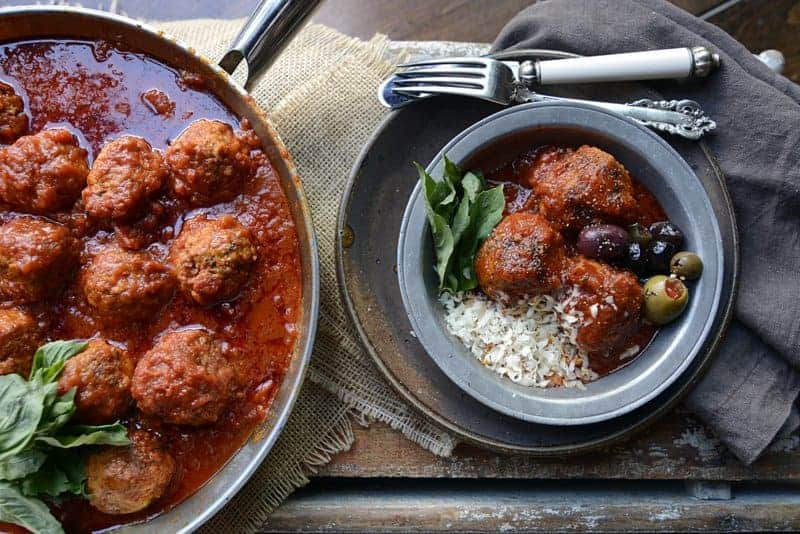 Get ready to taste the most delicious meatballs ever! Ground chicken chorizo italian meatballs are simple to make and hard to stop eating!
Italian Meatballs Homemade
Ground chicken seasoned with some tasty beef chorizo makes the recipe just a tad bit healthier! However, if you want to choose another type of ground meat, please do so!
There's just so much flavor in the seasoning mixture, I'm thinking you're not going to believe you're eating ground chicken, which sometimes doesn't have much flavor!
Homemade Italian Meatballs
There's nothing complicated about making these homemade Italian meatballs.
All you have to do is play in the big mixing bowl bringing all the ingredients together, roll them into balls (your size of the ball is optional), either brown them in a skillet or bake in the oven, then simmer for a while in a really good brand of jarred marinara sauce! Yep, that's it!
Old Fashioned Italian Meatballs
Now these are old school and old fashioned kinds of balls. Nothing fancy. Just good flavor and some delicious seasonings blended in.
Using the chorizo adds a big dimension of packed flavor to the ground chicken. Actually, ground chicken alone can be kind of bland. It just doesn't pack the flavor because there's not that much 'fat'. So that's why we're ramping up the flavor of the ground chicken (or turkey) with the chorizo.
Easy Italian Meatballs
We're definitely meatball lovers in our family. And, when the grandkids come, this is precisely what they want!
Over the years, I've created variations of recipes like these asiago fresh herb meatballs and pesto meatballs.
And, for something really fun, try my meatloaf meatballs. Really, isn't that kind of what meatballs are, little round meatloaf mixtures. Or maybe it's the other way around!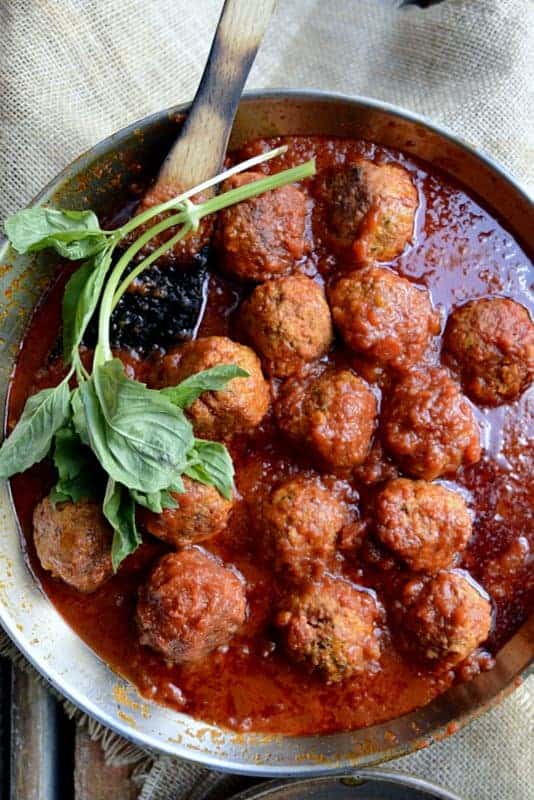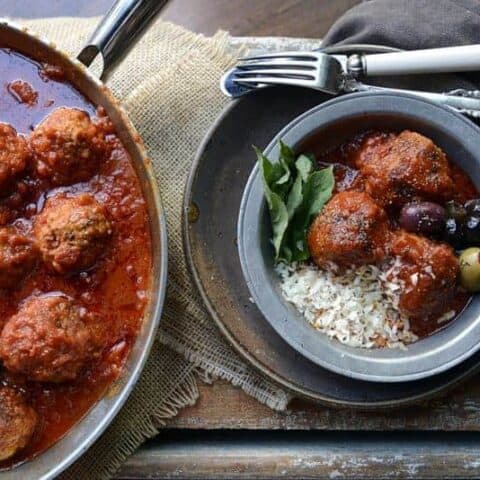 ground chicken chorizo italian meatballs
Yield: Makes About 12-15 meatballs!
Ingredients
1 ½ lb. ground chicken
½ lb. beef chorizo
1 ½ tsp. sea salt
1 tsp. pepper
1 ½ tsp. garlic granules
1 ½ tsp. onion powder
1 ½ tsp. smoked paprika
½ tsp. red chili flakes, optional to add less if you prefer less spicy
2 Tbl. Italian herb mixture
2 Tbl. Braggs Nutritional Yeast Seasoning
2 eggs
3 Tbl. fresh Italian parsley, finely chopped
1 cup bread crumbs
¼ cup extra virgin olive oil
1 jar (40 oz.) marinara sauce
1/4 cup fresh basil, sliced
Instructions
In a large mixing bowl, combine the chicken, chorizo, salt, pepper, salt, pepper, garlic granules, onion powder, smoked paprika, red chili flakes, Italian seasoning, nutritional yeast seasoning, eggs, parsley and bread crumbs. Work all the ingredients together very well with your hands. Blend and mix well to incorporate everything.
Roll into about 15 equal sized meatballs. Put on parchment paper covered cookie sheet.
Heat a large skillet (12"+) on medium high. Add the olive oil. Place about half of the meatballs in and turn and brown.
Remove with tongs to cookie sheet. Repeat with the remaining meatballs.
Add the marinara sauce to the skillet and all the browned meatballs. Cover and simmer cook on low about an hour. Before serving add the fresh basil to the sauce and blend.
Notes
It's perfectly fine to substitute other ground meats, pork, turkey, beef, lamb. Italian sausage.

OPTIONAL: You can put the meatballs in the oven. Preheat to 350 and bake for about 15 to 18 minutes.

For the dry Italian seasoning, you can substitute the Italian Herb Paste.