best ever creole chicken wings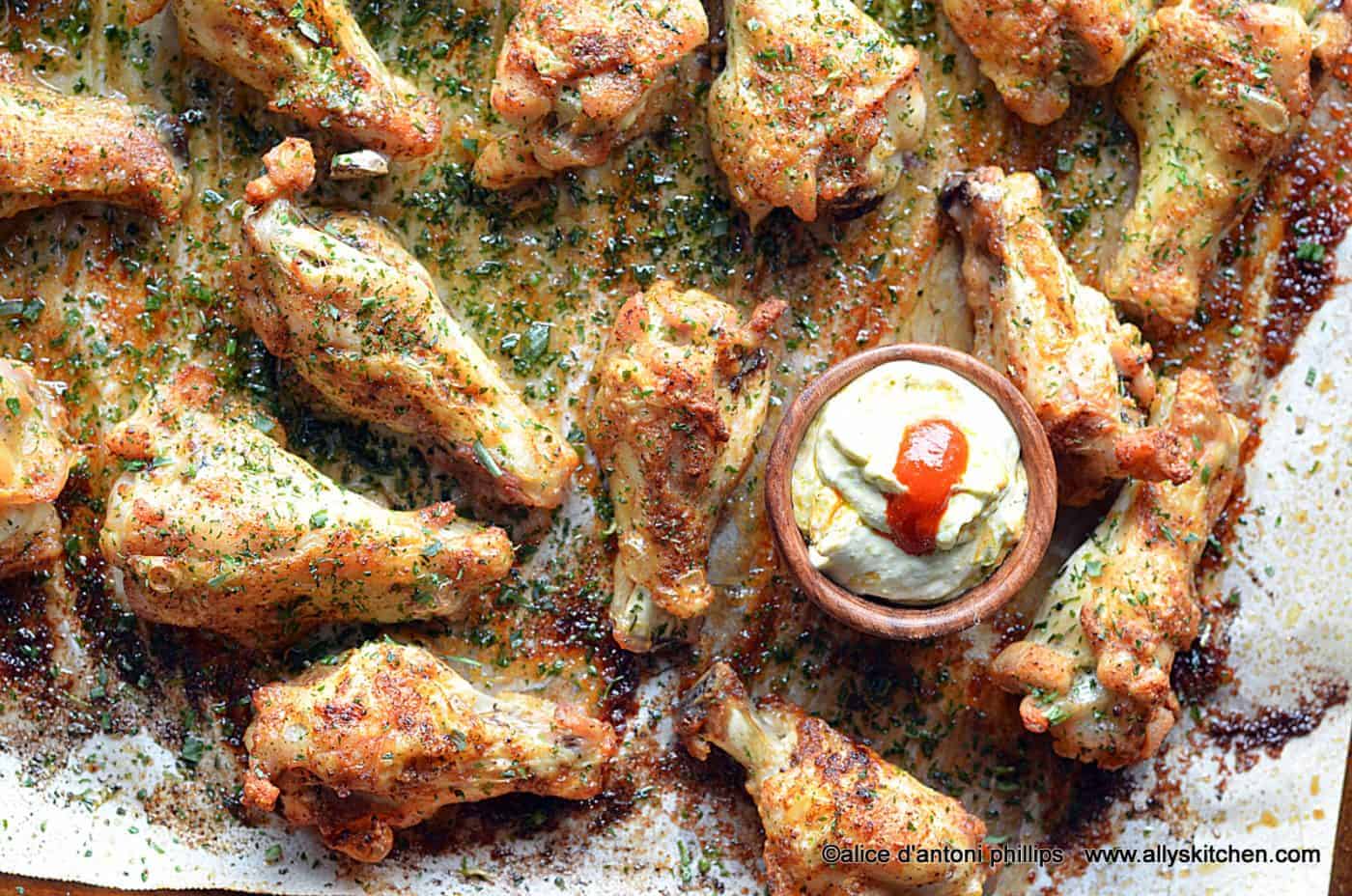 These creole chicken wings are perfect for a quick snack or even a meal. Dip them in the creamy smokey chipotle sauce. Taste the spiciness! BEST EVER!
Creole vs Cajun
Doesn't matter to me if I'm talking creole or cajun because they're both perfect for chicken wings. Folks say that the easiest way to tell the difference between creole and cajun is where you live or might be eatin'. Cajun is country food. While creole is the city food. And, the creole has a history of descending from the French and Spanish colonial settlers who came to New Orleans. Yes, there's a huge influence in the cuisine to this day.
Tony's Seasoning
Now you want to get to know my friend Tony. Tony's seasoning is the best. Hands down, it's hard to beat Tony Chachere's seasoning. I love both the cajun and creole. And, use them often with all kinds of dishes whether it's vegetables, beans, soups, stews, meats. Make yourself some cajun or creole french fries with just potatoes, some oil and Tony's seasoning. Yep, it's that easy. And, Tony's seasoning is welcomed anytime in my Lowcountry Boil, on seafood and more!
Creole Chicken
The flavors of creole combine several different cultures and cuisines, African, French, Spanish, German and more. It's an eclectic mix. Yes, there's spiciness. And, for me, that's what defines really good down home eating. Creole chicken will have combinations of spices like garlic, red pepper, paprika and onions. Use creole on your chicken and rice, your gravies, stews, grits and your gumbo.
Chicken Drumettes
Now I love chicken wings. But, my favorite part of the wing is the drumette. So, when I find drumettes on sale, I'll buy them. Drumettes have tender white meat on the tiny bone. It's the portion of the wing that's attached to the chicken. Called a drumette, or is it drummette, because it's really shaped like a drumstick. They're perfect for oven cooking!
Chicken Drumettes in Oven
Chicken drumettes in the oven crisp up perfectly and quickly. It's like having your own tailgating in no time at all. Fewer calories means you can eat several. The very hot oven, 425 degrees, immediately crisps up the exterior drumette skin making it golden brown and crunchy. Then it continues to cook inside with the meat all the way to the bone. If you want extra crispy, then after your drumettes are done (165 internal temperature), turn on the broiler for extra golden browning. Your chicken should be about 10-12″ from the broiler. Careful watch it because they can burn!
So next time you might have a rainy Saturday afternoon. Fall. Football season. What better than to curl up on the sofa with some great snacks that are easy to make and that disappear in no time!
That's what happens when you whip up these oven roasted drumettes. And, the smoky chipotle sour cream sauce just tops off each luscious bite, what else can I say other than, you'd better have a tall cool one ready to sip on after you down these wicked legs! With love and creole seasoning and smoky chipotle sauce in your future.
Chicken Wings Sauce
Now this smokey creamy chipotle sauce is a fine contrast to the spicy crispy chicken drumette. When you dip into the sauce that's got a base of sour cream, you'll taste the hints of smokiness from the chipotle hot sauce and a hint of citrust from the lime. Add finely chopped cilantro or even a little diced serrano pepper if you want more bite. This chicken wings sauce will be great for other things, too, including just dipping chips in!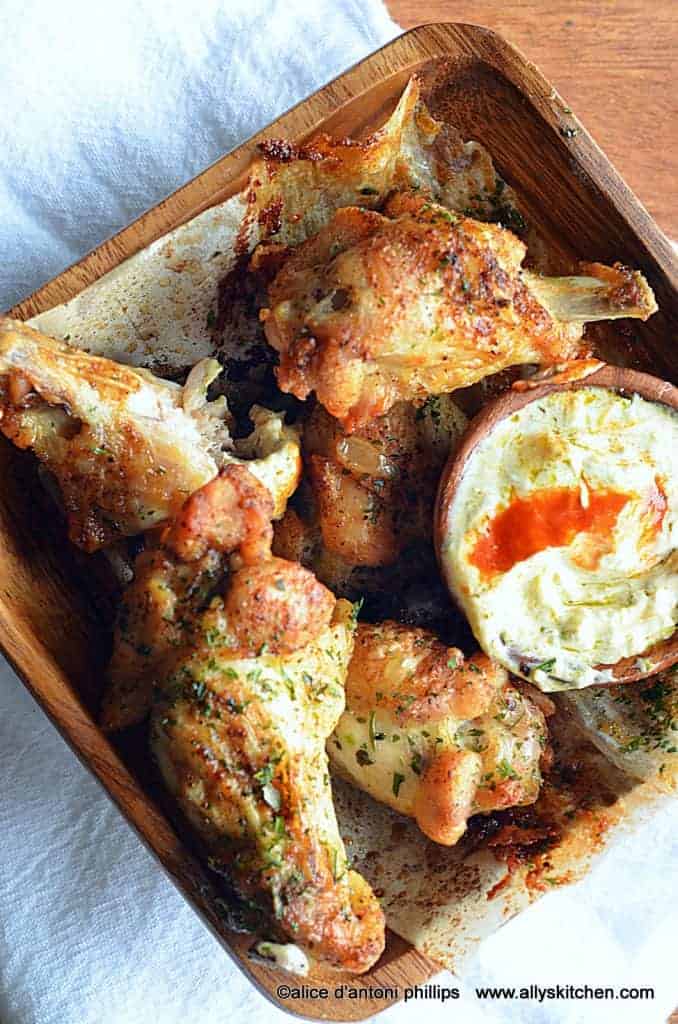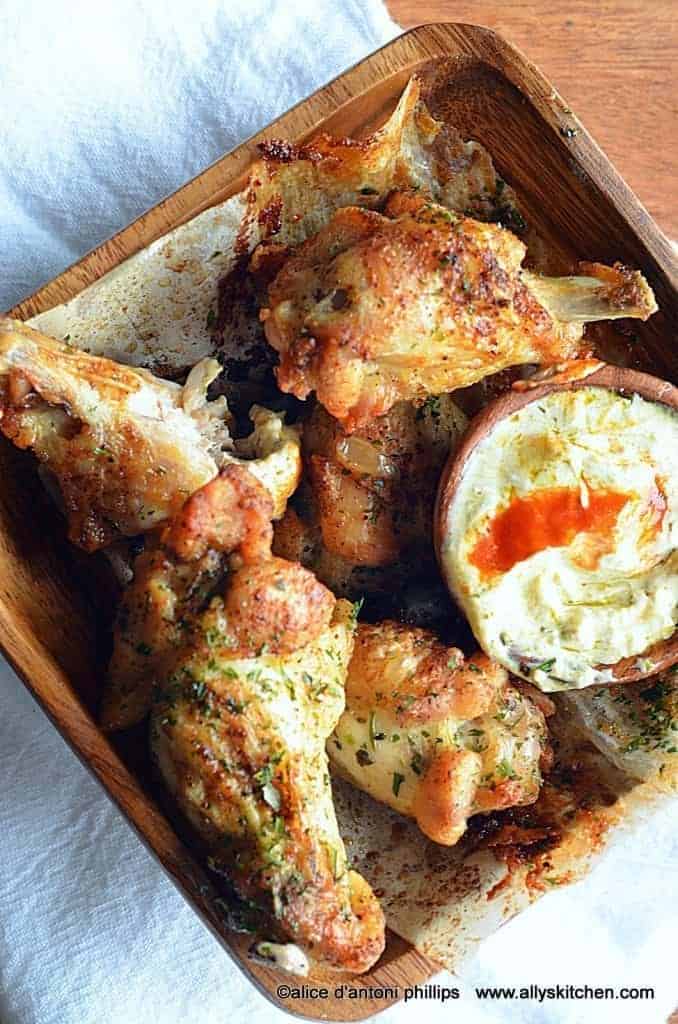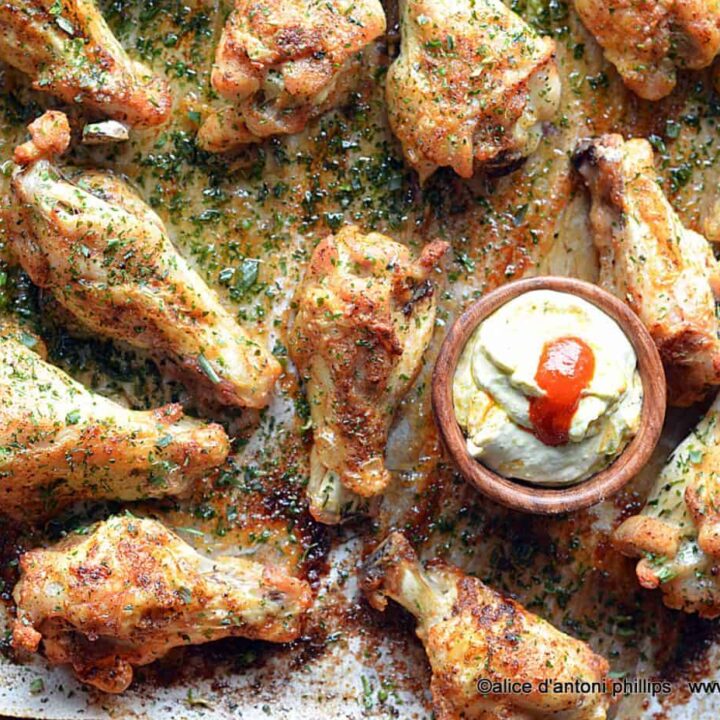 best ever creole chicken wings
Yield: About 6 snacking lovers

These creole chicken wings are perfect for a quick snack or even a meal. Dip them in the creamy smokey chipotle sauce. Taste the spiciness! BEST EVER!
Ingredients
Preheat oven to 425
16-20 chicken drumettes
4 Tbl. butter
1 Tbl. Creole seasoning mix (I used Tony Chachere's Originial Creole Seasoning. You could substitute Cajun seasoning.)
1/2 tsp. sea salt
1/2 tsp. paprika
2 tsp. dried mixed herbs (your choice~~I used parsley, basil and oregano.)
SAUCE
1/2 cup sour cream
4 Tbl. mayonnaise
1 Tbl. Smoky Chipotle sauce, store bought
1/2 tsp. sea salt
1/2 lime juice
Instructions
Put the butter in a small microwavable bowl; heat on high for 15 seconds. Add the creole seasoning, salt and paprika and mix.
Wash and dry the drumettes. Spread on a parchment paper lined cookie sheet. Drizzle on the seasoned butter and toss and coat the drumettes well.
Bake in a preheated 425 oven for about 20-25 minutes or until golden brown and some crisping forms on the drumettes. Remove, sprinkle on the dried herbs and let rest a few minutes then serve.
Sauce: Combine the sour cream mayonnaise, smoky chipotle sauce, salt and lime juice and blend. Refrigerate until ready to serve with the drumettes.