Buttermilk Pork Chops & Sweet Apricot Glaze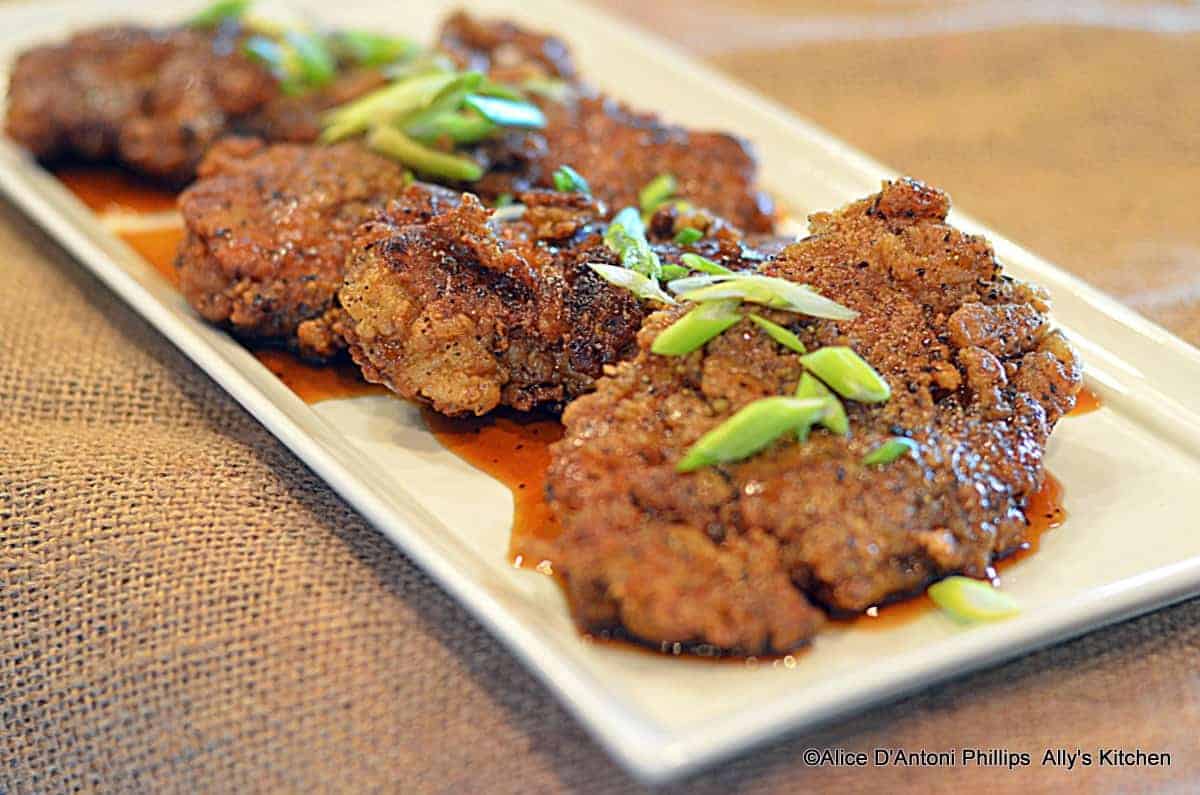 Buttermilk pork chops like none other you've ever tasted! With the sweet soy apricot glaze, you'll think you've entered chop nirvana!
Pork chops recipes
There is too much to 'fancy' like the other white meat option named pork chops! This recipe is a take-off of my great grandmother. Pork gives a juicy and soft flavor to the mouth. It makes you feel tempted easily. Pork is easily available in the market and the ribs are one of the best parts to enjoy. You can team it up with apricot mustard spicy sauce and enjoy the flavors melting in your mouth.
Easy recipes of pork chops
Pork chops are one of the most enjoyed food. If you are a meat lover then this one is going to be your best companion. This is one of the easiest recipes that food lovers can enjoy. It gets ready in minutes and forms a great menu option on your platter. This forms the best option for apricot mustard pork bbq too.
Baked pork chops
If you are in love with pork and consider eating the same over chicken then these chops can be the best option for you. You can bake these chops and relish them with a glass of vine. You can also make it into apricot and mustard glazed ham and enjoy a barbeque session during the weekend with your mates.
Oven pork chops
One of the easiest ways of making pork chops is by baking them in the oven. This makes them easy to chew and the natural flavors are also not lost. The pork chops made in the oven are easy to digest and the smokey flavor gives you a tummy full of temptation. Invite your friends over and enjoy the Apricot and Ginger Glazed Ham with them.
How to cook pork chops
One of the best ways to cook pork chops is with Asian Inspired Salmon & Mandarin Oranges. You can add them to your dish while cooking or can also garnish them with these add ons. Sear on the preheated grill on both sides of the pork chops. Glaze lightly on each side of the chops as they cook; grill until the center is no longer pink, around 7 to 9 minutes per side.
Frying pork chops
Now that you know everything about cooking pork chops at your home, these pork chops can prove to be the best option for any celebration. All you need to do is to have the right material and you can enjoy them without any hassles.
Also, Check out some of the mouth-watering recipes:-
Farmer's blue pot chicken
picante chicken tinga
mexican-inspired southwestern chuck roast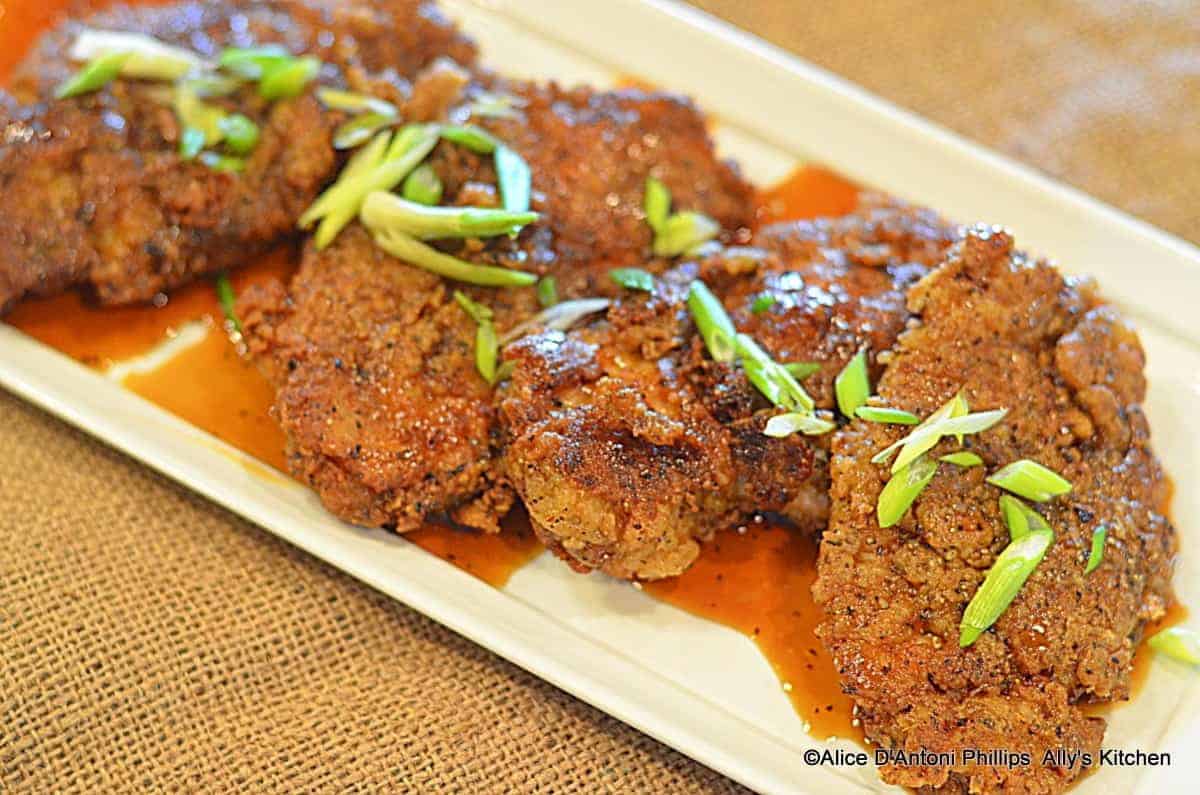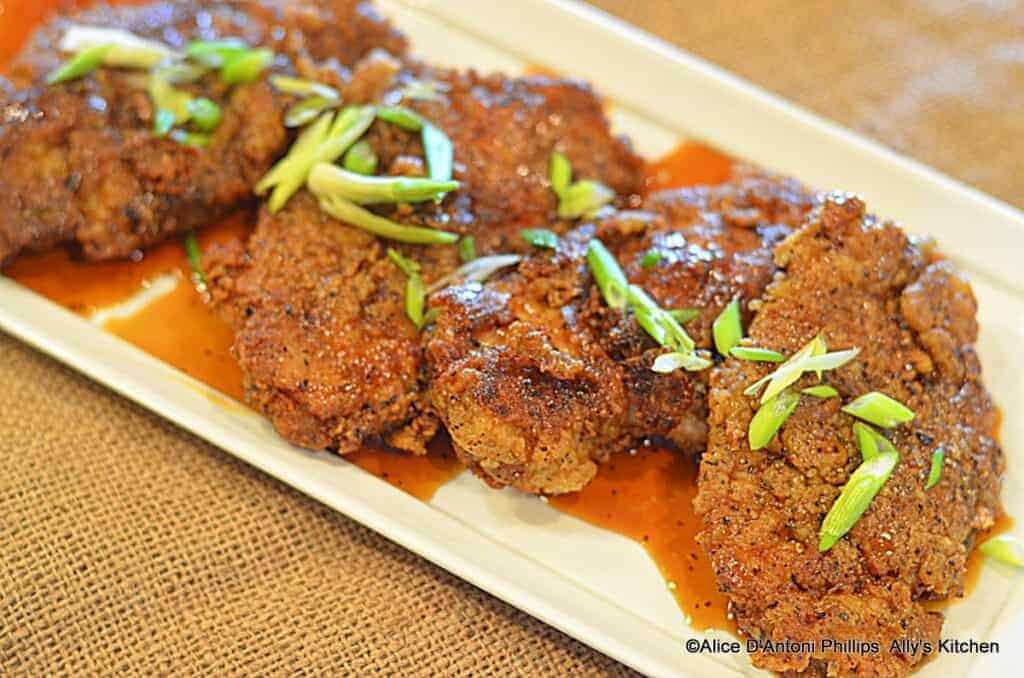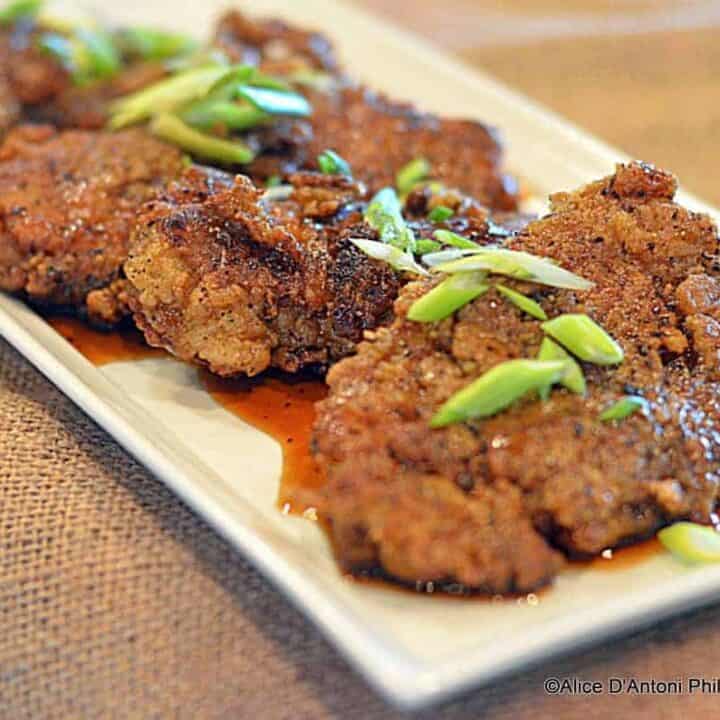 Buttermilk Pork Chops & Sweet Apricot Glaze
Yield: 6+ healthy eating folks

Buttermilk pork chops like none other you've ever tasted! With the sweet soy apricot glaze, you'll think you've entered chop nirvana!
Ingredients
Preheat oven to 425
SWEET SOY APRICOT GLAZE
¼ cup low-salt soy sauce
1/4 cup honey
1/3 cup apricot jam
½ cup cooking oil (canola)
1 tsp. hot sauce (regulate to your spiciness)
CHOPS
4 large thin cut (about 1" thick)  pork chop filets (cut in halves for 8 pieces) (Note:  if the pork chops are small (in overall size, you will need full size chops for each serving)
½ tsp smoked paprika
1 cup buttermilk
1 cup all-purpose flour
1 tsp. Herb de Province
½ tsp. Chinese 5-spice
½ tsp. cumin
¼ tsp.  ras el hanout (or Harissa or Garam Masala spice blend)
1/4 tsp. nutmeg
1/4 tsp. cloves
¼ ts.p chili flakes
1 tsp. sea salt, divided
1 tsp. coarse ground pepper, divided
4 green onions/tops chiffonade sliced
Instructions
SIDE PREPS

Put soy sauce, honey, apricot jam, and hot sauce in a small heavy pot and bring to a low simmering boil. Let this simmer for about 20 minutes. Watch carefully. Move on to pork chops.

PORK CHOPS

Put the oil in a heavy cast-iron skillet over medium-low heat.

Use one-half teaspoon of salt/pepper and paprika to coat the chops on both sides. Put the buttermilk in a pie dish. Coat the pork chops on both sides.

In another pie dish, add the flour, Herb de Provence, Chinese 5-spice, cumin, ras el hanout, nutmet, cloves, chili flakes, one-half teaspoon of salt, and blend well.

Dip the pork chops in the buttermilk, then flour, and then repeat the dipping. Place in the hot oil (regulate heat between medium and medium-high) and fry on each side for about three minutes or until golden brown.

Remove all chops to a plate and drizzle/coat with the soy/honey sauce. (Note: If 4 large chops were used use a serrated knife to slice diagonally in halves.)

Put the chop in the middle of the serving plate. Garnish chops with green onions. Place 3 asparagus stalks crisscrossed next to the chop and add a dollop of crème Fraiche. Serve immediately.