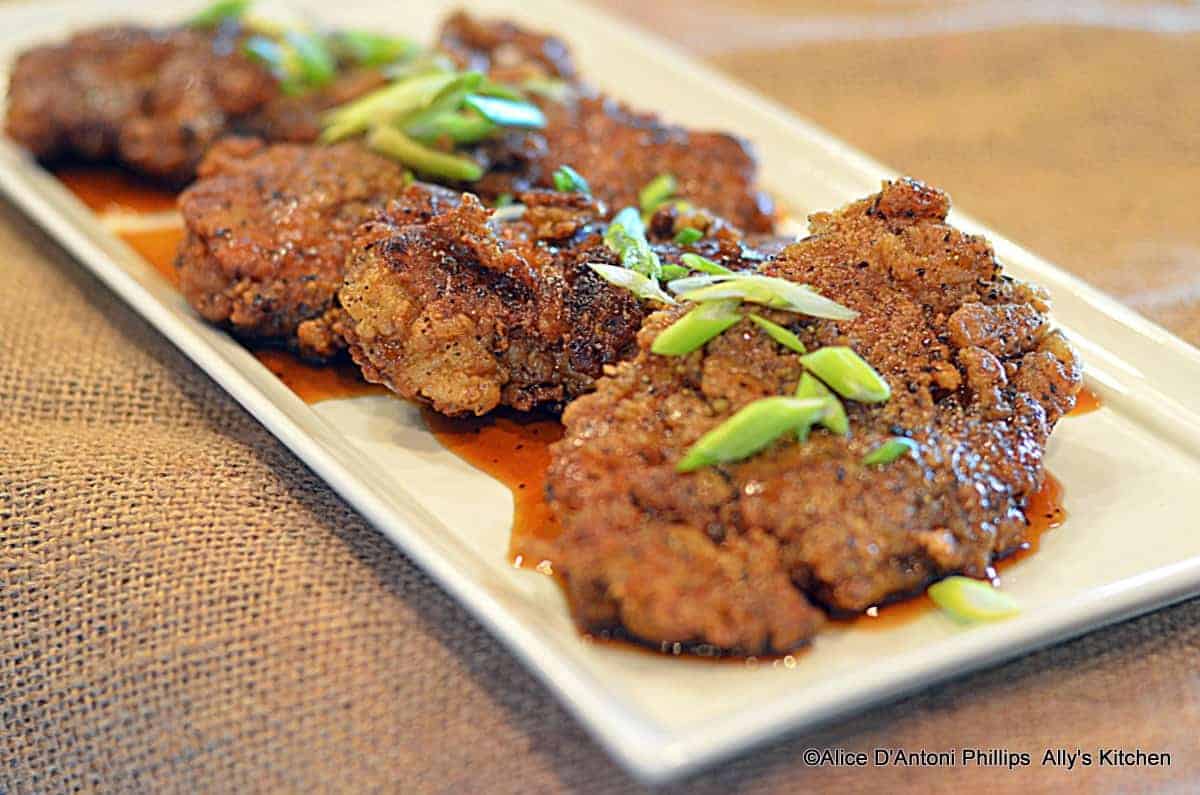 The other white meat, pork chops, has so many ways to be 'fancied' up!  This recipe is a take off, a 'boho'ing' so to speak, of my good friend from Rock Recipe.. He does a mean 'Double Crunch Honey Garlic Chicken'  that I've made, boho'd some, and can honestly say, it'd be a last meal request for me…until I did this one with pork!  Now I have a serious dilemma…pork or chicken?? So, like Rocky, who does it in pork, I decided to give it a whirl!
While my 'Sweet Soy Glaze' is really good on this pork, you could also try the 'Orange Marmelade Spicy Mahogany Sauce' on either this dish or the 'Double Crunch Honey Chicken'   I'm thinking next I might try a veal cutlet!  Anything with this outer crunch and the sweet sticky salty glaze is like a symphony for your tastebudes. Add to that some chives or green onions, some mint pepper jelly petite peas. Oh, yeah, you gotta try this recipe.. And you're gonna request this for your last meal, too!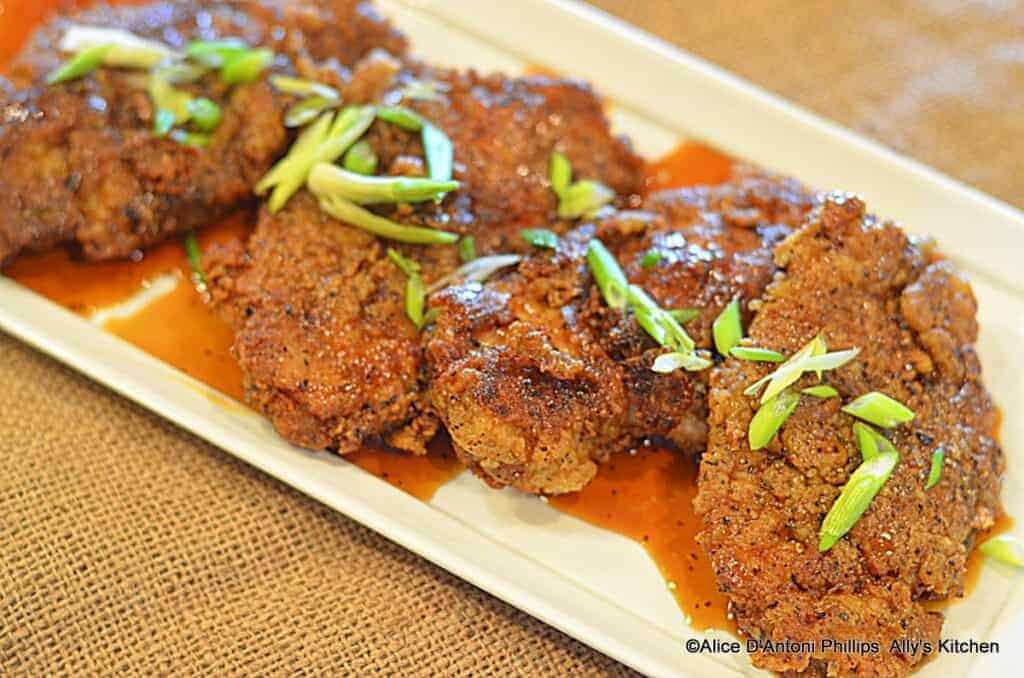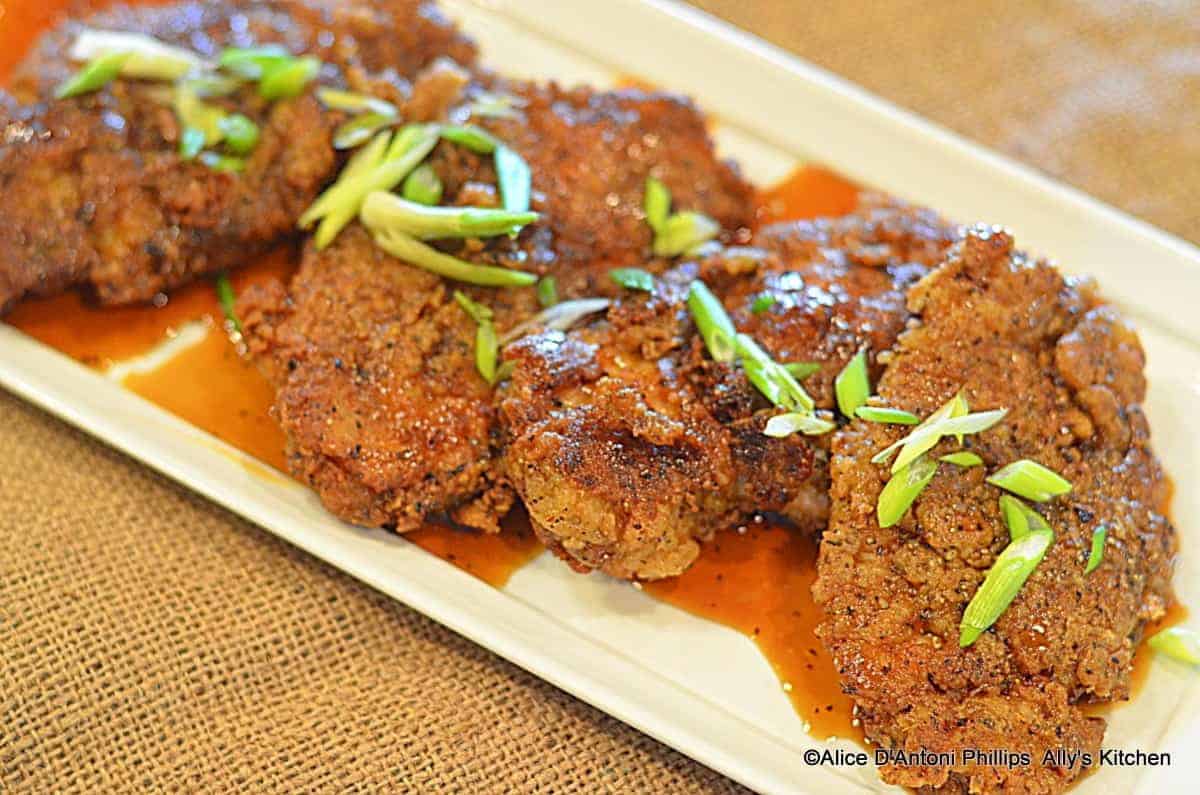 crispy buttermilk pork chops in sweet soy apricot glaze with green onions
Ingredients
Preheat oven to 425
SWEET SOY APRICOT GLAZE
¼ cup low-salt soy sauce
1/4 cup honey
1/3 cup apricot jam
½ cup cooking oil (canola)
1 tsp. hot sauce (regulate to your spiciness)
CHOPS
4 large thin cut (about 1" thick)  pork chop filets (cut in halves for 8 pieces) (Note:  if the pork chops are small (in overall size, you will need full size chops for each serving)
½ tsp smoked paprika
1 cup buttermilk
1 cup all-purpose flour
1 tsp. Herb de Province
½ tsp. Chinese 5-spice
½ tsp. cumin
¼ tsp.  ras el hanout (or Harissa or Garam Masala spice blend)
1/4 tsp. nutmeg
1/4 tsp. cloves
¼ ts.p chili flakes
1 tsp. sea salt, divided
1 tsp. coarse ground pepper, divided
4 green onions/tops chiffonade sliced
Instructions
SIDE PREPS
Put soy sauce, honey, apricot jam and hot sauce in a small heavy pot and bring to low simmering boil.  Let this simmer for about 20 minutes.  Watch carefully.   Move on to pork chops.
PORK CHOPS
Put the oil in a heavy cast iron skillet over medium low heat.
Use one-half teaspoon of salt/pepper and paprika to coat the chops on both sides.  Put the buttermilk in a pie dish.  Coat the pork chops on both sides.
In another pie dish, add the flour, Herb de Provence, Chinese 5-spice, cumin, ras el hanout, nutmet, cloves, chili flakes, one-half teaspoon of salt and blend well.
Dip the pork chops in the buttermilk, then flour and then repeat the dipping. Place in the hot oil (regulate heat between medium and medium high) and fry on each side about three minutes or until golden brown.
Remove all chops to a plate and drizzle/coat with the soy/honey sauce.  (Note:  If 4 large chops were used use a serrated knife to slice diagonally in halves.)  
Put the chop in the middle of the serving plate. Garnish chops with the green onions.  Place  3 asparagus stalks criss crossed next to the chop and add a dollop  of crème fraiche.  Serve immediately.
https://allyskitchen.com/pork-chops/
©ally's kitchen intellectual property