veal harissa meatball & fruit kabobs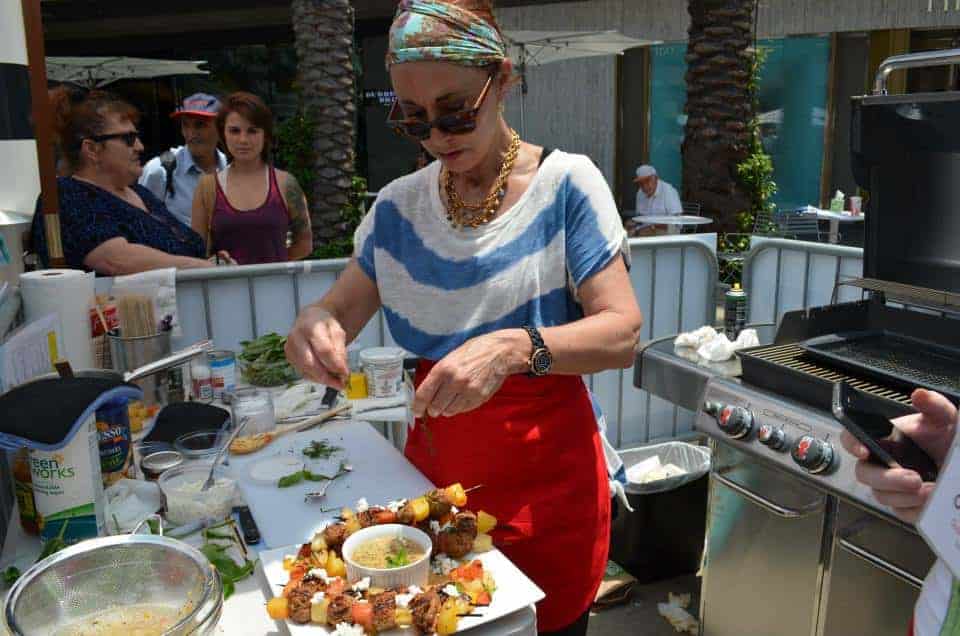 You know that these veal harissa meatball & fruit kabobs are fabulous when they win a 25k prize cooking contest! Packed with flavor and easy!
Recipe for Veal Meatballs
Defining moments. Those are the times in life when your remember precisely where you were, what you were thinking, what you were doing, wearing, thinking.
Veal Meatballs Recipe
You recall everything about it because you were completely immersed in the moments. Usually defining moments change your life. I suppose that's why we call them defining.
Meatball Recipe
When I decided to enter the Dole California CookOff cooking contest sponsored by Dole Packaged Foods, I had no idea whatsoever how creating this one recipe would literally REdefine my life taking me in a new trajectory, a new path, a new adventure far beyond what my head could even begin to imagine.
How to Make Meatballs
Being the nomadic traveler I've always been, the person who loves to seek adventure and new experiences,
I wanted to infuse this aspect of my personality into this recipe. And, I did this by using a somewhat unknown spice mixture, harissa.
Of course, making meatballs really tasty and moist takes the best ingredients.
Spicy Harissa Meatballs
Much like our popular ketchup in the United States, harissa is a North African spice mixture, sometimes in dry form and sometimes in paste, that is immensely popular in the Middle East.
My thinking was that this spicy combination of spices would be perfect to use with Dole Packaged
Foods Tropical Fruit making it even more delicious than it already is straight from the can or jar!
Harissa Lamb Meatballs
What emerged after a few days of recipe testing was this recipe for 'Veal Harissa Meatballs & Fruit Kabobs' with a 'Goat Cheese Mint Sauce'. And, yes, I tried it with lamb and beef and both were equally delicious.
Yes, I wanted it to be as authentically Middle Eastern as I could make it with just a few ingredients as specified by the contest regulations.
The Best Meatballs
This recipe is flat out without any doubt pretty darn amazing! Since competing and winning the Dole California CookOff, I've made this recipe so many times, I've lost count.
And, everyone who tastes these meatballs and the sauce are just mesmerized with the intriguing mixture of flavors, textures and experiences on their palate.
Italian Meatballs
I'm really proud of this recipe. It's truly a winner! And, I'm hoping you'll share it with your family and friends. Maybe tweak it to make it even more your own.
And, if you're looking for other totally amazing meatballs, then please click and look at some of my creations. I'm kinda like a meatball queen!
Secret to Best Meatballs
You know recipes are only templates for your own creativity. So, it's perfectly fine to tweak this recipe because that's what cooking's all about.
And, that would be finding your own sweet spot with a recipe! Hey, I've even done that myself using this basic recipe with grassfed beef.
Where to Buy Grassfed Beef
If you want to get a real deal on grassfed and pastsure-raised meats, then click here. Use discount AK50 at check out and you'll get $50 off your first order.
It's a good amount of meat (15 pounds!), and you fill your box with what you love best.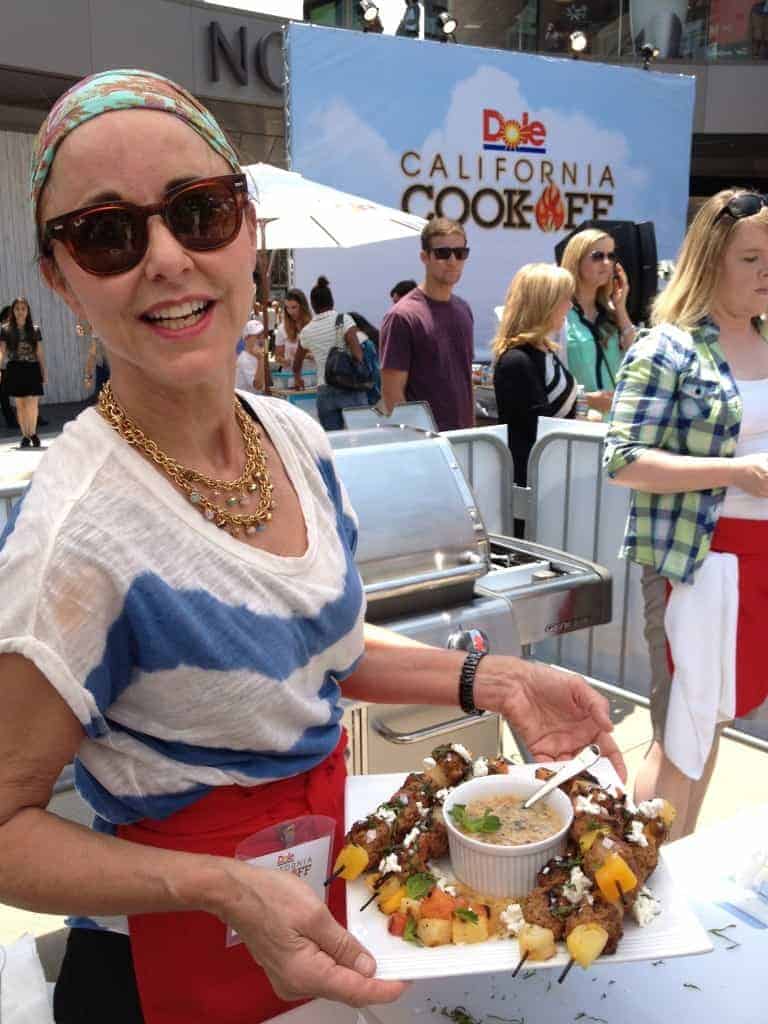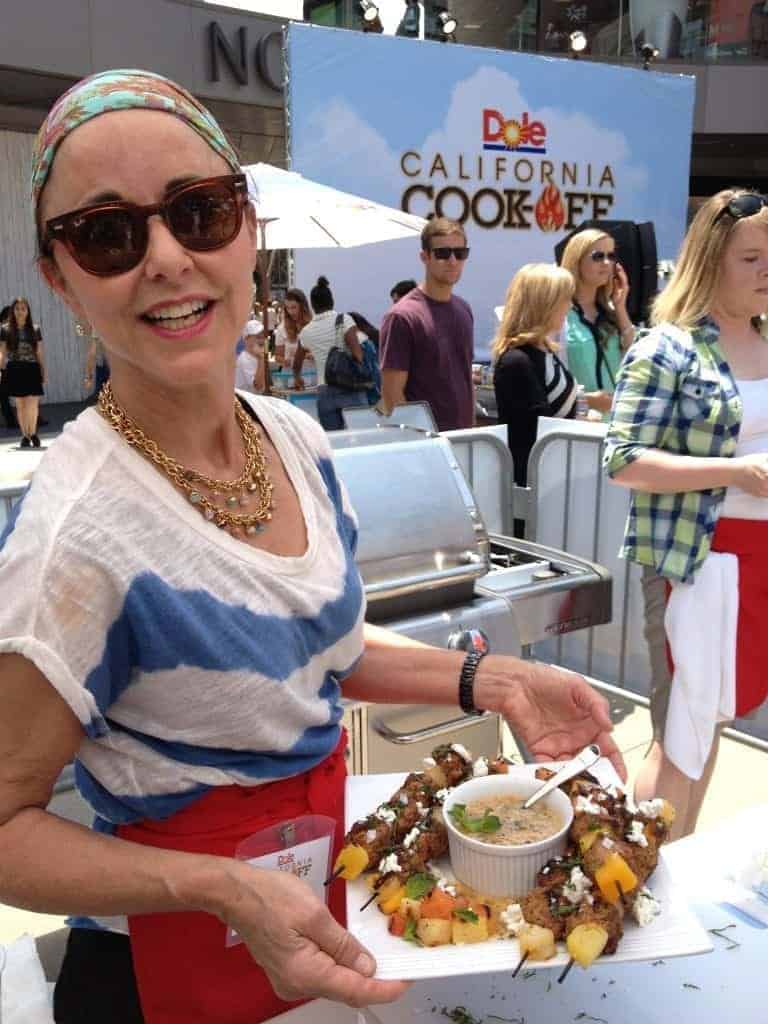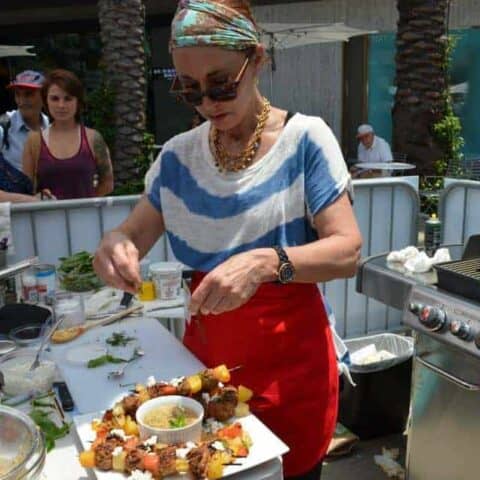 veal harissa meatball & fruit kabobs
Ingredients
1 can (14.5 oz.) Dole Packaged Foods Tropical Fruit, drained, liquid set aside for usage, divided
1 lb. ground veal
2 tsp. harissa seasoning
¼ cup plain Greek yogurt
¼ cup Italian herb breadcrumbs
1 ¼ tsp. salt (divided)
2 tsp. pepper (divided)
1/3 cup orange marmalade
4 Tbl. fresh chopped mint
4 oz. crumbled goat cheese
Cooking spray
Instructions
PREPARATION: Coat grill with cooking spray. Turn on and heat to 400-500 degrees. You will need 5 (10") wooden skewers. previously soaked in water. Drain the tropical fruit liquid. Put liquid in a saucepan. Put 25 pieces of well-shaped fruit on a plate to use for the skewers. Finely crush & chop the remaining fruit (or pulse a few times in a food processor). It will be used in the sauce.
PREPARING SAUCE: Put the saucepan with the liquid over a medium high blaze. Add the marmalade, 1 tsp pepper, ¼ tsp of salt, and crushed/chopped fruit. Bring to simmering boil. Reduce heat to simmer. Let it thicken about 15-18 minutes stirring occasionally. Remove from heat and let cool somewhat. Add yogurt and 2 tablespoons of mint and blend.
PREPARING MEATBALLS: In a large mixing bowl, combine the ground veal, harissa, 1 tsp salt, 1 tsp pepper, yogurt and breadcrumbs and blend. Roll into 15 same size meatballs (about 2 to 2 ½ tbl per meatball—you can use a spring release scoop to get the approximate amount). Place on parchment paper lined cookie sheet.
PREPARING KABOBS: Skewer one piece of fruit about 2" from the base of the stick. Add a meatball. Add two pieces of fruit. Add a meatball. Add two pieces of fruit. Add a meatball. Repeat this process with the remaining skewers (3 meatballs & 5 pieces of fruit/per kabob). Put kabobs on the cookie sheet.
GRILLING KABOBS: Spray the grill with cooking spray. Place kabobs on hot grill. You will cook about 12-15 minutes rotating the kabobs about every 5 minutes to achieve grilling on all sides of the meatballs. Close the lid between rotations. When done, remove skewers to a cookie sheet with clean parchment paper. Cover loosely with foil. Let them rest about 2-3 minutes.
SERVING KABOBS: Serve with a drizzle (about a tablespoon) of sauce on the kabob and equal amounts of crumbled goat cheese and chopped mint garnish. Put remaining sauce in bowl for serving.