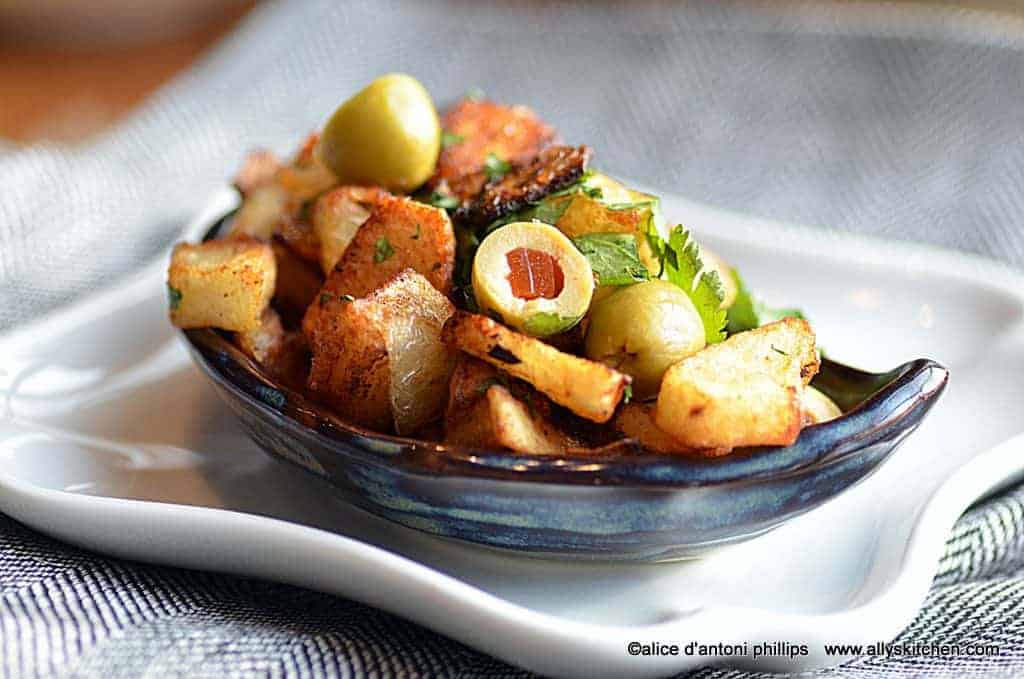 It's not often that I fry potatoes, but when I do, I want to make them boholiciously amazingly good! So, for this breakfast side, I decided to put a little bit of global flair to the Irish spud with the harissa spice mixture, yes, to die for, and green olives.
This did the trick! Crispy, salty, spicy and then the slightly caramelized sweet fried onion, these potatoes were gone gone gone~~usually I'm pulling out some ketchup with fried potatoes, but not so this time~~I didn't want to tamper with the amazing exotic flavors one iota by smothering them in ketchup!
Psssssssssttt, you definitely want to use my recipe for homemade Harissa! I promise it's super easy! And, soooooooooooo much better than what's in the store!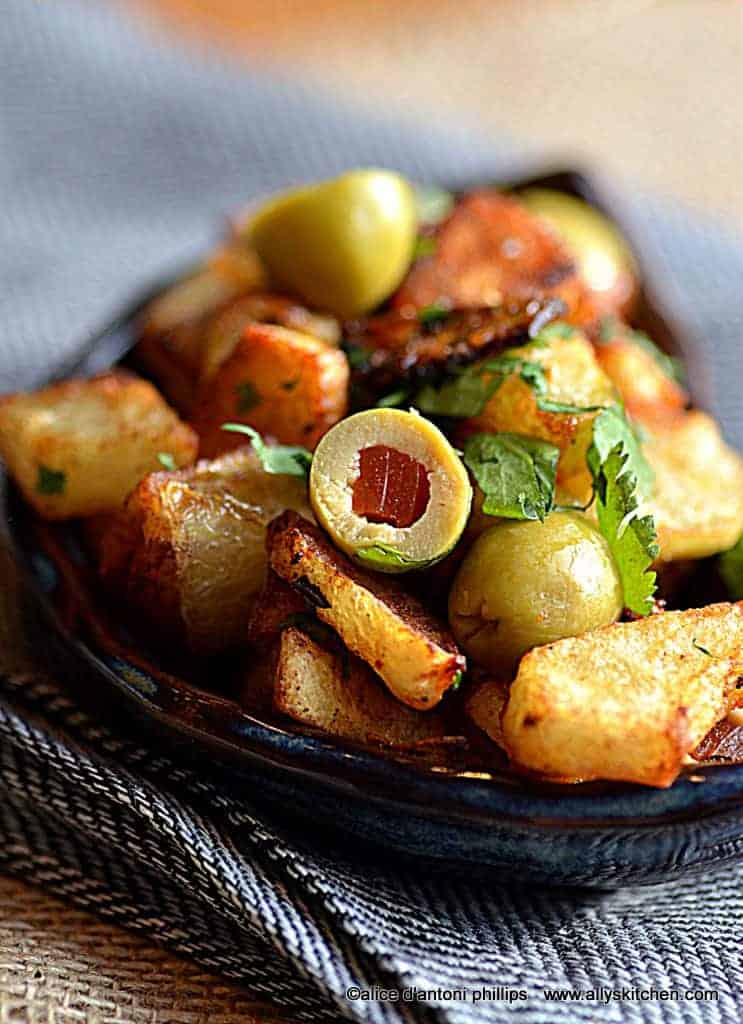 harissa fried potatoes onions green olives
Ingredients
1/3 cup canola oil (can substitute olive oil or coconut oil)
5 cups potatoes, peeled and chopped
1 sweet onion, diced
1 Tbl. dry harissa spice mixture (can substitute creole or another spicy mixture)
1/2 tsp. red chili flakes
1/2 tsp. sea salt (fine)
1/2 cup green olives, sliced in halves
1/4 cup fresh Italian parsley, chopped
Instructions
Put the oil in a large cast iron skillet over medium high heat. Pat dry the potatoes. Put into the skillet and fry, uncovered, for about 5-7 minutes then start turning and moving around. Reduce heat to medium, cover with a lid and fry about 10-12 minutes blending occasionally with a spatula.
Remove the lid and add the onions, sprinkle on the harissa, chili flakes and blend together. Cover with the lid and cook another 6-7 minutes. If you want the potatoes crispier and brown, increase heat to medium high and fry to a golden brown, blending with a spatula to prevent burning.
When done, remove with a slotted spatula to a cookie sheet lined with paper towels or a brown paper bag. Sprinkle on the sea salt and toss and blend then add the olives and parsley and blend together while still hot. Serve immediately!
https://allyskitchen.com/harissa-fried-potatoes-onions-green-olives/
©ally's kitchen intellectual property