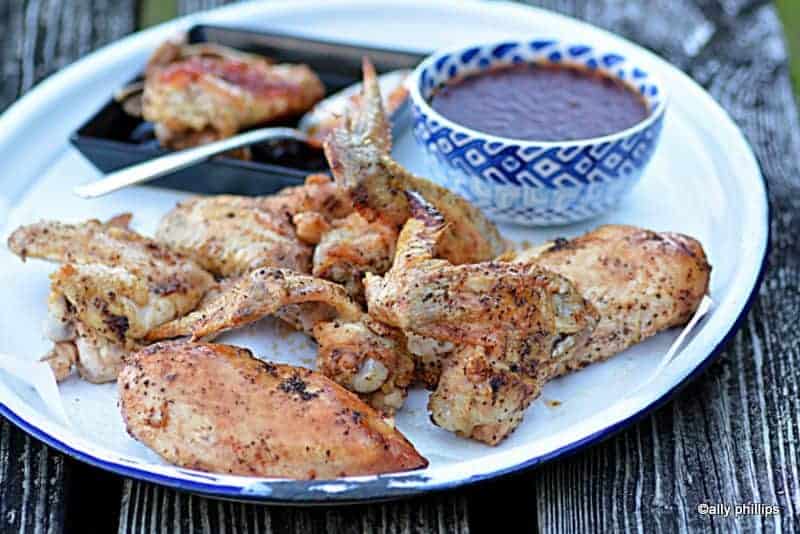 The big easy®charbroil is one fine grilling toy for your outdoor cooking collection. This charbroil easy grill will give you more time to relax!
The Big Easy Charbroil
This post, the big easy®charbroil, is a sponsored post. I received compensation for reviewing this product and using it. All of these opinions are mine.
Char Broil Big Easy
Finding ways to cook that make our lives easier is high on my priority list, especially during the holidays, like Thanksgiving. And, there are several pieces of equipment that we all cook with that generations of home cooks before us would give huge high fives wishing they'd had! Just think about the things you love most. For me, it's my food processor, electric can opener and mixer!
Char Broil The Big Easy Recipes
I'm introducing you to a new 'toy' of mine, 'The Big Easy®' from CharBroil. You're gonna have to check out their oil-less turkey fryer. It really is a work of wonder. I mean it fries, but requires no oil, which translates into healthier and less expensive (no oil to buy!). It uses natural infrared heat that helps lock in the delicious flavors of whatever you're cooking.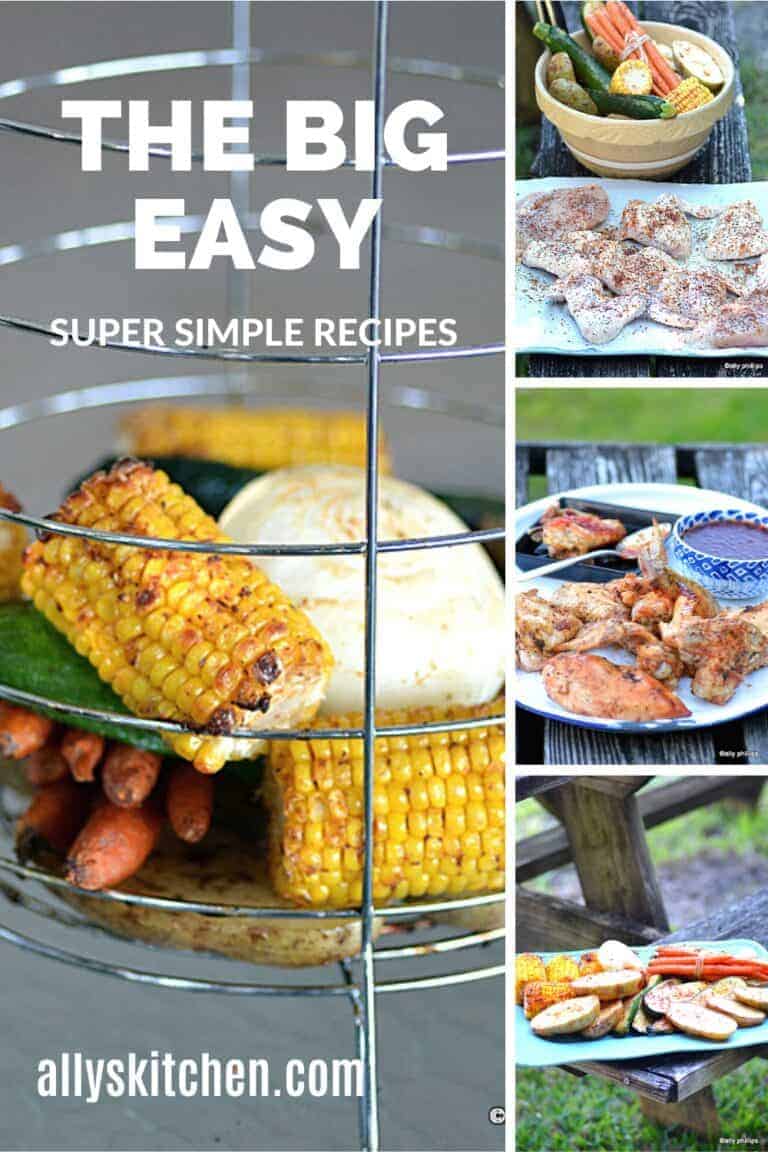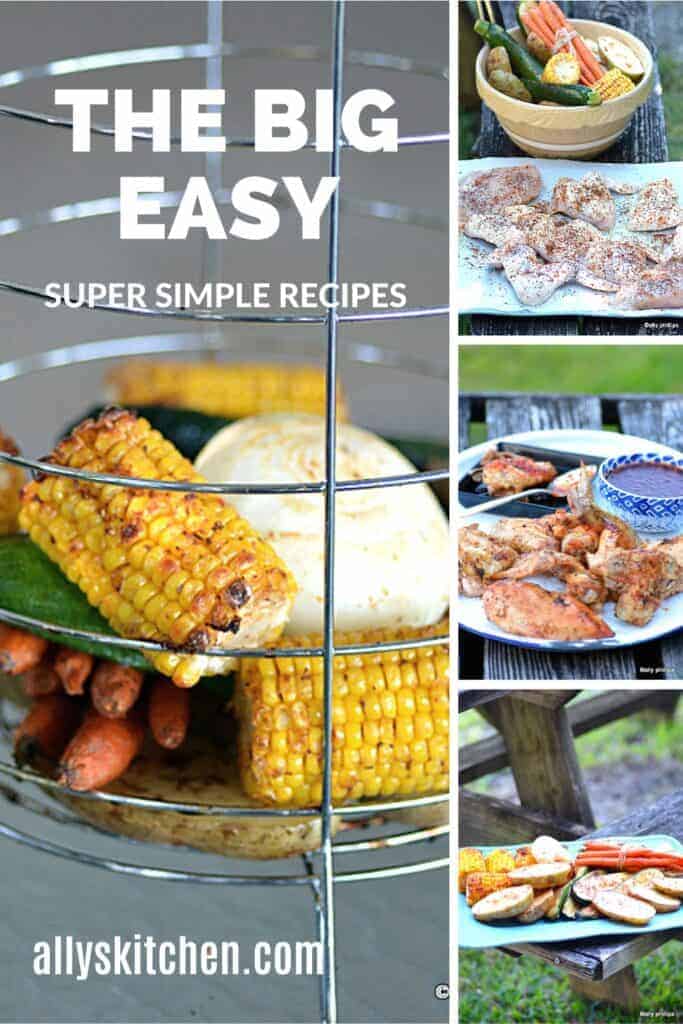 Best Grills
While this big easy®charbroil is not a 'grill' in the traditional sense with charcoal, gas or live fire, it is what I think one of the 'best grills' out there for cooking outdoors. Here are some of the features of it. You'll see that it's got pretty amazing versatility.
Oil Less Fryer
The Big Easy Smoker Roaster & Grill lets you smoke, roast and grill – all in one

TRU-Infrared technology cooks food evenly and juicy with no flare-ups

Evenly cook turkey, ribs, roast, or other cuts of meat in the roasting basket

Holds up to 25 lbs for roasting and has 180 square inches of cooking area for grilling

Use the smoker box for added flavor; temperature control from 9,000 to 18,000 BTU's
Cooking Outdoors Recipes
Now we're a family who loves cooking outdoors. So, I'm always creating outdoors recipes. When I unpacked the big box for the big easy®charbroil, the guys in my life gathered round like little boys. I mean what guy doesn't love something to cook with in the great outdoors. A ew toy! Already, the ideas for recipes start swirling in my head, but I know that CharBroil has lots already there for us.
Char-Broil Big Easy Parts
Before I could even pull out the directions, the gang was able in no time at all to intuitively put together the equipment. Had they not been there, I could easily have followed the directions, but why not let them in on the fun! One thing that immediately struck me looking at it was that 'grills are manly looking' but this big easy pot is sleek and sexxxxy!
Char Broil Big Easy Chicken
The next step for me was to 'season' this good-looking the big easy®charbroil pot! It was simple, much like using a new cast iron skillet for the first time. Within about an hour, my the big easy®charbroil was hooked up to the 20-pound propane tank, was ready and rarin' to go!
The way I wanted to approach this beauty was from our lifestyle. Ben and I are empty-nesters. A lot of our cooking is just for the two of us or small dinner parties. We no longer do corporate entertaining nor do we have the huge Thanksgiving gatherings of years ago where we would deep-fry, yes, the old fashioned way, three or four turkeys for 30+ guests. So I wanted to see if this gizmo would be the real deal for our small gather of four of us for dinner.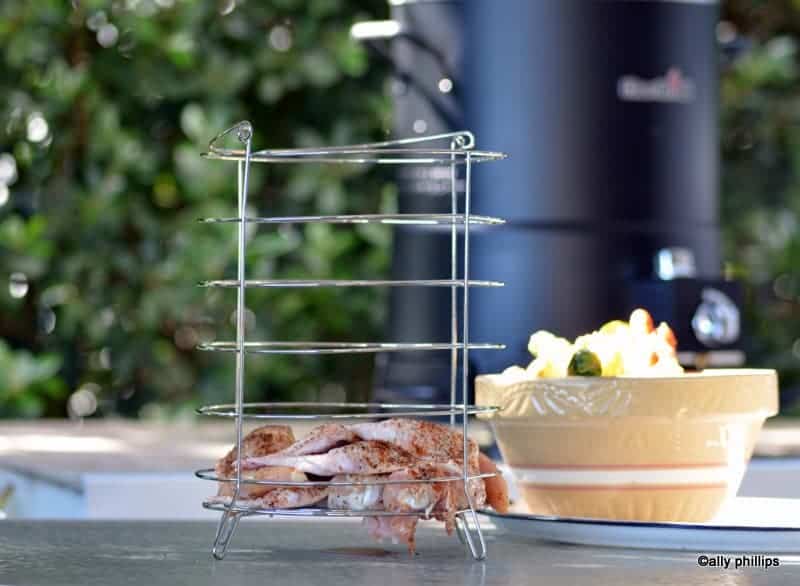 Char-Broil Big Easy Review
Since the big easy®charbroil is big, you may have the initial impression that you have to cook for an Army to use it. Totally not the case. Yes, it's big, but it's super easy. If you love your slow cooker or crock pot, then get ready to have one outdoors—that's what this equipment is like.
Char Broil The Big Easy Manual
It's very simple. There's a basket that goes into the cooker. You don't have to use any oils for 'frying'. That makes whatever you're cooking healthier. I did use a quick coating of cooking spray on my chicken and vegetables along with a wonderful spice mixture from my cookbook, Ally's Kitchen—A Passport for Adventurous Palates, and that's it. You have the recipe for the photos you're looking at here!
The Big Easy Char Broil Grill
Almost like magic, you put your meat (or whatever you're cooking—vegetables, pizza) in the basket. Turn the Big Easy on. Put the mesh lid on top. Then you walk away and do your thing. Mingle with your company, do a load or two of laundry, watch an episode of The Voice. You get the idea! You don't need to worry about burning, overcooking, or having to turn and attend to what's in that basket.
How to Start Char Broil Big Easy
Your only requirement is to estimate about how much time will be required, and that's in the instruction book from Char Broil. There are specifics on checking for doneness and using the thermometer to take the internal temperature when it's about ready.
That's all there is to it. Check the temperature of the meat you're cooking, and you're good to go. Now, with my veggies, I just pulled out the basket and used a 12″ wooden skewer to test for doneness.
Air Turkey Fryer
The safety factors are great—no flames and you don't have to get rid of used oil. You have to be careful, however, not to touch anything on the equipment once it heats up. So if there are kids around, be EXTRA careful—no touching at all and no getting near the Big Easy. But, this is the same precaution you'd take with most all outdoor grills and young children.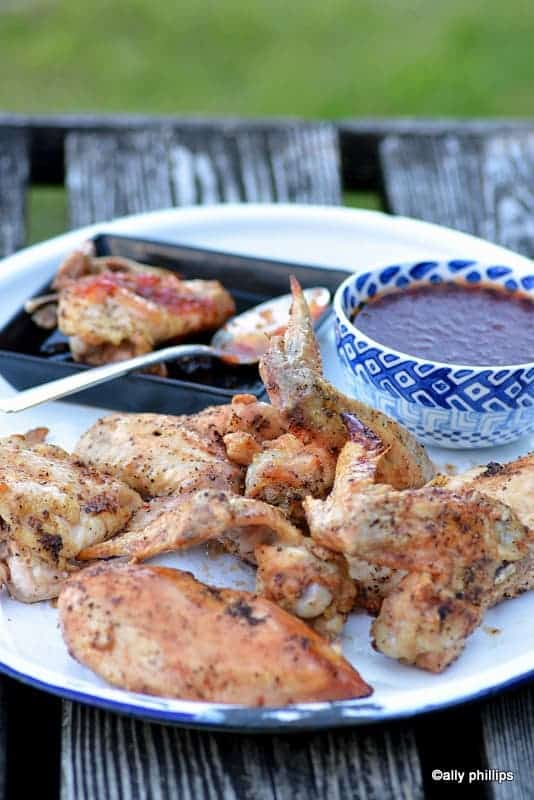 Char-Broil Big Easy Grill
Here are some of my suggestions that can make your first experience even more productive based upon what I've learned. I'm sure as I do more recipes, I'll have more ideas!
Have a long pair of tongs or long handled grilling fork ready and available. When you have just a few pieces of meat, it was easier for me to pull it out individually. Of course, you could dump the meat from the basket on to a plate/tray, but I preferred pulling each piece out individually.
Use bone-in, skin on meat. I did chicken wings and then tried a couple of boneless skinless chicken breasts. The breasts would have been moister with bone-in and skin on.
Cook vegetables that require more time, like potatoes with your meat. I sliced my potatoes in halves.
If you're doing small lean veggies, like carrots, bundle together with cooking twine and cook with the meat. Don't cut veggies into chunks/bite size pieces because they'll slip through the basket. I sliced zucchini lengthwise in halves, left a peeled sweet onion whole, and used small 3-4" size corn on the cob pieces.
Have some good (preferably long-neck type that come past your wrists) oven mitts with you anytime you're dealing with removing the basket, etc.
Oil Less Fryer for Turkey
So was I able to achieve my goal of making The Big Easy® a piece of equipment that cooked a meal for only four people. Yes, it is doable and practical and so amazingly easy! However, I'm super excited to use it for our family's annual 'The Big Squeeze 2015'.
Just think 'the big easy' meets 'the big squeeze'. You don't want to miss reading about this family adventure that YOU can also do with your family!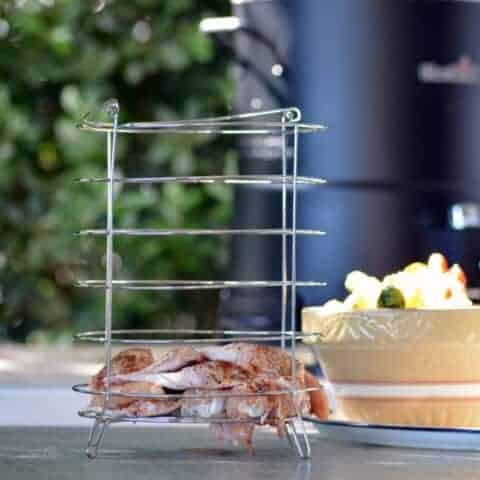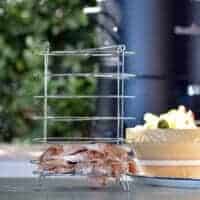 the big easy®charbroil
The big easy®charbroil is one fine grilling toy for your outdoor cooking collection. This charbroil easy grill will give you more time to relax!
Ingredients
2 1/2 to 3 lbs. chicken wings, whole wing
4 to 6 half-ears corn
6 whole carrots, small size, tied in bundle with cooking twine
2 whole zucchini, sliced lengthwise in halves
5 Yukon potatoes, washed, skin on, sliced in halves, precook 5 minutes on high in microwave
2 whole onions, medium sized, leave whole
1/4 cup Old Bay Seasoning
1 Tbl. coarse ground pepper
Instructions
Place the veggies (tie the carrots together with cooking twine) and chicken on two separate large cookie sheets (one for veggies and one for chicken). Coat with cooking spray.

Mix together the Old Bay and pepper in a small bowl. Sprinkle everything with the seasoning mixture.

Cook the veggies first and then the chicken. Refrigerate chicken until about 15 minutes prior to cooking.

Place the veggies (potatoes on the bottom) in the Char-Broil Big Easy basket. Put the basket in the big easy. Place the mesh lid on top. Refer to the instruction booklet for cooking time (about 15-20 minutes) for the veggies.

To check if vegetables are done (tender), use an 8" wooden skewer to slide into the potatoes. When done, remove to a platter. Cover with foil.

Place the seasoned chicken in the big easy. Refer to the instruction booklet for cooking time (about 40 minutes) for the chicken. Temperature should be 165 degrees when done.