easy valentine's dinner ideas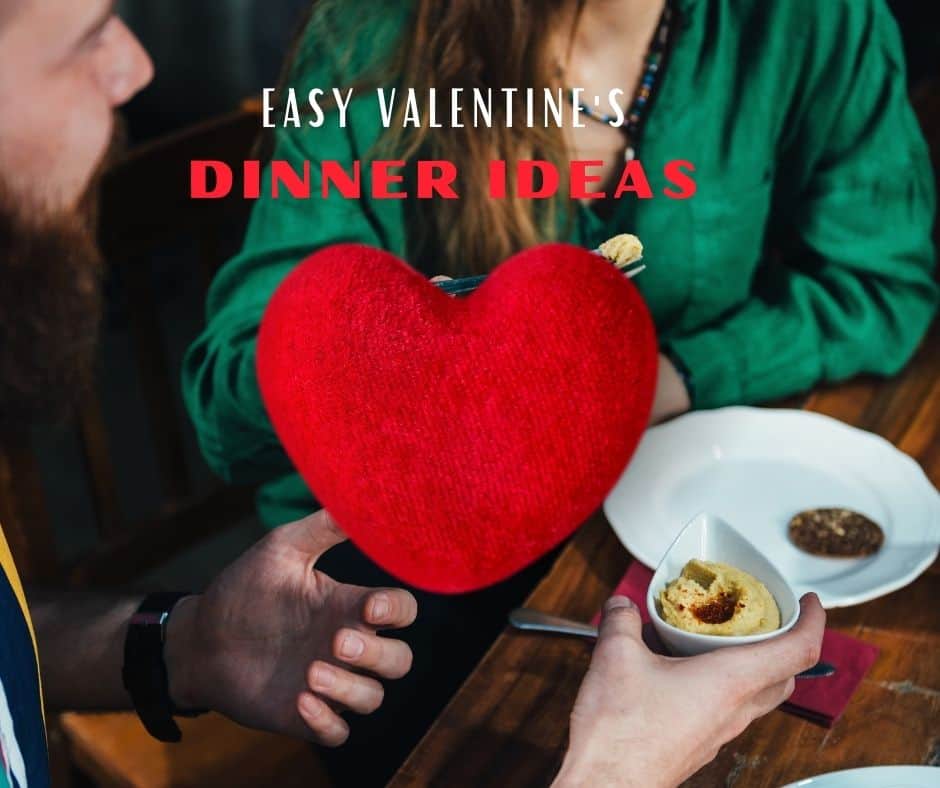 Three easy Valentine's Dinner Ideas for two! It's like delivery. So simple! Making it easy and delicious is at your fingertips! Get cookin'!
Romantic Dinners
Alrighty, I've selected three ideas for entree, side, salad and dessert. Whether it's salmon, beef or chicken, there are three easy simple great tasting dishes here. And, if you don't find what you want, then just put something in the search box and lots will pop up. If it's pork that you want, search pork or go to my Quick Dishes in the header next to my logo. I'm taking the thinking out of creating your Valentine's dinner!
Fancy Steak Dinner
A fancy steak dinner is easy with this beef recipe I've selected. If you can fire up your outdoor grill for whatever reason, then don't fret. Here's what to do. Heat a cast iron skillet on high heat. Get it really hot. Drizzle just a tad of oil and then put your steak in and pan sear on both sides about 90 seconds or until you get a nice golden brown crust. Then pop in in a preheated 400 oven for about 8-10 minutes. Remember you can always cook more but you can't 'un'cook if it's too done. And, I sure hope you have a meat thermometer to check to the doneness that makes you happy. Here's a Safe Minimum Cooking chart for your reference.
Rare 120-130
Medium Rare 130-135
Medium 135-145
Well 145+
Valentine's Day Menu
Your Valentine's Day menu can be anything that you like. But, the one thing that I know you don't want to do is spend a lot of time in the kitchen. Whether it's just you, you and a friend, you and a sweetheart, spouse or your four-legged friend, these recipes are easy. And, you'll probably have some yummy leftovers.
Another thing about the recipes I've selected for you. They're exceptionally easy. So, if you're a first-timer doing a Valentine's day dinner, you're gonna look like a star!
Dinner Valentine's Day
Dinner seems to be the big deal on Valentine's Day. But, don't overlook breakfast and brunch! Here are a few other ideas I have.
Easy Valentine's Breakfast Ideas
Valentine's Dinner Ideas
Nothing shows more love than cooking. And, when you take the time to plan, shop, and make a meal for Valentine's day then that's the ultimate in care. It doesn't take much to make it super romantic. Some candles, flowers and simple chocolates.
Ideas for Date Night
Date night is kinda like Valentine's Dinner night. Well, if you cook at home. Some of my best ideas for date night are easy, inexpensive and doable!
Game Night (Find a favorite game and play it together, Scrabble, Checkers!)
Nibbles Party & Wine (Make an artistic charcuterie, nice bottle of wine, and sit on the deck, porch, lanai, or wherever)
Movie & Pop Corn (Flip a coin to see who selects the movie. And, make your popcorn from scratch, the old-fashioned way. Serve up some colas in glass bottles or our fave beverage!)
Long Walk and Picnic (Got to a state park, local park, picnic table, take an easy meal, sandwiches, chips, pickles, sparkling water, brownies, cookies, whatever and after the walk, eat. Don't forget the battery operated candle!)
Blanket Dining (simply on the floor of your flat, apartment, gathering room, whether)
Cooking Magic Night (cook together!)
Fun Ideas for Dinner
Surely you can find some fun ideas for dinner from these selections below. I intentionally checked every recipe to make sure it's easy and most all ingredients are accessible whereever you live. I can't promise the backcountry of Alaska!
Dinner Date Ideas at Home
Dinner date ideas at home are easy to dream up.
What makes it seem like a real 'date' is to treat it like a date.
Get dressed up. And, when I say 'dressed up' I'm not talking prom dress and tux, just put on that special shirt if you're a guy and something sexy if you're a gal. Or both for each of you!
Gussy up your hair and makeup.
Have a definite time to start the date. Not just whenever.
Start with a cocktail or mocktail.
Then dinner? Well, even if you call out for pizza, makes sure it's delivered at the right time.
Fun Things to Cook Together on a Date
All of these recipes I've selected for you can surely be done together in the kitchen. And, your kitchen can be the size of a postage stamp because these recipes don't take lots of counter or island space for preparation. When Ben and I cook together, he's always in charge of the salads. That's because he finds so many good things in the crisper to put in the salad, and he's patient and intense about his chopping and dicing. So, do what you're both good at, share some laughs, and know that the art of cooking is truly sexxy and offers plenty of changes to cuddle, snuggle, laugh, be playful and just share extraordinary time with another loved soul. xoxo ~ally
easy valentine's dinner ideas
Three easy Valentine's Dinner Ideas for two! It's like delivery. So simple! Making it easy and delicious is at your fingertips! Get cookin'!