Mozzarella~sounds like cinderella~a cheese that originated in Southern Italy. Usually easily found in markets and grocery stores, this semi-soft cheese is famously used on pizza, comes in slices for sandwiches, can be found shredded in packages and it's made from cow or buffalo water milk.
Now the way I look at mozzarella's 'cinderella' step-sister, burrata, is that it's in the family, but, not mozzarella. For me, burrata is a distinctively shining star~yes, the glass slipper fits! Especially when used for caprese salad. Very soft, in pouch-like balls, when you slice into it, oh, lawsy, you get this luscious thick cream and curd that oozes out and it becomes a slather of decadence with a tomato, fresh basil, olive oil, sea salt and pepper. Yes, it's the epitome of a mediterranean simple salad~just a few ingredients, not much adornment, because the fresh basic ingredients come together like a fabulous symphony. Yes, this is the kind of salad that can put a spell on you!
Since mozzarella and burrata aren't 'aged' cheeses, they should be eaten shortly after (burrata within about 48 hours) purchasing for the very best flavors and palate experience. Burrata, indeed, is more expensive but sometimes you need a spell put on you, and it's worth the extra bucks! With a loaf of crusty Italian or French bread, this salad can become your meal~you'll have a skip in your step, a flutter in your heart, and a lilt in your voice.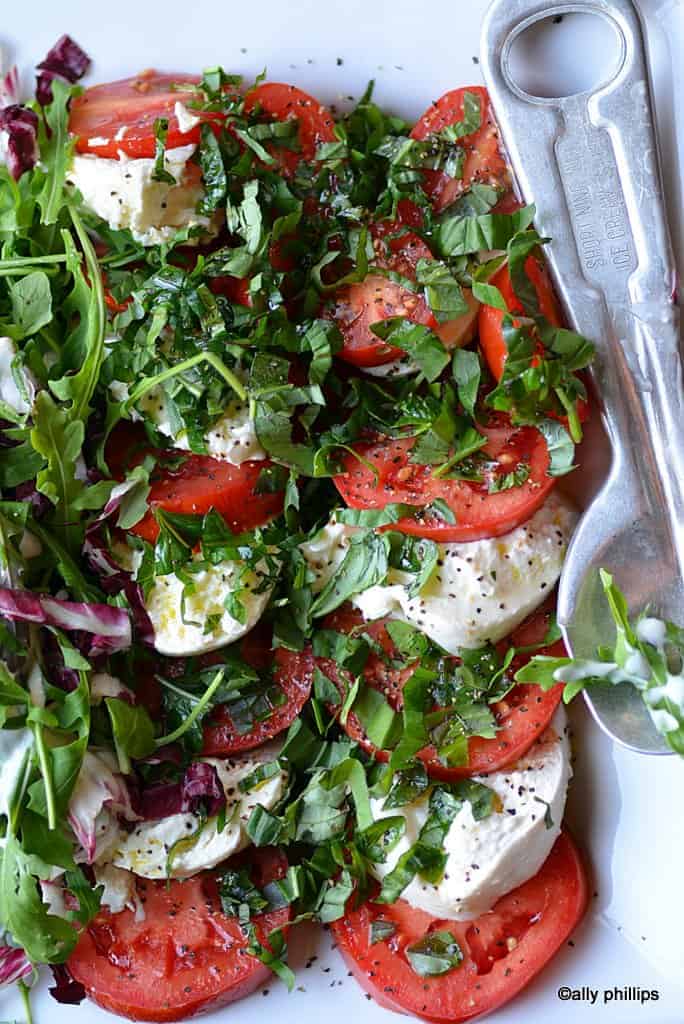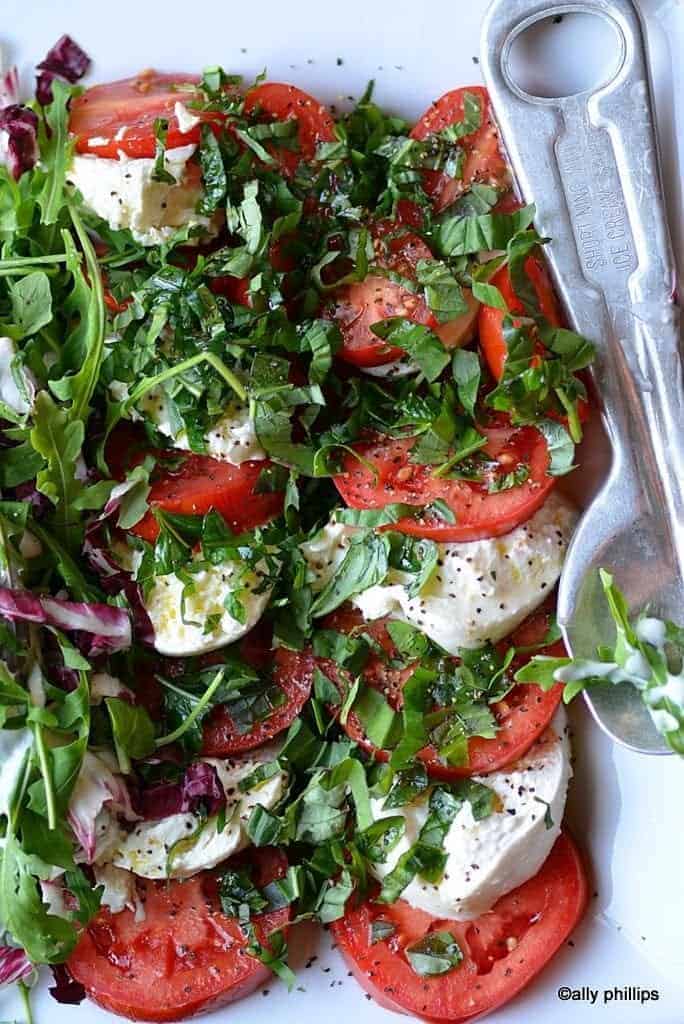 mediterranean simple salad
Ingredients
3 large Roma tomatoes, sliced (about 3 slices per tomato)
8 oz. burrata mozzarella, sliced (9 slices)
½ cup fresh basil, sliced
4 cups fresh baby arugula
1 cup raddichio, chopped
1/3 cup extra virgin olive oil
1 large lemon, zest & juice
1 tsp. sea salt
1 tsp. fresh cracked pepper
Instructions
Arrange alternate tomato and burrata slices on a large serving platter. Drizzle half of the olive oil, lemon juice, zest and salt and pepper on the slices.

In a large bowl, toss the arugula and raddichio with the remaining olive oil, lemon juice, zest, salt and pepper. Mound on the side next to the tomatoes.

Ready to eat!
Notes
Au contraire! Don't be seduced by the simplicity of this salad! The flavors are just explosive with just a few ingredients. It's all about keeping it close to the earth on the platter!
https://allyskitchen.com/mediterranean-simple-salad/
©ally's kitchen intellectual property