Mediterranean Simple Salad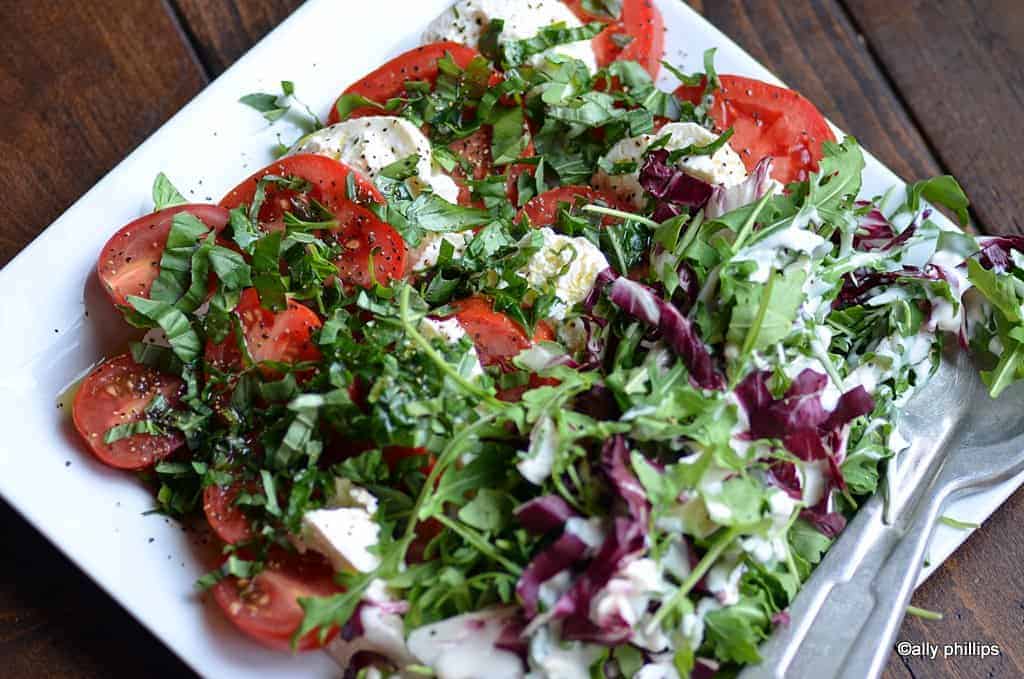 Mediterranean simple salad is full of healthy veggies with a homemade dressing that comes together in just a minute!
Mediterranean Simple Salad
Mozzarella~sounds like cinderella~a cheese that originated in Southern Italy. Usually easily found in markets and grocery stores, this semi-soft cheese is famously used on pizza, comes in slices for sandwiches, can be found shredded in packages, and it's made from cow or buffalo water milk.
Mediterranean Salad Recipes
The salad is very summer and rich and contains a lot of vegetables and herbs. The recipe includes a lot of ingredients, but they all go well together. Such a Mediterranean salad is suitable for any event and just to please your loved ones. Check out this Healthy Mediterranean Tuna Salad, and Mediterranean eggs olives mozzarella! Perfect for Sunday Brunch!
What is in Mediterranean Salad?
Mediterranean salad is a bright representative of southern cuisine. This salad is perfect for a hearty tomorrow or a light dinner. This is a truly incredibly tasty combination – try it and see for yourself! Mediterranean simple salad~just need a few ingredients, not much adornment because the fresh basic ingredients come together like a fabulous symphony. Yes, this is the kind of salad that can put a spell on you!
Burrata Salad Recipe
Burrata is a delicate Italian cheese that looks like mozzarella in appearance. But inside, it contains a mass of soft creamy consistency. Burrata is a very high-calorie product: its dry residue contains more than 60% fat, and about 330 kcal per 100 g of product. Therefore, it should be combined with something light in salads, such as fresh vegetables and herbs. And, here's yet another recipe such as:
Caprese open face sandwich
Mediterranean meatballs with red gravy
Mediterranean celery olive salad that you're gonna love! xoxo ~ally
What is Burrata Cheese?
Burrata fresh cheese made from cream and milk of a buffalo or cow; belongs to the mozzarella cheeses' family. The burrata ball looks like mozzarella on the outside, but inside it has a soft creamy consistency.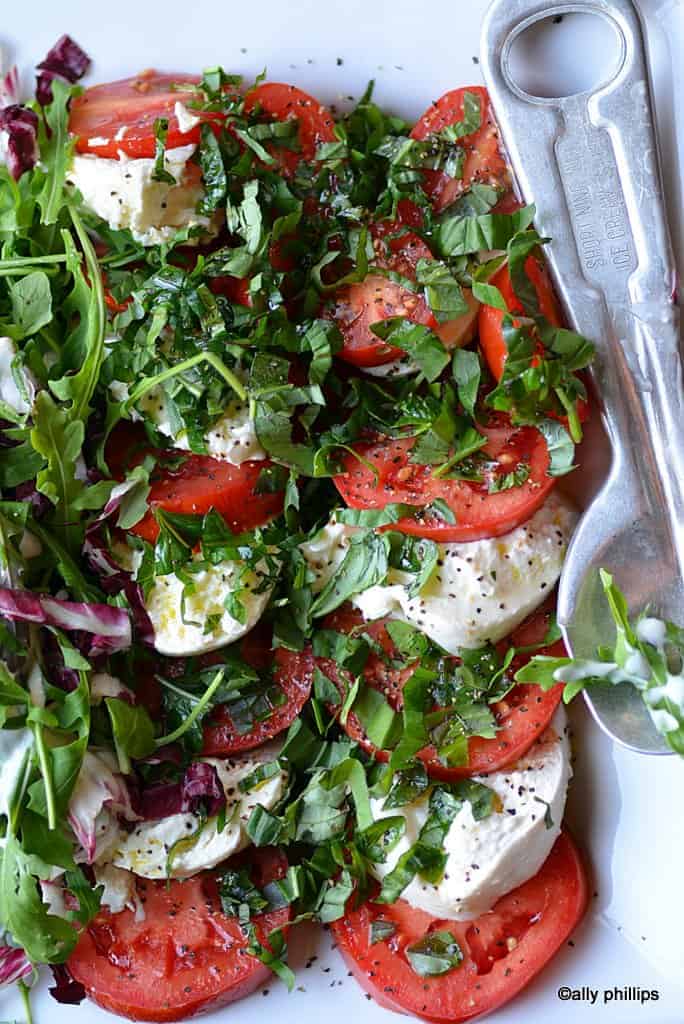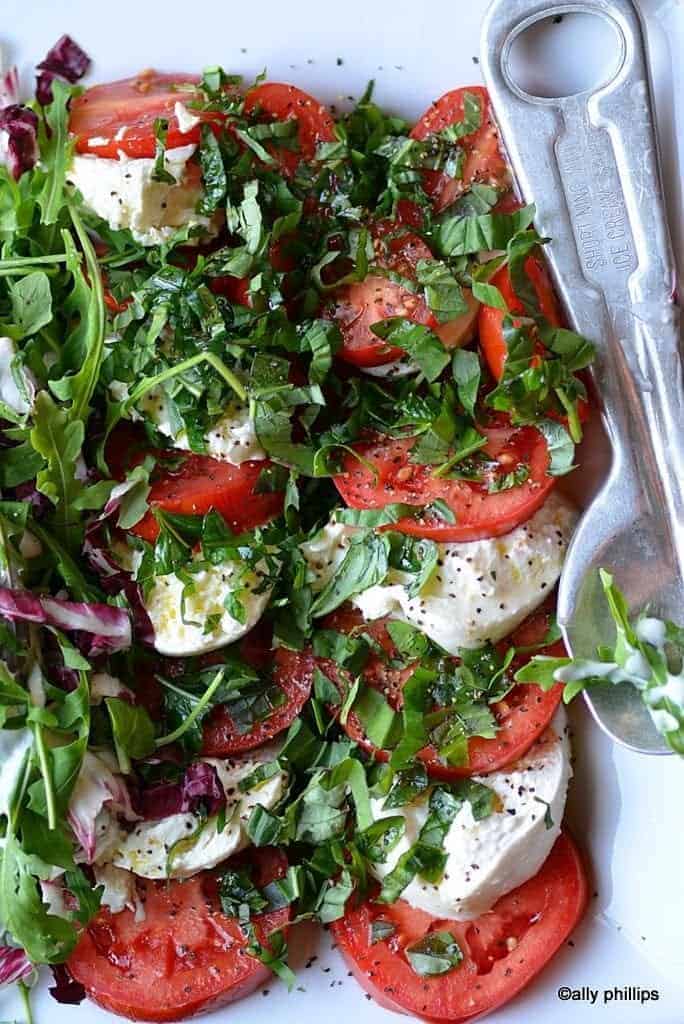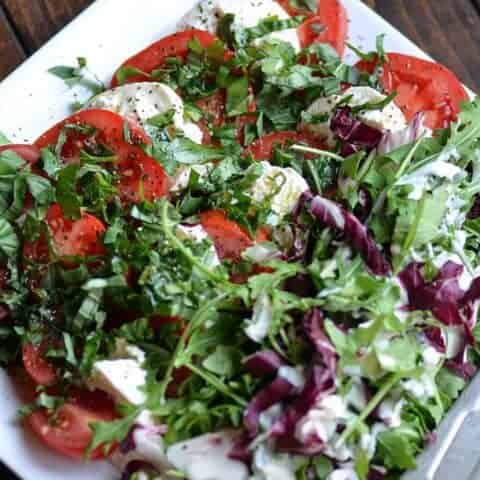 Mediterranean Simple Salad
Mediterranean simple salad is full of healthy veggies with a homemade dressing that comes together in just a minute!
Ingredients
3 large Roma tomatoes, sliced (about 3 slices per tomato)
8 oz. burrata mozzarella, sliced (9 slices)
½ cup fresh basil, sliced
4 cups fresh baby arugula
1 cup raddichio, chopped
1/3 cup extra virgin olive oil
1 large lemon, zest & juice
1 tsp. sea salt
1 tsp. fresh cracked pepper
Instructions
Arrange alternate tomato and burrata slices on a large serving platter. Drizzle half of the olive oil, lemon juice, zest and salt and pepper on the slices.

In a large bowl, toss the arugula and raddichio with the remaining olive oil, lemon juice, zest, salt and pepper. Mound on the side next to the tomatoes.

Ready to eat!
Notes
Au contraire! Don't be seduced by the simplicity of this salad! The flavors are just explosive with just a few ingredients. It's all about keeping it close to the earth on the platter!