farm table greek vegetable soup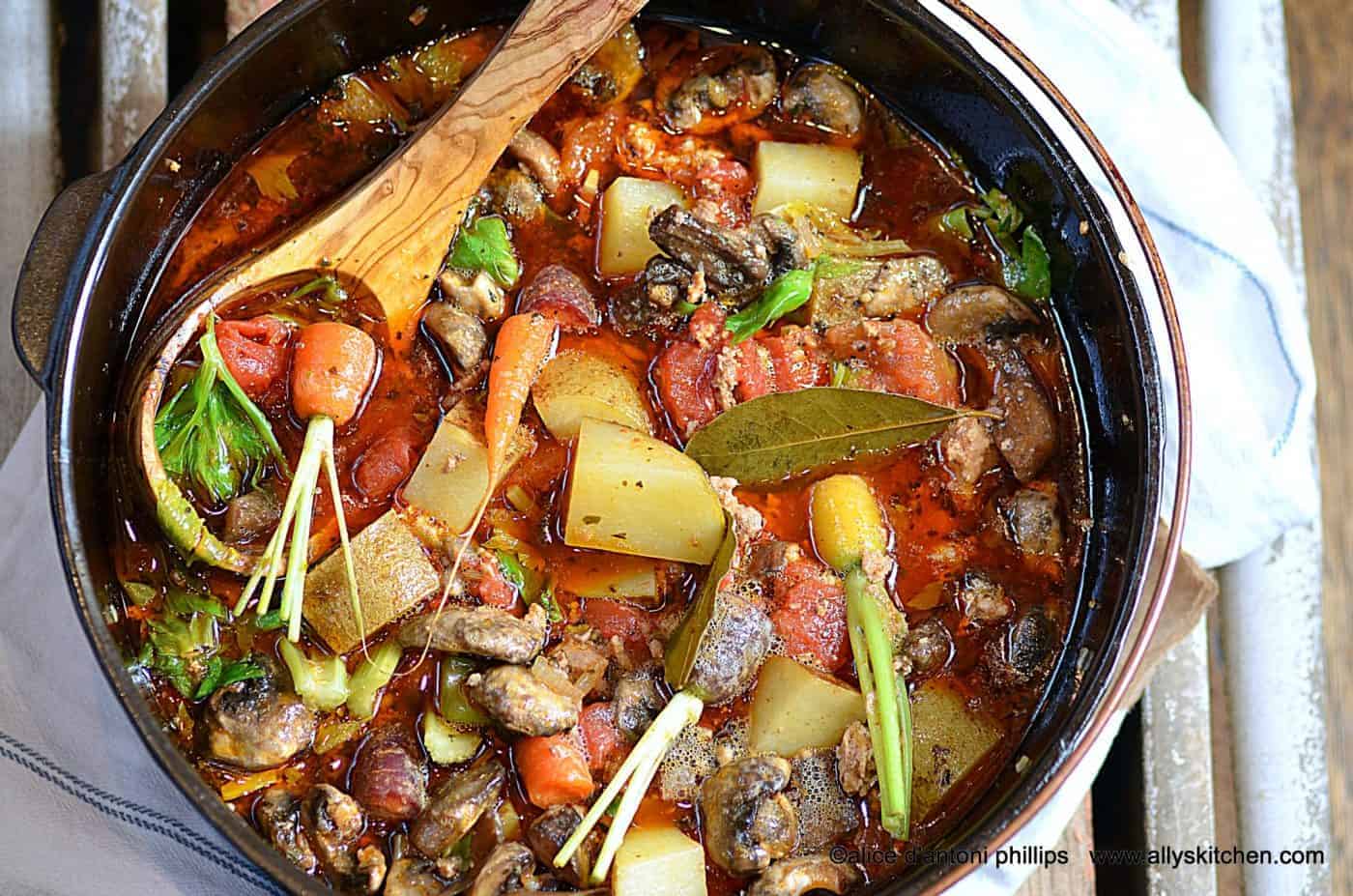 Farm-to-Table
Chunks of fresh vegetables in a rich sauce make this greek vegetable soup a full meal in a bowl. Imagine you're with me at a Greek cafe on the Adriatic!
You've, no doubt, heard of the farm-to-table idea'. It's nothing new to me. I grew up on this way of living back in the 1950s in Southern West Virginia.
I love this concept. It's currently just so trendy and chic. However, I add to that my concept of 'eating close to the earth,' which means when you look at ingredients you're using, ask yourself, 'Does this look like it just came from the earth?' If so, then you're probably eating 'farm to table' or 'close to the earth'. And, you can see from my photos that I love keeping foods looking natural! To me, it's nature's artistry. And, nothing exemplifies the farm-to-table nomenclature more than a great soup recipe.
Best Soup Recipe
Chunks of fresh vegetables in a rich sauce make this greek vegetable soup a full meal in a bowl. Imagine you're with me at a Greek cafe on the Adriatic!
If you're looking for the best soup recipe, or at least one to add to your inventory, then this farm table Greek vegetable soup is a must!
You're going to be seeing your vegetable sin their most organic form with even the small stems on the carrots. Go ahead, it's alright to eat this part of the vegetable. That's what makes this the best soup recipe, it's natural and close to the earth in its ingredients.
Greek Soup
This Greek soup is inspired by many trips to the Mediterranean over my life. Nothing is more glorious than Greece, not only the people, culture, history, but the cuisine. Fresh and healthy, this Greek vegetable soup reminds me of a soup I had as a young girl, only 20 years old, visiting Greece. I'd ventured off by myself, very brave as a young girl, I know, and probably quite reckless, and I found this small cafe that overlooked the Adriatic. While it was summertime, for some reason the cool breeze off the waters made me yearn for a bowl of soup. And, this Greek vegetable soup is the best memory I have of that soup.
Vegetable Soup with Beans
Vegetable soup with beans is a cold weather go to meal. And, there's no better bean to use than garbanzo beans, which you might know as the chickpea.
When ol' man winter's not finished with his work, then the only thing to do is the hunker down and make a big hearty pot of soup! This soup is full of all my favorites, from meats to vegetables to spices and herbs.
Feel free to substitute the meat. If you like ground beef, chicken or turkey, maybe you want venison, bison or wild boar. That's what I call 'boho'ing' a recipe, making it your own depending upon your preferences. The same with the veggies, throw in what you have in your crisper, maybe bags of frozen veggies and you might want to add some egg noodles or rice. This hearty rich soup will be the base for your own design on the soup!
Garbanzo Beans Recipes
Oh, yes, I'm a garbanzo bean lover, which means I have some great garbanzo beans recipes:
A taste of the Middle East in these za'atar garbanzo beans.
Spicy garbanzo bean salad will be your new favorite!
Garbanzo beans with French onion meatballs.
You've never seen a the ultimate caprese salad until you check out mine.
My MOST popular on Pinterest, cucumber celery olive odyssey salad.
Chickpea
You might refer to the garbanzo bean as the chickpea or vice versa. They're basically one and the same. One is an alias. Hummmm, which one? Both are part of the legume family. Rich in viatims, minerals and fiber, the chickpea or garbanzo bean have big health benefits from improving your digestion to reducing the risk of some diseases. The chickpea is also great if you're vegetarian or vegan.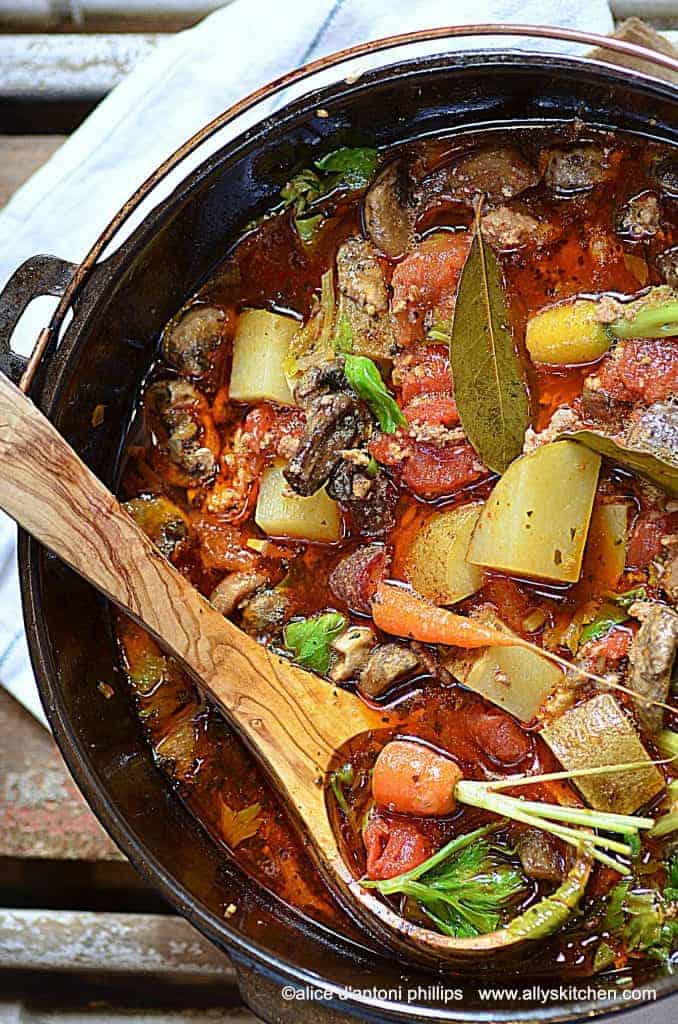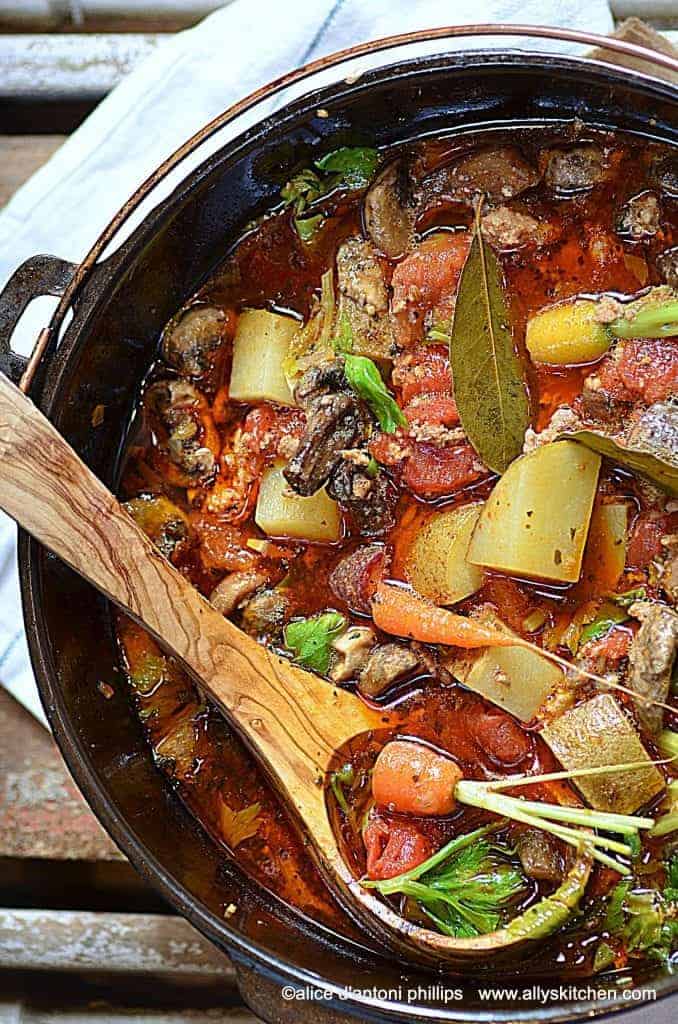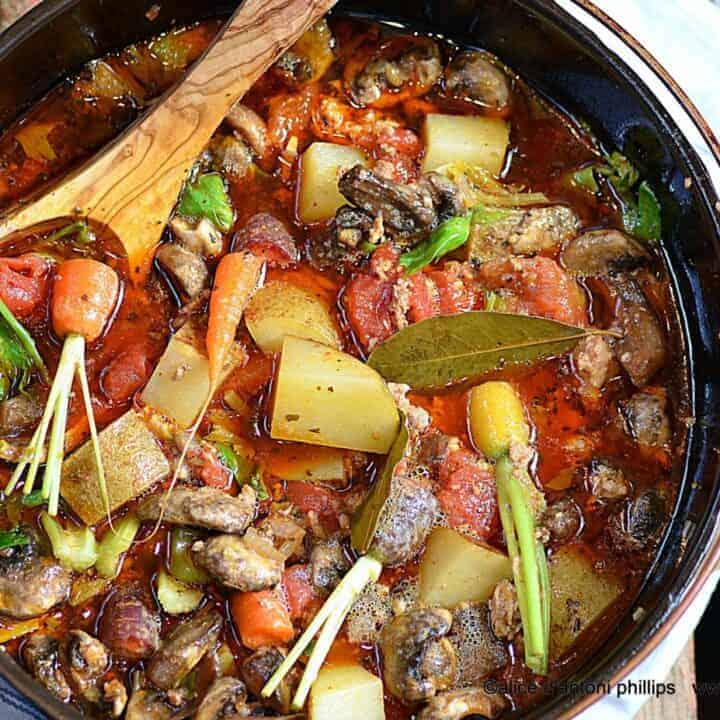 farm table greek vegetable soup
Ingredients
3 Tbl. Coconut oil
4 garlic pieces, sliced thinly
¼ cup shallots, diced
12 oz. ground veal
12 oz. ground lamb
1 tsp sea salt
2 tsp. Greek seasoning
2 tsp. lemon pepper
2 tsp. ground cumin
1 tsp. smoked hot paprika
½ tsp. paprika
½ tsp. fennel seeds
3 bay leaves
2 cans (14.5 oz.) stewed tomatoes
1 tub beef stock (Knorrs) or 2 beef cubes (crushed)
2 cups water
Veggies (your choice)—I used:
3 cups potatoes, peel on and cubed
8 oz. mushrooms, sliced
4 whole carrots, cut in pieces
2 cups celery, sliced
1 can garbanzo beans, drained and rinsed (optional)
Instructions
In a large heavy cast iron pot over medium heat, add the coconut oil, garlic and shallots and sautee about 3-5 minutes, stirring so they don't burn. Add the veal and lamb and brown. Reduce heat to medium low.
In a small bowl, combine the salt, Greek seasoning, lemon pepper, cumin, hot paprika, paprika, fennel seeds and blend. Sprinkle on the ground meat and cook about 5 minutes. Add the bay leaves, tomatoes, beef seasoning and water. Cover and cook on medium heat for about 30 minutes.
Add the potatoes and carrots, which take longer to cook than other veggies. Cover and cook 20 minutes.
Add the remaining veggies and garbanzo beans (optional), turn heat to medium low and cook until all are done. Let soup simmer on very low until ready to server.