fried potatoes and onions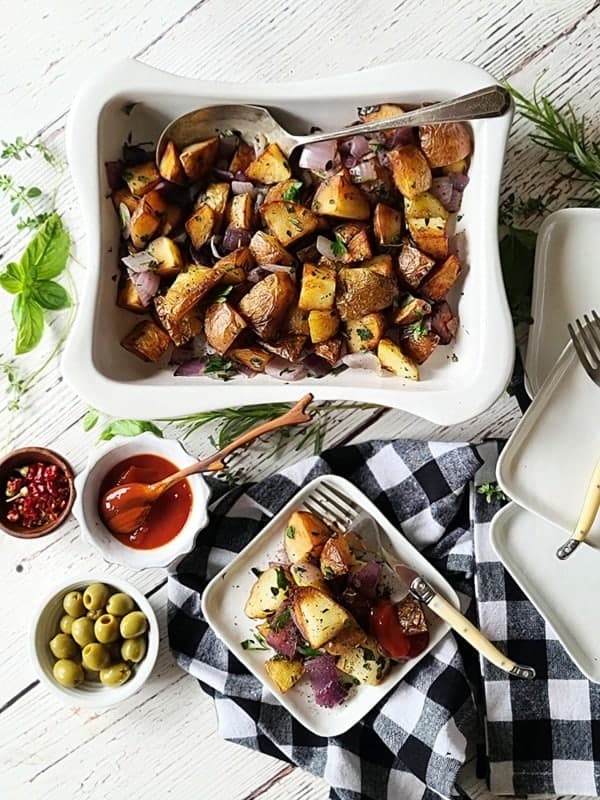 There's nothing more country to me in terms of food than fried potatoes and onions in a cast iron skillet.Add the onions and fresh herbs and you've moved to gourmet fried potatoes!
How to Make Fried Potatoes
Fried potatoes are the bomb, and there's nothing more country to me in terms of food than fried potatoes and onions in a cast iron skillet! My mama could make THE best fried taters. And, I learned how to make fried potatoes watching her for years growing up in those coalfields of West Virginia. I do everything she does, but mine just don't turn out like hers.
Nonetheless, they're still really fabulous. I do think the difference is in the skillet. She used one with handle that was broken, it had layers of baked on love from being used so much, and there was no desire to shine that skillet sparkling clean! It was what we call 'seasoned'!
Home Fries How to Make
Fried potatoes, or home fries, don't take a lot of time, but they do require some vigilance while they're cooking. Otherwise, you might just burn them. Make sure you have a large enough skillet. You don't want the potatoes super crowded. Your oil should be hot. You can test it with the 'flick of water' test. Carefully, you flick a drop or two of water in the oil, and if you hear the sizzle you're ready. You can also use a food thermometer. Temp should be about 325 to 350.
Here's another way from The Spruce Eats: The easiest and safest method is to stick the end of a wooden spoon into the oil. If you see many bubbles form around the wood and they start to float up, your oil is ready for frying. If it is bubbling hard, the oil is too hot; let it cool a bit and check the temperature again.
Pan Fried Potato
Once you have the hot oil for the pan fried potato, then you slide in our potatoes and cover the skillet. Let them steam/fry. You'll leave the onions until the very last because they'll just gently cook and be a tad bit al dente rather than limp and overfried from the heat. Check the directions below as to when you remove the lid and the time on frying. The best test for checking your potato doneness is to use a wooden skewer (about 8″) and slide it into a few pieces. If it slides in easily, you're good.
Seasoned Cast Iron
Mom's skillet was a heavy cast iron one and she kept it in the oven. That skillet fried up a lifetime share of things like chicken livers, potatoes, onions, hamburgers, pork chops, steaks and more stuff than you can shake a stick at! This is how you season a skillet. With use over time. Yes, there are steps for seasoning cast iron skillets or other types of skillets, but it really helps to use them often then clean and store them appropriately.
Herb Roasted Potatoes
The great thing about these skillet fried potatoes is that they're really herb roasted potatoes, too. If you don't eat them all, you can stick them back in your skillet the next morning and warm them (a quick spritz of cooking spray and on low heat) for breakfast. Or you can throw them in a frittata or wrap them with some scrambled eggs in a soft tortilla. So many possibilities.
You also might want to try this recipe!
Harissa Fried Potatoes Onions & Olives
Frying Pan Potatoes
When I make a big ol' pot of beans, be they pinto, anasazi, lima, Great Northern, whatevvvvah, I just have to have a big pot of fried taters! I know I know quick fried potatoes may have a few more calories, but this recipe is like indulging yourself every now and then with ice cream, a hot donut, a piece of pie or slice of chocolate cake. It's part of living, and sometimes you must treat yourself. That's how I feel about these quick fried potatoes with purple onions.
This recipe is quick and easy. You just have to stay close by to watch the potatoes and onions and turn them getting a golden brown crispy on them.
Purple Onions
These fried potatoes can, of course, be roasted in your oven at about 425 for about 30 minutes. You'd just toss them in some oil and let them get almost tender then add the onions and cook another about five minutes. Now you could use regular onions, but purple onions just add to the visual appeal of this dish. Onions have impressive nutritional value, like antioxidants and cancer-fighting compounds, so be sure to incorporate them into as many recipes as you can.
And, if you're a potato lover like me, then you must try these Middle Eastern potatoes with a labneh sauce!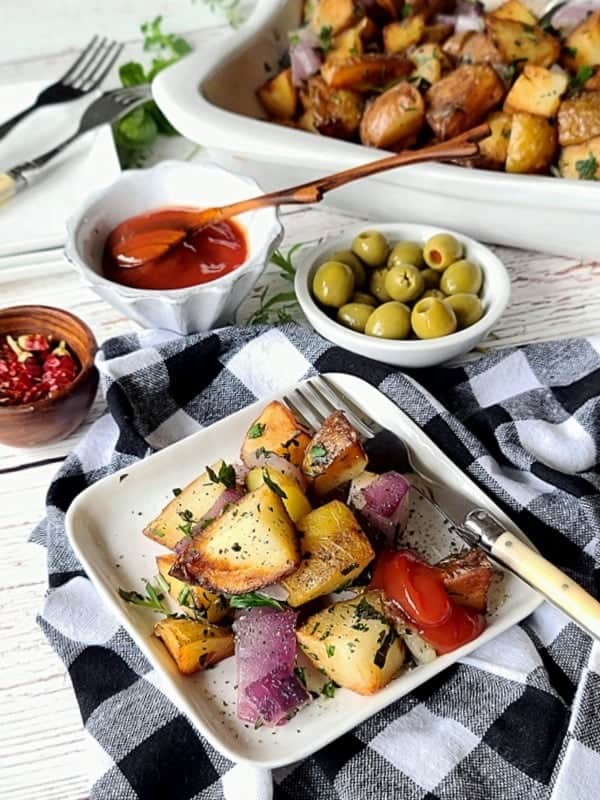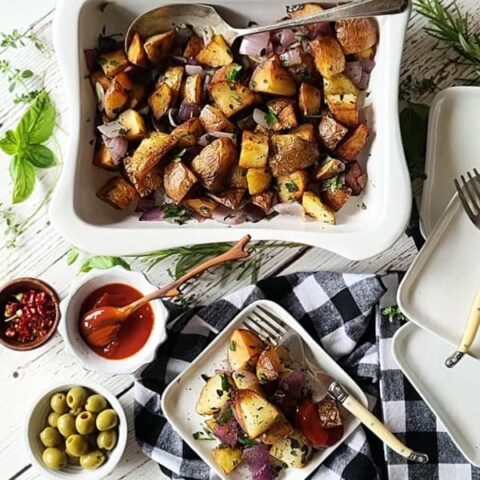 fried potatoes and onions
There's nothing more country to me in terms of food than fried potatoes and onions in a cast iron skillet.Add the onions and fresh herbs and you've moved to gourmet fried potatoes!
Ingredients
6-8 small potatoes, about 3 ½ to 4 cups, small yukons and/or red potatoes, skin on, scrubbed, cleaned,  and cut into desired bite size pieces
1 cup oil, coconut, can use canola or vegetable
1 1/2 cups purple onions, medium dice
Sea Salt
Coarse Ground Pepper
1/2 cup fresh chopped herbs, finely chopped, your choice of blend like parsley, chives, basil, rosemary, chervil
Instructions
Heat the oil in a large cast iron, or heavy skillet (about 10" diameter), on medium high.

When oil is hot, add the potatoes and fry (covered with lid). Remove lid and mix/turn potatoes to continue browning and cooking.

Cook about 10-13 minutes. Cooking time will depend upon the size of your pieces.

Remove the lid and add the onions mixing in somewhat. Fry another about 5-7 minutes. Test potato doneness with a skewer. It should easily pierce a potato piece.

When done, remove potatoes/onions with a slotted spatula to a paper towel lined plate. Sprinkle immediately with salt, pepper, and the fresh herbs and toss well. Serve immediately!
Notes
Cooking time will vary somewhat with the size of your potatoes. Larger cuts will take more time.

Serve with sides like green and black olives, pepperonicini, ketchup, hot sauce, red chili flakes, sour cream and more depending upon what you like.