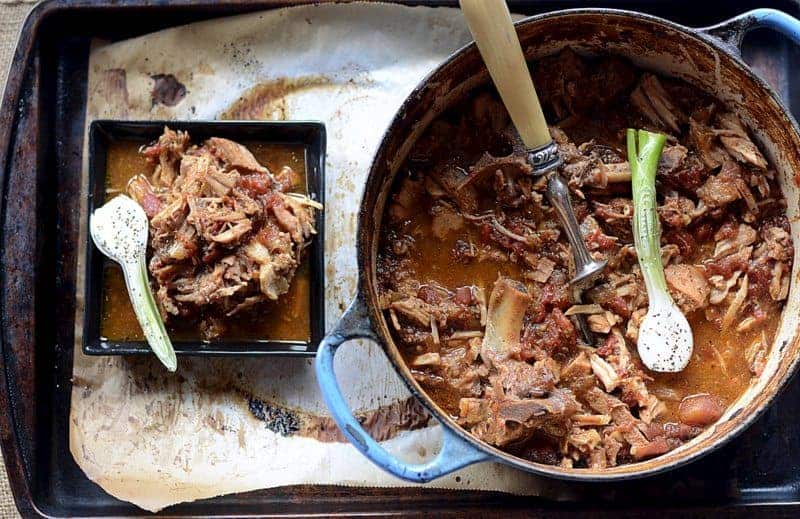 I usually don't like messy. Buuuuut, when messy is a delicious messy, then I'm all for it! You'll see that this brown sugar fig pork makes for one messy Dutch oven. But the elbow grease in scrubbin' that pot will be well worth the goodliness of this pork!
Steeped in tomatoes, brown sugar and fig jam, this pork has a spicy kick to it that can be regulated by you. If you're not the overly spicy kind, then cut back on the amount of jalapeno. Honestly, with this one jalapeno, I had to add a few more red chili flakes to my serving. Just call me a hot mess!
This dish is perfect with so many different things. I served with the 'farm hub market salad' . steamed brown rice and English peas. It was totally divine, and the four other food seekers at the table couldn't get enough of it. The next day the pork was even better, which means make it ahead of time and serve when needed. Then, of course, you can freeze any that's left over for a rainy day.
With your leftover pork, just think of all the things you can do with it. Sliders. Sandwiches, Add some potatoes and onions and make a 'stew'. Serve it with a sunnyside egg on top. Perfect for stuffing pita pockets. Make a killer chili with it. The ideas go on and on.
Now don't be bashful! Leave me a comment and let me know what you think! xoxo ~ally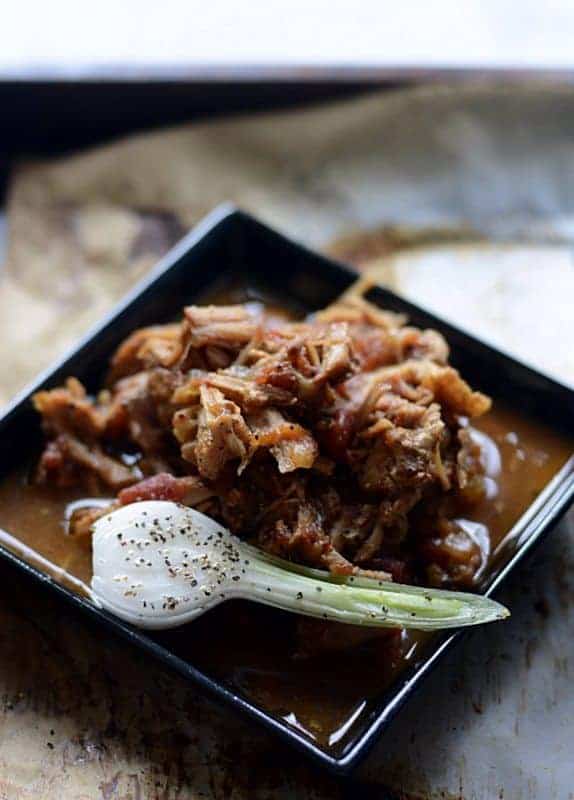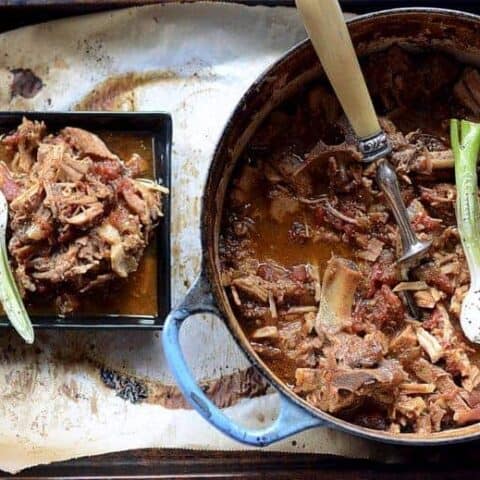 brown sugar fig pork
Ingredients
Preheat oven to 425
3 to 3 ½ lbs. pork chops, about half being bone-in chops
2 tsp. sea salt
1 tsp. coarse ground pepper
¼ cup garlic, chopped
1 ½ cups sweet onions, diced
1 jalapeno, small, diced
½ cup dark brown sugar + ½ cup water, blend together
2 14.5 oz. cans tomatoes, chopped + 2 cans water
1/3 cup fig jam
Instructions
Preheat oven to 425.
In a large heavy Dutch oven, put a layer of chops. Add salt pepper. Add the remaining chops and the salt and pepper.
Put the garlic, sweet onions and jalapeno on top the chops. Pour in the brown sugared water, the tomatoes, two cans of water (rinse out the cans). Add the fig jam (no need to blend in).
Cover tightly. Place pot on a sturdy cookie sheet. Roast in a preheated 425 oven for 3 to 3 ½ hours. Check a couple of times to see if you need to add extra water. (Note: If the lid is tight, it should be fine.)
Remove. Tear meat apart with a couple of large forks. Remove any bones. Let the meat sit for about 20 minutes before serving.
Notes
This pork can be made a day in advance. Yep, it's better on day two.

You can adjust the 'heat/spice' level with the jalapeno. Even with one small jalapeno, it was not too spicy for my folks. Of course, all of this is palate subjective.

This recipe lends itself well to a slow cooker. I'd cook on HIGH for about 5 hours. If using LOW probably 8 hours. You know it's perfect when it's shreds with a fork.