chocolate mousse angel dessert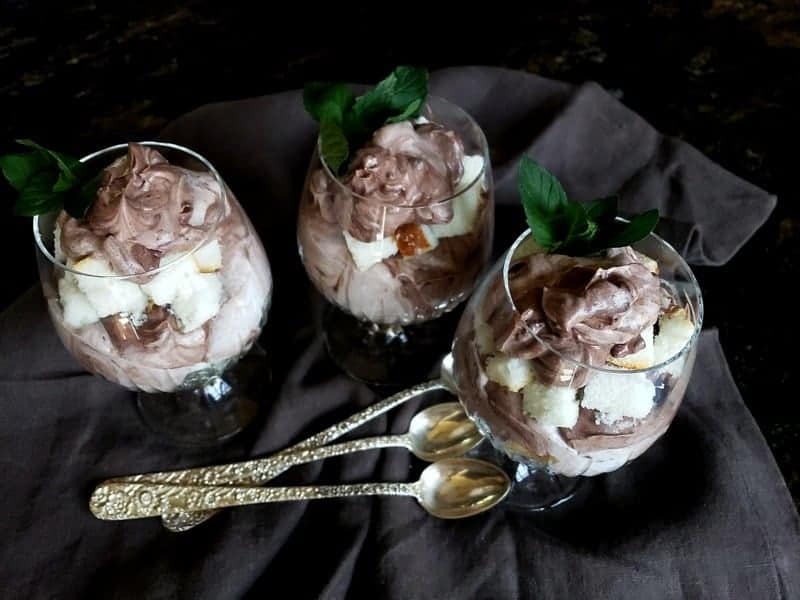 Need a fast and quick dessert for chocolate mousse with only THREE ingredients! Then grab this delicious recipe is you're in a big hurry!
Angel Food Cake With Chocolate
You have definitely never tasted such a yummy! A delicate, creamy dessert that melts in your mouth, which every chocolate lover will appreciate. It is delicious, moderately sweet, and very, very chocolatey! Try to make this mousse roll once – and you won't be able to come off!
Chocolate Mousses
For those who love easy chocolate and all chocolate desserts, I recommend the most delicate chocolate mousse. You can cook it for any occasion. Chocolate mousse has many cooking options, but one fact remains unchanged – it is delicious and airy.
I promise your food seekers will love this angel dessert. And, you'll accomplish your goal of bringing smiles and happy bellies at the table! And, here's something else that you'll love Amalfi Coast Raspberry Mascarpone Desserts.
Chocolate Angel Food Cake
What's so great about this recipe is that you're using super shortcuts. In other words, you're combining some products and reinventing them into something entirely new and delicious.
I love the look of this Chocolate Angel Food Cake, both its lovely chocolate brown color and its ragged top and sides. It has a wonderful light and spongy texture to go with its sweet chocolate flavor. While this cake needs no adornment, other than maybe a dusting of powdered sugar or cocoa powder, to dress it up you could drizzle a shiny Chocolate Ganache over the top. A lovely cake served plain or with fresh fruit and softly whipped cream.
Chocolate Mousse Pie
An unbelievably delicious pie proving that three simple components can come together to make a dessert equally worthy of serving at an elegant dinner party. You start by pressing an easy chocolate cookie crust into a pie plate and baking until just set. When it's cool, pile in an intensely flavored, lightly textured chocolate mousse. Layering sweetened whipped cream on top. If you're feeling fancy, sprinkle on some chocolate shavings.
Coconut Cream Scoop Pie
Everyone loves coconut cream scoop pie or chocolate mousse whether child or adult. This is one of the easiest recipes, thus, I recommend it to those who are workaholic and want to impress others by such kind of luscious dessert. To save the time of those people who work around the clock can add this quick recipe in their meal as a dessert.
Vanilla Mousse Chocolate Dessert
It is an elegant and impressive dessert that's surprisingly easy to make. Vanilla mousse chocolate dessert perfect for dinner parties or a romantic Valentine's Day dessert.
Here's another easy dessert with chocolate strawberry chocolate mousse jar dessert that is very similar to this one, but has a twist with Dole Sunshine frozen fruit!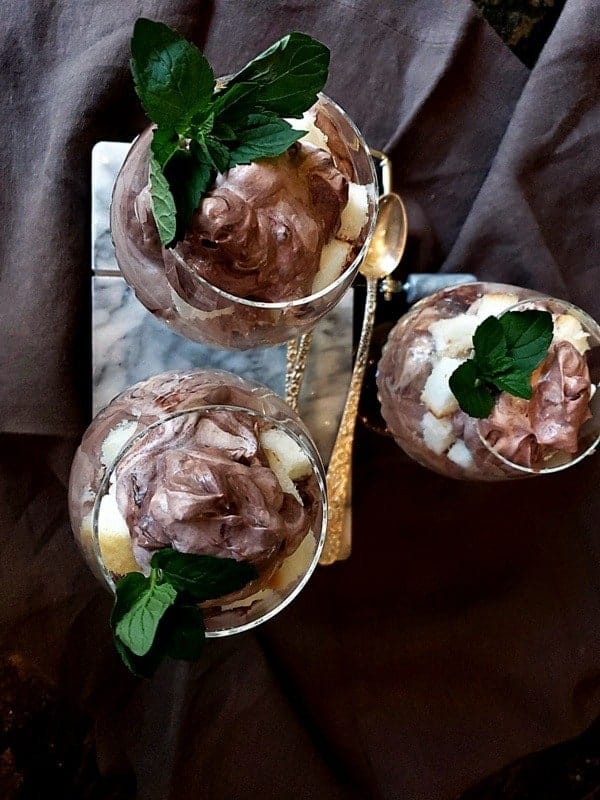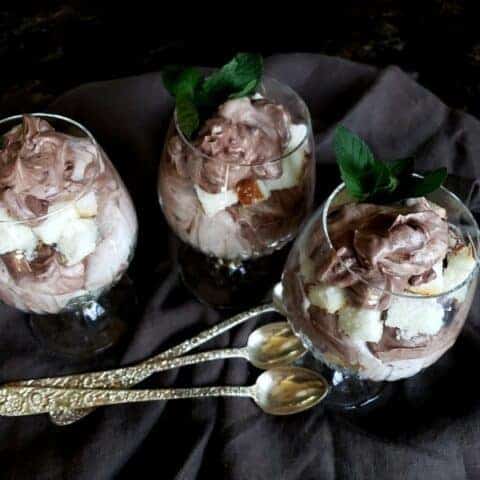 chocolate mousse angel dessert
Yield: Makes 3-4 dessert glasses/cups

Need a fast and quick dessert for chocolate mousse with only THREE ingredients! Then grab this delicious recipe is you're in a big hurry!
Ingredients
3 containers pre-made refrigerated chocolate pudding, Jello or Hersheys Snack Pack, 4-pack
2 cups Whipped Topping, Reddi Whip, can substitute Cool Whip
2 ½ cup angel food cake, cut in small bites, deli pre-made cake
GARNISH: Fresh Mint
Instructions
In a medium mixing bowl, put the three containers of chocolate pudding. Blend well. Add the whipped topping and gently blend together.

Prepare each individual dessert in clear three or four glasses (about 1 ½ to 2 cup capacity).

Put equal amounts of cake bites in the bottom. Spoon on the chocolate blend. Add more cake bites. Top with chocolate blend.

Refrigerate until ready to eat. Add fresh mint when ready to serve.
Notes
Serve with fresh strawberries and raspberries for a touch of brilliant red!