Our travels in Tuscany led us one day to Montevarchi to the Thursday outdoor market. From clothing to food to cheese, fish, trinkets and veggies, there was more than I could imagine. The vegetables were the most amazing!!
They looked like they'd just been brought from the fields or orchards with leaves and stems still attached. My main problems were limiting myself to just a few, not over-buying, and figuring out which ones I wanted to try because I wanted them all! I disciplined myself and bought just what I knew Ben and I would cook and eat the next night. Since I didn't have an oven in the villa, I decided to pan grill everything, including the green beans.
With just a few ingredients these veggies needed nothing more! That's the incredible thing about fresh market vegetables…Mother Nature flavors them just right, and you need little to improve her work!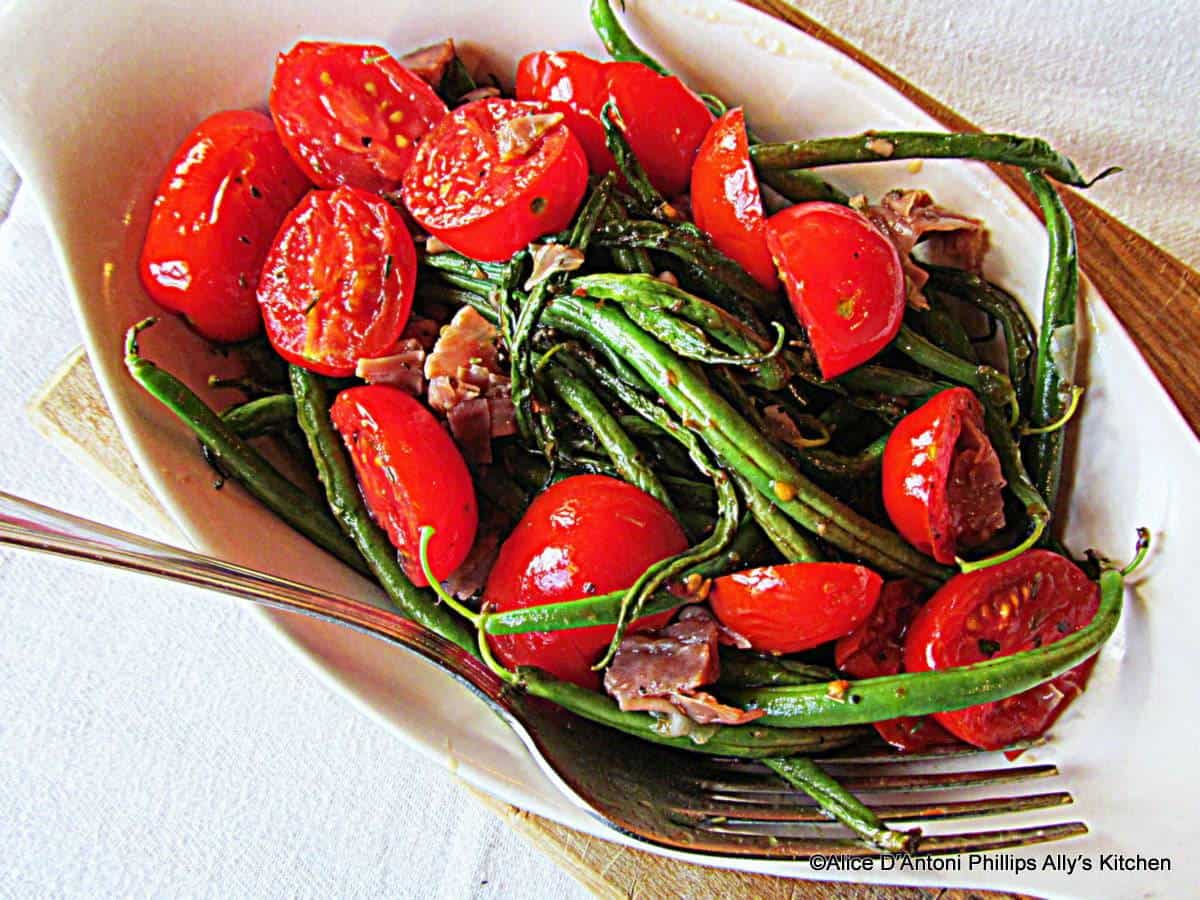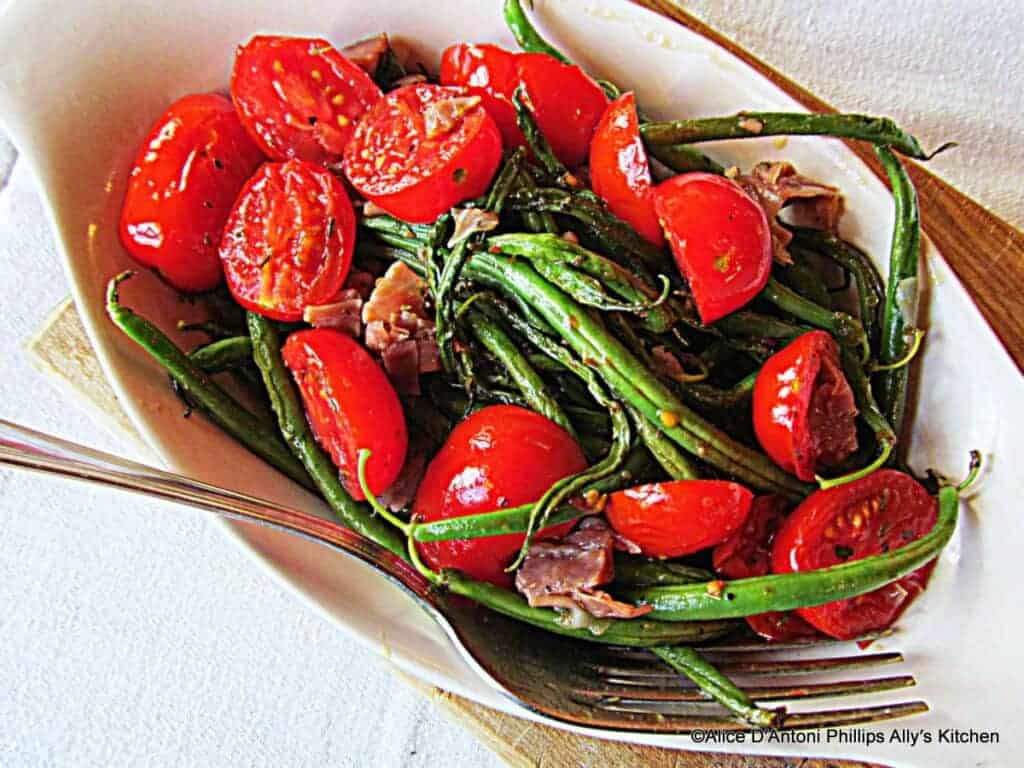 Yield: About 4+ servings
Tuscan Pan Grilled Farmers Market Veggies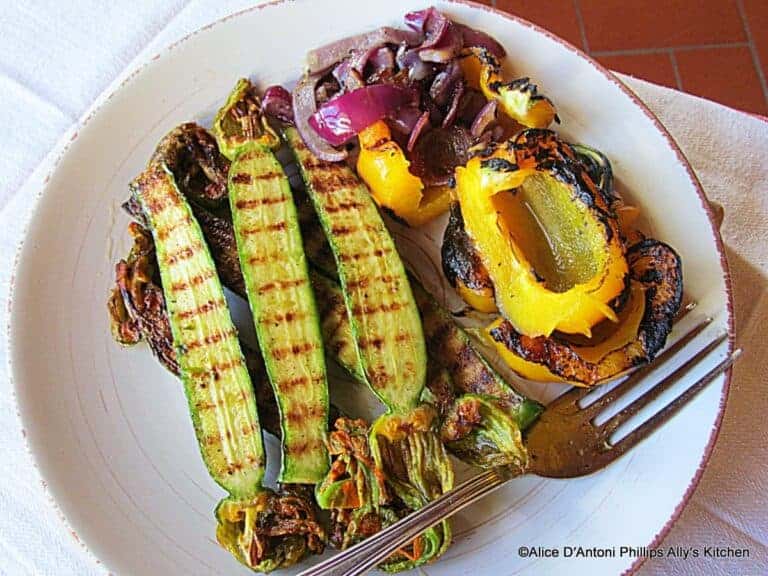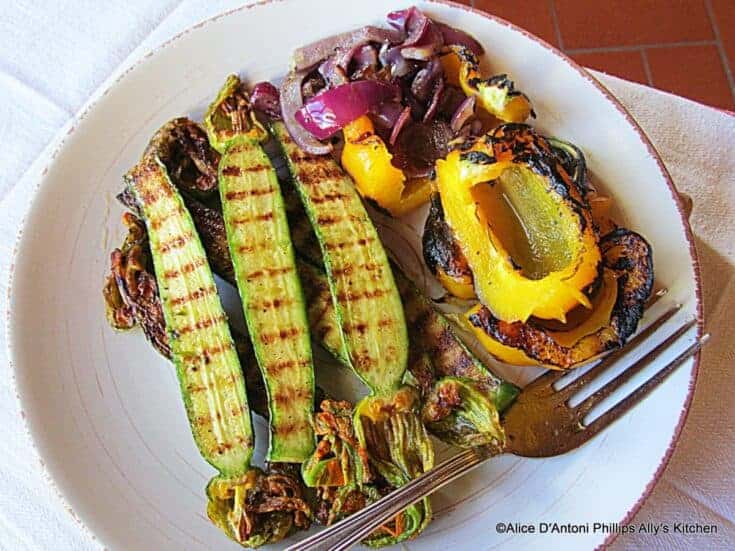 Grilled vegetables from the Tuscan market! Oh, lawsy, you don't have to go to Italy like I did to discover how amazing this recipe is!
Ingredients
3-4 cups whole fresh green beans
8-12 cherry tomatoes
¼ cup chopped proscuitto
4 zucchini with flowers sliced lengthwise in halves
½ red onions, French slice
1 large bell pepper sliced in half and charred somewhat on an open gas flame, can char under the broiler or outside grill
¼ cup extra virgin olive oil
4 Tbl. butter
2 tsp. sea salt
2 tsp. coarse ground pepper
1/2 tsp. dried oregano
½ cup freshly grated Parmesan reggiano
Instructions
Have all your veggies cleaned and ready to go. In a skillet over medium high heat, combine half the olive oil and butter. Add green beans, oregano and salt and pepper to taste. Toss and turn and let cook about 7-10 minutes. Turn off blaze. Put tomatoes and proscuitto in with the green beans, toss, replace lid and let this steam.

In a grill pan on medium high heat, add the remaining olive oil and butter. Place the charred peppers and onions on one end and lay the zucchini flat side down in the grill pan. Let the zucchini cook about 5 minutes or until grill marks are golden brown. Flip to the other side and grill.

Reduce heat to low and let the peppers, onions and zucchini cook about 10 more minutes.

Put the veggies on a plate and grate on fresh parmesan reggiano—ready to serve!