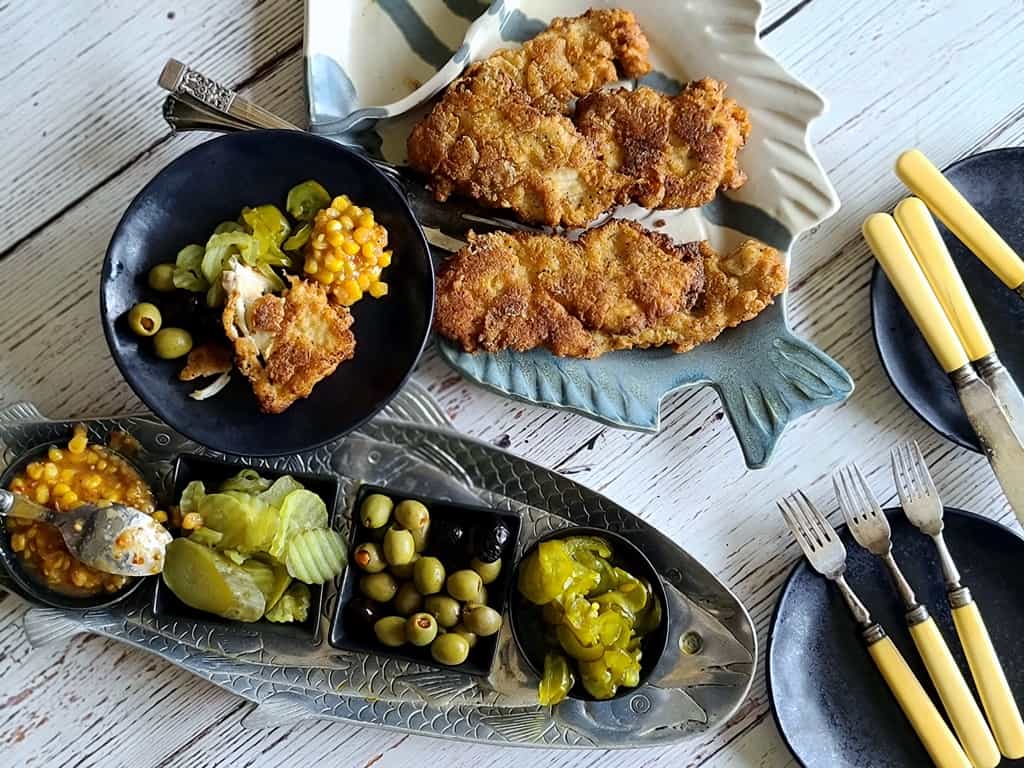 Get ready for THE BEST fried fish you've ever tasted! Crispy. Crunchy. Salty. And, perfect with your chips, dill pickles and malt vinegar!
Recipe for Fish Fry
There is nothing tastier than a simple recipe for a fish fry! Living on the Hammock Coast, it's pretty common to see charitable organizations holding fish frys. Folks flock to these events because they know they're going to get the best fish and chips ever! Plus, some delicious coleslaw and hush puppies.
Pan Fried Fish Recipe
Now my pan fried fish recipe could just be the best! That's because you're going to be making it at home and you'll be eating that fish as soon as it comes out of the hot skillet. Frying in a pan, a cast iron skillet, is the only way to go. Not much oil. Just enough to fry the dredged batter and make it crispy in not time at all.
For this recipe, you're going to want a nice mild white fish, flounder, grouper, catfish, trout, cod.
Southern Fried Fish Recipe
Now a Southern fried fish recipe is all about the spices. And, my recipe uses the quintessential, it will not disappoint Old Bay seasoning mixture. Plus, we're going to add some kick with smoked hot paprika, and, of course, sea salt and lots of black pepper.
How to Fry Fish with Cornmeal
If you're going to learn how to fry fish, then it has to be with cornmeal. I like to use a cornmeal mix, like Martha White or White Lily. And, make sure your cornmeal mix is self-rising and white cornmeal. This self-rising will give you a little more of the puffy crunch that's just so fabulous when you bite into that hot fish.
How to Fry Fish with Flour
Now you can batter your fish with flour, but, for me, that's a little too heavy of a batter. So I'm going to suggest you learn how to fry fish with just a little flour. Yes, we're going to use primarily cornmeal and just a little flour in this recipe. The flour will help bind the crust to the fish filet.
Fish Side Dishes
May I suggest some absolutely perfect fish side dishes! You don't want your side dish(es) to compete with the crispy crunchy fish. And, all of these are winners!
Crunchy Blueberry Pineapple Slaw
Fried Fish Recipes
This is one of my two fried fish recipes. But, I have some other fish recipes that are equally as fabulous. Take a peek at some of these yummmies!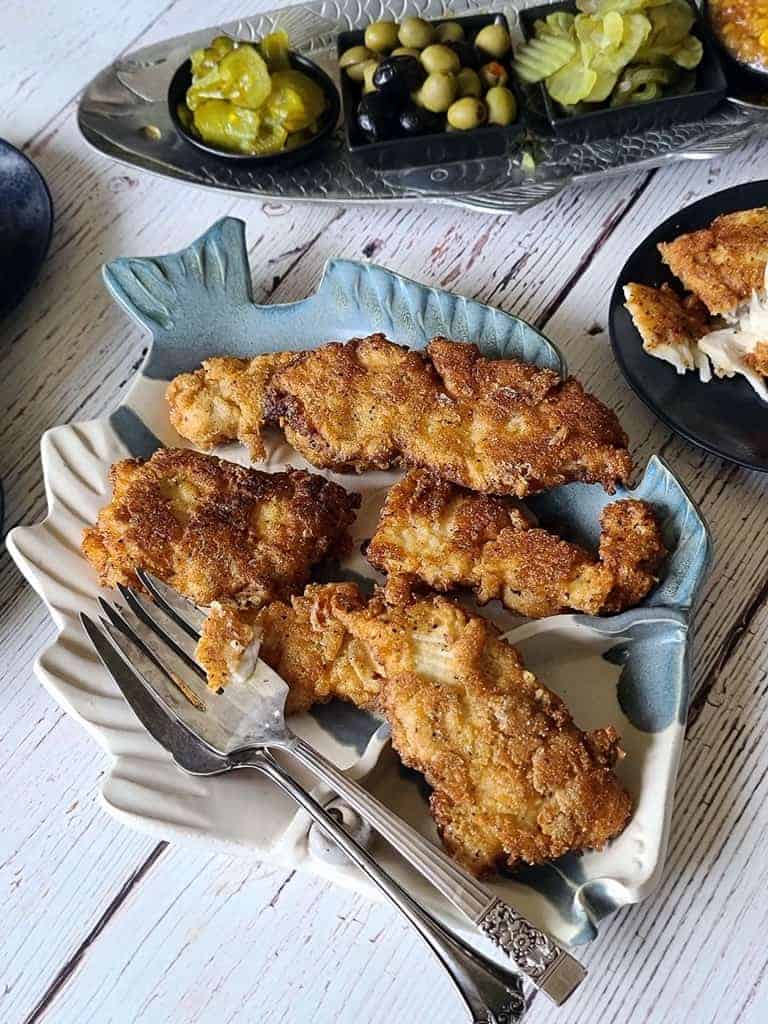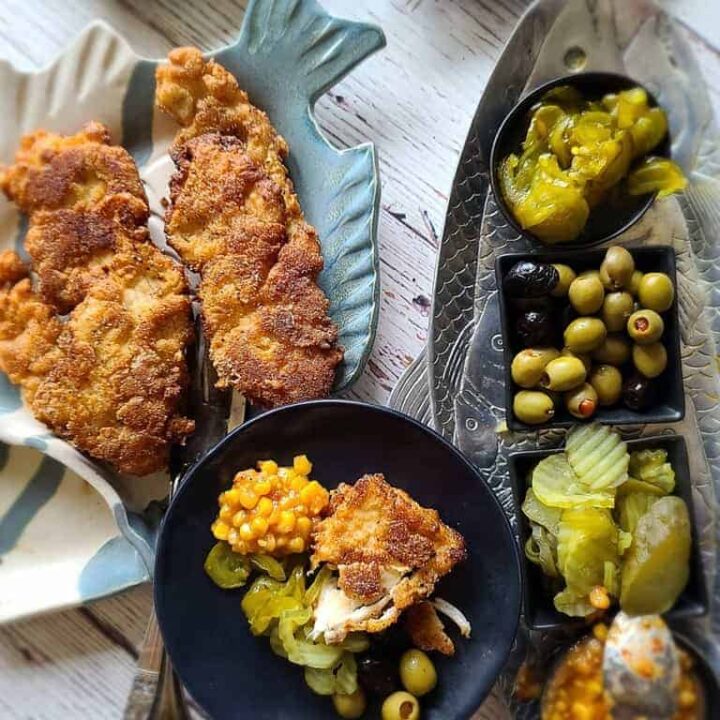 crispy pan fried fish
Yield: About 2-3 hungry souls!
Ingredients
1 ½ cups buttermilk
1 ½ to 2 lbs. fish filets, white flaky fish, spottails, black drum, thick flounder, red fish
3 tsp. Old Bay seasoning
2 tsp. smoked hot paprika
1 tsp. sea salt
1 tsp. pepper
1 cup corn meal mix, white, self-rising
¼ cup flour, all-purpose
1 cup avocado oil
Instructions
Put the buttermilk in a medium size bowl and add the cleaned dry fish filets. Set aside for about 10 minutes. In a small bowl, combine and mix the Old Bay, paprika, salt and pepper.
Put the corn meal and flour in a pie plate. Blend together. Add about two-thirds of the seasoning mixture and blend in.
Put the oil in a large skillet (10-12") over medium heat. As it's heating dredge and coat the fish filets.
Take a filet of fish, shake off excess buttermilk, coat in cornmeal mixture and repeat (quick douse in buttermilk and back into the cornmeal mix). Put on a plate. Repeat this process with all the fish filets. Sprinkle the remaining seasoning mixture on the fish about to be fried!
The oil should be about 350 degrees. It will begin to shimmer.
To check the heat without a thermometer, flick some of the cornmeal into the hot oil, increase heat if needed, and if it sizzles, it's ready.
Place two to three filets (depending upon size of each) in the hot oil. Fry on each side about 2-3 minutes or until golden brown. Do not crowd the fish. Drain as you're removing the fish to a plate.
Continue this frying until all the fish is done. If not serving immediately put a light foil tent over the fish.