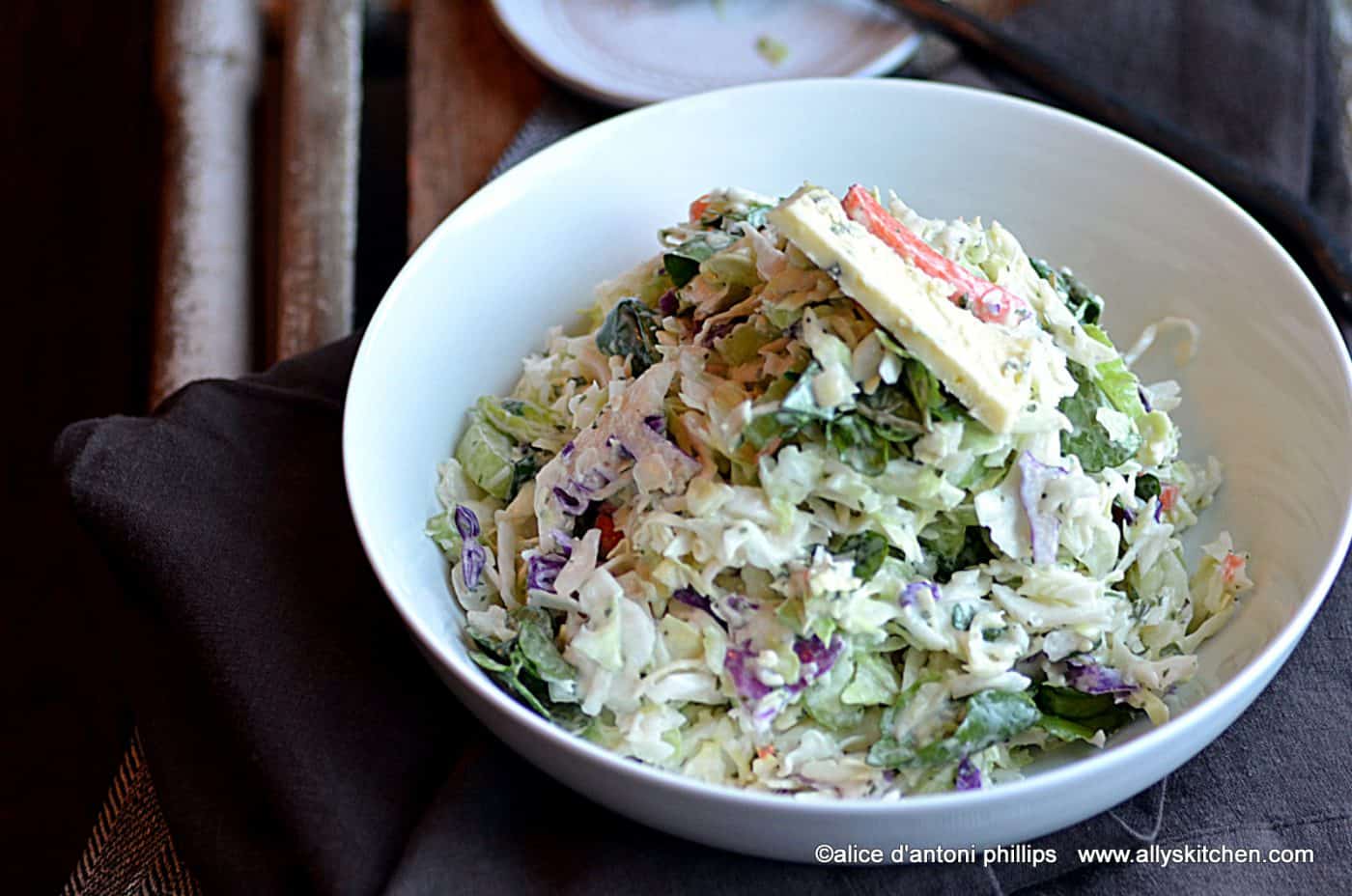 Blue Cheese Coleslaw
Whether you spell it bleu or blue, this blue cheese coleslaw is simply divine! So simple to make, it's a gourmet spin of traditional Southern coleslaw. Yum!
This blue cheese coleslaw is my 'boho' version of Southern coleslaw. Yes, it's quite different, but it's a really inviting palate experience. I mean imagine topping your BBQ sandwich with this coleslaw. OMG, I'm talking bursts of unexpected pleasures!
Blue Cheese Slaw
I like to ramp up the nutritional value of this blue cheese slaw with the addition of the watercress. You could also add some walnuts (or salted pistachios) and dried cranberries for some extra value. Letting this coleslaw hang out in the refrigerator for a while before serving will make it much better. Get ready for crunch, tangy blasts of blue and creamy coleslaw like you've never tasted!
Watercress in Salad
Putting watercress in this salad is an easy way to sneak in more color plus nutrition. Healthline points out that watercress is:
Packed with Nutrients, Particularly Vitamin K.
High Antioxidant Content May Lower Your Risk of Chronic Diseases.
Contains Compounds That May Prevent Certain Types of Cancer.
Beneficial for Heart Health in Many Impressive Ways.
Mineral and Vitamin K Contents Protect Against Osteoporosis.
Southern Coleslaw
Southern coleslaw can't be beat, but if you want even more new twists, try my Crunchy Pineapple Blueberry Slaw or the Asian Cabbage Coleslaw! And, if you want something really different then check out my Pea Grape Coleslaw and Pomegranate Coleslaw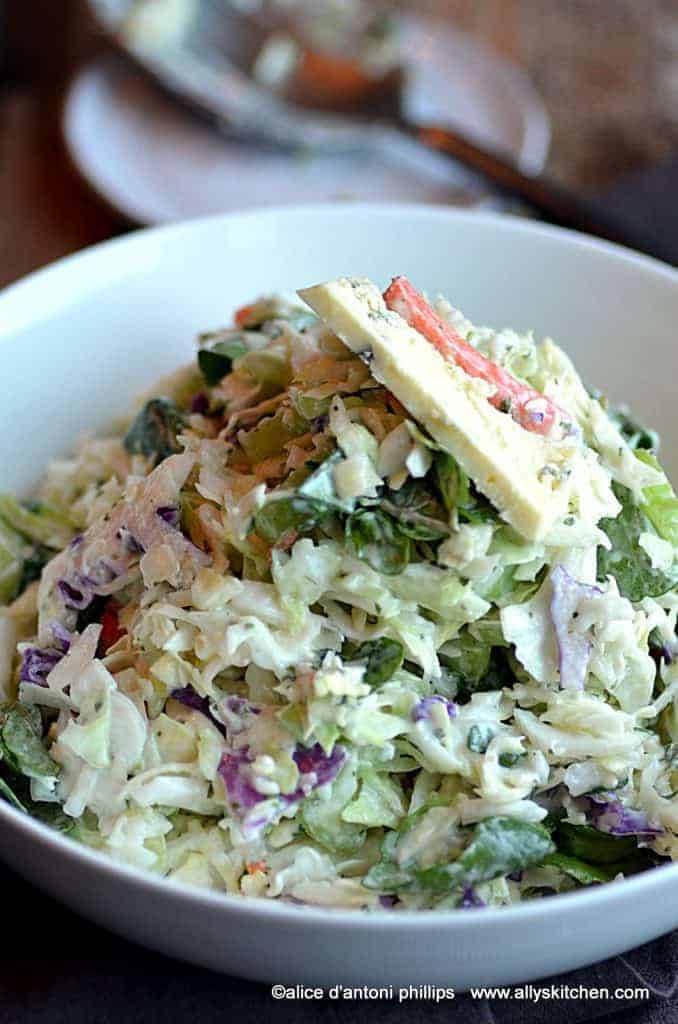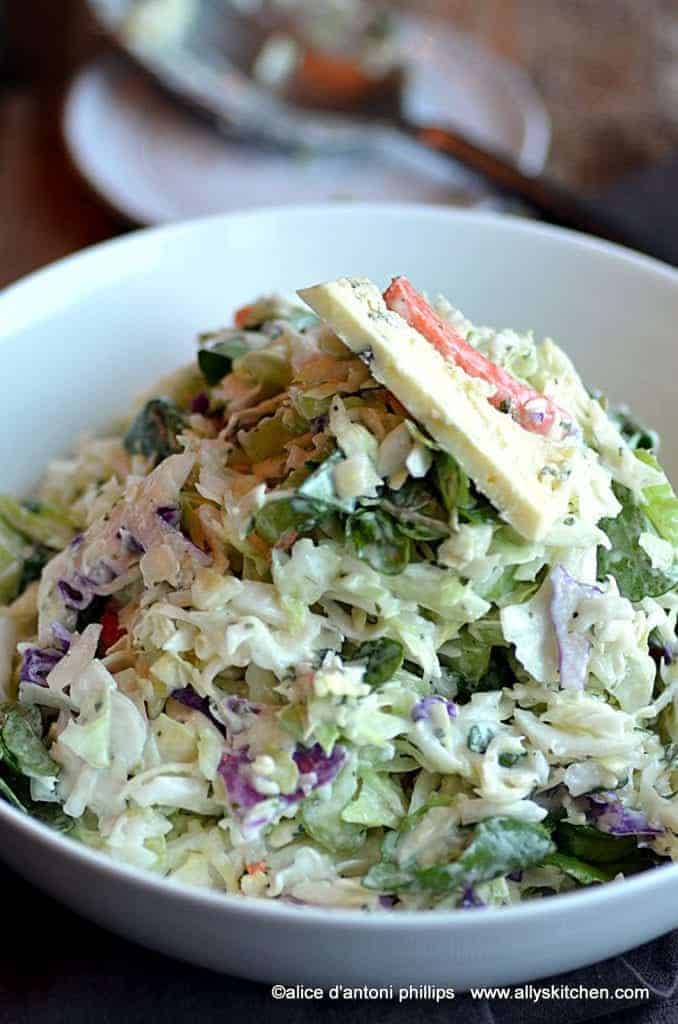 blue cheese coleslaw
Whether you spell it bleu or blue, this blue cheese coleslaw is simply divine! So simple to make, it's a gourmet spin of traditional Southern coleslaw. Yum!
Ingredients
6-8 cups cabbage, sliced and chopped, can be tri-colored or variety of cabbages
1/2 cup carrots, shredded
4 oz. crumbled bleu cheese (use a good brand like Maytag) + more for garnish
1 cup sliced celery
1 cup watercress leaves, packed, can substitute another green like arugula, European greens, rough chop
3 Tbl. fresh lemon juice
1/4 cup avocado mayonnaise
1/4 cup Greek plain yogurt
1 tsp. sea salt
1 tsp. pepper
1 Tbl. Fine Herb blend (parsley, chives, chervil, tarragon, can substitute a combination of your own liking, maybe some dried mint, parsley, chives, tarragon, get creative!
1/2 cup dried cranberries, optional
Instructions
In a large mixing bowl, combine the coleslaw, bleu cheese crumbles, celery and watercress leaves. Toss and blend with your hands.
In a small mixing bowl,, combine the lemon juice, mayonnaise, yogurt, salt, pepper. fine herb blend and blend well. Pour on the coleslaw mixture and toss and blend. Optional: Add the cranberries.
Refrigerate for about an hour before serving.
Notes
You can use two bags of pre-chopped/cut coleslaw mixture to save time.

If you want to add in nuts, oh, so delicious. I love chopped walnuts. I've also done this recipe with chopped salted pistachios. Yummmm, good!

Other add ins include maybe something with a subtle sweet and/or tart pop, dried cranberries, diced dried apricots, diced dates.

I've also added to the salad mixture sliced/chopped fennel. Thinly sliced stems and chopped pieces of the bulb as well as some of the fronds. Not a lot. Just enough, like one-half cup, to let one's palate know that, hey, now that's a new flavor!