Butternut Squash & Corn Pasta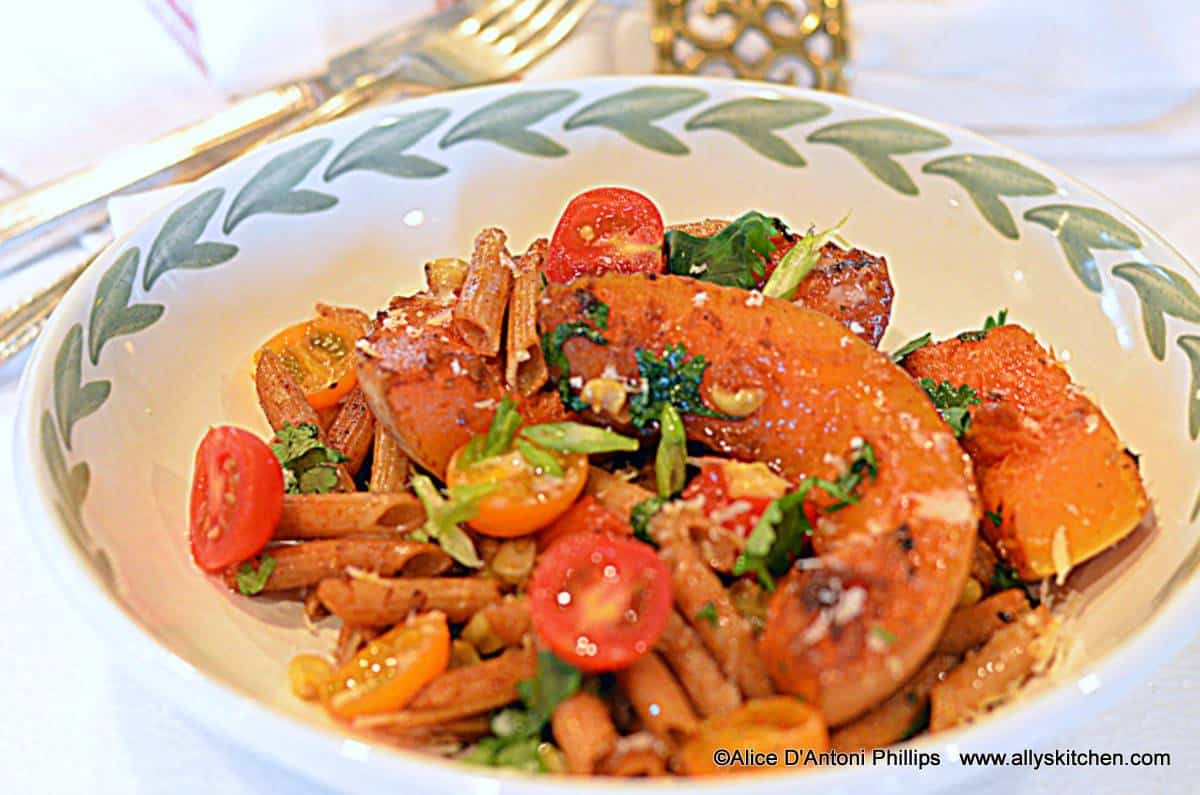 Butternut squash & corn pasta is full of interesting flavours. A healthy and comforting pasta dish for fall.
Pasta with butternut Squash
Spaghetti pasta is prepared with healthy butternut squash & some cream. The pasta tastes so good & is the best vegan option. Adding chicken to the pasta will enhance the flavour & your appetite. Butternut squash pasta is a festive colorful thanksgiving side dishes along with your favorite stew.
Butternut Squash Recipes
The butternut squash cranberry bake is one of the best butternut squash recipes & is loved by everyone. Cranberries can also be substituted with apples based on seasonal availability. There are different recipes involving butternut squash: roasted butternut squash, cinnamon-flavored, lemon-orange squash pie etc.
And, if you want more corn and pasta recipes, well, this one is a winner!
Squash with Pasta
Pasta is incomplete with cheese & butter. For a squash spaghetti pasta, get some of your brown butter, favourite spaghetti & yellow squash. Easy to make & a healthy alternative to other junk/snacks, squash pasta helps in your hunger pangs any time of the day.
While this recipe is with butterNUT squash, have you tried butterCUP squash! Oh, you're going to love this easy roasted butterCUP squash mash with my delicious Dead Sea Granola!
Butternut Squash with Pasta
A very addictive & healthy recipe is butternut squash with pasta. All you need is your favourite herbs & spices, cream and of course, that bacon!! It is an effortless dish to make & can be customized as per your food choices. In western countries, butternut pasta is eaten mainly during fall with a comforting feeling. The butternut squash is essential in thanksgiving table decor ideas as butternut squash can be put up in a unique decorative manner.
Butternut Squash Pasta Sauce
The creamy pasta sauce is simply vegan and is often consumed with other pasta. The flavour & texture of butter, pinch of cinnamon, nutmeg & salt is all you need for your butternut sauce. Pasta lovers need to try this sauce once in their lifetime.
Pasta Recipes with Butternut Squash
Pasta like alfredo, penne have their taste & flavors. Butternut squash pasta is unique to these famous pasta recipes. The amalgamation of pork, chicken, bacon with creamy pasta is what sets it apart from others. Bake it, steam it or boil it; the pasta will never fail to amuse you with the flavors. Pasta should be combined with honey spiced squash bowls for a fresh & aromatic taste. Keep the tangy sauces ready & some roasted veggies for the add ons.
Roasted Butternut Squash Pasta
Cheese is an essential ingredient in roasted squash pasta. Roast your fresh butternut squash on medium heat & mix it with cheesy sauce. Spice it up with your choice of herbs & add them to the pasta. The essence of the pasta lies solely on cheese &, if added on, cream. Please also add your choice of meat like pork, bacon or chicken. Roasted butternut squash has healthy fats & carbs; hence, there is no need to be guilty of this delicacy.
Pasta Squash
The famous fall harvest butternut squash & collards soup goes well with squash pasta. Boil your ingredients & mix them up with spices for the regular flavor. Do not forget to add chicken, pork or bacon for your hungry belly. Spaghetti is commonly used in squash pasta and enhanced by oregano, chili flakes & lemon. One has to try such marvelous pasta squash delicacies when visiting European countries.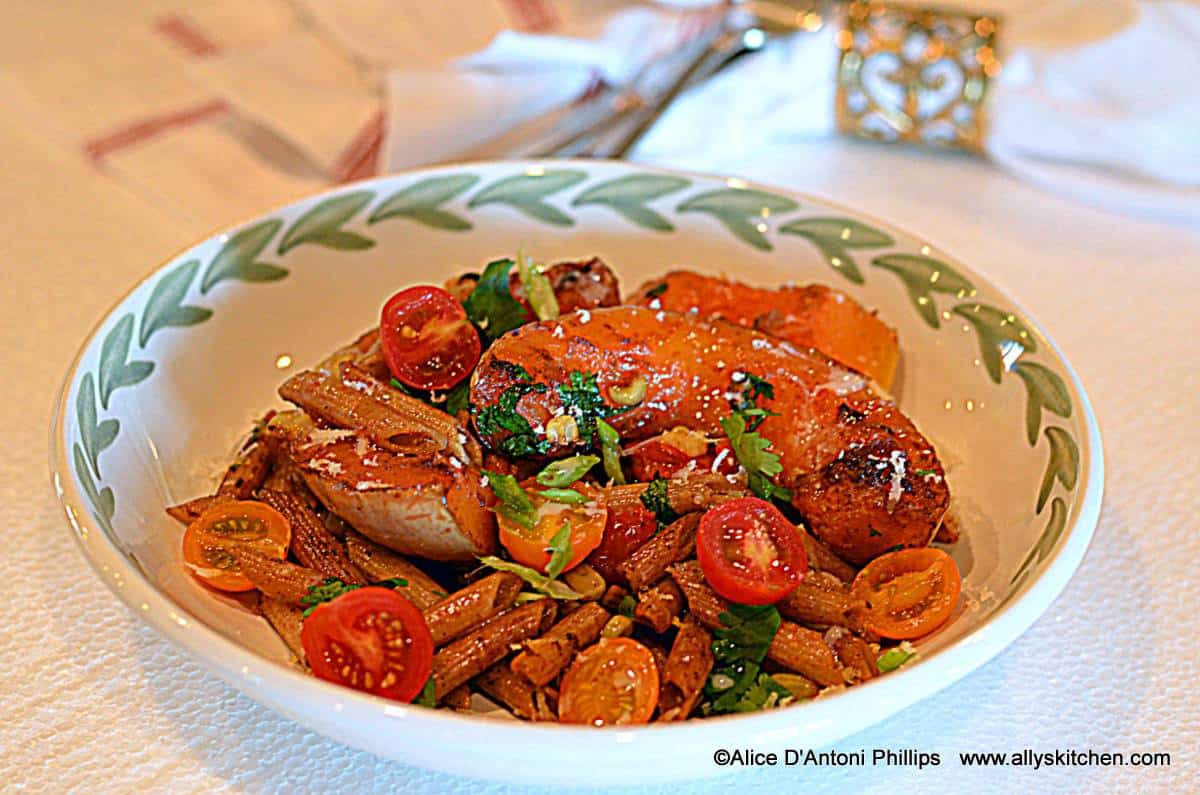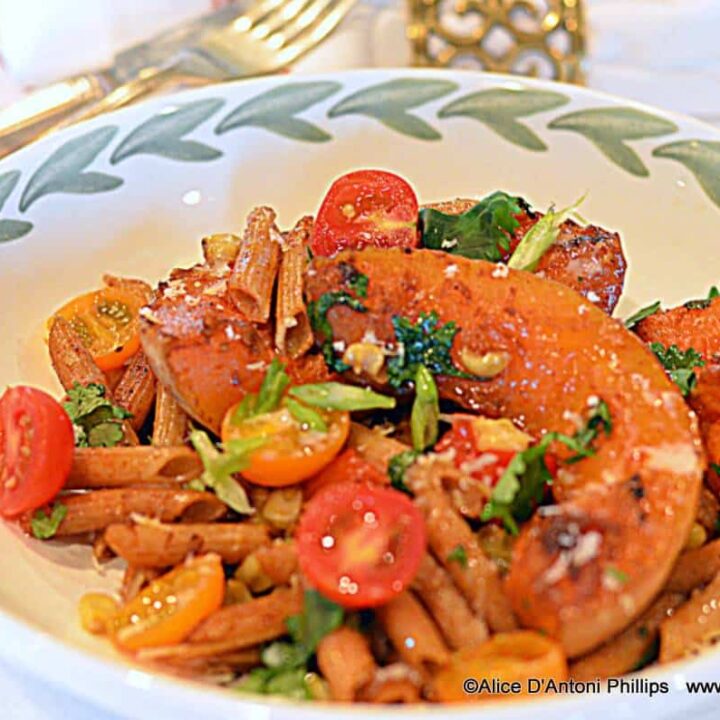 butternut squash & corn pasta
Butternut squash & corn pasta is full of interesting flavors. A healthy and comforting pasta dish for fall.
Ingredients
1 medium size butternut squash (ends cut off, cut into slices and seeds removed)
4 Tbl. butter
4 Tbl. extra virgin olive oil
3 Tbl. raw sugar
1 tsp. Chinese 5-spice
1 tsp. ground cumin
1/2  tsp. sea salt
1/2 tsp. ground pepper
1 cup sliced cherry tomatoes
1 cup frozen corn
1/4 cup chopped cilantro (you can substitute parsley)
8 oz whole wheat penne pasta (or your favorite pasta/cook according to directions)
1/4  cup freshly grated parmesan cheese
Instructions
Over medium heat in a heavy skillet, melt the butter and add the olive oil. Put the butternut squash slices in and saute for about 10 minutes turning the pieces as needed.
Sprinkle on the sugar, Chinese 5-spice cumin, salt and pepper. Reduce heat to low and add the tomatoes and corn and toss.

Cover with a lid and cook about 15-20 minutes. Add the cilantro and pasta and toss together. Reduce heat to simmer and cook another 5-10 minutes. Toss in the parmesan and serve.