camping dutch oven garlic chicken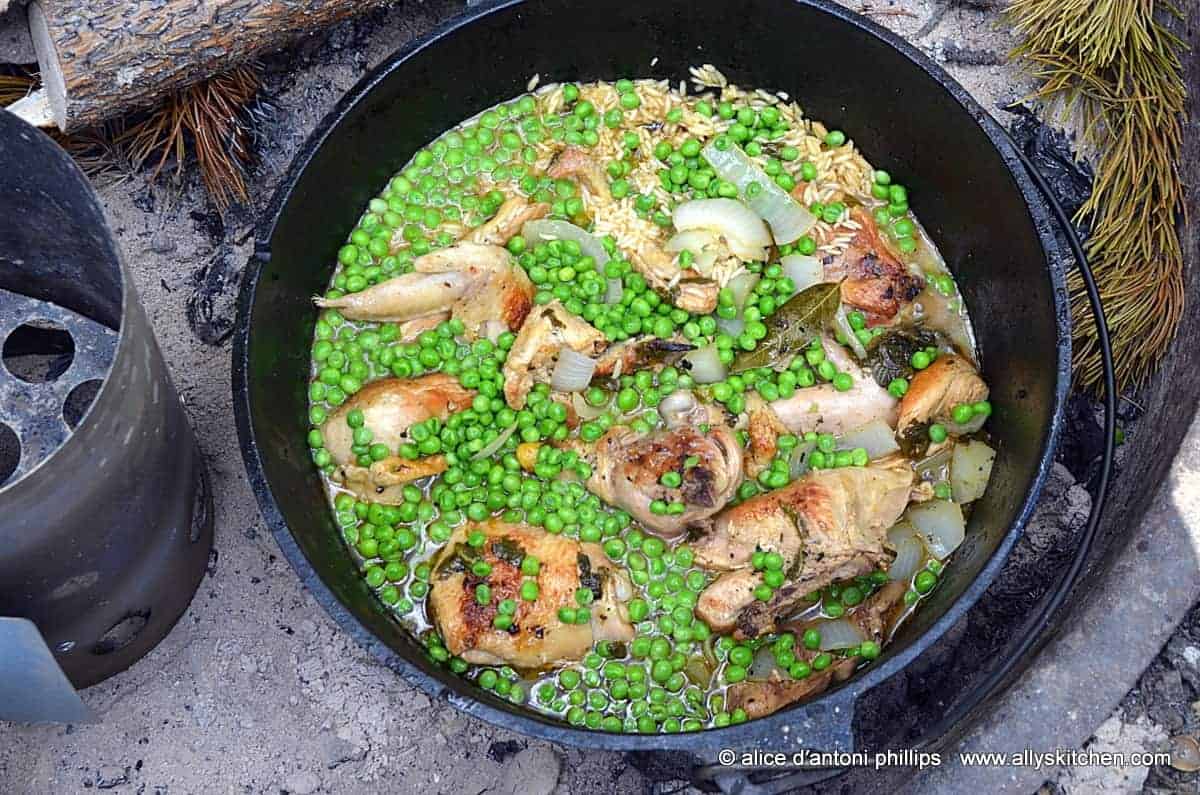 Dutch Oven Camping
Camping only gets gourmet with this Dutch oven garlic chicken. The meat falls off the bone and the veggies, rice, and broth is divine! Chic camping supreme! We'd never go camping without our trusty Dutch oven.
We take our Dutch oven camping with us for a few reasons that out weigh the fact it's big, bulky and heavy. The lid serves as a frying pan, too. Our Dutch oven is a 14 inch size and probably weighs close to a 10 pound gym barbell, but cooking in it adds to the charm of camping!
Camping Cooking
Camping is always all about the food! And, camping and cooking go together like peas n' carrots. This camping dutch oven garlic chicken will be one of your favorites.
Of course, we love the hikes, sitting around the campfire in the early mornings drinking coffee and then late at night sipping on our favorite libations and looking at the vast array of sparkling star.
But, most of all, we love the cooking! It's always a group effort—someone's setting the picnic table, another is gathering more firewood, and a few of us are working on the grub!
Camping Recipes
Lots of camping recipes are out there. From the lumberjack style breakfasts to expansive delicious dinners. Camping recipes also mean dessert and sweets and, by golly, it's pretty easy to do on live fire or a small gas stove that you might take.
A dear friend of mine shared that this dish is similar to an awesome Middle Eastern dish that she ate as a child called 'Maqlooba'. Of course, I immediately did a little digging into what 'Maqlooba' is! In Arabic it means 'flipped over'. And, the ingredients do have similarities, which is really cool.
Easy Camping Meals for Family
Easy camping meals for a family is what you're looking for because it's not often, I think, that you'd camp solo. Oh, yes, people do that, but part of the charm and fun of camping is doing it with others. And, young families, well, there's not easier more healthy way to build memories than to camp. So having easy camping meals is a must. And, since we've been camping for years, we have a stash of easy things to cook.
Dutch Oven Recipes for Camping
Dutch oven recipes for camping are similar to the recipes that you might cook at home in your Dutch oven. One of the big challenges is in regulating the heat on live fire. For instance, if you're doing a 'slow cooked' pot roast (that you typically do in an oven at 375 or 400) then you'll need to closely watch the pot roast in the Dutch oven if the fire is raging because those heat levels can be much much hotter. There are ways to adjust the heat levels when cooking on a camping fire, with a grate, one of which is simply moving the cooking vessel near the edge of the cooking grate.
Another idea is to precook the pot roast you'll be taking and then just warm it on the live fire in your Dutch oven. Don't be shy because Dutch oven recipes for camping are truly easy to do! And, have fun reading this piece I'm sharing on free-spirited bohemian camping!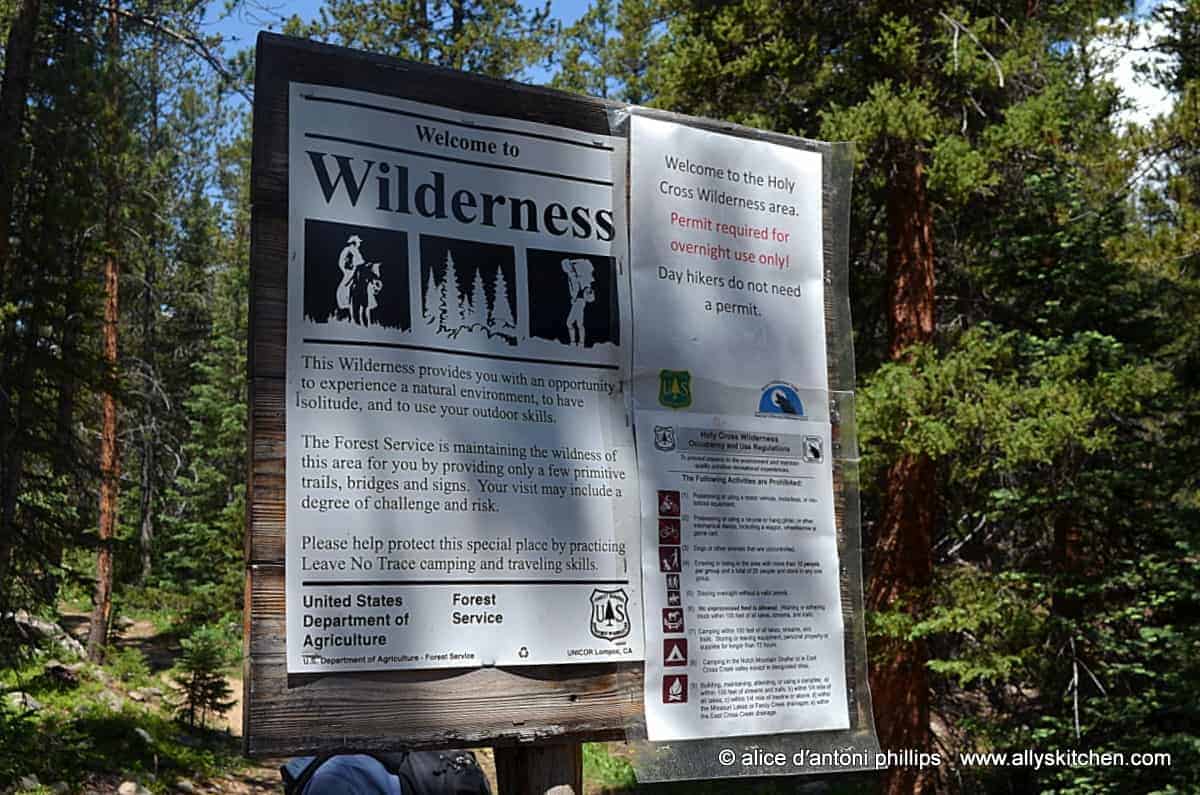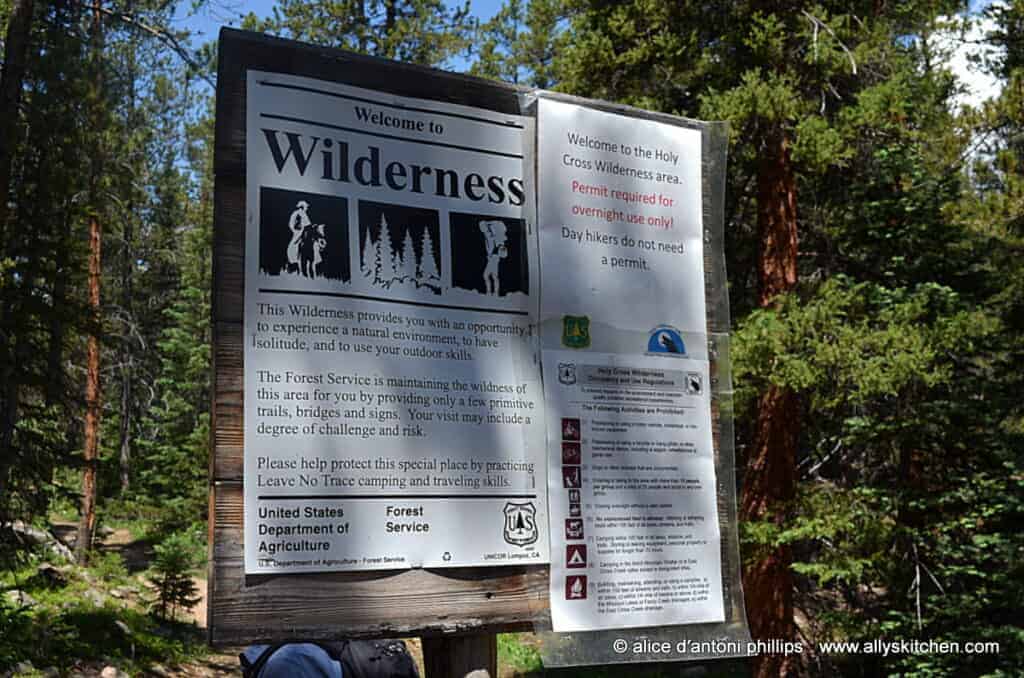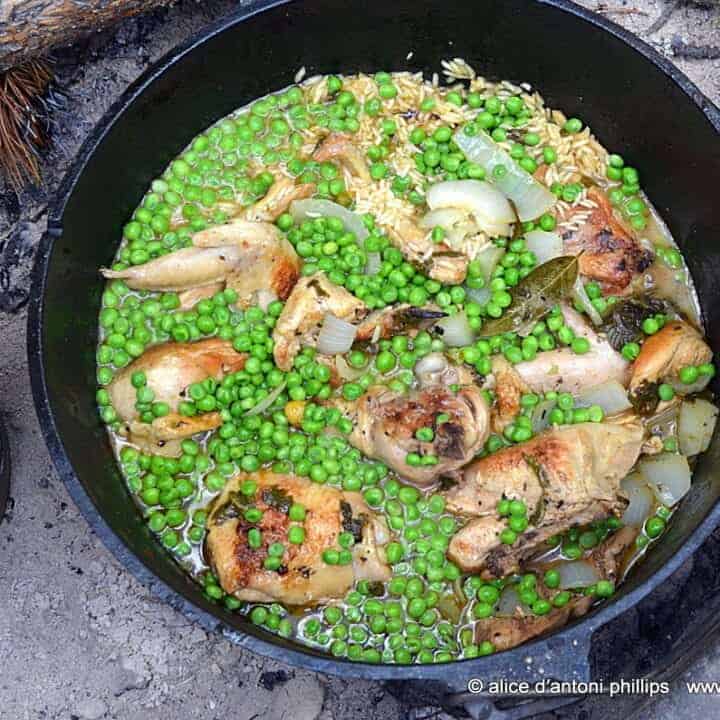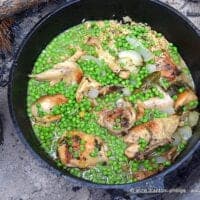 camping dutch oven garlic chicken
Ingredients
2 ½ to 3 pounds of cut of whole chicken pieces (thighs, wings, breast—cut the breasts in halves if they're very large)
2 tsp. sea salt
2 Tbl. Butter
2 Tbl. Olive oil
1 1/2 cups organic condensed soup (mushroom or chicken)~~i.e., Pacific brand
6 cups chicken broth (divided)
2 tsp. red chili flakes (gauge according to your spice index!)
1 Tbl. Dried Greek seasoning mixture
Fresh herbs still on stems—thyme, oregano, basil, mint, and flat leaf parsley—2-3 stems of each—tear or cut up into random pieces
4 bay leaves
2 whole garlic cloves (peel off as much of the dry covering as possible but do not break apart the clove)
1 cup cubed sweet onion
1 lemon (juice & zest)
1 cup Jasmine rice
1 (10-12 ounces) bag thawed (previously frozen) peas
Fresh chopped parsley for garnish
Instructions
Coat the chicken all over with salt. Put on a plate. Over medium high heat in a large heavy pot with lid, melt the butter and add the olive oil. When the butter/oil is hot, add the chicken and sear on each side to a golden brown.

Add the soup and 4 cups of chicken broth and blend together moving the chicken around in the pot. Add the chili flakes, Greek seasoning mixture, fresh herbs, bay leaves, garlic cloves, and onions. Cover tightly (important to the steaming/cooking) and cook over medium heat for about 75 minutes stirring occasionally. (Note: If your lid is not tight to the pot, add a doubled layer of foil under the lid.) Add another cup of chicken broth if needed.

Add the lemon juice, zest, rice and remaining broth (if needed). Turn to medium low, cover tightly with the lid and cook another 45-60 minutes. Stir a couple of times.

Turn heat to low and add the thawed peas on top. Cover with the lid and let the peas steam on top about 20 minutes. You'll find that some of the rice may be sticking to the bottom and have some crispy to it—that's quite all right and adds to the flavor! Ready to serve on tin plates, and you'll feel like you're camping!
Notes
This recipe can be done at home or camping. If camping, it can be cooked on a portable stove or live fire.