This Mediterranean celery olive salad is so very different. And, that's what I love about food~~using ingredients in totally different ways to create spectacular new dishes. It's kind of like dressing and style~~you have clothes, shoes, accessories and when you combine them in different ways, you get an entirely new look. Of course, you can do things the same ol' way, which sometimes works and is good, but, boy, do you miss out on a lot of fun in life!
Crunchy. Salty, And, then you bite into a spark of sweet. Your palate says, 'Whooooaaaa Nelly! What's happening here? I'm really loving this!' That's what this salad's all about~~letting you explore beyond what's know, what's typical, what's expected. That's why bohemian bold fooding is all about~~traveling to the edge of the tastebuds and loving it! xoxo ~peace & exploration~ ally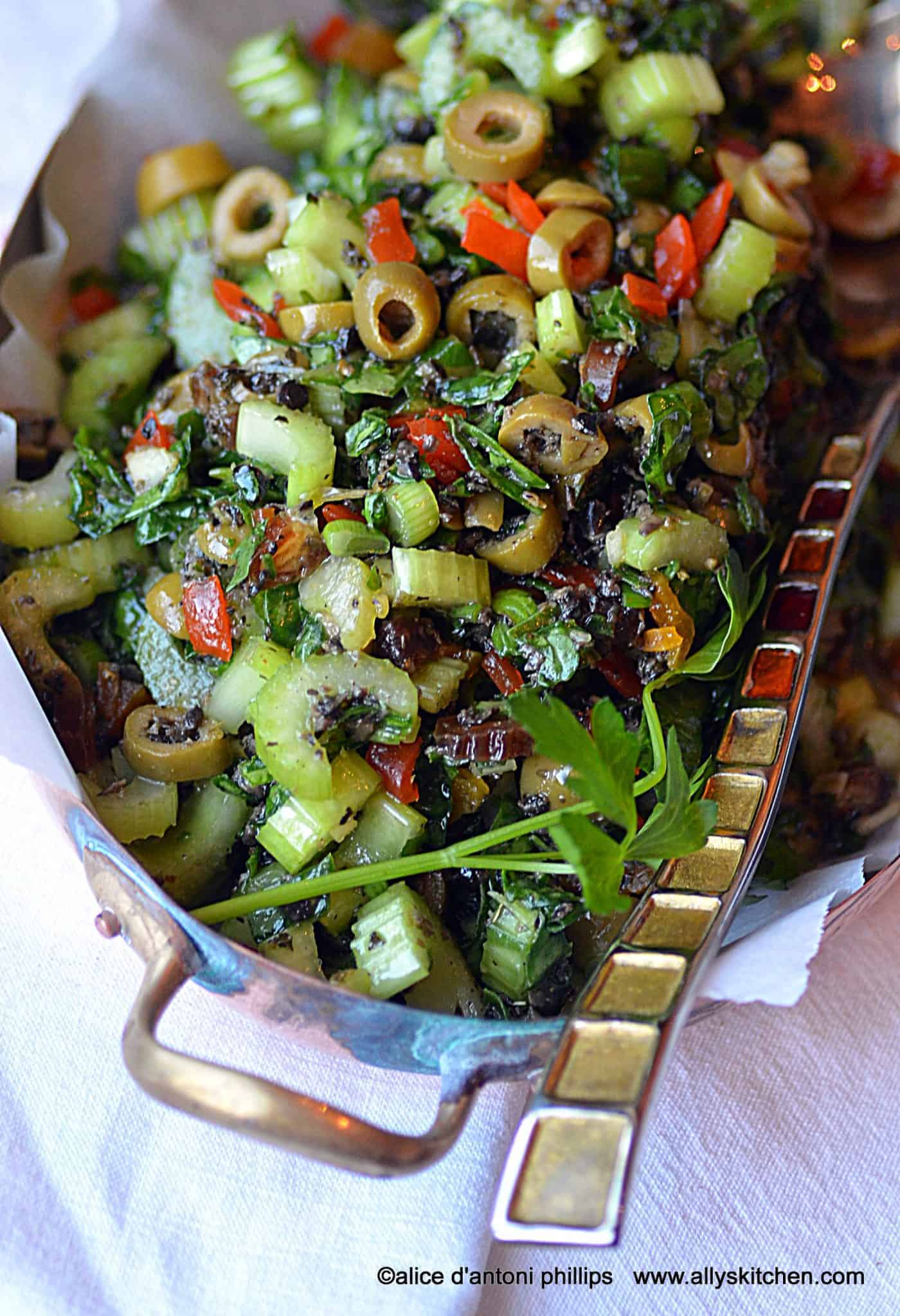 mediterranean celery olive salad
Ingredients
4 cups celery, sliced
1 cup olives, sliced/chopped (pimentos included), drain juice
1/3 cup black olives, minced into a fine mixture (I bought them in the can like this.)
2 packed cups baby arugula, roughly chopped
½ packed cup flat parsley, chopped
1 Tbl. fresh thyme leaves
2 tsp. Italian seasoning (can substitute Greek)
½ cup dried apricots, chopped
½ cup Dole Sunshine dates, chopped
1 tsp. coarse ground pepper
1/3 cup extra virgin olive oil
1 lemon, large juice and zest
Instructions
Combine in a large mixing bowl all of the ingredients except the olive oil and lemon juice zest. Toss and blend well all these ingredients.
In a small bowl, combine the olive oil, lemon juice and zest and whisk together well. Drizzle on the celery mixture. Toss and blend well. Refrigerate at least an hour before serving.
https://allyskitchen.com/mediterranean-celery-olive-salad/
©ally's kitchen intellectual property