mediterranean celery olive salad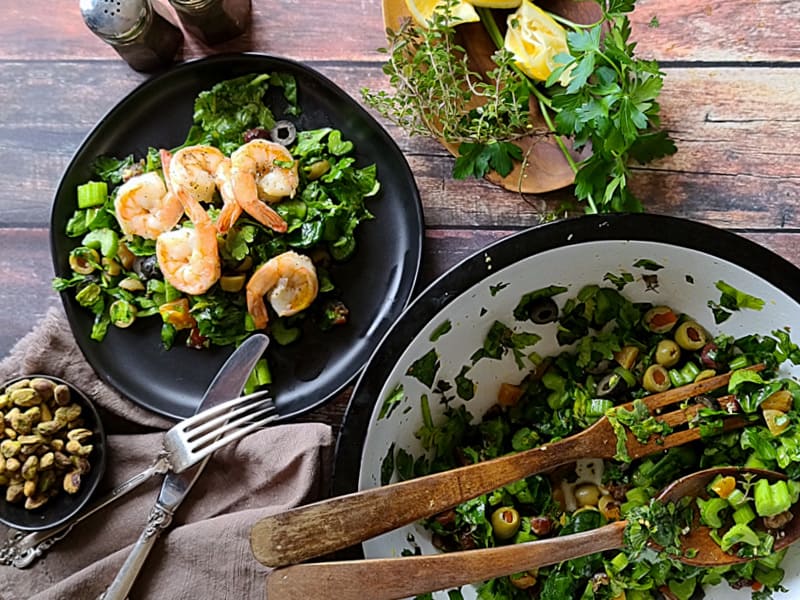 Crunchy. Salty. Sweet. Mediterranean Celery Olive Salad hits on all cylinders for flavor! Refreshing flavors! Gonna be a family favorite!
Celery Salad
You know what I love about food. Using ingredients in totally different ways to create spectacular new dishes. It's kind of like dressing and style. You have clothes, shoes, accessories and when you combine them in different ways, you get an entirely new look. Of course, you can do things the same ol' way, which sometimes works and is good, but, boy, do you miss out on a lot of fun in life!
Simple Celery Salad
Crunchy. Salty, And, then you bite into a spark of sweet. Your palate says, 'Whooooaaaa Nelly! What's happening here? I'm really loving this!' That's what this salad's all about. Letting you explore beyond what's know, what's typical, what's expected. That's why bohemian bold fooding is all about. Traveling to the edge of the tastebuds and loving it! And, here's yet another celery salad that you're gonna love! And, that's what makes this Mediterranean celery olive salad so simple, yet, utterly divine!
Celery and Olive Salad
Nothing makes food pop more than olives for me. Maybe it's the saltiness. Yes, salt does bring out flavors. But the olives in this salad do more than add salt. The flavors of the celery and olive salad is exponentially enhanced simply by adding the olives. The sweet tastes a little more delightful. The watery of the celery is a tad bit brighter on the palate. And, it's all because of the humble yet chic olive!
Best Summer Salads
Salads are fabulous year-round, but salads take on new flavor, taste and meaning during the Spring and Summer months when you can buy local and source your ingredients from farmers' markets, roadside stands, your own garden and more. So if you're looking for something that will move you from a boring predictable Summer salad to a Summer salad that will be perfect for BBQs, picnics, outdoor eating and more, then this simple celery and olive salad with all those flavors of the Mediterranean is your best bet!
Vegetarian Salad Recipes
Now this recipe can be totally vegetarian if you put no protein on it. And, I have so many salads and sides that are vegetarian. Crazy, but I don't even think about any of those dietary things when I'm creating recipes. I just want to create healthy. So naturally many of my recipes can fall into those trendy categories of keto, vegetarian, vegan, gluten free and more.
16 Easy Vegetarian Recipes
pepper encrusted bison tenderloin & grilled onions
cleopatra's waldorf salad

Vegan Salad Recipes
This basic salad and the ingredients are perfect for those who are vegetarian or vegan. Add ons simply allow it to become adaptable to a range of palates and preferences. If you want to add a protein, you've go that option. If you want to pan sear some beans, like chick peas, you can make it a more substantial filling salad. It's also perfect for topping with anything from tofu to tuna!
Here are other recipes you should try:-
egg noodle chicken soup
turkey & zucchini burgers with green onion & cumin
butter herb garlic grilled chicken
Chana Masala Pork & Corn Medley with Pea Sprouts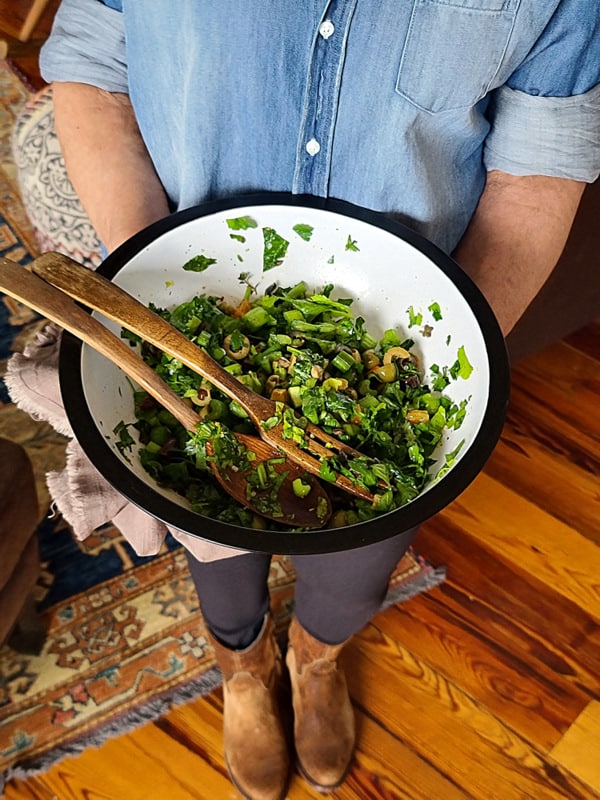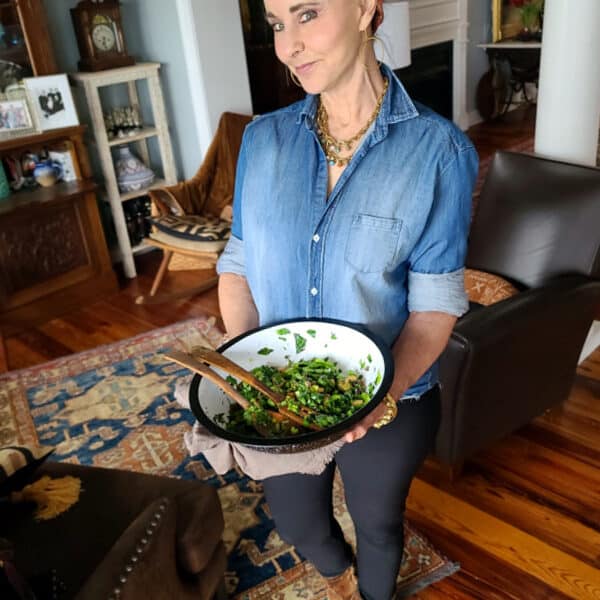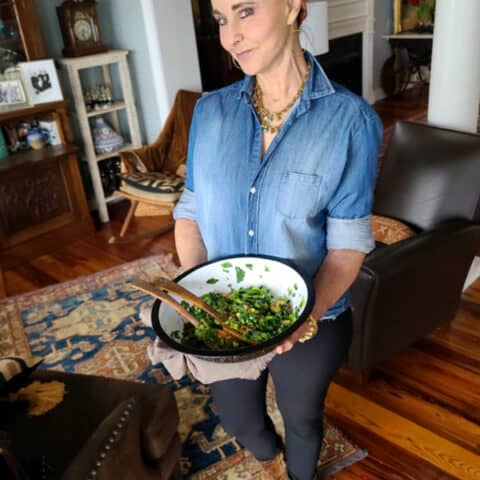 mediterranean celery olive salad
Crunchy. Salty. Sweet. Yep, this Mediterranean Celery Olive Salad hits on all cylinders for flavor! Refreshing flavors!
Ingredients
4 cups celery, sliced
1 cup olives, sliced/chopped (pimentos included), drain juice
1/3 cup black olives, minced into a fine mixture (I bought them in the can like this.)
2 packed cups baby arugula, roughly chopped
½ packed cup flat parsley, chopped
1 Tbl. fresh thyme leaves
2 tsp. Italian seasoning (can substitute Greek)
½ cup dried apricots, chopped
½ cup Dole Sunshine dates, chopped
1 tsp. coarse ground pepper
1/3 cup extra virgin olive oil
1 lemon, large juice and zest
Instructions
Combine in a large mixing bowl all of the ingredients except the olive oil and lemon juice zest. Toss and blend well all these ingredients.

In a small bowl, combine the olive oil, lemon juice and zest and whisk together well. Drizzle on the celery mixture. Toss and blend well. Refrigerate at least an hour before serving.