farm fresh corn caprese salad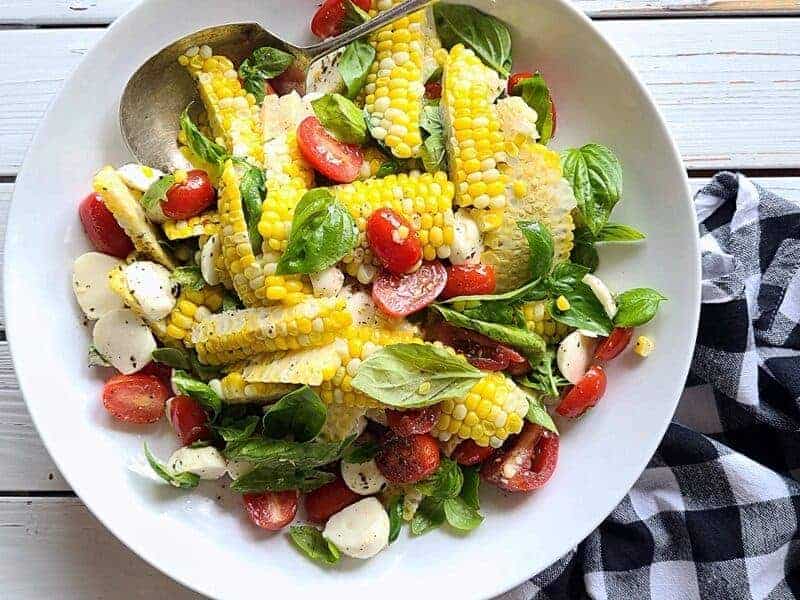 Salad Caprese
Corn caprese salad is the perfect starter for a salad explosion! Caprese salad can become a dinner with some of my family friendly ideas!
Salad caprese or caprese salad is exceptionally popular as a salad. What's better than freshness in every bite. And, salad caprese also called insalata caprese by Italians is a perfect way to start or end a meal.
Best Caprese Salad
Where did salad caprese start. How was it 'invented'? The story goes that it originated in post-World War I Italy. Given that Italy's national flag is red, white and green, a patriotic mason wanted to represent Italy in a bowl. And, what better to do it than salad caprese.
A menu at the Hotel Quisiana. And, yes, there is a Hotel Quisiana on the island of Capri. And, grand it is as one of the grandest in the world and hosting celebrities, like Tom Cruise, Sting and dignitaries, former American President Gerald Ford, over the years. I can only imagine the salad caprese on this menu!
Healthy Caprese Salad
Caprese is not just for salad. How about taking a look at my killer good caprese breakfast sandwich!
Salad Recipes
In the Spring and Summer, when vegetables are abundant, we're always looking for new salad recipes. And, this salad caprese is a twist on an Italian favorite that's absolutely simple an easy to do. There's an array of spin offs with salad recipes, so be bold and daring. Think of other ways to construct your salads. Here are a few of my favorites.
Crunchy Pineapple Blueberry Slaw
Salads with Corn
There's nothing better than fresh (or frozen during those farming off months) corn in salads. Salads with corn add more substance to the salad and absolutely more flavor. Now you can cook the corn that you're putting in the salad any way you like, steamed, grilled, charred. I've done it all of these ways, and I guarantee it's delicious.
Caprese Salad Dressing
When I do corn on the cob, I'm always throwing in a few extra ears because I know I can refrigerate and use the next day for some kind of salad with corn! Check out my Mexican inspired corn salad. OMG! It's a winner and perfect for grilling, picnics and more.
And, when you're talking caprese salad dressing, make it simple. Extra virgin olive oil, lemon and/or balsamic. Salt and pepper. And, that's about it.
Salads with Pasta
This particular salad caprese is also great with pasta. If you want to keep the corn, great. But is you want to swap out the corn and have a salad with pasta, then the salad caprese is a perfect base to make this salad more like a meal. And, who's not ready for dinners of simply salad. I am! As you can see from all these caprese salads I've made and shared with you, I LOVE SALAD CAPRESE!
Contemporary Caprese Platter Salad
Dinners
Dinner that are basically a big salad are divine. And, salad caprese is a salad that you can build into a dinner meal. With this salad caprese, you could simple add a piece of grilled chicken, maybe some steamed, grilled or sauteed shirmp, and other proteins that might be your favorites. Dinners don't have to be complicated. And, dinners can be super healthy when you start with salads. Salad caprese is the perfect foundation! Here's my Simple Grilled Chicken Caprese dinner! Big yum!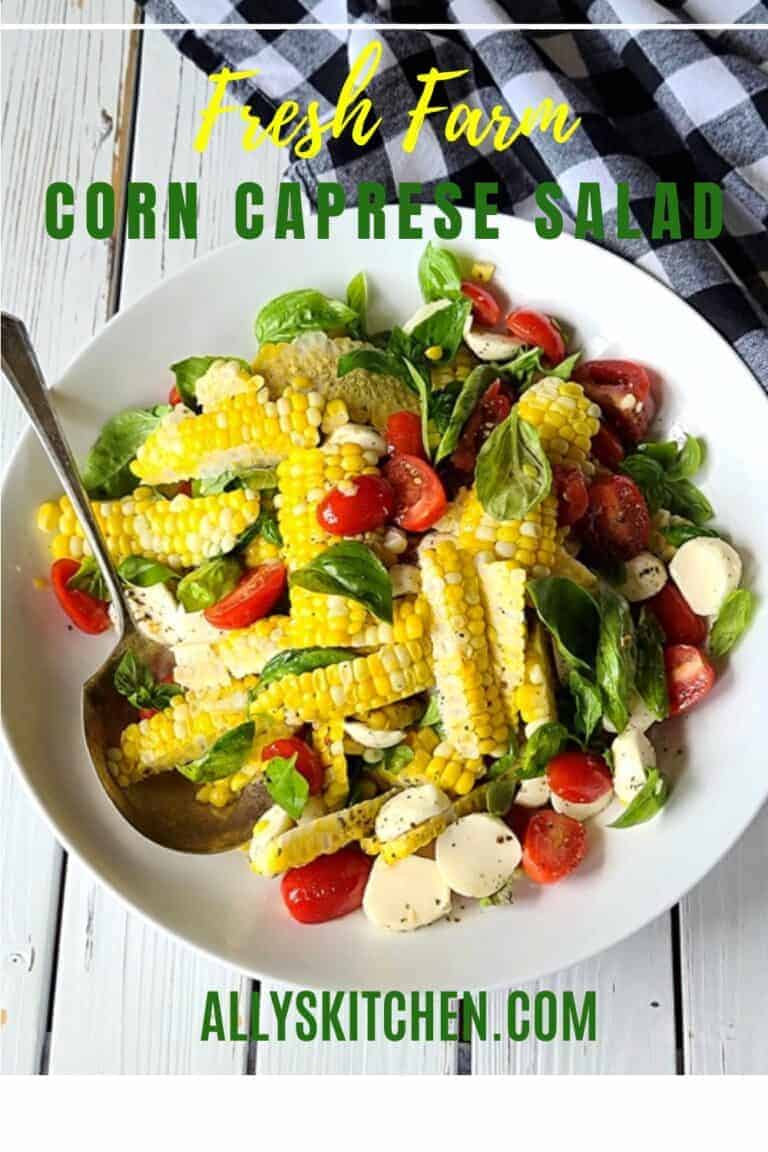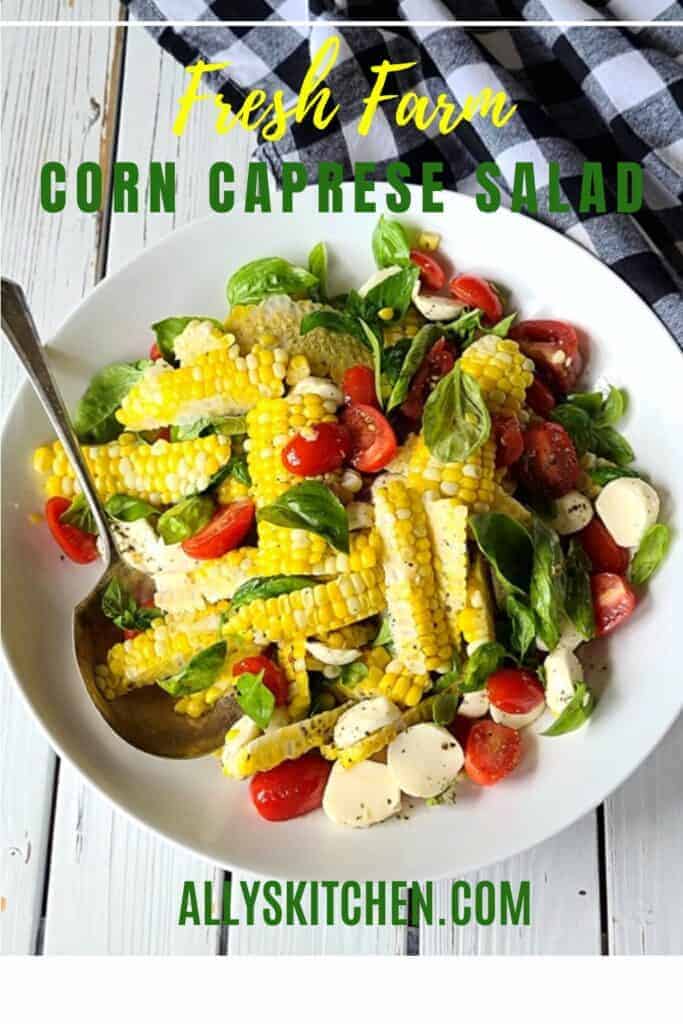 farm fresh corn caprese salad
Corn caprese salad is the perfect starter for a salad explosion! Caprese salad can become a dinner with some of my family friendly ideas!
Ingredients
4 ears fresh corn, cooked, cut from cob
3 cups cherry tomatoes, sliced in halves
3 cups mozzarella balls, cut in halves
2 cups fresh basil leaves, packed
1/4 cup extra virgin olive oil
1 large lemon, juice only, zest optional
Sea salt & Coarse ground pepper to taste
Instructions
Combine all ingredients in a large bowl. Add the olive oil and lemon juice (salt and pepper to taste).

Mix and blend well. Serve immediately or refrigerate until ready to serve.
Notes
I wouldn't recommend refrigerating this salad longer than a couple of hours.

Remove from the refrigerator at least 20 minutes before serving to come to room temperature.