Camping is always an adventure! Growing up I never camped—actually, this is one of the new escapades of my life after 50! My philosophy is that I want to experience as much as I can out of life while I'm able and healthy—so, getting hooked on camping has been one of those things. Now there's a big difference between 'car' camping and primitive 'car' camping, and I've done both and enjoy the heck out of them. The latter is camping where there's no water or toilet facilities, while regular car camping usually is in a campground where you have some luxuries of life including toilets and potable water!
Folks who like to camp are down-to-earth good folks—they have a love of the outdoors and escaping all the stress of real life. And, you're sometimes close enough to your neighbors in these camping communities to become friends real quickly! That's how we got these gorgeous mountain trout—our camping neighbors, Chuck and Rainae and their two grandsons, Gaige (12) and Cavan (8) shared the fish they caught with us! These littl' guys were the cutest! What a huge surprise when they brought these fresh trout to our campsite—so with what I had in my camping 'pantry' I decided I'd steam them up and we'd have as appetizers.
Now, you can use most any nice whole white fish using this recipe—but, if you're in the neck of the woods of Turquoise Lake in Colorado and you happen to see two adorable little guys who were proud fishermen with their Grandaddy Chuck, then maybe, just maybe, you'll have a stash, too!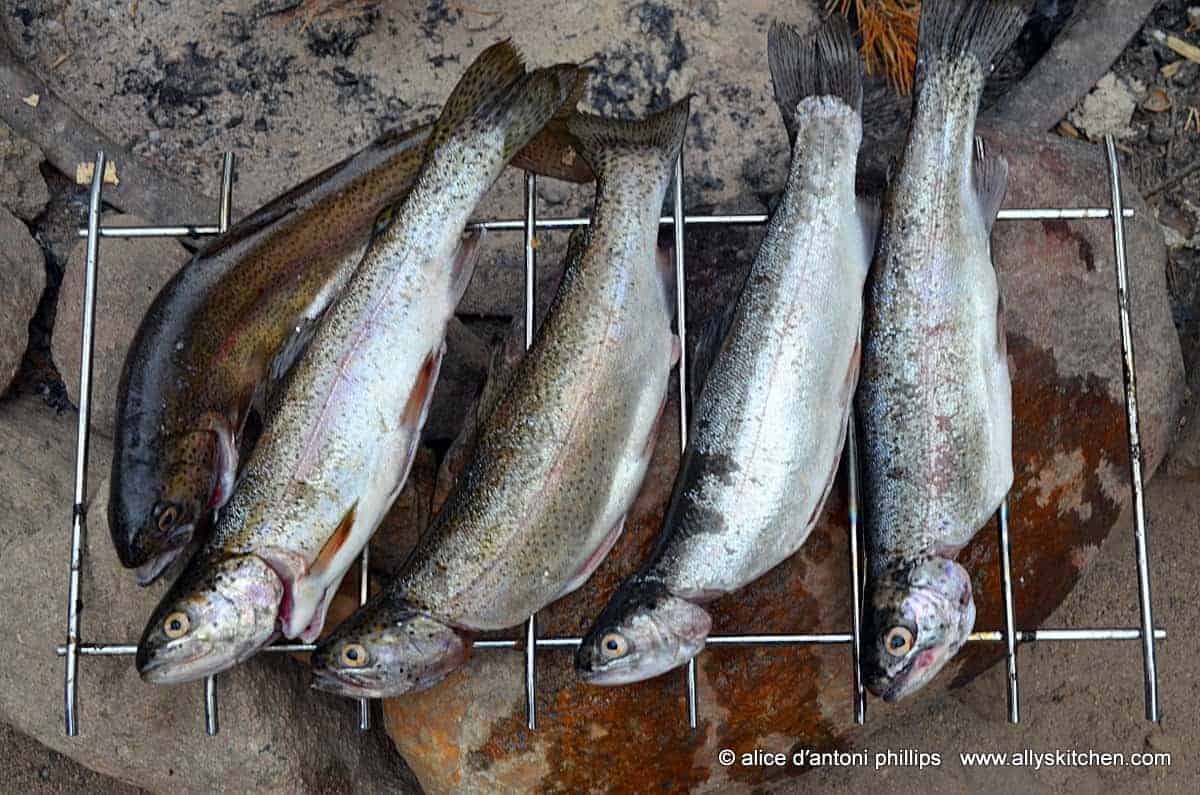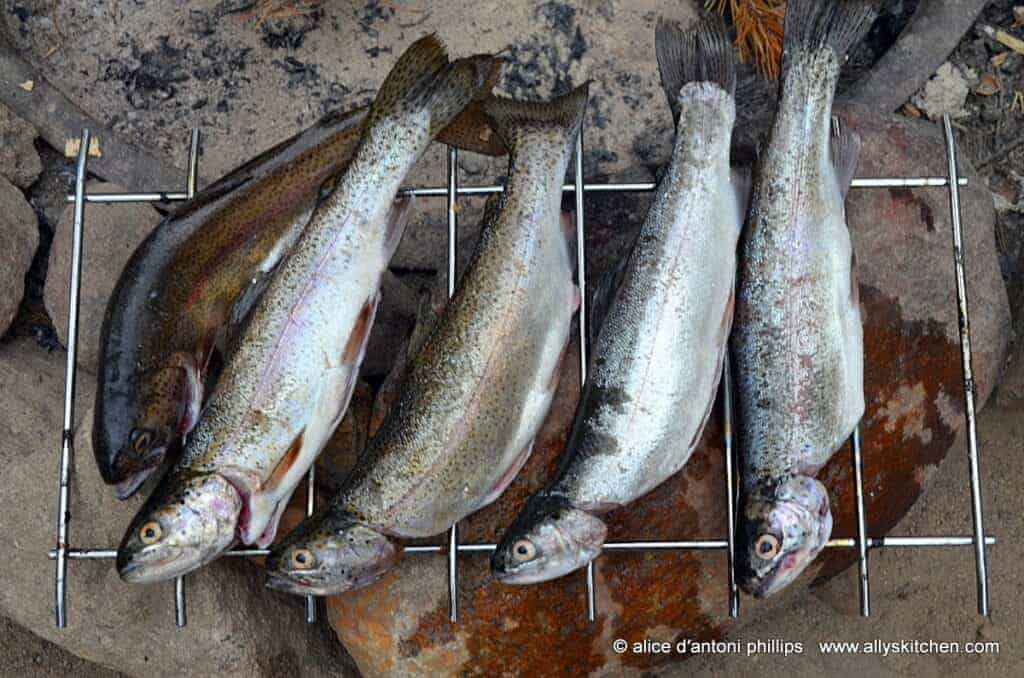 Serves: 4
What you need:
4 whole fish (I used about 14-16" rainbow and brown trout) heads on, cleaned
4 Tbl. Butter
3 Tbl. Extra virgin olive oil
1 tsp. sea salt
1 tsp. pepper
2 tsp. Greek or Italian seasoning mixture
4 bay leaves
1 whole lemon cut into quarters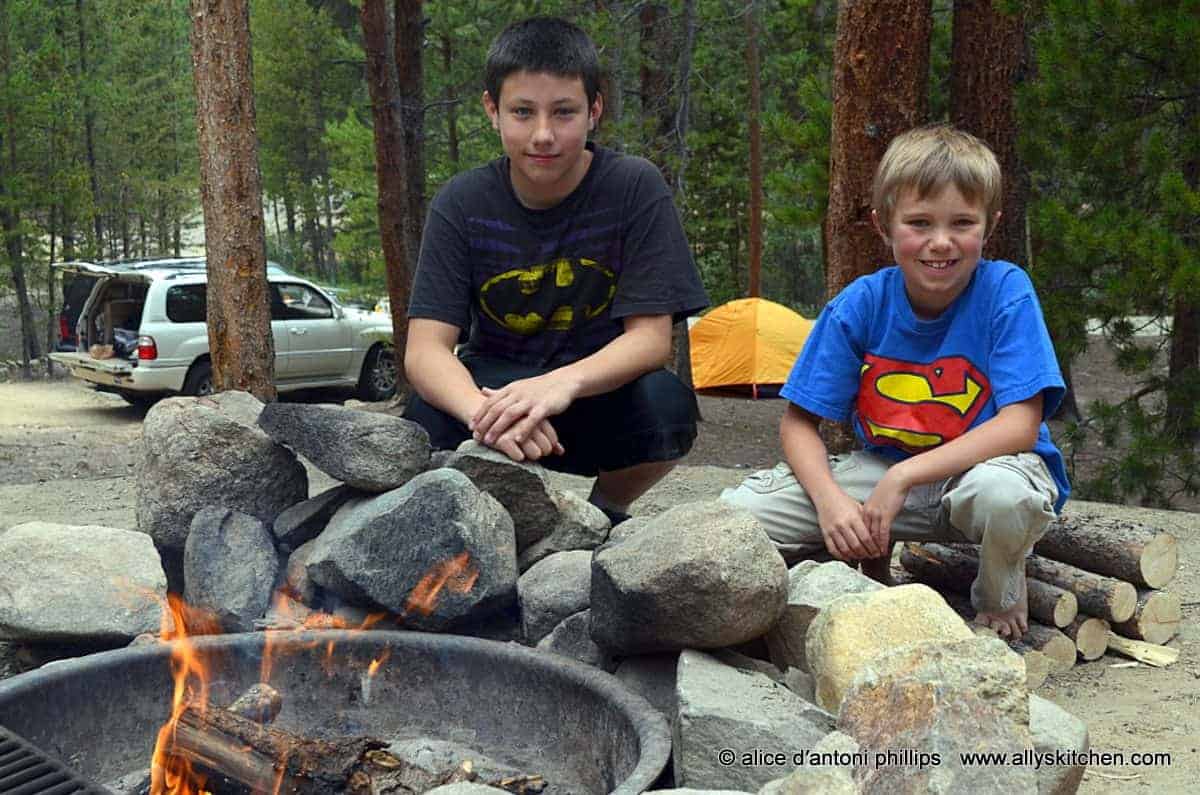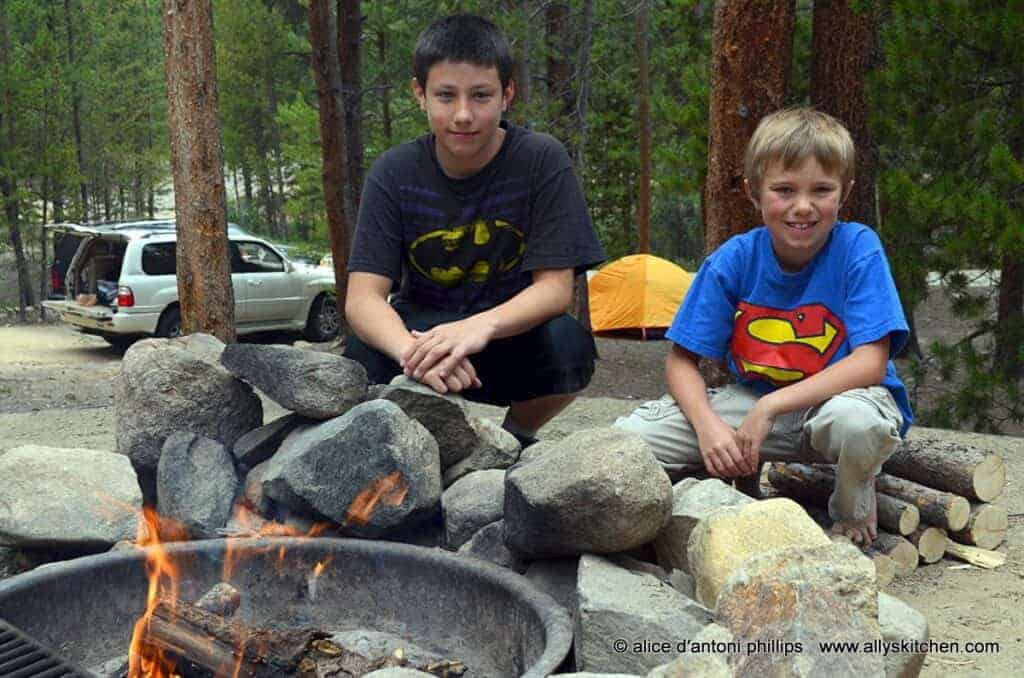 What you do:
Put the whole fish in a cast iron skillet (about 10-12" size). Put butter on each fish then drizzle with olive oil. Sprinkle on the salt, pepper, seasoning mixture and top with the bay leaves. Squeeze the juice from each lemon quarter on the fish and throw in the lemon rinds.
Cover with a lid and cook about 30-40 minutes over medium heat. You'll know your fish are done when you can take a fork and tear some flaky tender fish from the centermost part of the fish.
Serve each on a plate with a fork, or feel free to use your fingers, as a 'camping' appetizer!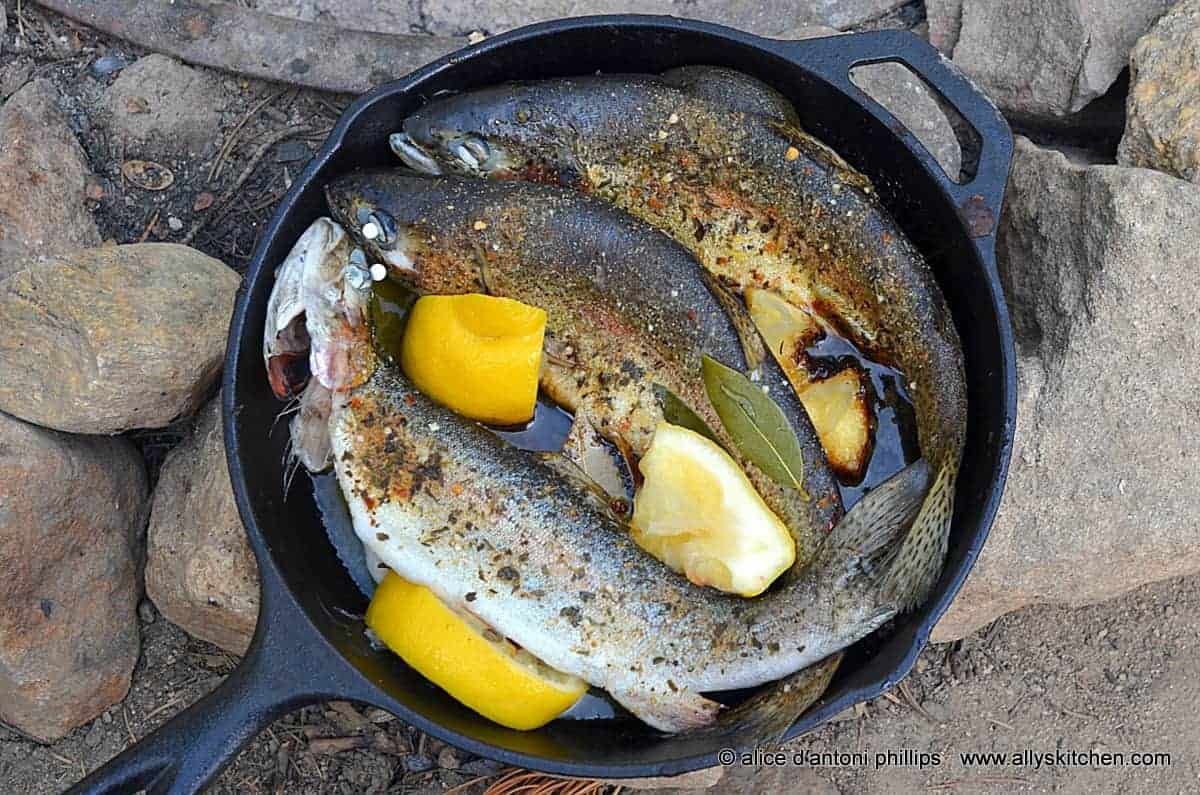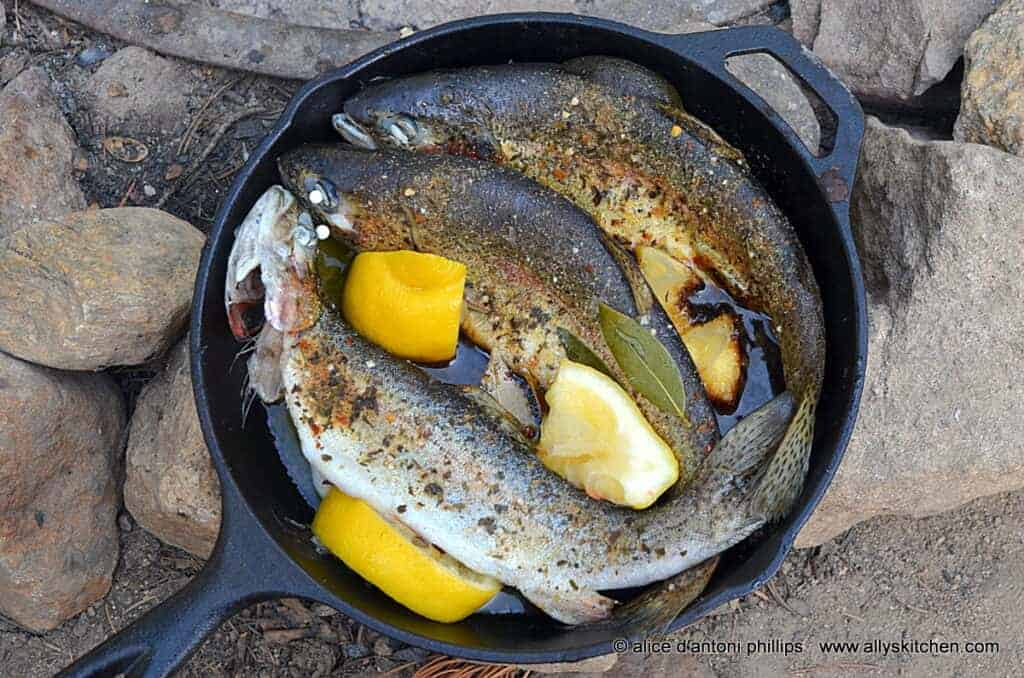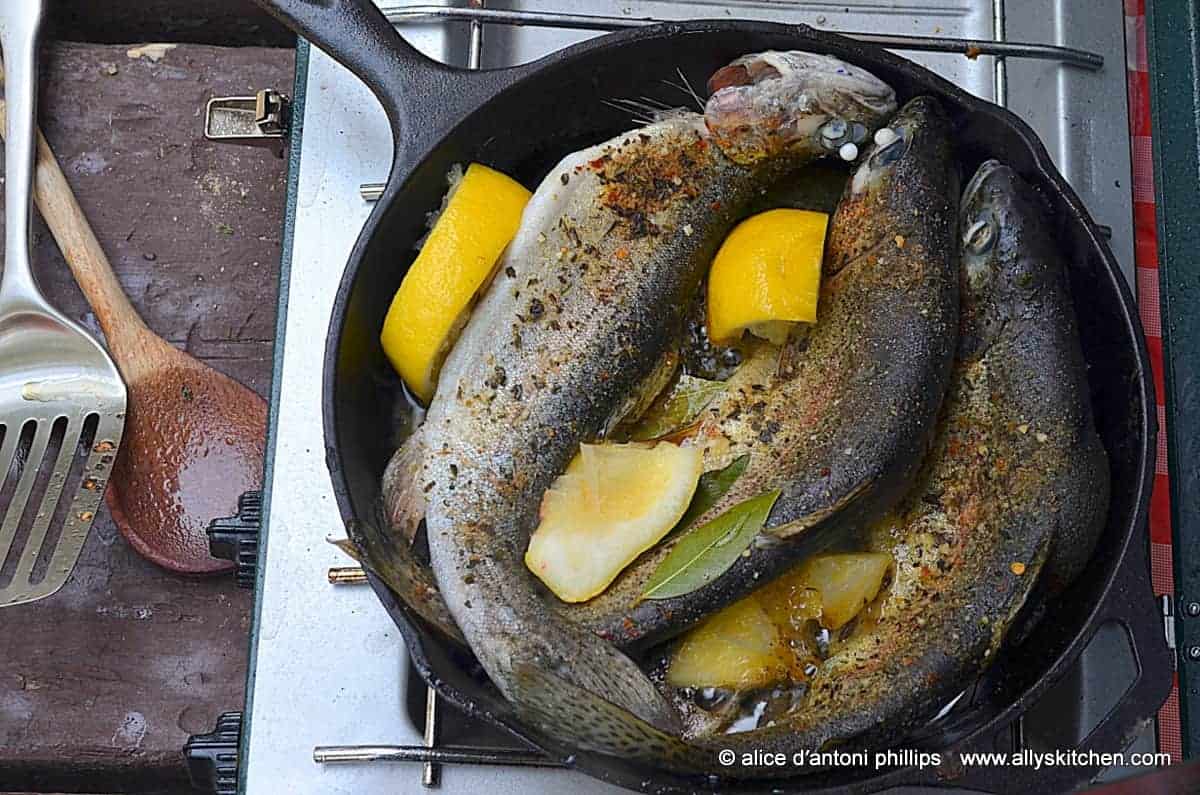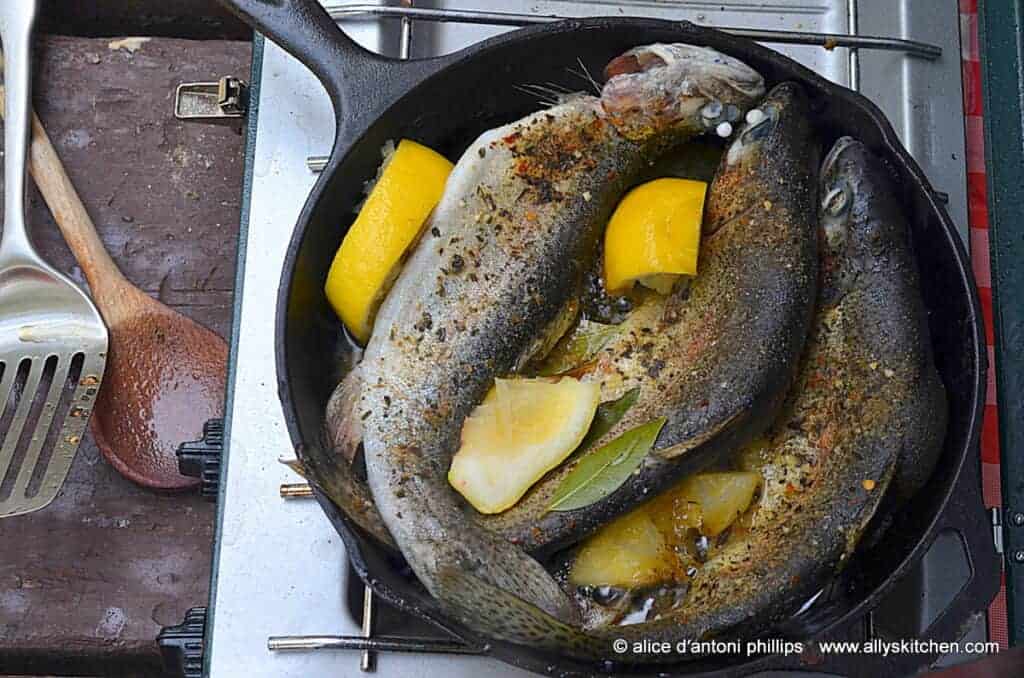 ©alice d'antoni phillips www.allyskitchen.com