sauteed cod in greek seasoned butter wine sauce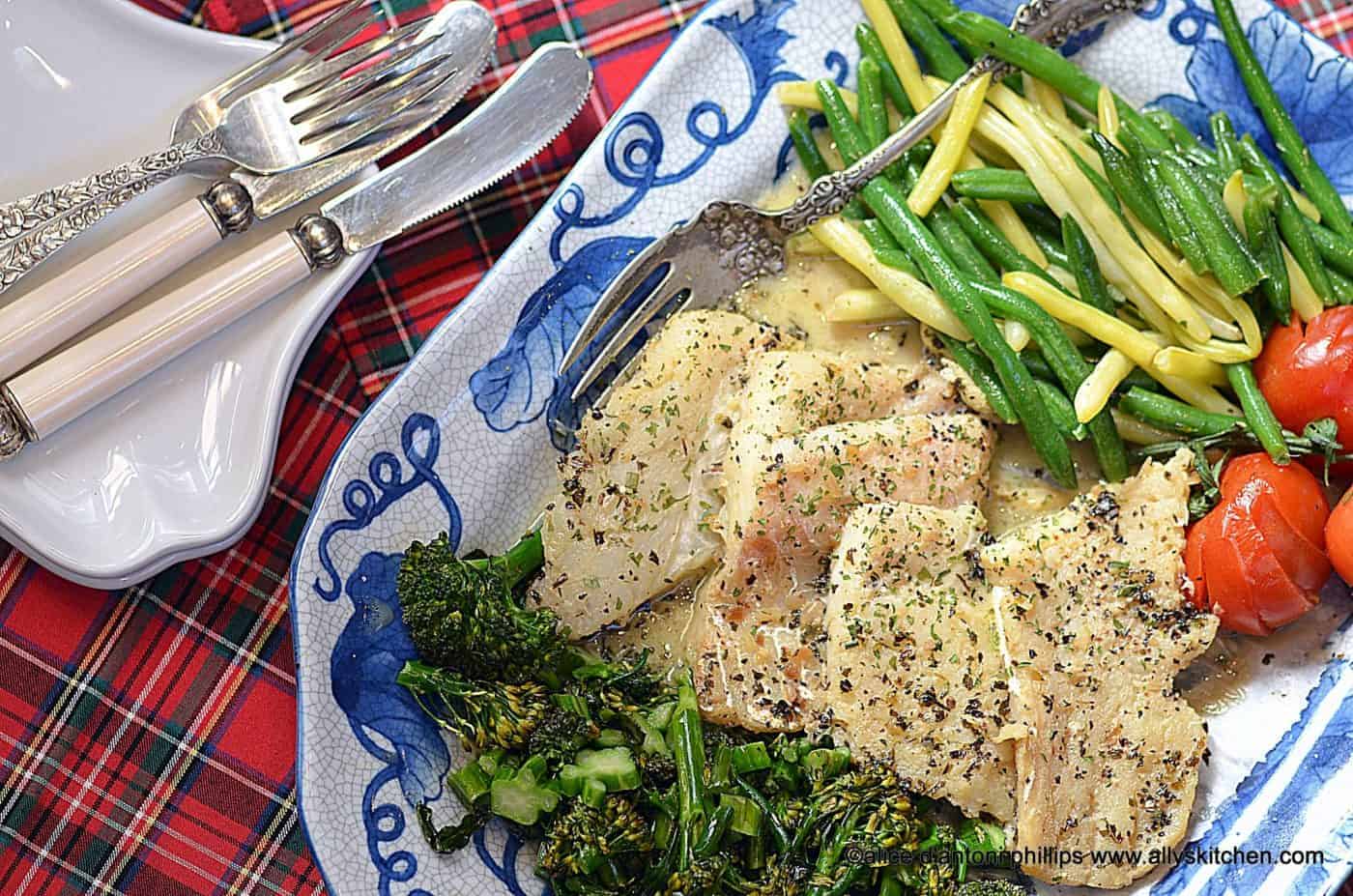 Simple quick and easy dishes seem to always make me smile. I used frozen cod in this recipe because I couldn't find any really good fresh cod~~got this at Costco, had tasted it, so I knew it'd be a great substitute for fresh.
Make sure after you thaw the filet to pat a good bit of the excess water from the fish; and, don't over cook it. A couple of minutes on each side, and it's going to be good to go. I served fresh broccolini and frozen green beans (just a quick saute/steaming of them in some olive oil and a little sea salt) with the cod. All on a big platter. That way the butter/herb/wine sauce that was poured over the fish also flavored the veggies.
This was a simple and absolutely boholicious lunch. Really you can have all this done and plated in about 18-20 minute. It reminded me of lunch on the Adriatic when we were driving along the Dalmatian coast of Croatia from Debrovnik to Split. Truly enchanting. xo ~peace & good eats~ ally
Alrighty, this has nothing to do with cod fish, but if you haven't tried my Croatian Cheesecake then you must! I promise extraordinary. And, don't let the word 'cheesecake' scare you into thinking it's some complicated fancy dancy difficult recipe. It's not! You know me, I'm the gunslinger rogue baker!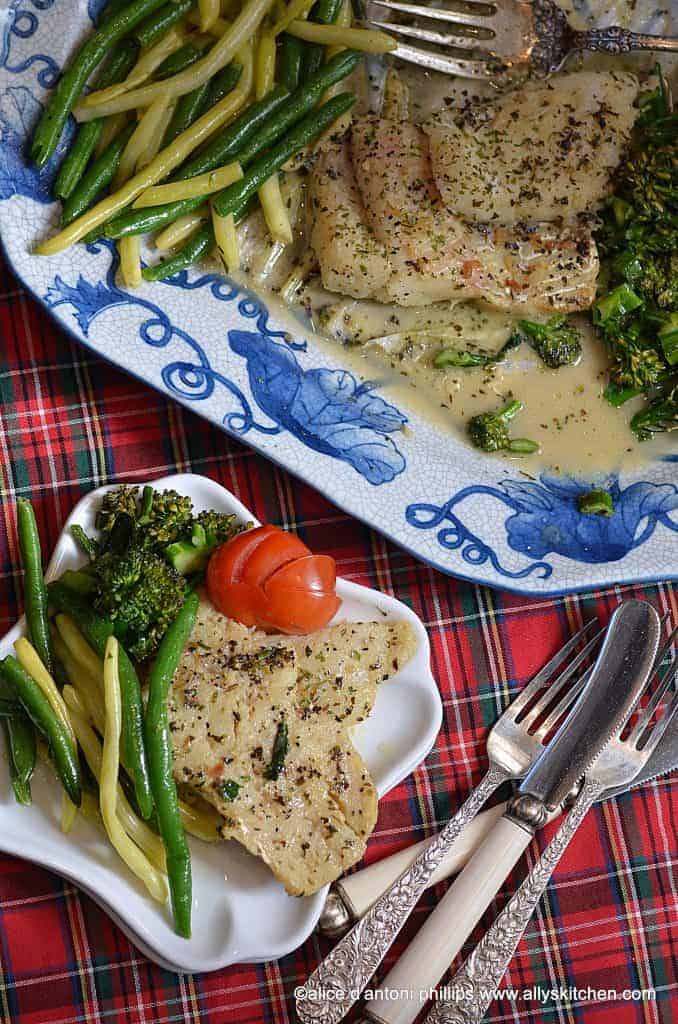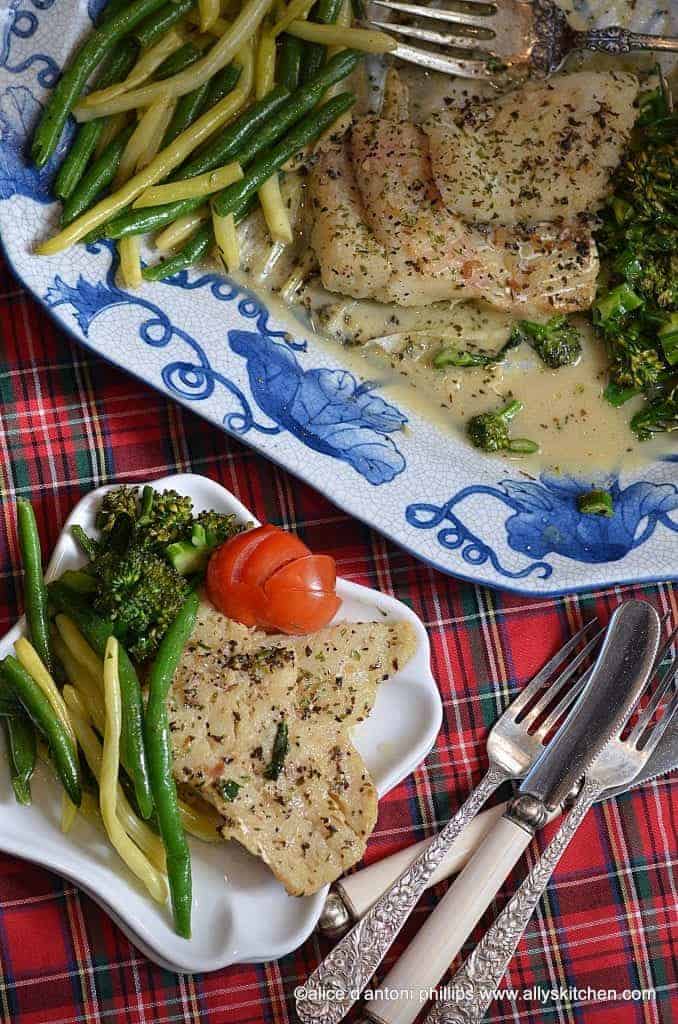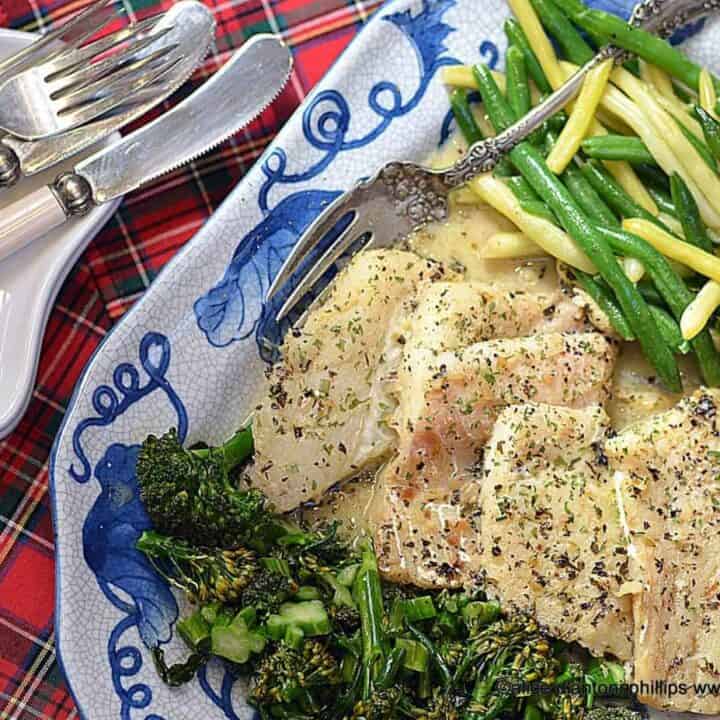 sauteed cod in greek seasoned butter wine sauce
Ingredients
4 (4 oz./each) pieces of cod, fresh or previously frozen, thawed and excess water patted out with paper towels
3 Tbl. butter
1/2 tsp. sea salt
2 tsp. Greek seasoning mixture
1 cup white wine, buttery chardonnay
Instructions
In a large cast iron skillet (about 10" diameter) over medium heat, melt the butter, add the salt and Greek seasoning and blend cooking about a minute. Add the cod filets, cover with a lid and cook on each side about two to two and a half minutes. Remove the cod to a plate. Cover with the lid.
Add the wine to the butter/herb drippings. Increase the heat to medium high, bring to boil for about two to three minutes.
Pour butter/herb/wine sauce over cod when serving.