Salads come in all types, shapes, ingredients and textures. Sometimes you might get locked into the thinking that a 'salad' has to be green leaves and something else. But, my interpretation of a salad is that it can be just about anything, hot, cold, warm. And, it's incumbent upon me to vary the salad to keep it interesting. This campari tomato onion olive salad can serve as the base just as it is as a salad, or you can build on it making it even more divine!
Now how would we build on it? Well, let's add some grilled garbanzo beans to it. OMG, talk about another layer of textural love and flavor. Or we could throw in some steamed shelled shrimp. Holleee schmollleeee, now we're talking even more of a healthy breezy meal. A grilled boneless chicken breast on top. I mean as I'm talking to you, my mouth is watering. Let's go off the grid and add something like long beans, or green beans to it. I'm thinking I might just toss in some crumbled beautiful creamy Maytag blue cheese!
Cooking is all about creativity. Don't be locked into a recipe. It's our opportunity to put your own spin and signature on it. Start with something absolutely fabulous and simple, like this salad, and let the wheels of freedom spin effortlessly! xoxo peace & namaste ~ally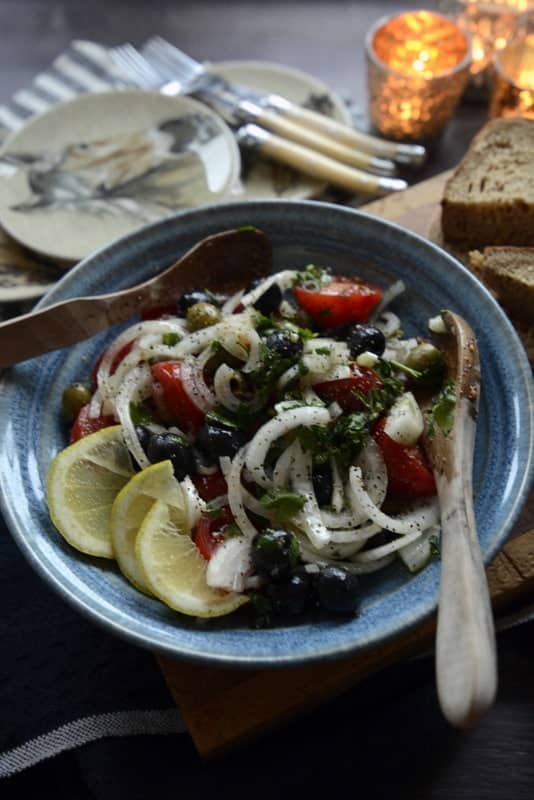 campari tomato onion olive salad
Ingredients
¼ cup extra virgin olive oil
1 lemon, juice and zest
1 tsp. coarse black pepper
½ tsp sea salt
1 tsp. Italian seasoning
10 campari tomatoes, cut in halves
1 ½ cups sweet onions, thinly sliced half moons
1 cup olives, green and black, pitted
½ cup fresh basil, chopped
½ cup fresh flat parsley, chopped
Instructions
In a small bowls, whisk together the olive oil, lemon juice and zest, pepper, salt and Italian seasoning. Set aside.
In a medium bowl, combine the tomatoes, onions, olives, basil and parsley. Toss and blend. Drizzle on the dressing. Toss and blend. Refrigerate about 30 minutes prior to serving.
https://allyskitchen.com/campari-tomato-onion-olive-salad/
©ally's kitchen intellectual property