Pizza. Yes, a staple in the American diet. Who doesn't love love love pizza! And, worldwide, pizza is a hit with variations of it depending upon where you travel. This breakfast spinach pizza, so easy to make and sure to be gobbled up by hungry food seekers, is quick and easy and a perfect way to eat your egg and pizza, too!
One thing about pizza is that if there are leftovers, it's a go to for breakfast. I mean how many times in your life when you were younger, ok, maybe even now as a mature grown up, did you have cold pizza first thing in the morning? Pizzas come in all sizes and shapes and types. There's California, Chicago, Detroit, Greek, Italian, deep dish, thin, New York style.
Now, with this pizza, you make your own healthy tasty tomato sauce. Thank goodness for a food processor in the kitchen. But, if you don't have one, then there are options like dicing very finely the ingredients, maybe using a potato masher. Get creative. I've done these kinds of improvisation so many times while camping, and it's amazing how it all works out fine and the flavors and end product are superb!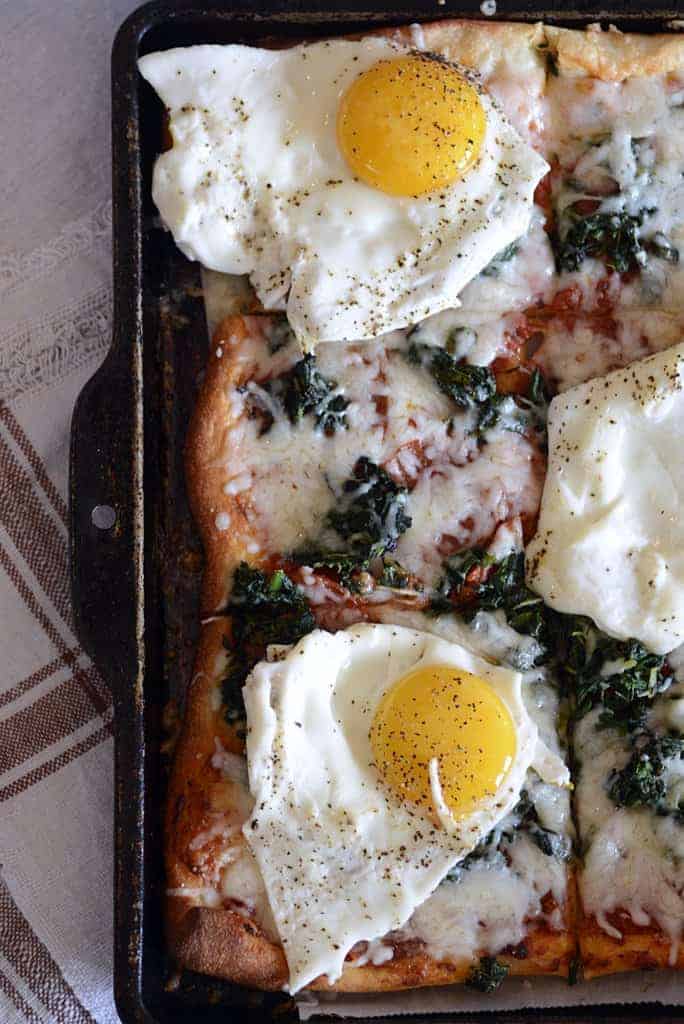 Ingredients
Preheat oven to 400
One refrigerated pizza dough
SAUCE:
5-6 Roma or Campari tomatoes, cut into chunks
½ cup fresh basil leaves
2 garlic cloves, peeled
¼ cup extra virgin olive oil
2 tsp. Italian seasoning mixture
1 ½ tsp. sea salt
1 tsp. coarse ground pepper
½ tsp. red chili flakes
TOPPING:
1 cup genoa salami, chopped (optional—can substitute pepperoni, sausage, or no meat at all)
1 box (10 oz.) frozen spinach, thawed, excess water patted out with paper towels, shredded
2 cups shredded mozzarella cheese
4-6 eggs
Cooking Spray
Instructions
Line a half cookie sheet pan with parchment paper. Roll out the pizza dough into the pan. Set aside.
SAUCE: In the food processor combine the tomatoes, basil, garlic, olive oil, Italian seasoning, salt, pepper and chili flakes. Pulse into a liquid mixture (like marinara sauce). Spread this on the pizza dough.
TOPPING: Top sauce with salami and spinach. Bake in a preheated 400 oven 8 minutes. Remove and add the cheese. Continue to bake another 3-5 minutes.
Meanwhile, prepare sunnyside eggs in a non-stick skillet (or WELL seasoned cast iron). Turn heat to medium. Heat pan. Coat with cooking spray. Add egg(s) (depending on the size of pan). Reduce heat to medium low. Cover with a lid and 'steam' until the whites are basically done and the yolk is to your preference. Slice pizza into good size square pieces (about 6x6) and top each with an egg.
Notes
If you want to skip making your own tomato sauce, simply substitute a good brand marinara sauce. You'll be saving even more time!
Add salt and pepper to your eggs per your liking.
Like any pizza, this is good even cold!
https://allyskitchen.com/breakfast-spinach-pizza/
©ally's kitchen intellectual property