Making pizza dough used to scare me. I look back now and wonder why! I mean it's just so easy to make a wonderful crust without much trouble at all. It's worth all the extra work because the flavors you have once you build your pizza are simply divine!
This pizza can be made on an outdoor grill using a pizza stone, and you'll get a hint of smokiness~~awesome!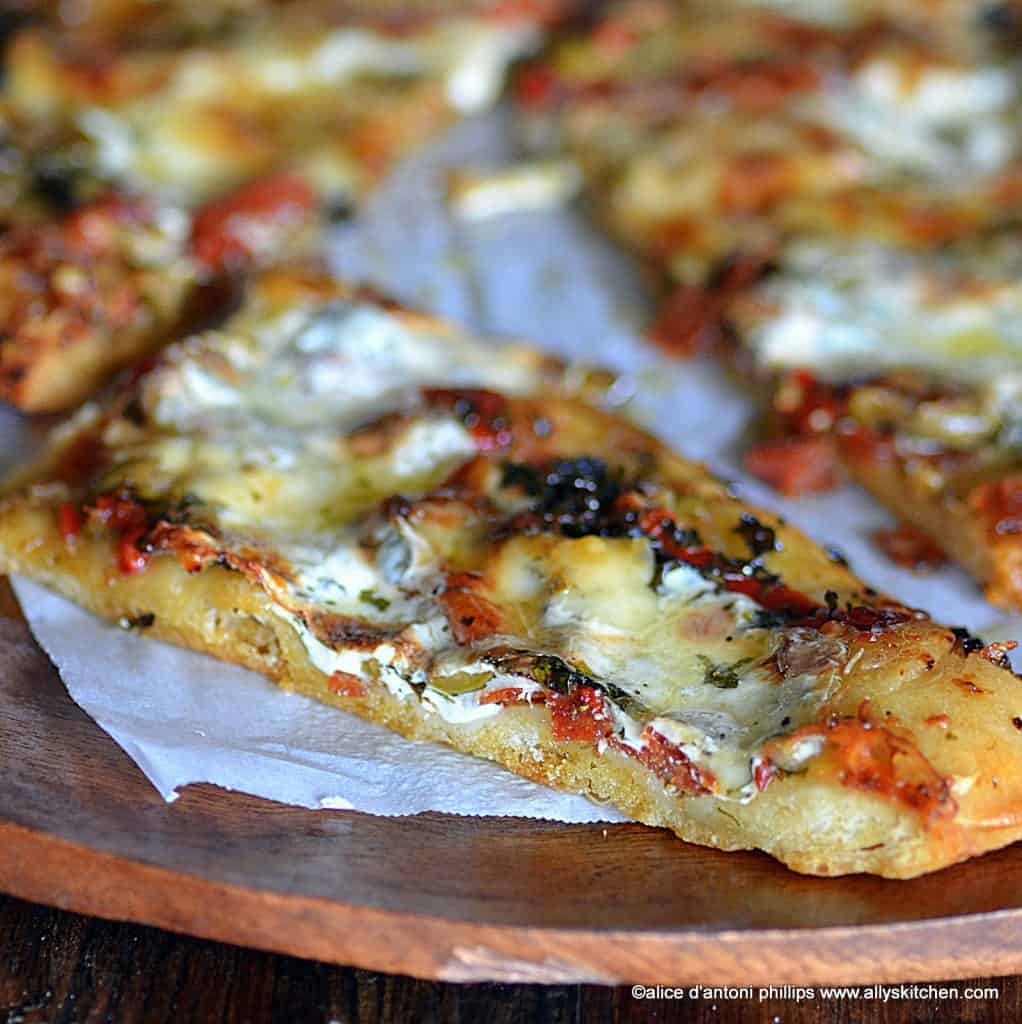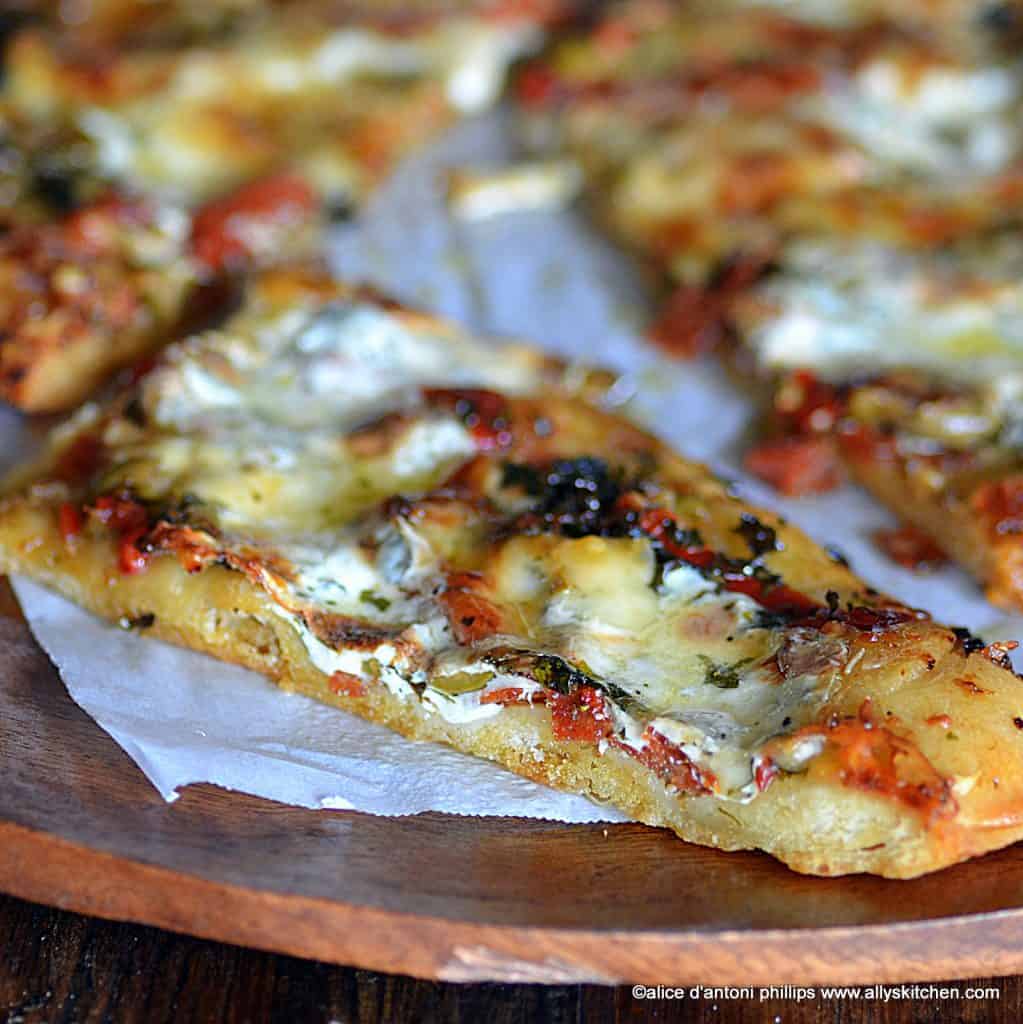 Serves: 4-6
Preheat oven to 400
What you need:
Pizza Dough Recipe
2 envelopes (1/4 oz. each) fast rise yeast
1 1/2 cups warm water (about 110-115 degrees)~~divided
1 tsp. sea salt
1 1/2 tsp. sugar
2 Tbl. oil (canola or olive oil)
2 1/2 to 3  cups flour (divided)
Cooking Spray
Butter Garlic Herb Drizzle
6 Tbl. butter (unsalted)
2 tsp. dried Italian seasoning (can substitute 1 tsp. dried oregano and 1 tsp. dried basil)
Toppings
2 cups grated cheese (can use an Italian pizza blend, mozzarella, etc.  I used both grated and small mozzarella balls.)
1/2 cup fresh chopped herbs~basil, chives, oregano, Italian parsley
Other options:
Roasted Peppers (store bought, drained and sliced)
Olives (green and black), chopped or sliced
Pepperoni, diced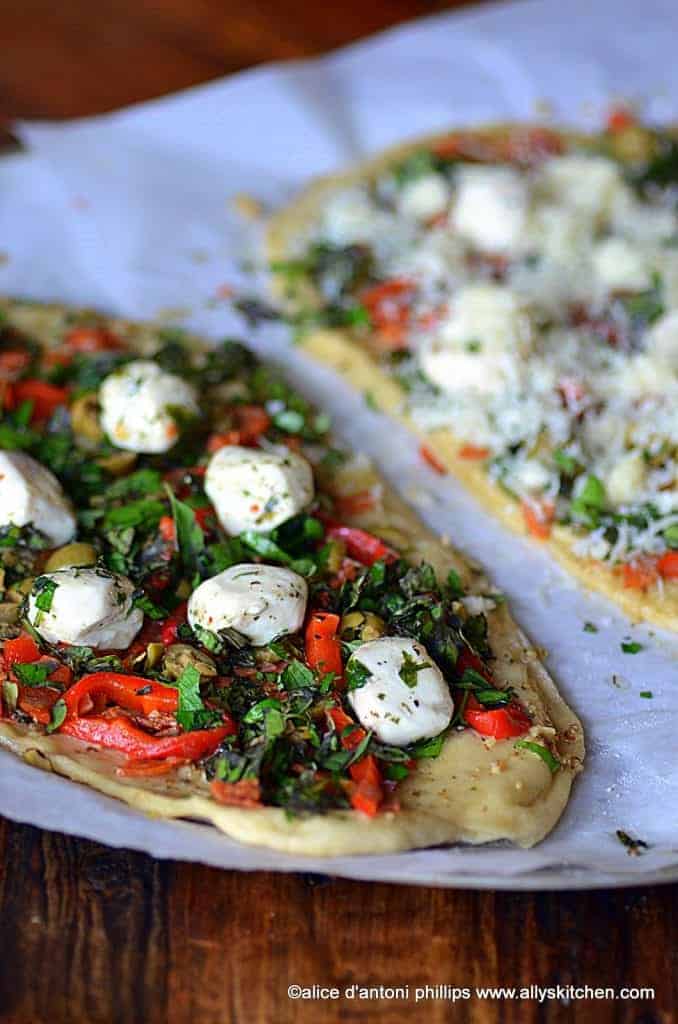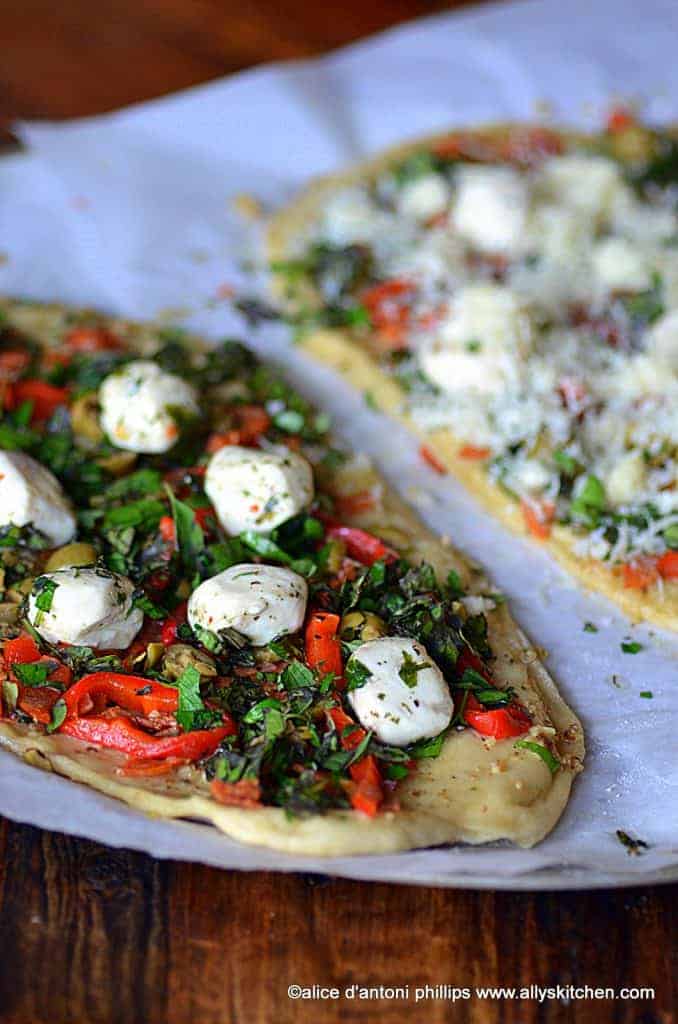 What you do:
Put 1/2 cup of the warm water in a mixing bowl.  Add the yeast and whisk in.  Cover with a clean dish towel and let it sit about 10 minutes until it gets foamy. Add the salt, sugar and oil and whisk in. Add the remaining warm water and start working in about 1/4 cup flour at a time until you've added about 2 cups. Make sure it's blended well stirring about 5 minutes with a wooden spoon (yes, you'll get a great upper arm workout). The dough will be sticky and gooey.
Form into a ball in the bowl. Give the top of the dough a coating of cooking spray.  Cover with a clean dish towel and put in a cold oven, turn on the light and let the dough rise until it's about double in size.  Remove and punch down. Coat a large surface with the remaining flour (you may need more as you work and knead the dough). Turn the dough out and knead well until the dough is no longer stick but elastic and smooth. Cut into 4 equal pieces and flatten out into random pizza shapes~~the shapes don't have to be round…let it be natural and organic.
Place the dough on a parchment paper covered cookie or pizza sheet. Melt the butter in a small saucepan, add the herbs and blend well.  Using a pastry brush, coat each of the pieces of flattened dough.
Add equal amounts of cheese, fresh herbs to each pizza.  Add additional toppings as wanted!  Bake in a preheated 400 oven for about 15-18 minutes or until the edges are crispy.  Remove and slice with a pizza cutter. Make sure no one robs your pizza!